Wondering how to ctrl + Alt + Del on Mac? We've listed down different alternatives here Check it out!
It is Friday and you have completed most of your week's work. After showing off your new Macbook to your colleagues and friends, you are now surfing the internet when suddenly, something Not Safe for Work (NSFW) pops up. And so does your boss from behind you.
You try shutting it down but for Pete's sake, it won't stop. You have no idea what to do and in panic, you randomly tap Command + Option + Esc and it all comes to an end.
Congratulations, you just discovered the Mac alternative for Ctrl+Alt+Del. Check out How To Ctrl + Alt + Del On Mac.
While PC owners have the infamous Ctrl+Alt+Del for all their unresponsiveness or lag issues, Mac, like most of its functions, has its way for this.
Here we will be going through 4 ways to 'Force Quit' unresponsive apps or tabs on a Macbook and all you need to do is read till the end to save yourselves from such situations.
You never know when it might come in handy!
Related: How to Access and Use your Macs Utilities Folder
How to Ctrl + Alt + Del on Mac?
Keyboard Shortcut for Mac for Ctrl + Alt + Del
Know the feeling when you're working on an important application and the lights go out. Well, it's worse when you need to upload the same application and the computer freezes.
While certain applications or even Google Chrome make it interesting while you wait with the 'Dinosaur Game', when a Macbook lags, the only view is that of a Vibgyor wheel, testing your patience.
Hence, it's always advised to 'Force Quit' the application that is stuck, restart it, and ideally move ahead rather than staring at the Hypno wheel.
While there are easier ways to 'Force Quit', our mind runs to the keyboard shortcut first either because of Ctrl+Alt+Del or the thrill of pressing and holding multiple keys together.
So what's the Ctrl+Alt+Del alternative for Macbook?
It's Command + Option + Esc but it's not that simple. While Windows logs out of everything and a template appears when you press Ctrl+Alt+Del, Mac doesn't offer you the same deal.
Instead, you have the option of shutting down one application at a time, so your progress isn't disrupted in other open applications, and the one troubling you can be resolved.
When the app you are working on isn't responding, follow these steps:
Step 1: Press and hold Command + Option/Alt + Esc simultaneously
Step 2: Notice the 'Force Quit' pop-up
Step 3: Select the application you wish to quit
Step 4: Click on 'Force Quit' and you're done!
Menu Bar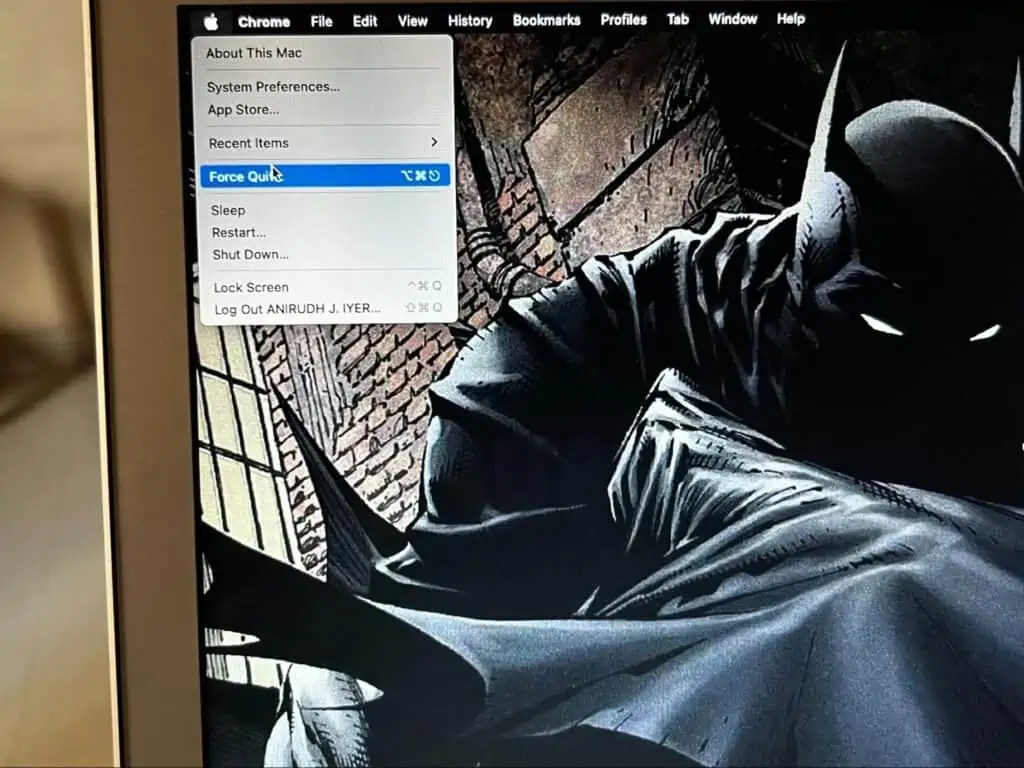 Shortcuts are easy when you're typing but they aren't always easy to memorize. While Ctrl+Alt+Del has been hammered into our brains from childhood, Mac's shortcut alternative is new to most of us.
So if you don't want to memorize the keyboard shortcut, there is a simpler, much easier alternative. Follow these steps:
Step 1: Click on the Apple logo on the top-left in the menu bar
Step 2: Select 'Force Quit' from the drop-down list of options
Step 3: Notice the same Force Quit window
Step 4: Tap on the non-responsive app
Step 4: Hit 'Force Quit'
Dock
The Dock is also a great option to particularly pick the application that isn't working and shut it down. Simply follow these steps to put an end to the non-responsive apps.
Step 1: Check the doc for the app that isn't responding
Step 2: Right-click on it
Step3: Select 'Force Quit' on the menu that pops-up
Terminal
If nothing of the above works, this method just might. And if it doesn't, at least you would go back feeling like a 'hacker' after this. So what exactly is the 'Terminal' method?
Go to launchpad and search for Terminal
Type 'top' and press enter
View the applications that are running in the background
Find the name of the app you want to shut down in the Command column
Note its PID number
Type 'q' to return to the command line
Enter 'killXXX' (XXX stands for the PID number so enter the PID number here)
Quit Terminal and you're done
How to fix a frozen Mac?
While the above methods can be used to fix an unresponsive application, none can be used to fix an unresponsive system. Sure, you can relaunch the app and get to work but what if your entire Macbook freezes?
Chrome not working? No issue, use any one of the above methods and relaunch the app. MacBook not working? You'll need a fresh start.
Of course, like the Windows OS that reboots with Ctrl+Alt+Del, Mac doesn't have a shortcut that can restart the whole system. So what can you do when your Mac freezes?
Press Control + Command and the Power key to restart (Not for Macbook Pro users with Touch Bar)
If you have a Macbook Pro with a Touch Bar, long-press the power button directly to shut down
Yes, it isn't the most time-saving option, but it is the only way to give your Macbook a fresh start. Besides, it's way better than staring into the abyss of a non-responsive Mac.
FAQs
How do you Ctrl Alt Del on Mac Remote Desktop?
The best way to shut down an unresponsive app on a Mac Remote Desktop is by using the keyboard shortcut of Command + Option/Alt + Esc. This will bring the window of running applications and you can 'Force Quit' the unresponsive one. 
How do you reboot on Mac?
While pressing the power button and then tapping it again to restart is the simplest method, there are a few ways to reboot a Macbook. Command+Opt+Esc can help you relaunch a particular app that is stuck but when the entire Mac freezes, pressing Control+Command and then the power button usually works. 
In conclusion
While relaunching a frozen application when you're intensely working on it seems like a task, losing the progress made on it hurts way more.
Rebooting an application may not save all your work and so it's always better to check whether all your work is in place before force quitting an app. So check out How To Ctrl + Alt + Del On Mac.
Adapt these methods the next time an app doesn't shut down on its own and save on the time, energy, and any kind of embarrassment if applicable.
Also Read:
A hardcore Apple fan with a collection of
All series of Airpods
All series of fake airpods from China
All series of Apple watches
One Macbook Pro
One iPhone 13 Pro, one iPhone XR, one iPhone 7