Apple offers excellent online support across all its products and services. Check out How to Contact Apple Online Live Chat Support Team in this article.
If you are at crossroads with an Apple product or service, then you can get assistance from Apple itself. Apple offers online and offline support depending on what you need. Live Chat is one such service, that allows you to resolve issues by talking to a customer representative online.
Apple's Live Chat is quick, convenient, and easy to use. You can connect to a customer representative from the comforts of your home or office in real-time instantly. You can get help for specific problems and set appointments for physical visits if needed.
If a genius Bar or an Apple Store is out of your reach, then your best bet would be to connect through the Online Live Chat Support Team. You can get help for all Apple products and services, hardware or software.
Note that while Live Chat is available, it is still limited to some countries. In that case, you can contact apple with their customer service number, you will find all the details in our How to Contact Apple Online Live Chat Support Team article.
To contact Apple Online Live Chat Support, there is more than one way. You can use the Apple Website, the Apple Support app, or even the AppleSupprt Twitter page. This article will explain in detail how to contact Apple online Live Chat Support team. 
How To Contact Apple Online Live Chat Support Team
If you need to get in touch with Apple's online live chat support team for expert assistance, follow these simple steps to connect with a representative who can help you out:

Firstly, head over to Apple's official website at www.apple.com and scroll down to the bottom of the page. There, you'll find a link labeled "Support." Click on it to be directed to the Apple Support page.

Once you're on the Support page, you'll see a list of various Apple products and services. Find the one you need help with and select it.

Next, choose a specific issue or topic related to your query from the available options. This will help ensure you get connected to the right support team.

After selecting the appropriate topic, you'll be presented with different support options. Look for the "Chat" button, as this will initiate the live chat session.

Now, enter your details and briefly describe the issue you're facing. Click on the "Start Chat" button to connect with an Apple support representative who will guide you through the troubleshooting process.
What is Apple Online Live Chat?
Apple Online Live Chat is a customer support service provided by Apple Inc., one of the world's leading technology companies.
It offers a convenient and real-time way for Apple customers to interact with support representatives to get assistance with their Apple products and services.
Instead of making a phone call or sending an email, users can engage in live chat sessions through the Apple Support website or specific Apple product pages.
The Live Chat feature is designed to address a wide range of issues and inquiries related to Apple hardware, software, services, and accounts.
Whether you have questions about setting up your new iPhone, troubleshooting a Mac software problem, managing your iCloud storage, or dealing with App Store purchases, the support team is equipped to help.
How To Contact Apple Online Live Chat Support Team
Apple Online Live Chat Support can be accessed from multiple channels. I will discuss all of them below.
How To Contact Apple Online Live Chat Support Team using the Website
Open Apple.com and click on Support from the navigation bar.
Alternatively, you can directly visit the Apple Support website, which is where the Support button will take you. Here, you can find answers to FAQs (Frequently Asked Questions).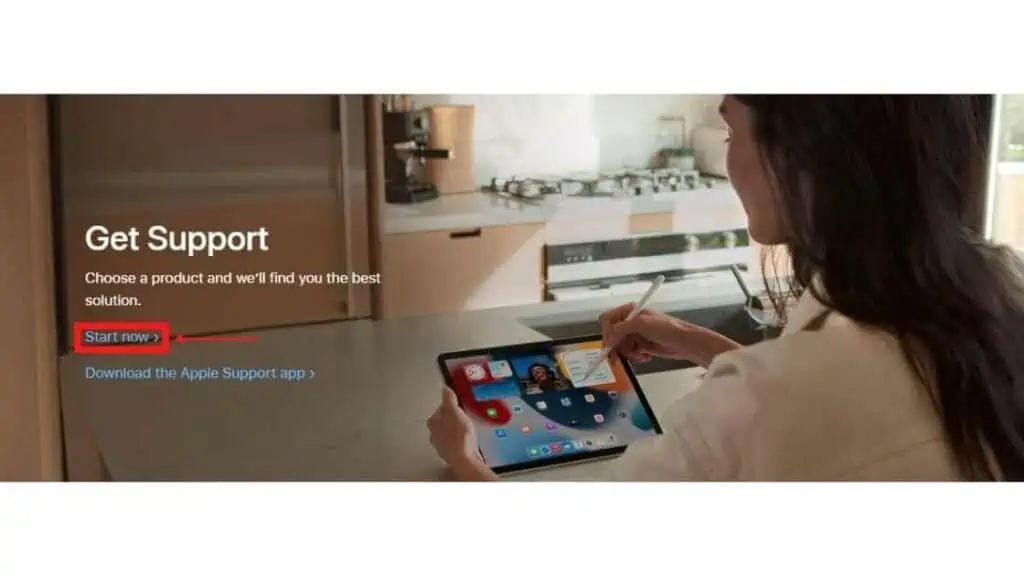 And if you scroll down, you will be able to see a Get Support banner. Click on Start now to go to the Get Help page. This is where you will be able to contact Live Chat.
All you have to do is choose the product you need support for and then select the issue with the device. And then you can choose to call Apple or chat with a customer support representative.
If you choose to call or chat, you will be prompted to sign in with your Apple ID. You will also be asked to enter information such as product details and serial numbers. After this, you will be taken to the chat window and you can discuss your problem with an Apple representative.
Note that you won't find the Chat option for all issues, so don't worry if you can't find it.
How To Contact Apple Online Live Chat Support Team from the app
The Apple Support app can be used to contact Apple Online Live Chat Support too. The app is available for free on your iPhone and iPad.
On the app, you can find answers to FAQs, and get help for all the devices that are linked to your Apple ID. This makes it more convenient for you to start off, as you don't have to enter details of your product or log in every time.
And you can also use the app to contact Apple Support and talk to an Apple Representative. Similar to the website, you get Live Chat and Call support for certain issues, while you can send emails otherwise.
So make sure to know your issue and check if you can chat, mail, or call an Apple representative to help you out. 
Alternate ways to Contact Apple Support
How to Use the Apple Support App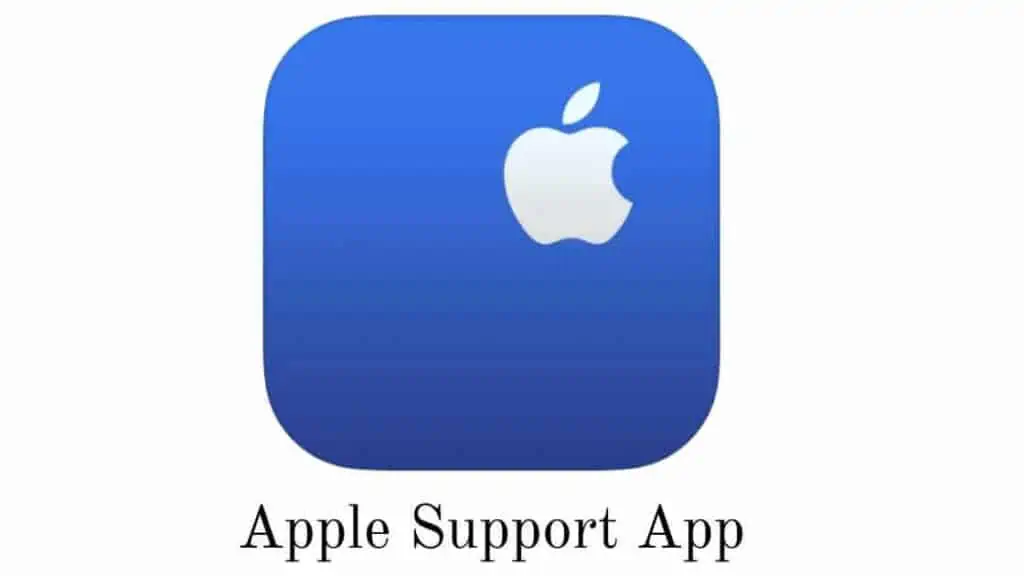 The Apple Support app provides a convenient way to access assistance for your Apple devices and services.
When you open the app, it will automatically show information relevant to the product you are using it on.
However, you can tap on "Products" at the top left corner to explore a list of options, including My Devices, Apple Services, and More Products.
In the "More Products" section, you'll find an extensive list covering various Apple devices and services, such as AirPods, App Store, Apple Arcade, Apple ID, and more.
Tapping on any item will lead you to a wealth of information, organized in useful topics, to help you resolve common issues.
Suppose you encounter a problem with your MacBook not starting up. In that case, you can select it from the list, choose the relevant topic, such as Startup or Power, and then the specific issue you're facing.
To contact tech support from within the app, you have several options. You can send a question via email, make a phone call, or initiate a Messages Chat.
The availability of contact methods may vary depending on the nature of the problem. For older Macs, email and phone support might be the primary options.
When using the Chat feature, you may experience a short wait before connecting with a support agent. If needed, you can schedule a call for later or receive notifications when a response is provided in the chat.
Additionally, the app offers a useful tool to request transcripts of Chat-based conversations, which can be valuable for following instructions given during the support session.
With the Apple Support app, you can efficiently seek assistance, access valuable information, and get timely support for your Apple devices and services.
How to contact Apple Support through an Apple Store
If online doesn't seem to work for you then, you can opt for a physical visit to an Apple Store. Apple Retail Stores have Apple Geniuses (representatives) that will assist you with any problem. If they can't solve it in-store, then they will attempt to repair or replace your product.
You can check for the closest Apple Store near you from the website or the app. You can get the exact address, store timings, and phone number to contact them before you set off.
You can also make a reservation beforehand to make sure that you don't run into busy hours. Making a reservation guarantees a meeting with an Apple expert which is pretty neat.
How to Contact Apple Support on Twitter
@AppleSupport on Twitter will assist you if needed. To do this, click on the envelope button on their Twitter page and send a message about the help you need.
@AppleSupport's Twitter customer service is available from 5 AM to 8 PM daily.
How to contact Apple Support by phone
Apple has dedicated phone numbers depending on the region and assistance required. The main number is 1-800-275-2273 which you can call to get assistance on any problem.
Call 1-877-20-3930 if you need assistance with Apple's accessibility tools.
For education customers, you can call 1-800-800-2775 for assistance on loaned iPads and more.
For Enterprise Customers, use 1-866-752-7753 for assistance.
And if you want support for Apple Cash, iMessage, or other payment services, then call 1-877-233-8552.
Apple Support Phone Number List – Apple-Care Customer Service In different Countries
If you are not in the US, then you can check the below list for Apple customer care numbers in different countries and regions around the world.
| | |
| --- | --- |
| Country | Phone Number |
| United States | 1-800-275-2273 |
| Canada | 1-800-263-3394 (English), 1-800-263-3394 (French) |
| Brazil | 0800-761-0880 |
| Mexico | 001-866-676-5682 |
| Austria | 0800 220325 |
| Belgium | 0800 80 404 (French), 0800 80 407 (Flemish) |
| Bulgaria | 00800 6002 7753 |
| Croatia | 0800 222 427 |
| Cyprus | 800 92433 |
| Czech Republic | 800 700527 |
| Denmark | 80249625 |
| Estonia | 8000 044333 |
| Finland | 0800 96372 |
| France | 0805 540 003 |
| Germany | 0800 6645 451 |
| Greece | 00800 4414 5417, 021 0300 9960 |
| Hungary | 06 80 983 435 |
| Ireland | 1800 804 062 |
| Italy | 800915904 |
| Latvia | 800 03251 |
| Liechtenstein | 0800 00 18532 |
| Lithuania | (8-800) 30772 |
| Luxembourg | 800 24550 |
| Malta | 800 620722 |
| Netherlands | 0800 0201581 |
| Norway | 240 551331 |
| Poland | 00800 4411875 |
| Portugal | 800207983 |
| Romania | 0800 400138 |
| Russia | 8 800 555 6734 |
| Slovakia | 0800 178661 |
| Slovenia | 0800 80321 |
| Spain | 900812703 |
| Sweden | 020 100 529 |
| Switzerland | 0800 00 1853 (French), 0800 00 1853 (German) |
| Turkey | 00800 4488 29878, 0216 282 1622 |
| Ukraine | 0800 509 382, 044 225 0447 |
| United Kingdom | 0800 107 6285 |
| Egypt | 0800 000 0888 |
| South Africa | 0800 444 426 |
| Australia | (61) 1-300-321-456 |
| Brunei | 801-4384 |
| China mainland | 400-666-8800, 400-619-8141 (Accessibility and assistive technology) |
| Fiji | (61) 1-300-321-456 |
| Guam | 1-800-865-0853 |
| Hong Kong | (852) 2112-0099 (Chinese), (852) 2112-0099 (English) |
| India | 000800 1009009 |
| Indonesia | 0800-1-027753 |
| Japan | 0120-277-535 (Within Japan), (81) 3-6365-4705 (Outside Japan) |
| Macau | (853) 6262-16311 |
| Malaysia | 1-800 803 638 |
| New Zealand | 0800 1 27753 |
| Pakistan | Dial 00800 01001 first, then dial 800 361 0479 |
| Papua New Guinea | (61) 1-300-321-456 |
| Philippines | 1-800-1441-0234 (PLDT and Smart Communications), 1-800-8908-8277 (Globe) |
| Singapore | 800-186-1087 (Within Singapore), (65) 6972-5171 (Outside Singapore) |
| South Korea | 080 333 4000 |
| Taiwan | 0800-095-988 |
| Thailand | 1800 019 900 |
| Tonga | (61) 1-300-321-456 |
| Vanuatu | (61) 1-300-321-456 |
| Vietnam | 1800 1127 |
| Bahrain | 80081552 |
| Israel | 1809344329, 033762915 |
| Kuwait | 22282292 |
| Lebanon | dial 01 426 801 first, then dial 8552789177 |
| Oman | 80077471 |
| Qatar | 00800100356 |
| Saudi Arabia | 800844 9724 (STC), 800850 0032 (Zain and Mobily) |
| The United Arab Emirates | 8000 444 0407 |
What are the advantages of Apple Online Live Chat support?
The advantages of Apple Online Live Chat include:
Real-time support: You can get immediate assistance from a live support agent without waiting for extended periods.
Convenience: There's no need to make a phone call or wait for email responses, making it a more efficient way to resolve issues.
Written record: The chat transcripts can be saved for future reference, making it easier to follow the troubleshooting steps or solutions provided.
Multilingual support: Apple Online Live Chat is available in multiple languages, making it accessible to a global customer base.
How to Contact Apple Online Live Chat Support Team – Conclusion
Apple Live Chat Support is the quickest and easiest way to get support for any issue related to an Apple product or service. These can be minor issues or major ones, Apple's customer representatives will find a solution for you.
If in case you are not able to access Apple Online Live Chat Support, then you can set an appointment for an in-person visit to an Apple Store or a Genius Bar. You can also call Apple customer care from the numbers we have provided.
We hope this article helped and you were able to address your issue with an Apple product or service conveniently.
Also Read:
A hardcore Apple fan with a collection of
All series of Airpods
All series of fake airpods from China
All series of Apple watches
One Macbook Pro
One iPhone 13 Pro, one iPhone XR, one iPhone 7