Looking to take your Art to the next level? Check out our list of the Best Drawing Apps for iPad and iPhone!
Drawing and painting digitally have been growing in popularity. People create drawings, paintings, designs, architecture, comics, and more digitally. And the best part is they can be as good or sometimes even better than real art all while being easier to do.
Related: Best iOS App for Manga
Digital art does require powerful apps to bring your ideas to life. With how powerful iPhones are now, you can draw/paint on them. If you are an art student looking to create digital drawings/paintings on your Phone, then you have come to the right place. This article is a list of the best apps you can use to draw on your iPhone. Here's our list of the Best Drawing Apps for iPad and iPhone!
After having reviewed 100 top iOS Apps for drawing based on UI/UX, Apple store ratings, performance, output, and much more; my team and I zeroed in on 10 that really stood out. These 10 were put through a series of tests to determine the best. We found that:
The Best Drawing App for iPad and iPhone is Adobe Illustrator. Not only is it free but it also combined technology from photoshop and vector-based drawing software to create an extremely versatile app. Adobe Illustrator comes with amazing features such as time-lapse so you can record your art and it even supports Apple Pencil 2 thereby delivering a more fluid drawing experience.
Best Drawing Apps for iPad and iPhone
Adobe Illustrator
Illustrator is a rather popular app in the designer community and it's free to use. There are additional packs and elements that are kept locked and you will be able to access them by purchasing individual add-ons such as grids, mirror repeat and radial through the Adobe store.
Illustrator is only available for the iPad and that's because it requires a bit of space to work. The one drawback of using Illustrator is that it doesn't work on iPadOS prior to 14 and unlocking the apps true potential means subscribing to the Adobe services.
But considering you can easily move files from your Mac to the iPad and then back to the Mac is a great addition to this already amazing software. Pair it with the Apple Pencil 2 and you got yourself a powerful graphic tool with a smooth and responsive interface.
Adobe Fresco
Adobe Fresco is a free drawing/painting app developed by Adobe for artists. Adobe has combined brushes found in Photoshop along with the technology of vector and Live brushes to create a powerful drawing/painting app.
Adobe Fresco allows you to work with watercolors, oil paint, and scalable vector brushes to create sharp, crisp lines. You can choose from over 50 Photoshop brushes, vector brushes, Live brushes, create custom brushes, and more.
Adobe Fresco also provides tools that you can use for creation, selections, masking, layers, layer groups, and more. You can also create timelapse videos to replay your creation. And finally, you can export your work to PNG or JPEG formats. You can also auto-migrate projects from Adobe Photoshop and Adobe Illustrator to Adobe Fresco.
Adobe Fresco has a premium edition that allows automatic cloud sync between Adobe apps and lets you transfer files between Adobe Photoshop and Adobe Illustrator.
Autodesk SketchBook
Adobe SketchBook is one of my favorite apps when it comes to sketching/drawing/painting. I have had it on all my devices, iOS and Android. It is the champion of free sketching apps as long as you let your ideas run wild.
Autodesk keeps improving the app by adding new features over updates. Some of the newest features include perspective guides offering one-, two-, and three-point perspectives. You also get a snapping toggle, vanishing point lock, and a horizon line visibility feature that helps with conceptualization and drawing.
Autodesk SketchBook now allows you to customize with infinite and constrained grid tools. You can also use a curve ruler now that helps you draw curves that were previously not possible with the Ellipse tool. Autodesk has also added support for Apple Pencil 2nd generation which includes double-tap functionality.
Procreate Pocket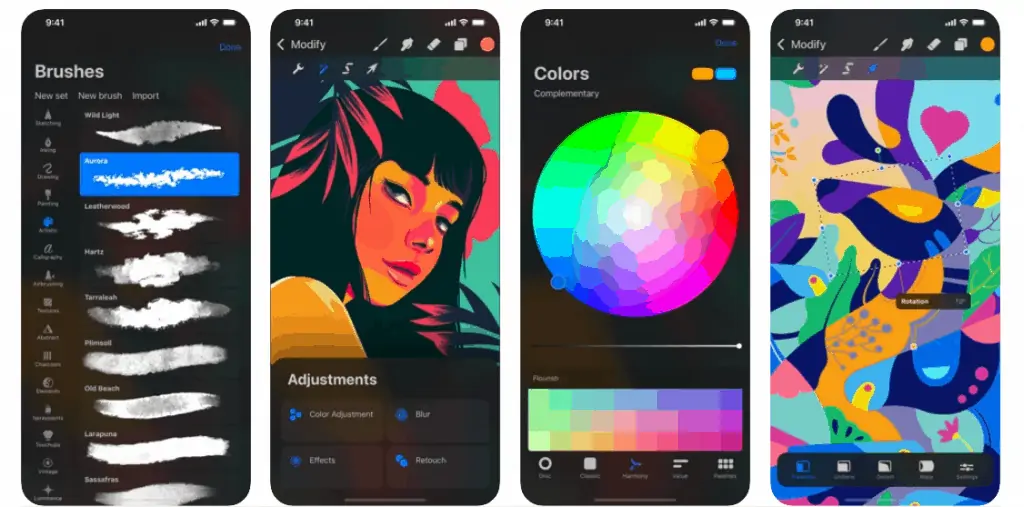 One of the oldest and most popular creation apps on this list is the Procreate Pocket. And its popularity and success are because it appeals to everyone from beginners to professionals. It is filled to the brim with features that can make your art stand out.
Procreate Pocket features hundreds of brushes, tools, and more. It runs on a powerful 64-bit graphics engine that can aid with sketching, painting, illustration, and even animation. You can also take advantage of its advanced layering capabilities.
Procreate Pockets provides users with ultra-high-definition 16Kx 4K canvases. The QuickShape feature allows you to draw the perfect shapes. You also get responsive smudge sampling, you can undo and redo up to 250 levels, and over 100 customizable settings for every available brush.
Procreate Pocket offers an excellent layering system, and non-destructive editing so you can edit over multiple layers, and profiles for color matching. You also get perspective, isometric, 2D, and visual guides for the best drawing experience. Procreate Pocket can also auto-save, and offers many ways to share your work across different platforms and software.
Tayasui Sketches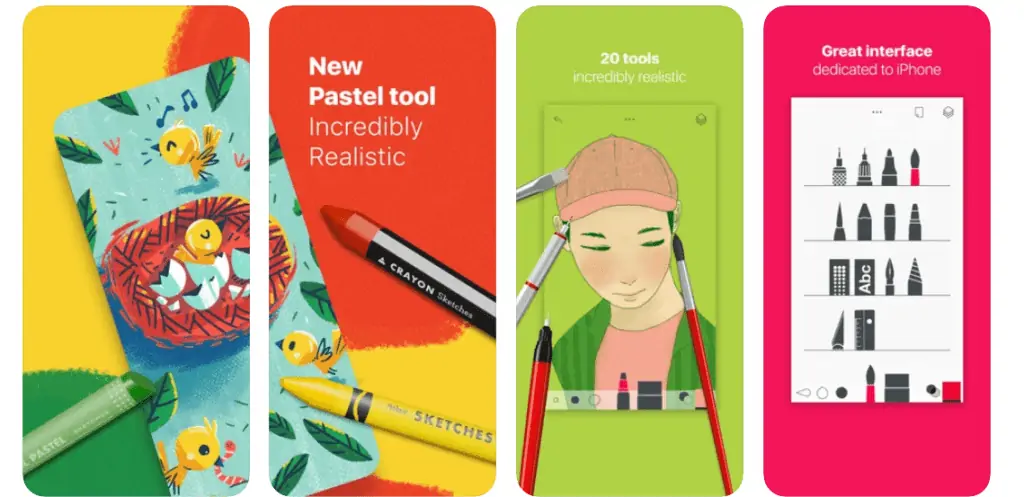 Tayasui Sketches might not offer you tons of brushes or tools, instead, it aims to offer you the most realistic drawing brushes and tools. It is a user-friendly app that wants to inspire the user's creativity by offering a genuine toolbox.
Tayasui Sketches' toolbox will let you create sketches, paintings, and illustrations on the go. You can even import photos and work on them. With over 20 realistic tools that include watercolor brushes, a brush editor, a color eyedropper to select the exact color you want, and more. You can also take advantage of its layering system to create detailed art.
Tayasui Sketches allows you to export your art to PNG and PSD formats. You can backup your works to the cloud and access them across multiple devices. Tayasui Sketches offers support for pressure-sensitive styluses. This emulates how a real brush on paper would work as you can control the pressure, angle, and width of your movement.
The interface is unique yet simple and provides you with tons of canvas space so you can create large detailed artworks without distractions. It is one of the best drawing/painting experiences you can have digitally.
Inspire Pro
Inspire Pro is a paid app that offers no in-app purchases and no recurring subscriptions so it's just a one-time purchase and you get complete access to everything the app has to offer.
It's currently one of the fastest designer tools and one of the most realistic rendering engines around. Strokes are super fluid in Inspire Pro and the app grants you with a very realistic drawing experience.
Buying Inspire Pro means that you will get instant access to every kind of brush and art tool possible and the best part is that each tool is customizable so you can configure it to suit your needs and requirements.
Paper by WeTransfe‪r‬
Paper by Wetransfer is an app that anyone into sketching would love. Paper by WeTransfer is designed in a way to make sketching, painting, and drawings as easy as possible. The tools make it easy for the above tasks and you can also create collages with the available tools.
Paper by WeTransfer is designed to offer no distractions or interface interruptions apart from what is needed. The intuitive design makes it one of the best drawing apps to work on. It also lets you add multiple photos to a single page, and then you can cut, stick, move and fix these photos without the hassle of layers.
Paper by WeTransfer offers you mood boards and storyboards to help you visualize your ideas and create them easily. You can organize pages into journals and even sync them across multiple devices. There is also a Paper Store providing you with guides and how-tos so that you can get started with ideas. Top artists offer tips and tricks on the Paper Store.
Flow
Flow is an app developed by the same people who developed Moleskine notebooks. Moleskine notebooks are devices that transfer whatever you write on them to your smartphone. And the same people behind these notebooks have created the Flow app.
Flow is an app that lets you create drawings, artworks, and notes but with a small twist, they offer paper types along with a unique drawing tech. This technology gives you a feeling of writing/drawing on real paper.
Flow was designed with both beginners and professionals in mind. It has a simple yet intuitive UI that makes it easy for anyone to use. Flow's documents can span infinite width so you can write/draw forever. You can create custom tools with the ability to change colors, sizes, and styles.
You can use Flow to create lists, storyboards, designs, notes, floor plans, journals, and more. Flow lets you organize all your work into collections. You can hide the app's interface for minimal distraction and you can export it to multiple formats. The premium membership unlocks features like cloud storage, backup, and multiple device sync.
Affinity Designer 2 for iPad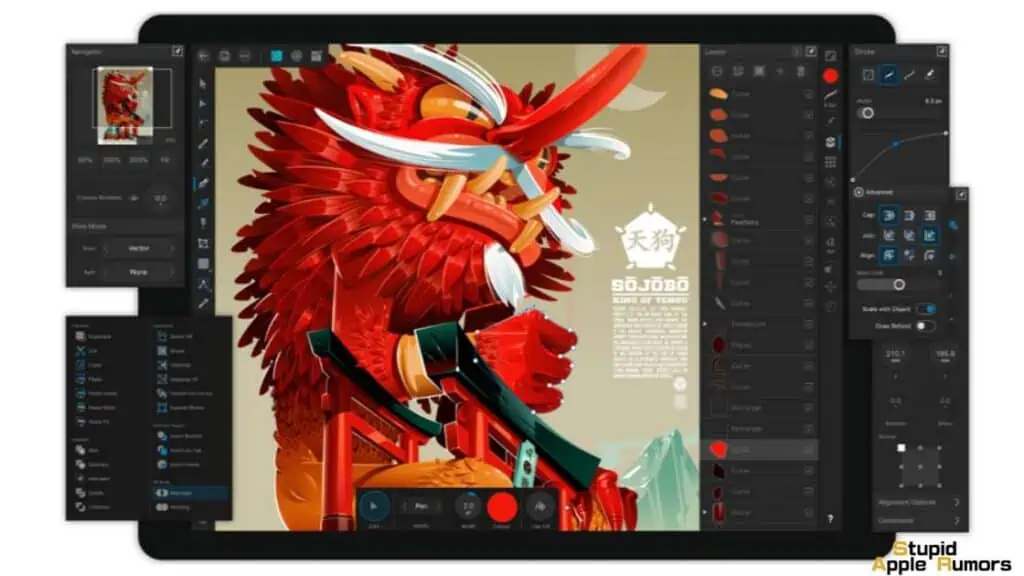 Affinity Designer for iPad is an exact replica of the desktop app with just a touch element and Apple Pencil support added. The app is equipped with loads of new features and enhancements and is as professional as they come.
Affinity Designer 2 uses a redeveloped user interface and is fully integrated with the iPads gesture controls as well as it's sensitive to pressure, tilt and angle of the Apple Pencil.
With this app you will be able to add live gradients, pan and zoom, use the new color contour tool and even work with live pixels and vectors. The app is available for free and there are in-app purchases to unlock few of the hidden features.
MediBang Paint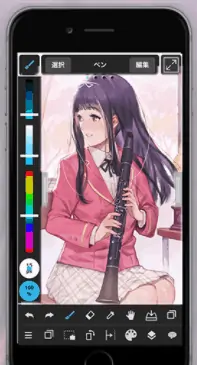 If you can't spend money but want to explore your creativity as an artist, the MediBang Paint might be your best bet. MediBang Paint is a free drawing app for iPhones and iPads that works great for beginners and professionals.
MediBang Paint features over a hundred brush types, tons of fonts, assets, and more. It also supports layer and 3D Touch on newer iOS devices. The UI might not be the most intuitive one to work on especially if you have a small screen, but that is because it has so many features to offer.
Artists on a budget can use MediBang Paint to create professional-looking art. You can even sync your work between devices making it great for teams.
Does iOS have a native drawing app?
Yes and no depending on what you think of the Notes app. Notes app is included app with your iPhone and iPad. As the name suggests, you can use it to take notes. You can take text notes or scribble them down too, which allows users to even do drawing and sketching. While it is not as fleshed out as the other drawing apps on this list, you can still create good-looking art with the Notes app.
Best Drawing Apps for iPad and iPhone – Takeaway
Digital artists are growing in popularity thanks to their expertise in creating lifelike beautiful art that can turn heads. But even they need the best tools to create the best art. And with artists working on multiple devices like smartphones, tablets, laptops, and more, drawing/painting apps on iOS have been growing.
If you are looking to draw/paint on your iPhone, then the above apps are some of the best you can use. They offer tons of tools, features, and options to turn you into a professional digital artist with some practice and creativity. So what are you waiting for, go try these apps right now. You won't feel let down by any of the above apps.
FAQs
What is/are the best free drawing apps for iPad?
Autodesk Sketchbook, Paper by WeTransfer, and MediBang Paint are some of the Best Drawing Apps for iPad and iPhone.
What apps do digital artists use?
Adobe Photoshop, Procreate Pocket, and Adobe Fresco are some of the popular apps among digital artists. 
Do Tattooists draw digitally? And what apps do they use?
Yes, tattooists draw digitally to capture their ideas and work on new designs. Tattooists use drawing tablets/iPads to create new designs. Some popular apps among tattooists are Adobe Illustrator, Autodesk SketchBook, and Paper by WeTransfer. 
What are some of the best drawing apps for beginners?
Procreate Pocket, Paper by WeTransfer and Flow are some of the best apps you can learn to draw on if you are using an iPhone or iPad.
What drawing app do Tiktokers use?
Tiktokers mostly use Procreate to show off their drawing skills. Procreate is featured in our list of the best drawing apps for iPad and iPhone. You can check out the others too, as all of them are amazing options. 
Is Procreate only for Apple?
Yes, Procreate is only available for Apple devices like the iPhone and iPad. It is one of the best drawing apps for iPad and iPhone.
Also Read: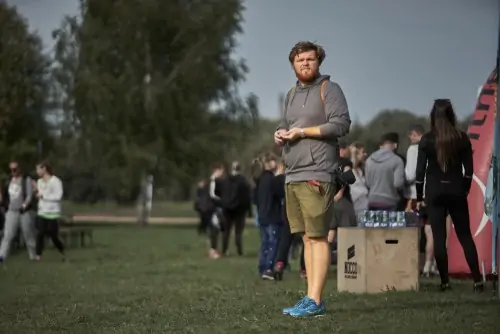 Alan Urban is the Editor-in-chief of Stupid Apple Rumours and often proclaims that he's " Apple's number one fan."
In addition to keeping up with the latest Apple news, he also reviews Apple products and creates user-friendly guides.  When not subjecting Apple Devices to crazy stress tests, he's usually playing games on Apple Arcade