Looking to buy a new iPhone but don't know what to do with your old one? Check out how does Apple trade-in work to know how you can get extra cash for your old iPhone.
I always want the best out of the things I own and that includes my iPhone. With a new iPhone released every year, I am always drooling over them for the bleeding edge in smartphone technology.
And I love to get my hands on them, but paying the full price of an iPhone every year is not a good financial decision. Check out our "How does Apple Trade-in Work?" guide for all the details.
But with the help of Apple's trade-in program, this is now possible and more economical for my wallet. Give away your old iPhone to Apple and get a hefty chunk discount on your new iPhone. And from my experience, Apple's trade-in can't be any smoother or more convenient.
After having reviewed the official documents from Apple and having reviewed all of the info from our credible resources; my team and I found that:
Apple trade-in is a device-replacing program. You can use Apple trade-in to reduce the cost of the purchase of your new iPhone. If you are looking for a new iPhone upgrade, this can be a nice way to reduce some cash on your purchase.
Related: How Does Apple Warranty Work
How does Apple Trade-in Work?
If you have an iPhone that you don't require anymore, you can opt for the Apple trade-in program. And this will require you to send in your old iPhone to Apple and you will get credit for the same.
Apple Trade-in is fairly simple. All the consumer has to do is choose the phone you want to buy, either from a physical Apple store or from Apple's website. You can ask for a trade-in at the store or choose the option while you check out. And in both cases, you'll have to pay upfront.
But if you are using Apple Card and paying in monthly payments, then the estimated value of the phone will be factored in and the resulting monthly value will be shown to you.
Related: Where to Buy a Refurbished MacBook
You will also get 3% cashback of the full value of the new iPhone when using your Apple Card. Buying online or in-person involves the same steps for trade-in. Both are done by post. So, all steps after this apply no matter which method you use to buy your iPhone. The whole trade-in process is done by post.
Apple will send you a box by post. This is the box in which you should return your old iPhone. The value of your iPhone is checked by Apple or a partner company, they will determine a value for the same. The amount is credited back to your original payment method. So, it's a nice discount.
Since you have to pay the full cost for your new iPhone upfront, you can always opt-out of the trade-in program. Apple gives you 14 days for you to send in your old device. If you don't send in your old iPhone by that time, Apple cancels the trade-in for you and you won't get any cashback.
This won't affect the 3% cashback you received if you used an Apple Card at the time of purchase. It is wise to go through with the trade-in because you have opted for it and now that you have already spent a lot on your new iPhone. This is the most convenient way to trade your old iPhone and dealing with Apple gives you a certain peace of mind.
Apple Trade-in Program
After you have made up your mind to follow through with the trade-in, you still have things to take care of. These are things you have to follow if you want to trade in your old iPhone. And if fail to do so, you won't get paid for your old iPhone.
These are things you have to remember while selling any of your devices, not just when you trade them back to Apple. You have to set up your new iPhone and you can do this by backing up your old iPhone. For this
Back up your old iPhone by going to the Setting app,
Tap on your name,
And then tap on iCloud.
Scroll down to iCloud Backup and tap on it.
Tap on back up now and wait for your iPhone to get backed up.
You will also have to unpair your Apple watch if you have one. Now you can set up your new iPhone by putting both phones next to each and following the prompts.
It can take a while for transferring the data. And you will have to set up certain apps from scratch, these include bank apps because you have to provide identity details, and follow certain procedures. This will all take anywhere from a few hours to a few days, depending on the number of apps and files you have.
After all your backup is done, you'll have to wipe your phone completely. This is an important step in the Apple trade-in process, failing to do this will rescind your trade-in eligibility. This is to make sure, others can use your iPhone as Apple's activation lock means nobody can use them without knowing your passcode.
To do this:
Back up your old iPhone
Open the settings app on your old iPhone
Tap on your name in the settings app
Tap on the sign-out option
Choose Sign Out of iCloud and Store
Enter your password and confirm and turn off your device
Now you can wipe your whole iPhone. For this:
Open the Settings app
Then navigate to the General option and tap on it
Scroll down till you see the Reset option and tap on it
Choose erase all content and settings
You will be prompted for your passcode twice, but it will proceed to wipe everything off of your iPhone after that.
Now all that's left to do is send back your old iPhone to Apple. Power down your old iPhone, and pack your old iPhone in the box Apple delivered you before. Send it to the local post office within the 14-day limit.
By two or three weeks, the whole process will be completed, you'll get notified that the trade-in is complete and you will be paid to the original payment method of your old iPhone.
How much do Apple give you for trading in your old device?
Like any other exchange or reseller program, Apple Trade will also increase the amount of credit based on the age and quality of the Apple Device. For example, you want to trade your iPhone 11 for the latest iPhone 12 Pro. Then you can expect about $500 in credits for the iPhone 11.
If you want to sell a much older iPhone, the amount you'd get for it will decrease with every generation.
You can't trade all types of iPhones; only selected models are available for the Apple Trade-in program. These are the models and the prices you can get for them:
iPhone SE (Second generation): Up to $150
iPhone 6s: Up to $30
iPhone 6s Plus: Up to $50
iPhone 7: Up to $50
iPhone 7 Plus: Up to $90
iPhone 8: Up to $100
iPhone 8 Plus: Up to $160
iPhone X: Up to $170
iPhone XR: Up to $200
iPhone XS: Up to $200
iPhone XS Max: Up to $250
iPhone 11: Up to $300
iPhone 11 Pro: Up to $350
iPhone 11 Pro Max: Up to $420
iPhone 12 Mini: Up to $250
iPhone 12: Up to $320
iPhone 12 Pro: Up to $430
iPhone 12 Pro Max: Up to $530
iPhone 13 Mini: Up to $380
iPhone 13: Up to $470
iPhone 13 Pro: Up to $600
iPhone 13 Pro Max: Up to $720
The final price is decided after the phones are gone through some testing to make sure they have no damages or significant problems. Liquid damage can also be something that can reduce the cashback of your phone.
It is important to note that Apple accepts multiple devices for a trade. So, you can trade two or three iPhones for the latest iPhone 14 Pro.
What devices can I trade-in at Apple?
Fortunately, Apple trade includes iPads, Apple Watches, and MacBooks in addition to iPhones. So, you can trade an older version of the gadget for the latest generation. One of the cool things about the Apple trade is that you can trade different Apple Products for different stuff. For example, you can trade an iPhone for an Apple Watch.
Apple's trade-in program, on the other hand, does not accept Apple TVs, iPods, and AirPods. But they do allow you to recycle these items. In fact, their recycling department accepts all sorts of electronics.
Does Apple Trade-In only accept iPhones?
No, Apple accepts other devices too, here is a list of devices that you can trade-in and how much value you can expect.
Macs
Mac Mini: Up to $600
Mac Pro: Up to $2,720
iMac: Up to $1,200
iMac Pro: Up to $2,135
MacBook: Up to $315
MacBook Air: Up to $490
MacBook Pro: Up to $1,350
iPad
iPad Mini: Up to $205
iPad Air: Up to $335
iPad: Up to $200
iPad Pro: Up to $680
Apple Watch
Apple Watch Series 2: Up to $20
Apple Watch Series 3: Up to $70
Apple Watch Series 4: Up to $105
Apple Watch Series 5: Up to $135
Apple Watch SE: Up to $135
Apple Watch Series 6: Up to $170
Android Smartphones
Samsung Galaxy S21+ 5G Up to $295
Samsung Galaxy S21 5G Up to $250
Samsung Galaxy S20+ Up to $185
Samsung Galaxy S20 Up to $160
Samsung Galaxy S10+ Up to $120
Samsung Galaxy S10 Up to $110
Samsung Galaxy S10e Up to $85
Samsung Galaxy S9+ Up to $65
Samsung Galaxy S9 Up to $50
Samsung Galaxy S8+ Up to $40
Samsung Galaxy S8 Up to $30
Samsung Galaxy Note 20 Ultra Up to $370
Samsung Galaxy Note 20 Up to $260
Samsung Galaxy Note 10 Up to $160
Samsung Galaxy Note 9 Up to $90
Samsung Galaxy Note 8 Up to $60
Google Pixel 5 Up to $215
Google Pixel 4 XL Up to $120
Google Pixel 4 Up to $100
Google Pixel 4a Up to $110
Google Pixel 3 XL Up to $50
Google Pixel 3 Up to $35
Google Pixel 3a XL Up to $35
Google Pixel 3a Up to $35
Other Apple devices
You can also trade in other Apple devices like iPods, Apple TVs, and more, but you won't receive any value for these. Apple will recycle these devices for free.
How do I trade in my device?
To trade your device all you have to do is go to the Apple Trade-in Website and select the device you want to trade for an estimate. Next up, you have to mail in the device. Apple will take care of the mail charge and they will appraise it again. Now, if they find that it's different from the initial estimate, they will notify you. You can either proceed or decline. In case, you do decline, they will send the device back to you.
If you go ahead, they will amount the credit towards your new purchase. If you haven't purchased anything then you'll be issued a gift card for the device's value.
While we've covered the online bit above, I'll go over the essence. Once you've visited the Apple trade-in page and settled on the approximate valuation, you can contact an Apple representative if you have any specific questions.
Now you can either take it to the Apple store yourself. Yes, it is open during these Covid times. However, I wouldn't recommend venturing out if you're not vaccinated. Anyway, if you want to want to take it, you still can. When you're there, they'll immediately assess the device and describe the quote. You can then trade it for store credits and buy a new device.
However, if you rather send it by post, you would first have to settle on the quote. And then ship it. Once it's there, the Apple Representative will check if the device matches the description. If it is off, then the quote will change.
If you decide to go through with it then Apple will process the trade which will easily take up to 3 weeks. Especially, these days. Once it's done, Apple will send you a notification of the credit. In case, you reject the quote, the device will be sent back to you free of charge.
What's the difference between Apple Trade-in and the iPhone Upgrade program?
If you opt to trade in your previous iPhone and extend your agreement for a further two years, the iPhone Upgrade program is a unique monthly payment service that grants you a brand-new iPhone, AppleCare+ (extra), and a new phone every year.
Apple Trade-In is applicable to many devices outside the iPhone and doesn't require you to sign up for any form of payment plan or arrangement. Simply put, Apple Trade-In can provide you with money for gadgets you currently own, but the iPhone Upgrade Program enables you to purchase a device you want.
When purchasing an iPhone through the iPhone Upgrade Program, you can use the credit from Apple Trade to defray the cost of the down payment.
Trade in Apple products at other resellers
If you really want to trade your Apple device, then you should know that Apple's trade-in program isn't your only option. You can approach resellers like SmartFoneStore, KRCS, FoneBank, and, of course, Stormfront. These businesses will buy the Apple device straight up for cash rather than credit like the Apple Store.
I would seriously recommend you visit these businesses if you think Apple is low-balling you or if you would rather trade for cash instead. The process of the actual trade is similar to Apple's trade-in program.
There are special offers that you can avail yourself of when choosing to trade in your carrier-locked iPhone on Apple's website. Some of them listed on the website are:
T-Mobile/Sprint Special Trade-in Offer
To get this offer, you will have to trade in directly with Apple, either using online or in a physical store. You will get an additional $100 credit in the form of a virtual prepaid Mastercard from T-Mobile/Sprint. After you place the order, you will get an email with the promo code and steps.
Verizon Special Trade-in Offer
Trading with Apple online or in a physical store will allow you to avail of this offer.
AT&T Special Trade-in Offer
You will have to trade in directly with AT&T for this offer. So, you have to choose No for the trade-in option in the Apple online store. You will get 30 days of time after activating your new iPhone. An email with the steps will be sent to you from AT&T.
Why Are Apple Trade-In Values Low?
When it comes to some devices, Apple trade-in values are frequently found wanting (particularly older iPhones and iPads). Why?
Simply put, they favor technology that is simple to resell. While models can vary in size and condition, they often aim for something straightforward to offer. The preference is for newer products that they are confident consumers will want, even with an on-site service shop.
While it's true that they will accept older gadgets, there's something special about targeting a still-vibrant resale market. Since fewer people are interested in the iPhone 7 these days, buyers can frequently find them used for less money, for example on eBay.
They are rather generic, as you can see from the price chart above. And aside from any flaws in the condition or if it's a size that's not in high demand, the price doesn't change significantly (like 32GB iPhones).
Alternatives
You have the option to go with different third-party companies providing buybacks. While most of them do pay more, they are not as convenient or easy to deal with. Apple offers the best trade-in experience, and for this convenience, you will be getting a slightly reduced price. It lies on you to choose the best option for you, but personally, I would go with Apple's trade-in program just for the peace of my mind.
How does Apple Trade-in Work? – Takeaway
If you are looking to upgrade your iPhone, you can use your old iPhone to fetch a nice sizeable discount for your new iPhone. Apple's trade-in program is a nice way to do it. The whole process is simple, convenient, and quick.
If you don't have any plans for your old iPhone and don't want to go through the time-consuming and inconvenient process of selling it on craigslist or eBay, Apple trade is the best option.
Apple also offers the most convenient option when coming to trade, compared to other buyback providers. Choosing Apple trade-in is convenient and quick, which will want you to do the same for your future purchases from Apple. Check out our "How does Apple Trade-in Work?" guide for all the details.
What happens to your old device?
Depending on your device's condition, Apple will either refurbish and sell it or recycle the device. If your device is in good condition, then the device will be refurbished and sold on the Apple refurbished store.
However, if your device is old and beyond repair, then Apple will recycle your device and salvage it for parts that can be reused. Apple uses a recycling robot named Daisy, that can dismantle up to 200 iPhones in an hour for reusable parts.
What About iPhone Upgrade Program?
The iPhone Upgrade program is not related to Apple Trade-In. However, this program lets you upgrade your current iPhone to a better model. So if you are looking to buy the new iPhone 14 Pro, then this is the best way to do it. With this program, you have to send in your current device to get a new one.
Online or Store Trade-In
You can trade your Apple device from the comfort of your home or the next time you visit an Apple Store.
Online Trade-In: For this, all you have to do is answer a few questions here about your device's condition. You will receive a trade-in estimate and if you accept, you can mail your device to Apple using the trade-in kit.
Apple will check your device to see if the condition matches your answer and pay you accordingly. You will receive Apple credit that you can use to purchase Apple products from a store or online.
Store Trade-In: You can trade in at an Apple Store if you have already planned on a visit. When you are in an Apple store, you can a representative for trade-in. They will inspect your device and quote a price.
If you accept, you can trade the device and get credit for later use or you can buy a new device and let the price get discounted.
Can I trade in any iPhone?
Unfortunately, you won't be able to trade in any iPhone. Of course, you won't be able to trade in a phone from any other brand either. It has to be an Apple iPhone. Additionally, you can only trade iPhone 6 through to iPhone11 Pro.
And the first generation iPhone SE. Most importantly, you should note that Apple's trade-in programs won't take the latest iPhone 12 or the iPhone SE 2. At least for the time being.
However, they will take in other devices. So, if you have an old Mac or an Apple TV that you don't use, it's always better to trade it and get something new.
Does Apple Trade-In Cracked or Damaged iPhones?
Yes, but the value of your phone will significantly decrease depending on the damage to your product. You will receive credit for one or two small cracks, anything significant will reduce the value to even $0 in some cases.
In such cases, repairing your iPhone or other Apple product and then sending it in for trade-in will be the best scenario. Also looking to alternatives will almost certainly guarantee some value even if your iPhone is damaged.
Is Apple trade in a good deal?
If you are planning to trade an Apple phone for another one, then it's honestly a terrific deal. It can save you a lot of money. Especially, if you are looking to have the latest smartphone every year. Even the process of trade is made much more convenient by Apple. So, check out our "How does Apple Trade-in Work?" guide for all the details.
Is this related to the iPhone Upgrade Program?
No, Apple Trade-in is not related to the iPhone Upgrade Program. The iPhone Upgrade Program has an option for you to pay off your iPhone with 24 monthly installments. Additionally, this program also has an option where you can trade your current device for a new one after 12 payments.
Also Read: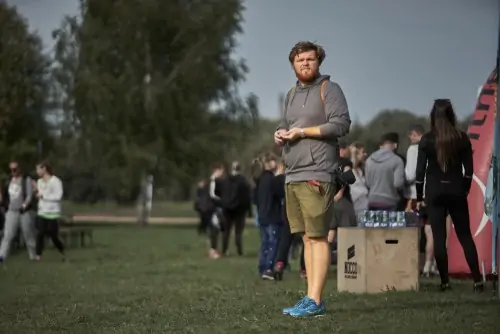 Alan Urban is the Editor-in-chief of Stupid Apple Rumours and often proclaims that he's " Apple's number one fan."
In addition to keeping up with the latest Apple news, he also reviews Apple products and creates user-friendly guides.  When not subjecting Apple Devices to crazy stress tests, he's usually playing games on Apple Arcade