One of the best ways to improve your workflow is multitasking. Macs are devices made to help you work in the best possible way. And one of the best tools for multitasking on a Mac is using the split screen mode. I use split screen apps when I am working on my Mac, even now, as it helps me to accommodate multiple apps/windows on a single screen. Check out our list of the Best Split Screen Apps for Mac.
For a long time, I used the split screen tool baked into the Macs since the El Capitan OS. I never knew there were Apps designed to offer split screen experience on Mac. But once I discovered these apps, there was no going back as they are miles better than the ones found in MacBooks. Don't get me wrong, the inbuilt split screen feature of macOS is good but I recommend using split screen apps as they offer greater control and features.
Related: Best Paint App for Mac
I have tried some of the best split-screen apps for mac and they have made my workflow a lot more efficient and productive. These are the best split-screen apps for mac right now.
After having reviewed 50 split screen apps for Mac based on various factors like performance, features, function, usage, price, and much more; my team and I zeroed in on 9 that stood out. These 9 were further put through a series of tests to determine the best. We found that:
The best split screen app for Mac is Magnet. Users can really benefit from this app as it helps enhance the split screen function and it gives the user complete control over the placement and size of the screens. It is also extremely affordable at $0.99.
Check out the latest MacBook Here!
Best Split Screen Apps for Mac
Magnet
Magnet is one of the best apps to enhance the split screen function of your Mac. It does this by giving you variety on how you can arrange apps on your screen. This helps you to add more apps/windows to maximize workspace and manage them. You can customize these windows to get the most out of your screen boosting your productivity.
Magnet also supports window organization using keyboard shortcuts, which are easy to remember and make it even quicker and more efficient to use it. Magnet is available on the App Store for 0.99$ and is easily worth the asking price. The price and features of Magnet make it one of my favorite split screen apps for Mac.
Window Focus
Another excellent app that aids you in multitasking is Window Focus and it does so by giving you some of the best split screen features. You might be tricked to believe that the app is mediocre because of its simplicity, but it actually is a great app for improving your productivity. While it is a great split screen app in itself, its best feature is that it can help you focus.
Window Focus does this by highlighting the window/app you are working on and dims all the other apps around it. This allows you to work with fewer distractions and improve your productivity. Window Focus also lets you change the opacity of the dimmed apps along with the colors, so you can personalize your workspace more for better control. All this makes one of the best split screen apps for Mac even better.
Related: Best Video Editing Software for Mac
Moom
Moom is an excellent split screen app as it makes the job a whole lot easier for you. Instead of resizing the windows to your liking every single time, Moom makes it easier, every time you hover over the green resize button, Moom's panel appears and gives you options on different window options. You can select the one you want to use and Moom will apply it. You don't have to resize or drag around every single time.
Moom also supports keyboard shortcuts which makes it more convenient for people who don't want to lift their hands off the keyboard. Moom offers a free trial period after which you can buy it for 10$ if you like it.
BetterSnapTool
BetterSnapTool is an app that allows users to create areas on their screens. You can then snap windows into these areas and use them to have access to multiple windows at the same time. This makes it a great split screen app, but what makes it even better are its extra features.
BetterSnapTool supports features like customizable keyboard shortcuts; hidden docks and it also has support for multiple monitors which can boost your productivity levels to unimaginable levels. BetterSnapTool costs 3.99$ making it a great deal. BetterSnapTool is like Spectacle (the next app on this list) on steroids, which makes it one of the best if not the best split screen app for Macs.
Spectacle
Spectacle is an app that is geared towards people that hate taking their hands off their keyboards. So, if you are someone who writes a lot and if taking your hands off your keyboard annoys you, then Spectacle is an app built specifically for you.
Window management is something that gives you a headache of constantly needing to use your mouse, but with Spectacle, you don't have to. It does so by giving you customizability and control over your windows using tons of keyboard shortcuts. This eliminates the need for a mouse when you are typing/writing on your Mac.
And the best part of using Spectacle is that it is completely free and open source. Spectacle is lightweight (doesn't tank your Mac), free and open-source software that aids in split screen management. It boosts your tying/writing productivity using intuitive keyboard shortcuts that will keep your hand tied to your keyboard. All this makes it one of the best split screen apps for your Mac and or free of cost too.
Divvy
Divvy is a window manager at its heart and one of the best ones at window managing too. This makes it one of the best split screen apps for mac as it manages windows in one of the most intuitive and convenient ways for the user. It does so by dividing the screen into portions instead of allowing the user to fiddle around and resize each window. Divvy allows for different and varied window arrangement possibilities.
Divvy is fully customizable allowing you to even add space around windows and you can create shortcuts for fast and easy access to your customized window arrangement. This allows for more precise and better window management. The user has to just click and drag.
All this comes at a cost of 13.99$ making it one of the costliest apps on this list, but for the right person, it can be worth it. To know if Divvy is the best split screen app for your Mac, you can check it using the free trial before buying it from the App Store.
Better Window Manager
If you want a no-frills spilt screen app for your Mac the Better Window Manager is a great app. It ticks all the boxes in terms of required features to make it one of the best split screen apps for mac. It allows you to precisely place and adjusts windows to your liking. You can save these configurations and restore them when needed.
Better Window Manager also allows for keyboard shortcuts for your saved configurations which makes it all the more convenient to use. Better Window Manager comes with a free trial after which you can buy it for 5.00$.
Cinch
Cinch is a good third-party app if you don't like the features offered by the inbuilt split screen feature of macOS. Cinch allows for greater flexibility with creating windows f different sizes and they snap right where you need them to. This makes the whole split screen experience on your mac, easier and better. There are other customization options with Cinch so that you can tune it to your liking. Cinch is available for free for the trial version and costs 7$ for the full version on the App Store.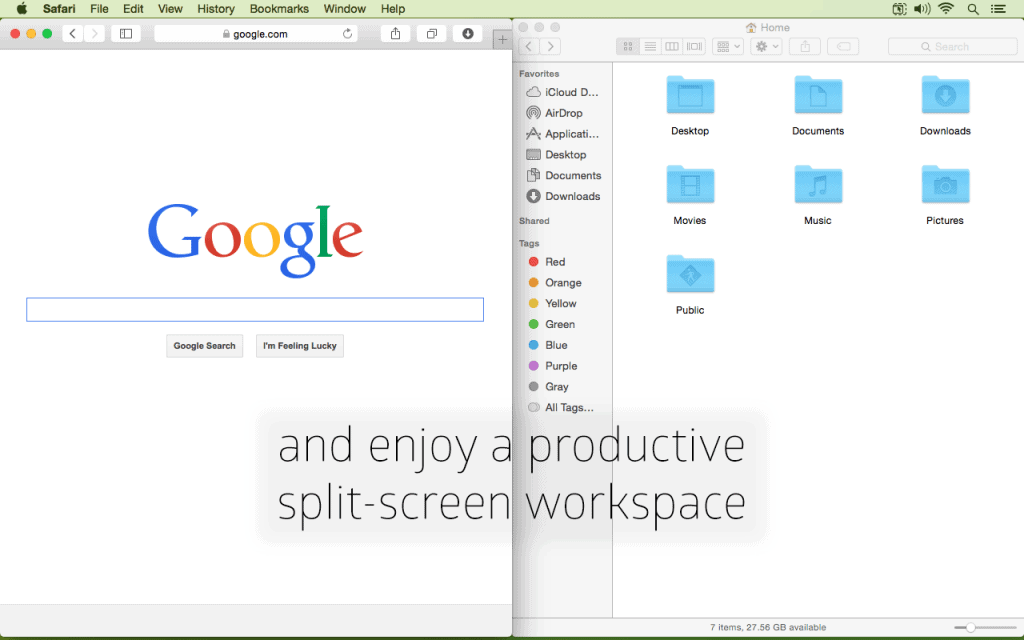 MaxSnap
MaxSnap is another split-screen app that enhances the native split screen function of macOS. It does this by allowing you to rearrange windows in any way you want. This makes it more convenient than the native spilt screen experience of your Mac. It lacks some features that others in this list have, but it is still a great split screen app for mac. MaxSnap like most software on this list offers a free trial after which you can buy it for 10$.
Best Split Screen Apps for Mac – Final Thoughts
Split screen is a nifty tool in Macs that can get more out of you when you are working. And split screen apps help you get the most out of your workflow by adding in more features like keyboard shortcuts, better split screen functionality, and intuitive UI. This boosts your productivity beyond what you have imagined. They make it easier for you to focus on and manage windows for an optimal work experience.
If you are wondering which split screen app you should choose, the above are some of the best split screen apps for Macs. They are all good in their own right and offer good value, and if you are still doubtful, you can check them out using the free trial. You won't go wrong with any of the above as they are all excellent split screen apps, just choose them based on your needs.
Check out the latest MacBook Here!
How To Split Screen On Mac
The major differences between apps and the in-built split screen feature on a MacBook are the number of windows and the features. While 4 windows might not beneficial to all professionals, they can still help when executing certain complicated tasks. For example, R&D, Video editing, Technical writing, etc.
However, it's perfectly fine if you think that you can make do it with the regular split-screen feature on mac. Here's How To Split Screen On Mac:
Please do note that the following steps are only applicable if you're using macOS Catalina or later versions.
All you have to do is hover the cursor over the full-screen button (Green button) on the upper left side.
Alternatively, you could click and hold the button.
Once you do this you get to choose between two options: Tile Window to Left of Screen or Tile Window to Right of Screen.
So, this essentially ensures that the window moves to the left or right side, effectively splitting the screen. You can use it with any window or app as long as it has a full-screen button.
Of course, you should also click on another window (from the floating options) on the other side to use it side by side.
In case, this method doesn't work, simply head to System Preferences under Apple Menu and click on Mission Control. Now, select the "Displays have separate spaces" option and you're good to go.
Which is the best split-screen app for Mac?
Mosaic is the best split-screen app for mac. This split screen for Mac does what it should do, Mosaic is one of the best split-screen apps you can use on your Macbook. Unlike other applications, Mosaic offers you multiple layout arrangements so that you can split-screen on your Macbook as per your needs. To create such a customized layout, all you'll have to do is click on Mosaic's menu bar icon, click on Preferences and choose Quick Layout. Now, you can adjust the number of grids and customize it to fit all your needs precisely.
Best Split-screen App for MAC: FAQs
Can a Mac do a split-screen? 
Yes, by using the Split View feature, you can split-screen on your Macbook by simply holding the full-screen button and then dragging it left or right. But, if you're looking for more advanced options such as more screens or customized layouts, then you'll have to rely on third-party applications. 
How do I split my screen into four on a Mac? 
Choosing a third-party application on a Mac for split-screen is better as the Split View feature can stop working anytime. Hence, while using an application such as Magnet or Mosaic, all you've to do is make sure that the app is ready in the Menu Bar first. Then, once it's launched, simply drag the screen from the top and put it under your preferred split-screen layout. 
Can you split the screen in three ways on a Mac? 
Yes, it's entirely possible to split your Macbook's screen in three or more ways by using a third-party application. Many apps like Magnet, Mosaic, etc., allow Macbook users to split-screen according to their needs and enhance their overall productivity. 
Is there an app to split screen on Mac?
Macs have a built-in feature that lets you split apps on your screen. This feature has been available since El Capitan OS. But since Catalina OS, Apple added Split View to the OS, which improved on the split screening feature. 
Apart from this, there are apps that let you split apps on your Mac. These apps are robust and offer features that help with productivity. This article features some of the best split screen apps for Mac.
Can you split the screen horizontally on a Mac?
Splitting the screen horizontally is possible on your Mac. On older Macs without Split View, you had to manually adjust each app to fit horizontally. On Macs running Catalina OS and later you can just drag a window to the top and it will fill the top half of the screen.
Can you do a 4-way split screen on Mac?
Doing a 4-way split screen on your Mac is simple. All you have to do is drag the windows to the corners of your Mac screen and they will occupy 25% of the screen. This way you can look at 4 windows at the same time.
Also Read:
Alan Urban is the Editor-in-chief of Stupid Apple Rumours and often proclaims that he's " Apple's number one fan."
In addition to keeping up with the latest Apple news, he also reviews Apple products and creates user-friendly guides.  When not subjecting Apple Devices to crazy stress tests, he's usually playing games on Apple Arcade