Looking for external microphones for your iPhone? Here are the best iPhone external microphones for video. Check them out!
Looking for an external microphone for your iPhone to improve the audio recording performance? You can choose one from our list of the best iPhone external microphones for video.
I know many who use their iPhone to capture tons of videos because of the amazing camera performance. But these people have also complained that the audio recording on the iPhone is not so great, especially when outdoors.
Don't get me wrong, the iPhone microphones are great for a mobile device, but if you are a professional, they are just not good enough. And in such cases, you have to look for external microphones, and we have curated a list of the best iPhone external microphones for video.
Best iPhone External Microphones for Video
Features
Shure MV88
Designed for iPhones with Lightning connector
Excellent recording performance
The Shure MOTIV app is great for tuning and recording
Movo VXR10
Compatibles with many devices
Good recording performance with a unidirectional pattern
Excellent value for money
ttstar Microphone System
Complete microphone system with support for most devices
Can be used as a lapel or stand mic
Comes with many useful accessories
Comica CVM-VM10II
Offers lots of bang for your buck
Good audio recording performance for the price
Nice selection of additional accessories
Rode VideoMic Me
Designed for mobile devices
High-quality audio recording for iPhones
This shotgun mic with a furry windscreen is great for outdoor videos
Related: Where are your iPhone microphones located?
Top iPhone External Microphones for Video
If you want a premium microphone for your iPhone that offers excellent functionality, and top-notch audio recording capability, then look no further as there are few microphones that do it better than the Shure MV88.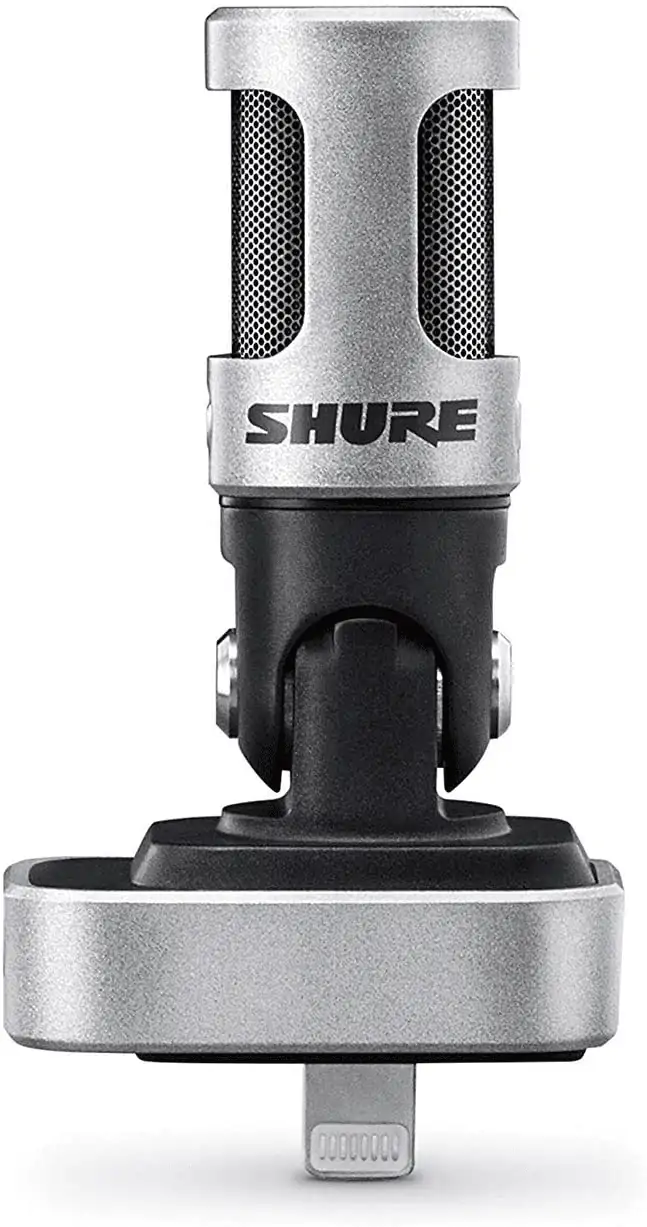 The Shure MV88 is a Condenser microphone which makes it a great choice if you are looking to record a lot of vocals and high-pitched sounds. The microphone uses a Lightning connector so you can plug it into any modern iPhone and easily record audio.
With the ShurePlus MOTIV app, you can record audio and tune the microphone to your needs. The app also allows recording audio for videos. So whatever your needs are, Shure has you covered. The microphone can be rotated for up to 90 degrees allowing you to change the recording direction easily.
The microphone is durable yet lightweight meaning you don't have to worry about the connector breaking off. You get a carrying case, a windscreen, and an AUX cable if you want to use the microphone with other devices too.
Overall, the Shure MV88 is easily one of the best iPhone external microphones for video. It is designed well, offers outstanding performance, and is versatile. It may cost a lot but the performance and quality are unmatched.
If you are looking for a budget-friendly microphone that is also versatile when it comes to device support, then you should consider the Movo VXR10. This unidirectional shotgun microphone is designed to be compatible with almost all devices.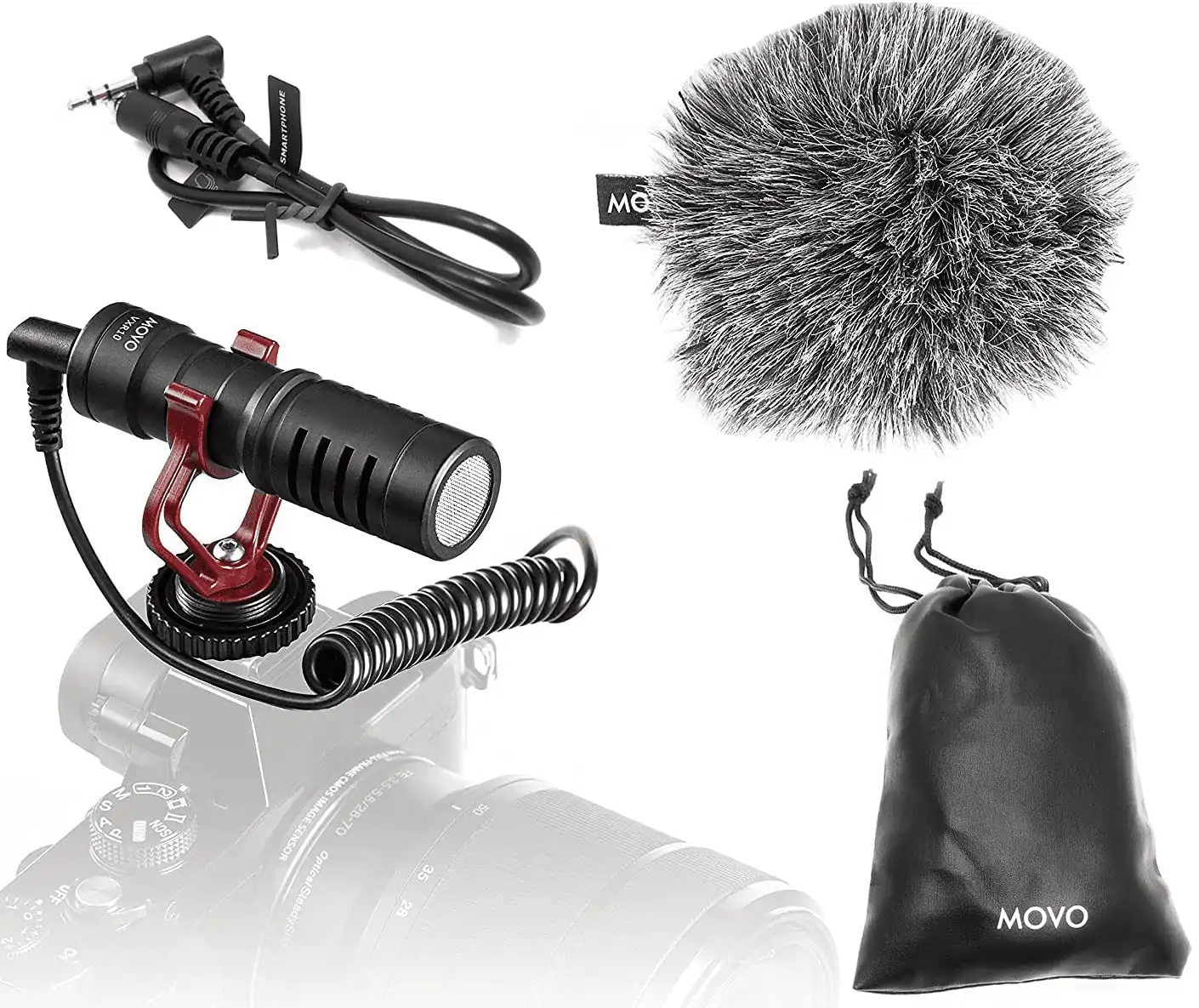 The Movo VXR10 works with iPhones, Android devices, DSLRs, Camcorders, and more. The microphone has a shotgun-like design and it features a unidirectional pickup pattern making it suitable for almost anything. You can use it for live streaming, podcasts, filmmaking, and more.
The microphone is made from aluminum making it lightweight but durable. It is powered using the Aux port making it convenient and simple to use. The microphone is also capable when it comes to recording audio clearly.
The Movo VXR10 also comes with a bunch of accessories that increase its value. Along with the microphone, you get a travel pouch, two AUX cables, a shock mount, and a windscreen. Using all the tools, you can get a pretty handy setup for your iPhone video recording.
The Movo VRX10 may not be the best iPhone external microphones for video but for its price it offers tremendous value for your money, making it one of our favorites.
Want a microphone that records audio for your iPhone and does a lot more? If you are looking for a budget microphone that can record audio on iPhones, cameras, laptops, iPads, Speakers, amplifiers, recorders, and more, then the ttstar Microphone System will impress you.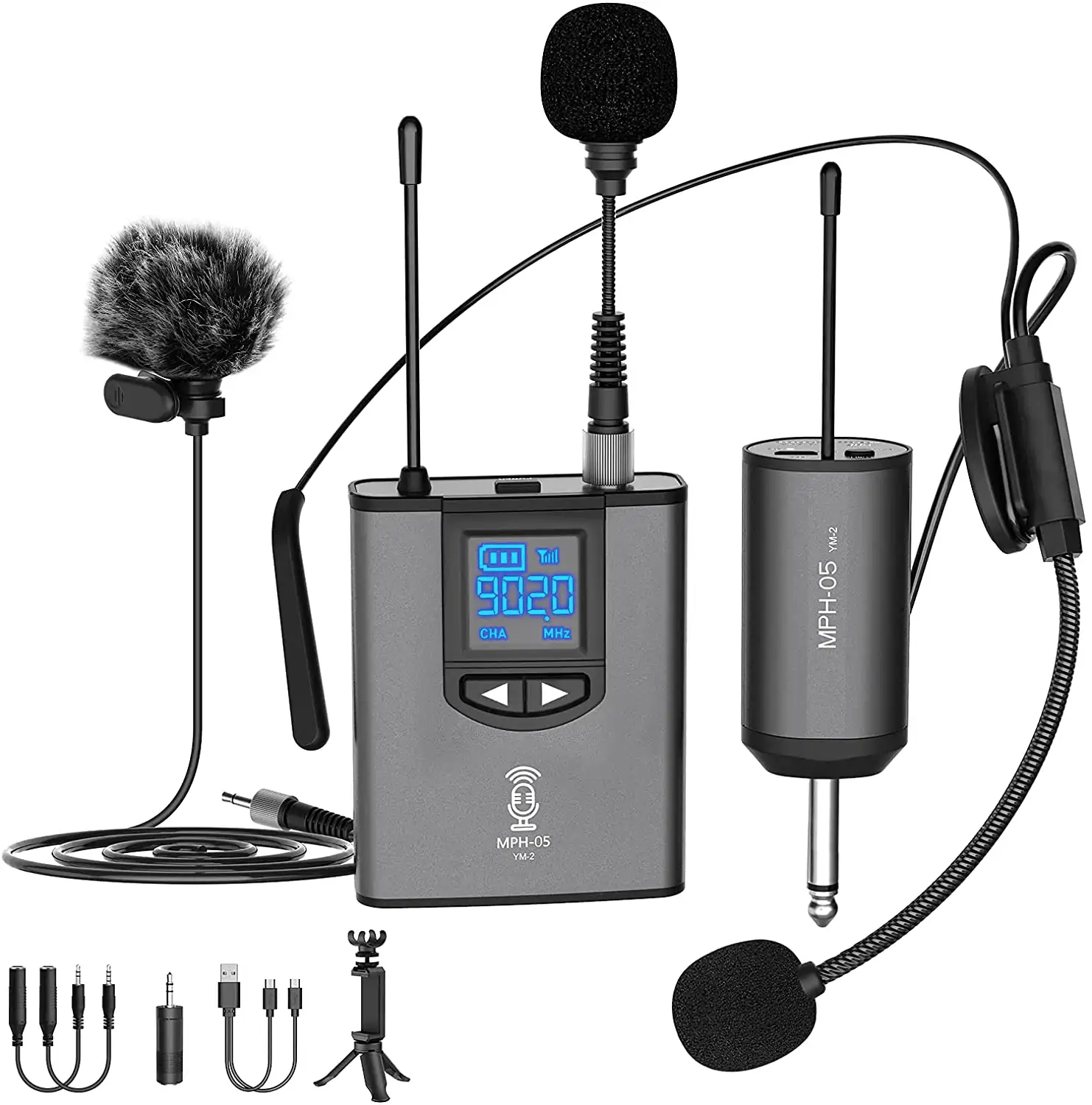 This lapel microphone system is one of the best deals you can get on a microphone for your iPhone videos. The microphone system itself records clear and crisp audio, but it also comes with a slew of accessories that sweeten the deal.
The ttstar Microphone System features an omnidirectional microphone that has a cardioid pickup pattern, meaning it is great for videos with fewer subjects. You can use the microphone system in two ways, as a stand or as a lapel giving you versatility when recording audio.
The ttstar Microphone System comes with a stand that can house both your iPhone and the microphone system allowing you to easily record video and high-quality audio simultaneously. You also get a lapel microphone, a receiver, a stand microphone, two AUX cables, a dual charging cable, and a 3.5 to 6.5 mm adapter. These are all you need to record the best interviews, vlogs, and documentary-style videos.
Like the Movo VXR10, the Comica CVM-VM10I is another microphone that offers an excellent price-to-performance ratio. The Comica CVM-VM10I is a shotgun microphone that can work with smartphones like iPhones, DSLRs, and more.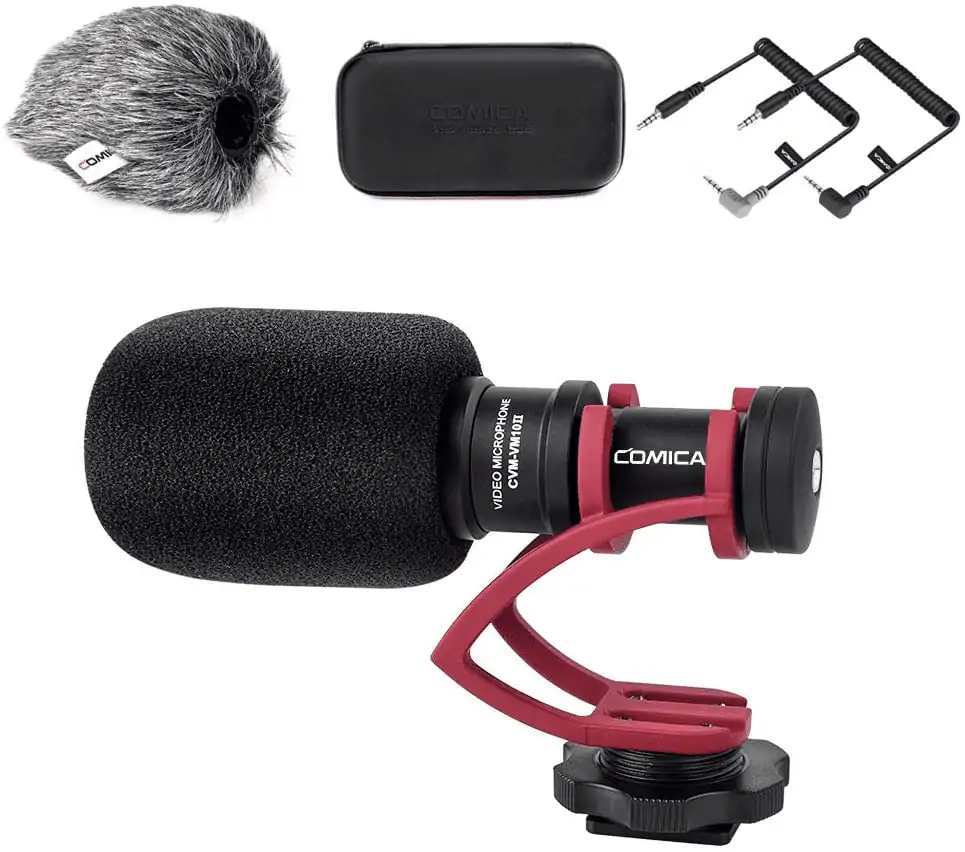 The Comica CVM-VM10II works with a 3.5 mm AUX connector which means it will support older iPhones and other devices with a 3.5 mm jack out of the box. For newer iPhones, you will need a Lightning to 3.5 mm audio jack dongle and then it will work flawlessly.
The recording quality of the microphone is good and considering the price, it punches well above its weight. The cardioid pickup pattern lets you focus on the audio of a subject and eliminate background noise. You don't have to charge or change batteries on the CVM-VM10II, making it easy and simple to use.
The Comica CVM-VM10II performs even better when you fix the included accessories onto it. The shock mount, and windscreen (normal and furry) help and improve the audio quality especially when you are outdoors. You also get a carry case and two AUX cables making it an awesome deal.
Overall, the Comica CVM-VM10II is easily one of the best iPhone external microphones for video, especially if you are on a budget. It has a durable design, good recording quality, and doesn't cost as much as Shure or Rode making it great for customers on a budget like students.
The Rode VideoMic Me is a purpose-built microphone for smartphones. Like most microphones from Rode, this one too offers high-quality audio recording performance at a reasonable price.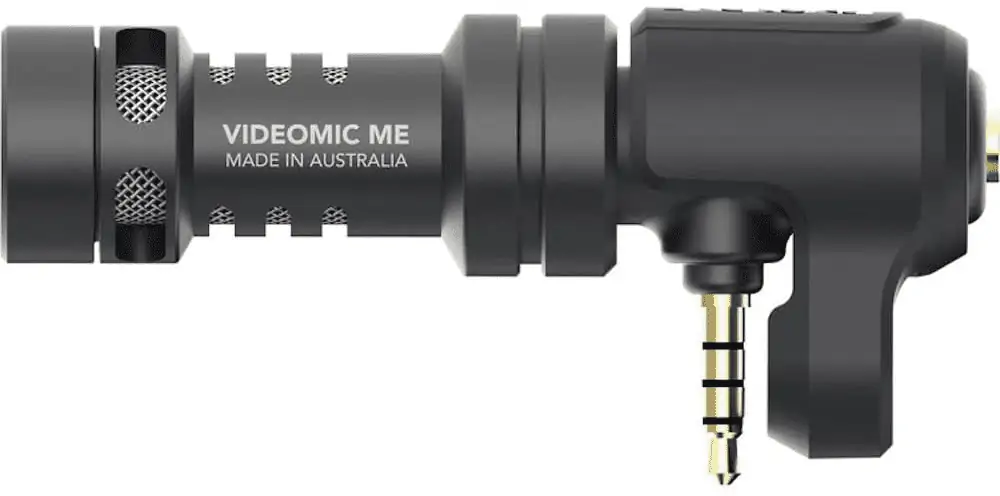 The Rode VideoMic Me is a shotgun microphone meaning it is designed to pick sounds that are further away making it a great choice for recording clips and short films in public. The microphone also comes with an included furry windshield making it great for recording when you are outdoors or in extreme conditions.
This microphone features a 3.5mm connector meaning you can use it with older iPhones without the need for any connectors. For new iPhone models without a headphone jack, it is not the greatest match as you have to hold it separately since it will be hanging from a dongle.
If you are someone with an older iPhone or don't mind the inconvenience of holding the microphone too, then this is a great choice. The Rode VideoMic Me is easy to use, is built well, and offers good performance for the price.
Best iPhone External Microphones for Video – Conclusion
The Best iPhone External Microphones for Video are the ones that can record audio clearly. But there is more to a microphone than just being able to record good-quality audio.
Selecting a good microphone for your iPhone depends on a lot of factors like pickup pattern, range, design, and more.
We hope our list of the Best iPhone External Microphones for Video was helpful. If you still;l have trouble choosing the Best iPhone External Microphone below.
How to choose the best iPhone external microphone for video?
To choose a good microphone for your iPhone, you need to factor in these features and qualities of the product,
Design and Build – Microphones don't have to be aesthetically pleasing, but their design plays an important role in how well they work in different situations. There are shotguns, lapels, lavalier, and more types of microphones and each has its strength and weakness so choose accordingly.
Since you are buying a microphone for your iPhone, make sure to choose something that is lightweight and small so that you can easily fit it into your iPhone and work with ease.
Pickup Pattern – The pickup pattern is the most important factor you have to consider when buying any kind of microphone. The most popular pickup patterns in microphones are:
Omnidirectional – Perfect for interviews, moving subjects
Cardioid – Perfect for documentary recording, weddings, events
Bidirectional – Perfect for podcasts, radio interviews
Lobar (Unidirectional) – Perfect for narrative film, controlled sets
Supercardioid (Shotgun) – Perfect for reality television, scripted content
Hypercardioid (Mini-Shotguns) – Perfect for on-camera mics, documentary, and instrument recording
So make sure to choose a microphone with a pickup pattern that will suit your recordings the most.
Accessories – Microphones come with accessories like stands, windscreens, carry cases, and more that can increase the value for money. Stands and windscreens will help with the recording quality as well, especially in outdoor conditions.
The above list features the best iPhone external microphones for video after considering all the above factors. So be sure to check them out, they are highly recommended by our team.
What is the difference between TRS and TRRS?
TRS stands for Tip, Ring, Sleeve and it works with audio and camera gear. These can carry one signal from a device and are easy to identify as they have two black rings on the connector.
TRRS stands for Tip, Ring, Ring, Sleeve which means it can carry two signals at once, for example, audio playback and microphone signals on to and from your iPhone. TRRS has three black rings making them visually different from TRS connectors.
Also read: