You can now buy an AirPods 3 Clone before its official release! Check out our AirPods 3 Clone Review for all the details.
Today, I'm here to talk about a product that's been making waves in the market – the AirPods 3 Clone. Yes, you heard that right – a clone!
Now, before you start freaking out about the legality and ethics of owning a clone, let me tell you that I'm not here to debate that.
Instead, I'm here to give you an honest and fun review of these nifty little devices that claim to be a budget-friendly alternative to the original AirPods 3.
After having reviewed the AirPods 3 clone based on various factors like design, function, usage, performance, price, and much more; my team and I found that:
The AirPods 3 Clones is one of the best in its price segment. These wireless earbuds are a 1:1 super copy of the original AirPods, but with an even better build quality than their predecessors. The sound quality is absolutely brilliant but what really sets these earbuds apart is their impressive battery life – I was able to enjoy 6 hours of uninterrupted listening on a single charge. Overall, the AirPods 3 Clones are definitely worth considering if you're looking for high-quality wireless earbuds at an affordable price.
AirPods 3 Clone Review (Updated version Air Pro 6.0)
What's Inside the Box
Unboxing a clone is something I am always excited about because I want to see how close in quality compared to the original product's packaging. The AirPods Max clones I looked at some time back, had one of the poorest unboxing experiences. 
The outer box is simple, it is an all-white box with a picture of the AirPods 3 on it. Opening the box I came across the AirPods case with the AirPods inside them. These are seated on a plastic stand kind of thing. Removing the stand reveals the USB charging cable, a quality control pass, and an instruction manual.
The packaging is cheap and nothing special, but it is better than the AirPods Max clones so I am fine with it. Though good packaging is nice to have, the quality of the product should be the one that should be tested, which I'll do once you have a look at the technical specs. Spoiler alert, from initial impressions, it's much better than the packaging.
AirPods 3 Clone Design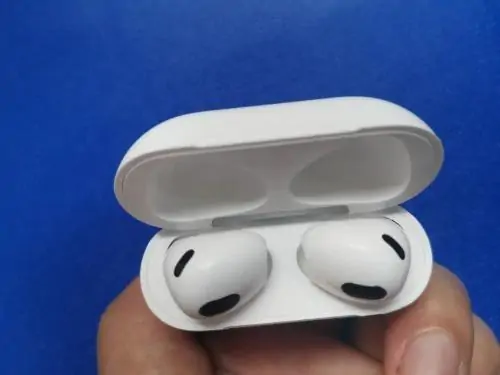 Now comes one of the most important aspects when it comes to evaluating a clone product. The design and feel of it. If it matches or even comes close to the original product, it is a victory for the clones.
I remember checking out a clone of the original AirPods long back, they looked extremely cheap and felt very bad. But these clone manufacturing companies have become better over time and have refined their process quite a lot.
Now the clones of the original AirPods and AirPods Pro are of much better quality at least when it comes to design and build quality. 
And I have to admit, some of these Chinese clone manufacturers know what they are doing. This clone of the upcoming AirPods 3 have been designed from leaks and CAD renders on the internet. They are designed to the exact leaked specs on the internet.
First comes the charging case, it almost looks like Apple made this. It feels as though the manufacturer stole engineering samples from Apple and is selling them.
The case looks and feels very similar to the AirPods Pro case but it is not of the same size, it is slightly smaller, in terms of width and length.
The hinge is also very sturdy and features the same mechanism as Apple's AirPods Pro charging case. It has a very satisfying feeling when you open and closes the case lid tool. 
Now the AirPods themselves, and these look new and different from the older AirPods. It seems like a morphed version of the regular AirPods and the AirPods Pro for this AirPods Pro 3 clone.
But these clones look and feel as good as the AirPods Pro.
The stem is slightly longer than the AirPods Pro but it is much shorter than the regular AirPods. There are no silicone tips, but they should fit in the ears much better than the regular AirPods thanks to the new design.
Finally, the charging cable that comes included in the box is a generic USB cable for charging which is cheap and of low quality but it will get the job done.
Overall, I am very impressed with these clones of the upcoming  Apple AirPods 3. They look and feel like something Apple would have made.
They come very close to the quality of the real AirPods Pro, both the charging case and the AirPods. I am impressed, one of the best looking and feeling clones I have come across. 
Functions and Use
These AirPods 3 copy don't just look and feel like a real AirPods, they also function like a real one. They connect similarly to the AirPods Pro and when connected, it notifies that an AirPods Pro is connected. 
Once I paired the AirPods 3 clones to my iPhone I got all the notifications and animations that would normally appear the first time connecting an original AirPods Pro.
The way these manufacturers have implemented it is uncanny as it feels very real. You also get notified about Siri and spatial audio.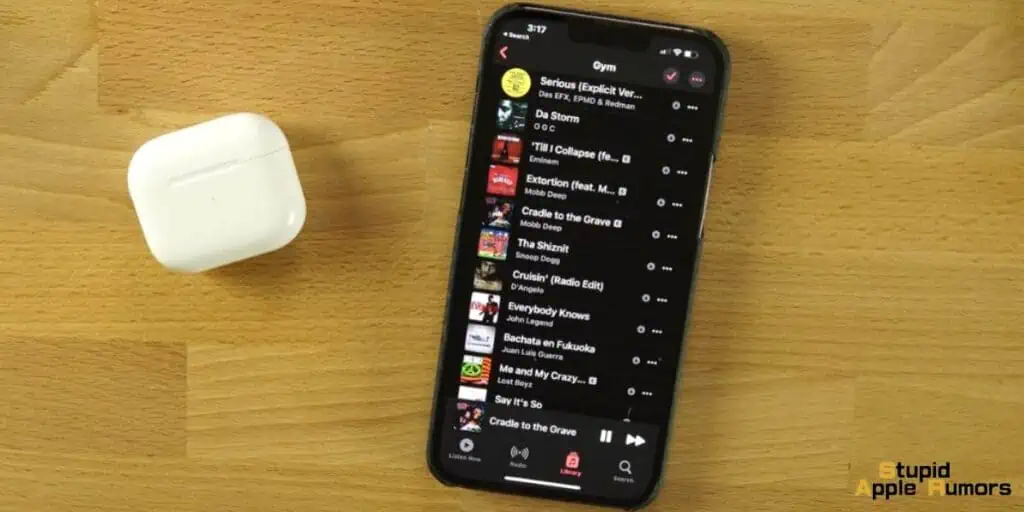 When you go to the AirPods Pro control panel in your iPhone, you get all the same functionality for these AirPods 3 clones.
For example, you can turn on noise cancellation, transparency mode, spatial audio, etc. I will tell you if these features work and how well they work in the next section. 
Performance
The performance of a clone will always be subpar when compared to original products because while it is easier to copy, the engineering inside a product is not.
Everything inside an Apple AirPods is custom-made by Apple so the clone manufacturers can't design, develop or obtain these internal materials. 
That said, just because of how well these clones are designed and built, I wouldn't be surprised if they perform very well too. These earphones sound decent, especially when you compare them to older clones of AirPods.
The AirPods 3 clones do a good job of being loud without distorting at high volumes. The high and mids are clear and good for the price. The bass is a bit lacking but nothing to frown upon.
While the sound quality is decent, the quality of feature implementation is not, you can toggle on noise cancellation, transparency mode, and spatial audio but none of them work or work well enough. Both noise cancellation and transparency mode do nothing at all, and while spatial audio does work it is not as good as the AirPods Pro.
While I have been giving a sort of a negative review on the performance side of things, these are still very good for the price. I should remind you that these AirPods 3 clones cost less than 50 dollars, which makes them one of the best performing earphones in the price category.
Obviously, they can't match the performance of the original AirPods or AirPods Pro, but they still hold up well for 50$. This is surprising as for the price, I feel the feature set and performance are very good.
Battery
I loved one cool feature, the charging case comes with a battery life indicator and from what I was able to test, these earbuds last for around 6 hours on a single charge which is quite decent, but not as performance driven as the originals..
You can also check the battery life of each AirPod, and the charging case too. This is very useful and was absent on the AirPods Max clones. The one good thing about these clones is that they support wireless charging as well.
Specifications
AirPods 3 Clones
Brand
Gushyly
Model Name
Air60 Pro TWS
Type
True Wireless Earphones
Driver Type
Neodymium
Speaker Driver Diameter
15 mm
Frequency Range
20Hz to 20,000 Hz
Sensitivity
120±3db
Resistance
32Ω
Impedance Range
Up to 32Ω
Bluetooth
v5.0
Battery
Up to 6 Hours
Charging Case
Yes
AUX support
Yes
Should You Buy the AirPods 3 Clone
These are some of the clones of any Apple product on the market right now. They look and feel very close to real AirPods but feature the design of the AirPods 3. The performance is nothing stellar but for the price, it is very good. 
These are so well built, that people would easily fall for them and think they are real. They also cost less than a third of the original AirPods so they are worth the money easily for me. I would recommend them to anyone who is a casual listener and wants to flaunt something Apple-like.
How to tell the difference between original AirPods 3 and a clone?
There are a few ways to tell the difference between genuine AirPods 3 and clones:
Packaging: Genuine AirPods 3 come in a box with Apple's branding and logo, and the packaging is of high quality. Clones may have similar packaging, but it may not be of the same quality or have Apple's branding.
Build quality: AirPods 3 have a high-quality build, with clean lines and no visible seams or rough edges. Clones may have rough edges or visible seams, and the plastic may feel cheaper. However, some clones can look and feel identical to the original and this makes it difficult to tell the difference.
Sound quality: Genuine AirPods 3 have excellent sound quality, with good bass and clear highs. Clones may have poor sound quality, with low volume and distorted sound. Some like the one I reviewed offer good sound for the price and though it might not be on par with an original AirPods 3, they're generally close.
Connectivity: Genuine AirPods 3 connect easily to Apple devices and have a stable connection. Clones may have connectivity issues, such as poor range or difficulty connecting to devices. This also depends on the model of the clone as some come equipped with Bluetooth 5.0 that makes pairing a breeze.
Price: Finally, AirPods 3 are relatively expensive, and clones are often much cheaper. If a deal seems too good to be true, it may be a sign that the product is a clone. You can get clones for as low as $25 but the overall build quality, sound and connectivity will be horrible and not worth the money.
FAQs
Are there fake AirPods 3?
Yes, in fact, the fake AirPods 3 came out even before the original AirPods 3 was announced. They had the same design and features that the original was supposed to have. And the fake AirPods 3 convincingly sold the look. Check out our AirPods 3 Clone review for more details. 
Is it worth buying AirPods 3?
AirPods 3 are great if you are looking for a pair of small comfortable earbuds. They are not as feature-rich as AirPods Pro but offer a decent improvement over AirPods 2nd Gen.  They are definitely worth it for the price, even though I would recommend getting the AirPods Pro for the best experience.
Does fake AirPods work?
Yes, they do work but they are not close when it comes to offering the quality as original AirPods. Fake AirPods might look and feel as good as genuine AirPods, but they will lack features and sound poor. The battery life of fake AirPods will also be significantly worse.
Also Read: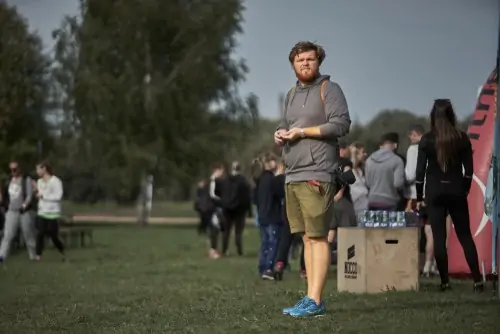 Alan Urban is the Editor-in-chief of Stupid Apple Rumours and often proclaims that he's " Apple's number one fan."
In addition to keeping up with the latest Apple news, he also reviews Apple products and creates user-friendly guides.  When not subjecting Apple Devices to crazy stress tests, he's usually playing games on Apple Arcade