Apple has started rolling out its 7th beta update for their new tvOS 16 which they first hinted was coming this fall, at their keynote WWDC event in June 2022.
From what we can tell, it's got a whole load of interesting new features and updates making it our favorite tvOS version of all time.
So what's in store for the general public later this year?
I'll cover all there is to know about the new tvOS 16 including the speculated release date and walk you through all of the changes you can expect to see on your device this year.
tvOS 16 – Release Date, Compatibility, New Features, & More
tvOS 16 Rumored Release Date
tvOS 16 was first announced to the public at Apple's WWDC event in June 2022. Their first Beta test version was later released in July and since then we've seen a total of 7 Beta tests till date.
Based on speculation, rumors and from Apple's past launches, we can assume that they would release the final version of tvOS 16 this September alongside the watchOS 9 and the new iPhone 14.
So if we take this into account then the new tvOS 16 should get released within the next week, most likely on the 7th of September.
However, this is still a speculation as Apple has not provided us with an official release date as yet. So we can only hope that tvOS 16 gets an earlier release than late September or October when the new macOS Ventura is expected to come out.
Which Devices Will Be Compatible with tvOS 16?
From what we've learnt, the new tvOS 16 should be capable of running on most of the devices that currently support tvOS 15.
So that would mean that the Apple TV HD, the Apple TV 4K or later, HomePod and HomePod Mini will receive the new tvOS 16 update this fall.
New Features Coming to tvOS 16
While not much was discussed at the WWDC event in June regarding the new features and updates coming to tvOS 16, we did find quite a number of changes while testing out the Beta releases.
With tvOS 16 Beta 7 build number – 20J3571a, we found a bunch of new updates that can really enhance user experience. To start things off, the new Swift UI allows developers to customize the app's interface and can improve functionality.
We can also expect to see :
Game Controller Compatibility – The new Apple tvOS 16 will support Bluetooth wireless controllers as well as wired USB game controllers. Which means that users will be able to connect Nintendo Switch Pro controllers and the Joy-Con controllers to their Apple TV.
Support for HDR10+ – Apple has confirmed that the new tvOS 16 will support HDR10+ and will deliver better quality and resolution on the screen.
Apple Fitness+ – From the Beta 7 we found that there will be an update to the Apple Fitness+ app and a new Intensity metric will be calculated to measure key moments in a workout session. The new metrics that will show up are Easy, Moderate, Hard and All Out.
Support for Matter – The new tvOS 16 might receive full support for Matter and users would be able to connect and control different certified Smart Home products from brands like Amazon, Google, Samsung among others.
While this feature was first introduced in the tvOS 15 beta, it was not released at the final launch but we can see hope it live and in action this fall with tvOS 16 since it's a part of the new Beta 7 test release.
Cross Device Compatibility –  A few weeks back Apple dropped a cryptic message that the new tvOS 16 will support cross device compatibility.
From what we understand, the new tvOS 16 operating system will integrate with iOS, iPadOS and even watchOS thus unlocking new experiences on the Apple TV.
Right now we know that the cross device compatibility only works for Apple Fitness, so we're unsure that it will be released for other apps.
Other Features and Updates Coming to tvOS 16
Apart from these major changes and new features, Apple tvOS 16 will also receive some minor updates to the UI and navigation.
For example, the new tvOS 16 will come with new video previews to boost discovery and the control center will receive a new toggle for the time format and include 24 and 12 hours.
Also, Accessibility has a new Hover Text option making it easier to select and view information about a particular text.
Though these new updates are quite cool, we can't confirm that they are all going to be a part of the final tvOS 16 release next month. All we can do is wait and see what happens and hope that Apple doesn't decide to push any of the updates to next year.
How to Download tvOS Beta Before the Release?
Install tvOS 16 Beta 7 Over the Air (OTA)
In order to download the new tvOS 16 beta software for your Apple TV, you will first need to own a Mac, run the Apple Configurator and also have the latest version of Xcode.
Once everything has been configured properly, the update should take place automatically, over the air.
Now, click tvOS and download the file.
Enter your developer username and password to log in.
Scroll down and click on the blue Download button to the right of tvOS 16 beta configuration profile. Make sure to save the profile to your Desktop.
Install the Apple Configurator app (opens in new tab) from the Mac App Store.
Connect your Apple TV HD or Apple TV 4K to AC power.
Connect your Apple TV HD or Apple TV 4K to the same wireless network as your Mac.
Open Xcode on your Mac. Make sure you're running the latest version.
Click Window in the Menu bar and then click Devices and Simulators.
Next, open Settings on your Apple TV and select Remotes and Devices.
Select Remote App and Devices.
Now, in Xcode, select the Apple TV when it appears in the left column under Discovered.
Enter the Code that appears on your Apple TV. Xcode will pair with the Apple TV.
Open Apple Configurator on your Mac and click on your Apple TV in Apple Configurator.
Drag the tvOS 16 Configuration Profile from your Desktop to the Apple TV icon in Apple Configurator. The Apple TV will be configured for the tvOS 16 beta.
While the Beta version is up for download, I would recommend that you proceed with caution as users have reported bugs and annoying popups while using the new tvOS 16 Beta.
Install tvOS 16 Beta 7 using a USB Stick
Click tvOS followed by Download.
Enter your developer username and password to log in.
Click on the tvOS 16 restore image for the Apple TV HD and then click Applications near the top of the page.
Now, click on the blue Download button to the right of Xcode 14.
Install Xcode 14 on your Mac.
Connect your Apple TV HD (4th Generation) to AC power.
Connect your Apple TV HD (4th Generation) to your Mac using a USB-C cable.
Launch iTunes and select your Apple TV when it appears in iTunes.
Hold down the Option key and click on Check for Updates.
Browse to and click on the tvOS 16 beta you downloaded in the third step.
Once iTunes has updated your Apple TV, hook it back up to your television and you're good to go.
The final version will get updated once it has been released to the general public.
Install HomePod 16 Beta
In order to install HomePod 16 Beta on your HomePod or HomePod Mini, your iPhone or iPad must be running iOS 16 or iPadOS 16. You can also run the beta version of iOS and iPadOS in order to install the HomePod Beta.
If you're already running iOS 16 beta or iPadOS 16 beta then follow these steps.
Open the Home app on your iPhone or iPad.
Tap the "…" button in the upper right corner of the screen.
Choose the Software Update option.
Go to the HomePod Beta Updates menu.
Switch on the toggles for the HomePods you want to install the beta software on.
tvOS 16 : What We Want to See
With the new beta 7 out and a flurry of new updates and features coming our way, we can only hope that Apple considers adding a few more changes to the tvOS 16.
Some things we'd love to see in the new tvOS 16 are; Split view will be a fantastic addition to tvOS and is something we'd love to see come soon.
Considering Apple filed a patent last year for a display they're working on which can show different content at different angles, we can hope for this functionality to come out in the near future since the technology is still a bit too complex.
While Apple might bring out cross device compatibility for their Apple Fitness+ app, getting this ability for all apps will be a blessing and is another feature we'd love to see in the near future..
Finally, we'd love for the new tvOS to have the ability to support external webcams. This will make it easier for users to take FaceTime calls on the Apple TV without having to connect and juggle between multiple devices.
Also Read: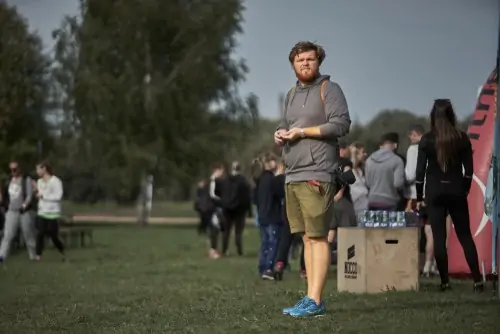 Alan Urban is the Editor-in-chief of Stupid Apple Rumours and often proclaims that he's " Apple's number one fan."
In addition to keeping up with the latest Apple news, he also reviews Apple products and creates user-friendly guides.  When not subjecting Apple Devices to crazy stress tests, he's usually playing games on Apple Arcade