Apple is once again the talk of the town and this time it's for their latest updates to the iOS operating system.
iOS 16, which was first showcased at WWDC earlier in June this year, has had 8 developer beta test versions out till date and 6 public beta test versions.
From the looks of it, it's truly an upgrade from the normal and boring iOS 15.
Based on new sources and from personal experience using the public beta version, here's all I was able to find out on what to expect from the final release of iOS 16 that's tomorrow.
UPDATE: The final public version of iOS 16 has been released today (12-September-2022) and will start rolling out to users worldwide over the next 48 hours. If it's not available in your region as yet, it will be made available over the next day or two.
iOS 16 Beta – Will it Be Worth the Upgrade?
What's the Release Date for iOS 16?
In June, Apple hosted its 5 day annual conference, WWDC 2022 where they showcased some of their upcoming gadgets and software updates that are slated to be released later this year.
One such update was the launch of iOS 16 with new features as well as improvements to many of their apps, including bug fixes, improved user privacy, changes to the lock screen, themes and much much more.
As always, Apple released their beta version of the firmware and over the course of a couple of weeks they had released 8 beta versions for both developers and the public to use in a closed environment.
These beta test versions of iOS 16 are first released to developers and then to the general public a couple of days later. As of writing this article, we're currently testing the public beta version 6 (also known as the developer beta version 8).
Update: Apple has confirmed in a statement that iOS 16 will be released on the 7th of September 2022 during their 'Far Out' event.
While Apple did confirm that the new iOS 16 version will be released at this time, we did get confirmation that iPadOS would receive a later release date most likely in October.
Update 12-September-2022 : The final version of iOS 16 has been released to the public. Updates are live and only the devices that are eligible will receive the new OS update.
What Devices will be Compatible with iOS 16?
Though Apple did not mention which specific iPhone models will be able to support iOS 16, they listed a number of iPhone's on their official iOS 16 preview page that will support the new OS and from the looks of it, all iPhone's released post 2017 are eligible for the upgrade.
This means that the iPhone 7 range has been excluded from the list as it's almost 6 years old and sits on the edge of the Apple Support spectrum. This also means that older iPhone's that ran on iOS 15 will also not receive further support or update and will slowly phase out.
Here's a full list of iOS 16 supported devices as confirmed by Apple
iPhone 13
iPhone 13 mini
iPhone 13 Pro
iPhone 13 Pro Max
iPhone 12
iPhone 12 mini
iPhone 12 Pro
iPhone 12 Pro Max
iPhone 11
iPhone 11 Pro
iPhone 11 Pro Max
iPhone XS
iPhone XS Max
iPhone XR
iPhone X
iPhone 8
iPhone 8 Plus
iPhone SE (2nd generation or later)
iOS 16 Features – What Has Been Uncovered So Far
iOS 16 is going to be one of Apple's most advanced operating systems and we uncovered a number of new and improved features that are included (some speculated) in the latest update of the OS.
Edit and Unsend Messages
While unveiling iOS 16 at WWDC, Apple's SVP of software engineering Craig Federighi noted that his team has managed to bring about three of the most sought after features to the Messages app.
These include editing sent messages, recalling sent messages and making conversations as unread. From what we learnt, all three features can be used from within the Messages app and none of them need any special setup or authorization to run.
Customizable Lock Screens
Another brilliant feature coming out with the release of iOS 16 is the ability to customize the lock screen and add widgets, change the font, change the style and even customize the digital clock as confirmed by Marques Bronlee on Twitter.
They're also bringing out a new functionality that lets users change the notifications on the lock screens depending on the type of accounts being run on the iPhone. So if you want different lock screens all you'd have to do is swipe up and toggle between lock screens and different widgets.
Updates to Focus Mode
At WWDC, Tim Cook unveiled some drastic changes to Focus Mode. These updates tie into the new lock screen updates and lock screens can automatically be switched depending on which Focus profile is running at the time.
For example, a Meetings or Work focus profile will have its own lock screen wallpaper and the widgets as well as notifications pertaining to work related activities will appear on the lock screen.
However, if the user selects Personal focus profile, the wallpaper changes and the widgets will automatically reflect personal applications and notifications.
Updated Notifications on iOS 16
Notifications are getting a drastic overhaul and this is all to do with Live Activities that Apple has introduced this year.
It's a clear game changer and the update essentially creates pinned notifications from sports apps and food delivery apps that rest at the bottom of the notification panel making it easier to check current scores, news and even delivery statuses.
Notifications on iOS 16 will also receive new animations and each notification bubble will be color coded making it easier to figure out which app has sent a notification from afar and users will be able to choose how they'd like to view the notifications, in a stacked view, expanded and even hidden view.
Wallet and Apple Pay Updates
It looks like iOS 16 is going to make life easier for users who have opted for Apple Pay.
Now, with the latest update and from what we've seen in the Beta releases, Apple is pushing for a tap to pay feature that minimizes the use of cards to an extent that cash can be transferred between two parties by simply tapping their iPhones together.
There's going to be new and improved privacy policies and settings in place along with an in-app ID verification for third party apps.
We also found that iOS 16 will be the first OS from Apple that will support Apple Pay Later, a function where users can purchase anything using their Apple Pay account and then convert that transaction into 4 equal payments via their iPhone, which will be spread over a period of 6 weeks with no interest and fees.
Updates to Apple Maps
Apple Maps will finally be able to store recent trip data and share that from your iPhone. Users will also be able to include multiple stops and take advantage of Siri to add destinations to the trip.
While this sounds promising, one update that we uncovered is that Apple might take on Google's Street View in 2022 with their Look Around update to the Maps app.
Here, users will be able to view street maps in 3D with newly rendered buildings making it easier to pinpoint your exact location.
Family Sharing Updates
We've all used Family Sharing in iOS 15, but with iOS 16, Apple is taking it up a notch. Parents can now set age restrictions on content as well as transfer parental settings from an iPhone to an iPad simply by moving the devices next to each other.
The other key update to Family Sharing is the iCloud Shared Photo Library. Users have requested this feature for years and Apple has finally included it in their new OS.
The feature enables up to 6 members of a family to share and stay connected to a single library.
The users can be configured based on who is part of the family sharing group and from the latest Beta tests we observed that this update lets users share photos to a particular group library as well as receive suggestions on what photos to share if the photos include members that are a part of the family sharing group.
Visual Lookup Tap and Drag for Photos
Probably one of the coolest features the new iOS has to offer is visual lookup and drag for photos.
Visual Lookup was brought in the iOS 15 update, but with the iOS 16 update users can now touch a photo's subject and lift the image of the subject sans any background and add it to other apps such as messages or mail.
This feature is pretty decent especially considering that visual lookup is capable of selecting the image accurately without any background bleeds.
Safety Check
A new feature coming out this year to iPhone's that support iOS 16 is Safety check.
Based on the release at WWDC 2022, this feature is designed to help people who are in unhealthy relationships and who deal with abusive partners.
This new feature lets users review who has access to their information such as location, apps, passwords and even messages before revoking their access.
One thing Apple has managed to pull off is securing a person's ability to keep themselves safe at all times from domestic violence. In fact, they've even updated their personal safety guide in the Apple help center with new steps on how to keep yourself protected.
iOS 16 Will Track the Users Fitness without an Apple Watch
We've seen some pretty promising updates and tested some really cool features, but one that stood out to us was the ability to track your fitness levels without owning an Apple Watch.
The iPhone app now keeps a track on the distance traveled, steps covered and even workouts recorded through third-party fitness apps.
It will also help users keep track of their calorie burn as well as notify you on whether or not your daily goals are met.
iOS 16 Brings Back the Battery Percentage to the Status Bar
Earlier Apple removed the battery percentage from the status bar when they started manufacturing iPhones with notch displays, but with the latest iOS 16 Beta 5 update we found that the feature could possibly make a comeback.
While testing the developer version of iOS 16 beta we found that the battery percentage has been added to the battery settings page.
But based on reviews from other developers and reports from Reddit indicate that this is not the case for the iPhone 11, iPhone 12 mini and the iPhone 13 mini.
We can only hope that this age-old feature is brought back to all iPhone models that support iOS 16 and not just a handful of them.
Private Access Tokens to Skip CAPTCHAs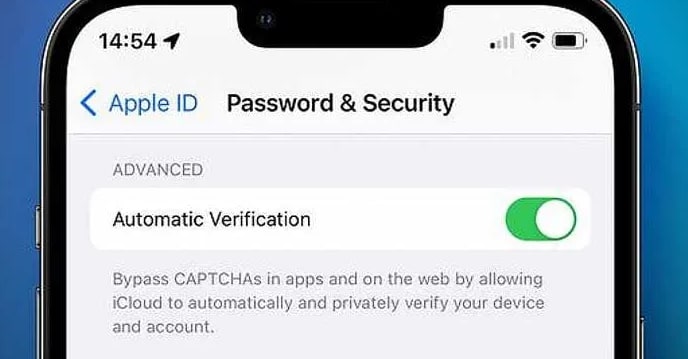 According to Apple, they are experimenting on using private access tokens to authenticate your login on certain pages and this will take away the whole CAPTCHA process that detects whether you're a human or robot.
This service is still in test phase and Apple is still in the middle of talks with other companies to use this feature to authenticate users instead of the regular CAPTCHAs.
Since there's no confirmation on whether this feature will be available on iOS 16, we can hope that it comes soon and CAPTCHAs are a thing of the past.
How to Download and Install the Public iOS 16 Beta
To download and install iOS 16 developer Beta, you will need to create a developer account first. Remember this is a paid membership, so if you don't wish to test the beta by paying for the services, you can wait for a few days and download the latest public beta test version.
Log in to the Beta Software Program.
Click Enroll your iOS device. (If you signed up for a previous version's beta last year you may need to uninstall the profile for that and then re-enroll for the new one.)
Download and install the configuration profile.
You may need to jump over to Settings to enable the profile. Go to General > VPN and Device Management and tap on the iOS 16 beta profile there.
That will make the beta version available in the Settings app, under General > Software Update.
How to Download and Install the Developer iOS 16 Beta
Go to the Downloads section on the left, scroll down to iOS 16 beta and tap Install Profile, then Accept.
Open the Settings app. Tap on Profile Downloaded at the top. If this option is not available, go to General > VPN and Device Management and tap on the iOS 16 beta profile there.
Click on Install in the top-right to install the iOS 16 beta profile.
Read the developer consent form and (assuming you're happy with the terms) give your consent.
Now go to Settings > General > Software Update, where you should see the iOS 16 beta is available. Tap Download and Install.
Wait for your iPhone to finish downloading the update, then tap Install when prompted.
iOS 16 Beta Test Problems
Apparently, Apple's latest Beta has a lot of problems and on the Apple Developers Forum, developers have been reporting issues with the operating system, battery, network connection and even drops in the performance.
So far Apple has fixed a number of issues and from a few Reddit posts I came across, there are quite a few fixes for some of the bugs and Beta test issues with iOS 16.
However, since we're still running the Beta version, bugs are bound to pop up and the only thing we can do is wait patiently for the final release of the firmware with everything fixed.
With the new Beta 8, Apple has rolled out a couple of fixes to the OS and since this might be the last Beta release before the final launch, we think that developers will work overtime to fix any pending issues or bugs.
How to Download iOS 16 Final Version?
Once your device receives the update you can download the software from the settings app on the iPhone. To do so, go to Setting and then click on General. Now tap on Software Update and then click on the Download & Install button to update the firmware.
Before downloading the final version, it's advisable to take a backup of the data on the iPhone to prevent any loss of files during the update.
iOS 16 Beta – Should you Upgrade or Wait for the Final Release?
Truth be told there's no harm in updating your iPhone to the Beta version of iOS 16, but it has to be done with caution.
One reason why you should update your iPhone and test the Beta version is because you will have first hand experience before the final release and who knows, you may just receive a bug or two that can be reported in case developers miss out on them.
Also, to protect your personal data i'd recommend installing the Beta version onto a secondary iPhone and not your primary device.
Though the Beta version brings a lot of changes to the whole UI of iOS, there are bugs and these will only be rectified once the final version of iOS is released later this year.
Stay tuned for more updates on the upcoming iOS 16!
Also Read:
Alan Urban is the Editor-in-chief of Stupid Apple Rumours and often proclaims that he's " Apple's number one fan."
In addition to keeping up with the latest Apple news, he also reviews Apple products and creates user-friendly guides.  When not subjecting Apple Devices to crazy stress tests, he's usually playing games on Apple Arcade