In this comprehensive guide, we'll walk you through how to connect your Xbox Controller to a MacBook, troubleshooting potential issues, and maximizing its potential for gaming and system control.
Also check out: How to Connect A Sony PlayStation Controller to Apple TV 4K?
How to Connect a Wireless Xbox Controller to a MacBook?
There are two primary methods to connect your wireless Xbox Controller to a MacBook: via Bluetooth or using a USB cable.
Connecting via Bluetooth:
Turn on your Xbox Controller by pressing the Xbox button.
Press and hold the Connect button on the controller until the Xbox button begins flashing, indicating it's in pairing mode.
Open System Preferences on your MacBook.
Navigate to Bluetooth.
Once the Xbox Controller appears in the list of available devices, click on Connect.
Connecting with a USB Cable:
Connect your Xbox Controller to your MacBook using a USB-A to Micro-USB cable.
Your MacBook will automatically recognize the controller.
With these steps completed, your wireless Xbox Controller is now successfully connected to your MacBook, ready to be used for gaming or system control.
Which Wireless Xbox Controllers are Compatible with Apple Devices?
The Xbox controllers that you can connect to your Apple MacBook are all the wireless models:
Xbox Wireless Controller with Bluetooth (Model 1708)
Xbox Wireless Controller Series S
Xbox Wireless Controller Series X
Xbox Elite Wireless Controller Series 2
Xbox Adaptive Controller
How to use a Wired Xbox Controller to Play Games on a MacBook?
To unleash the full potential of your wired Xbox Controller for gaming on a MacBook, you'll need to install a game controller driver and have the controller plugged into your MacBook via the USB cable..
The popular choice here is the 360Controller driver. Most Mac games will automatically detect the Xbox Controller, but for select titles, manual configuration in the game's settings may be necessary.
How to Install the 360Controller Xbox Driver on a MacBook?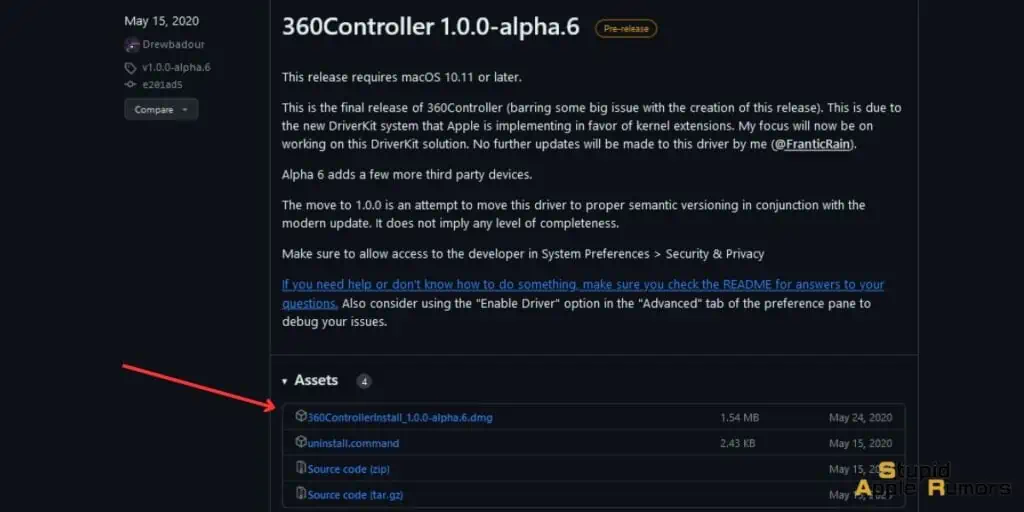 To install the 360Controller Xbox driver on a MacBook, follow these steps:
Go to the 360Controller GitHub repository
Double-click on the DMG file to mount the disk image.
Drag the 360Controller driver package to your Applications folder.
Double-click on the 360Controller driver package to install it.
Follow the on-screen instructions to complete the installation.
Once the installation is complete, you need to allow the 360Controller driver to run.
Restart your MacBook and once the device has booted up completely, tap on System Preferences in the Apple Menu and then locate and click on 360controller.
Launch the application and configure the controller to your liking.
Also check out: How Apple Arcade Works | The Complete 2023 Guide!
Tips for Optimal Usage
Here are some essential tips to ensure you make the most of your Xbox Controller on your MacBook:
Always ensure your Xbox Controller is equipped with fresh batteries if you're using the wireless models.
Keep the Xbox Controller in close proximity to your MacBook, particularly when connecting via Bluetooth.
Install the 360Controller driver if you plan on using your Xbox 360 Controller for gaming in a wired setting.
Xbox Controller Not Connecting to MacBook – Troubleshooting Tips
Encountering difficulties in connecting your Xbox Controller? Here are some troubleshooting tips to help resolve common issues:
Ensure your Xbox Controller is powered on and equipped with fresh batteries.
Confirm that Bluetooth is enabled on your MacBook.
Attempt to restart your MacBook.
If using a USB cable, try connecting the Xbox Controller to a different USB port.
If connecting via Bluetooth, move the Xbox Controller closer to your MacBook.
Consider updating your MacBook's macOS software if issues persist.
MacBook Games That are Compatible with Xbox Controllers
For gamers seeking to maximize their experience with a wired or wireless Xbox Controller on their MacBook, here's a curated list of popular Mac games across various genres.
These games are either available on Steam, GeForce Now or Xbox Live, so a subscription may be required.
However, there are a few Apple Arcade games that can be played with an Xbox controller, the complete list for 2023 can be found here.
Action/Adventure:

Assassin's Creed Odyssey
Batman: Arkham City
BioShock Infinite
Borderlands 3
Control
Cyberpunk 2077
Dark Souls III
Death Stranding
Devil May Cry 5
Elden Ring
Final Fantasy XIV
Grand Theft Auto V
Horizon Zero Dawn
Metal Gear Solid V: The Phantom Pain
Red Dead Redemption 2
Resident Evil Village
The Witcher 3: Wild Hunt

Racing:

Asphalt 9: Legends
Forza Horizon 5
GRID Legends
Need for Speed Heat
Project CARS 3
Rocket League

Sports:

FIFA 23
Madden NFL 23
NBA 2K23
MLB The Show 23
NHL 23

Strategy:

Civilization VI
Crusader Kings III
Fortnite
Stellaris
Total War: Warhammer III

Other:

Among Us
Cuphead
Minecraft
Stardew Valley
This is just a small sample of the many Mac games that can be played with an Xbox controller. For a more comprehensive list, please check out the App Store or Steam.
It is important to note that not all Mac games support Xbox controllers. However, most major game publishers now support Xbox controllers on their Mac games.
If you are unsure whether a particular game supports Xbox controllers, you can check the game's system requirements or contact the game's publisher.
Reasons to Connect an Xbox Controller to a MacBook
Enhanced Gaming Experience: Some Mac games are more enjoyable when played with a controller, providing a more immersive and satisfying gameplay experience.
Access to Console-Exclusive Titles: If you own an Xbox One or Xbox Series X/S, connecting your Xbox Controller to your MacBook allows you to play games that may not be available on macOS.
Mac System Control: In addition to gaming, you can use an Xbox Controller to navigate the Mac's interface, streamline tasks, and launch applications with ease.
Conclusion
Connecting an Xbox Controller to your MacBook opens up a world of gaming possibilities and enhances your control over the Mac interface.
By following the straightforward steps outlined in this guide, you can seamlessly integrate your Xbox Controller for an enriched gaming experience and streamlined system control.
Explore the diverse library of Mac games compatible with Xbox Controllers, and elevate your gaming adventure on your MacBook today.
Also check out: