In today's fast-paced world, staying connected with our friends and loved ones is more important than ever. Which is why you will need to learn how to use Instagram Threads on an iPhone.
Instagram Threads, a messaging app developed by Meta, the parent company of Instagram, aims to enhance and simplify our communication experience.
In this guide, I will walk you through the ins and outs of Threads, helping you unlock its full potential on your iPhone or iPad.
From setting up your profile and configuring notifications to exploring its unique features like Status and Auto Status, we'll provide you with step-by-step instructions, tips, and tricks.
Let's dive right in!
What is Instagram Threads and How Does It Work?
Instagram Threads, developed and built by the Instagram team and owned by Meta (the company behind Facebook, Instagram, and WhatsApp), is an innovative app that aims to fill a gap in the market for a microblogging social network.
While reminiscent of Twitter, Threads offers a unique twist and potential solutions to some of the challenges faced by existing platforms.
Once you download Threads and sign in with your Instagram account, your username and verification (if applicable) will seamlessly carry over.
You also have the option to customize your profile specifically for your Threads account.
Moreover, you can maintain your existing Instagram connections by automatically following the same accounts or discover and add new ones through the Threads app.
The core functionality of Threads revolves around sharing text updates, similar to microblogging, with a maximum limit of 500 characters—significantly more than Twitter's 280 characters.
Alongside text, you can enrich your posts with captivating photos, videos up to five minutes in length, and web links.
Threads presents a feed that combines posts from accounts you follow and recommended content, allowing you to engage with other users' posts.
You have the flexibility to reply, repost, or quote posts from other users, fostering interaction and conversation within the Threads community.
With its revamped features and relaunch, Instagram Threads offers a fresh and engaging microblogging experience for iPhone users, opening up new avenues for creative expression, social connection, and shared interests.
So, on that note…
How to Use Instagram Threads on an iPhone?
How to Download Threads for iPhone?
If you're looking to use the new Threads app on your iPhone, you have to first download the app. Luckily there are two methods to choose from.
Let's take a closer look at both options:
Method 1: Download Threads from the App Store
Begin by opening the App Store on your iPhone.
Once you're in the App Store, locate the search bar and type in "Threads" to initiate the search.
Among the search results, you should see the Threads app. Tap on the "Get" button next to it.
Wait for the app to finish downloading, and once it's done, tap on the "Open" button to launch Threads.
Method 2: Download Threads via the Instagram App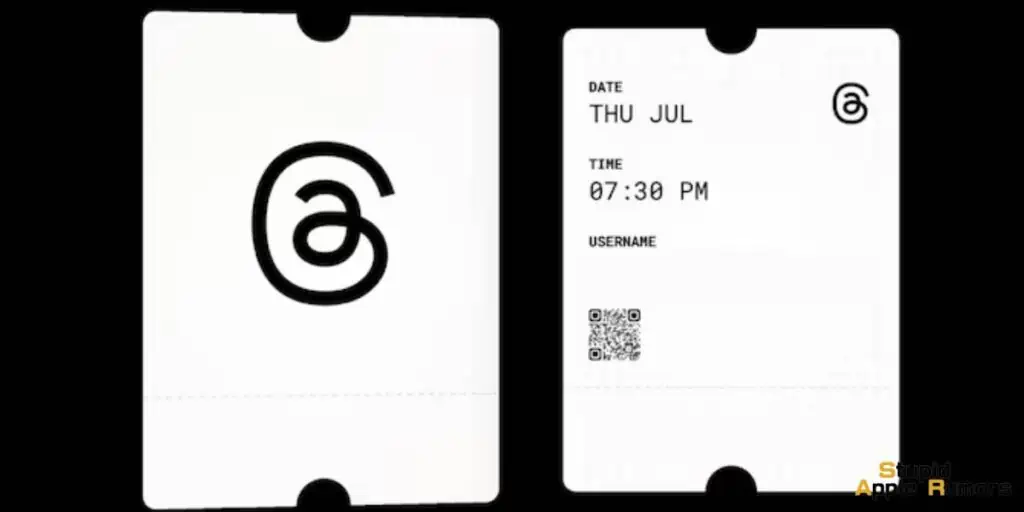 Launch the Instagram app on your iPhone.
Ensure that you are logged in to your Instagram account.
Next, go to the search menu within Instagram and type in "Threads."
When you see the Threads app appear, tap on the ticket icon that accompanies it.
A pass will start rotating on your screen, and after a moment, you'll be redirected to the official download link for the Threads app.
Simply tap the download option to initiate the download process.
Now that you have successfully downloaded the Threads app, let's move on to setting up your Threads account on your iPhone.
How to Set Up Instagram Threads Account on your iPhone?
Setting up the Threads app is easy and can be done within a few minutes. Here's what you need to do to set up your Threads account.
Launch the Threads app on your iPhone.
When prompted, you'll need to select the Instagram account you want to use with Threads.
Note: If you have multiple Instagram accounts, your primary account will be displayed first. You can switch accounts by tapping the "Switch Accounts" option.
Now, you have the option to set up your Threads profile:

If you prefer to start fresh, fill in your details manually.
Alternatively, if you want your Threads account to mirror your Instagram ID, tap "Import from Instagram."

You can add a link of your choice, and if needed, tap "Reimport" to update it.
Tap "Next" to proceed.
Choose whether you want your account to be Public or Private, and tap "Next" to continue.
A list of your Instagram followers who also have a Threads account will be displayed.

Here, you can tap "Follow all" to follow them or simply proceed by tapping "Next" without following anyone.

Tap "Join Threads" and grant the necessary permissions to start your journey within this new network of connections.
How to Post in Instagram Threads on iPhone?
Let's get your first Thread live with these simple steps:
Access the Threads app on your iPhone.
At the bottom center of the screen, tap the "New Thread" icon.
Choose the format in which you want to share your ideas:

Text: This option allows you to type up to 500 characters of text.
Video: You can attach a video of up to five minutes.

If you want to create a text-only thread, simply type your message. To attach a video or GIF, tap the pin icon and select the media of your choice.
If you wish to include a picture or video from your camera roll, tap "Add."
Once you have composed your thread, you can decide who can engage with it. Tap the "Anyone can reply" option and select from the following choices:

Anyone: This allows everyone on the platform to reply to your thread.
Profiles you follow: Only individuals you follow back will be able to engage with your thread.
Mentioned only: Only the people you have tagged in the thread will be able to reply.

After finalizing your thread, tap "Post" to share it with your selected audience.
What Does Threads Have to Offer?
Instagram Threads offers a range of additional features that greatly enhance communication and sharing on the platform.
Add or Create a Thread
One such feature is the "Add to Thread" option, which seamlessly expands existing threads by allowing you to add more content.
To utilize this feature, you can access the desired thread and simply tap on the "Add to thread" option.
The process of adding content is similar to posting a new thread, and the added content will seamlessly connect as a continuation of the main thread.
This convenient feature enables easy expansion of conversations without any hassle.
Repost a Thread
Another useful feature offered by Threads is the ability to repost threads from the Threads feed. This feature makes it effortless to share interesting or meaningful conversations with others.
To repost a thread, you can access the thread they want to share and tap on the "Repost" icon. From there, they can choose either the "Repost" or "Quote" option.
Opting for the "Quote" option allows you to add your own opinions or thoughts to the thread before sharing it on your feed.
This feature enables you to curate and customize the content they share, making it more engaging and personal.
Share Your Threads as an Instagram Story
Leveraging the cross-platform support of Threads, you can also share your threads directly in your Instagram Stories. By tapping the "Share" icon within the thread, you can select the "Add to Story" option.
This action redirects them to the Instagram Stories section, where they can further customize your thread post.
To conclude the sharing process, you can choose "Your Story," allowing your followers to view the thread in the immersive Stories format.
This feature enhances the visibility and reach of threads, as they can be easily shared with a wider audience through the popular Stories format.
Share Your Threads as an Instagram Post
In addition to sharing in Stories, Threads also provides the option to share threads in the Instagram feed.
By tapping the "Post to feed" option within the thread, you are presented with the familiar Instagram post feed interface.
From there, they can tap "Next" to proceed with sharing your thread as a regular Instagram post.
This functionality allows you to showcase your threads prominently in your feed, ensuring that your content receives maximum exposure and engagement.
Overall, Threads offers a host of features that elevate the communication and sharing experience on Instagram.
With the ability to expand threads, repost conversations, share in Stories, and post in the feed, you have a variety of options to curate and distribute your content in a way that suits your preferences and maximizes its impact.
How to Use Instagram Threads on an iPhone: FAQs
Can you use Threads without Instagram?
Threads is an app developed by Instagram and is designed to work seamlessly with Instagram. It is not possible to use Threads without an Instagram account.
To access Threads and its features, you need to create an Instagram account if you don't already have one.
Once you have an Instagram account, you can download the Threads app and log in using your Instagram credentials.
Is Threads available for both iOS and Android devices?
Yes, Threads is available for both iOS and Android devices. Whether you use an iPhone or an Android smartphone, you can download Threads from the respective app stores.
If you have an iOS device, you can find Threads on the App Store, while if you have an Android device, you can find it on the Google Play Store.
Simply search for "Threads from Instagram" in the app store and follow the installation instructions to get started.
Is Threads similar to Twitter?
While Twitter has been a popular social media platform for sharing thoughts and ideas with a wide audience, Threads is a unique offering from Instagram that approaches communication and self-expression in a different way.
Threads provides a platform for users to share their experiences, thoughts, and moments with a specific group of people they consider close and important in their lives.
It allows for more focused and intimate interactions compared to the broader reach of Twitter.
Threads offers features such as auto-status, customizable shortcuts, and a more streamlined messaging experience to enhance communication within your Close Friends circle.
Conclusion
In conclusion, Instagram Threads is a powerful messaging app with its unique features and seamless integration with Instagram.
This comprehensive guide has walked you through the process of downloading and setting up the app, as well as how to post and share threads.
By following the step-by-step instructions and exploring the various features, you can unlock the full potential of Threads on your iPhone.
Related