To fully leverage the capabilities of Procreate on an iPad, it is crucial to understand the process how to install Procreate brushes on an iPad.
In this article, I will guide you through the step-by-step procedure of downloading and importing brushes onto your iPad.
So, whether you choose to download brushes directly on your device or through your computer, the installation process remains the same.
So, let's dive in and unlock the full potential of Procreate!
How to Install Procreate Brushes on Your iPad
In short, you can install Procreate brushes on an iPad by first downloading brushes from trusted sources like "Brushes for Procreate" or Missy Myer's collection.

Once done open Procreate and create a new canvas, then access the Brushes panel by tapping the paintbrush icon. Choose the folder where you want to install the brush or create a new one.

Tap the "+" button to import the brush, navigate to the downloaded files, and select the desired brush. Once imported, the brush will appear in your Procreate library.
Step 1: Downloading Brushes for Procreate
To begin, you'll need to acquire the brushes you wish to install. There are various sources available where you can find a wide range of both free and paid brushes for Procreate.
A couple of recommended options include "Brushes for Procreate" and "Missy Myer's" collection of exceptional free Procreate brushes.
Feel free to explore these resources and discover brushes that resonate with your artistic style.
Step 2: Importing Brushes into Procreate
Once you have your desired brushes ready for installation, it's time to import them into Procreate.
Regardless of whether you have downloaded the brushes onto your computer or directly onto your iPad, the process remains consistent. Here's what you need to do: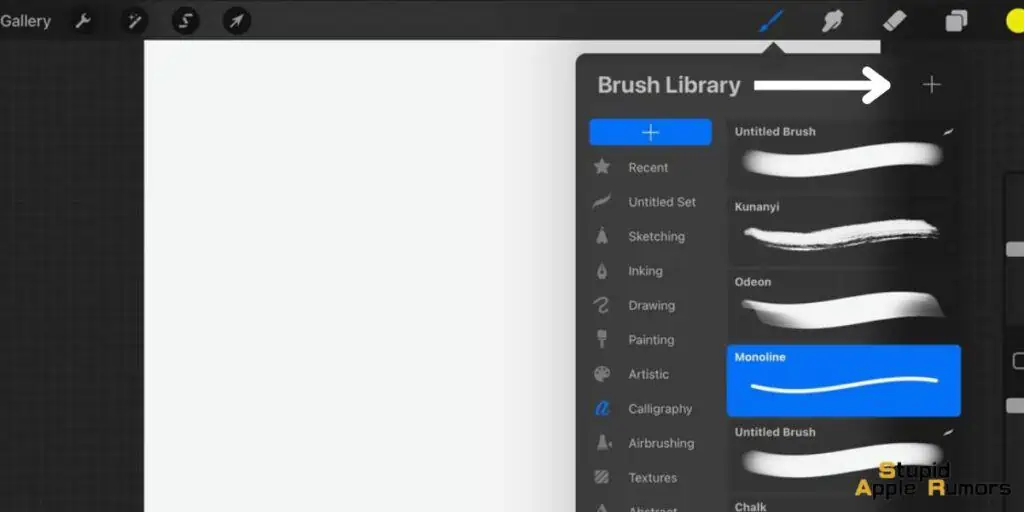 Open Procreate on your iPad and create a new canvas.

Tap the paintbrush icon, located at the top toolbar, to access the Brushes panel.

Choose the folder where you want to install the new brush. If necessary, you can create a new folder by tapping the "+" button at the top of the brush sets list.
With the initial setup complete, we can proceed to import the brushes.
Tap the "+" button above the brush list to initiate the import process.

A dialog box will appear; select "Import" to proceed.

You will be presented with the iPad's File interface. Navigate to the folder where your downloaded Procreate brushes are located.

Locate the specific brush you wish to install and tap on it. Procreate will return to the canvas view with the brush panel open.

Note that initially, the brush will be labeled as "untitled." However, once you return to the list of brushes by using the back button, the brush's name will appear.
Step 3: Expanding Your Brush Collection
Now that you have a grasp of the installation process, it's time to explore the abundance of brushes available for Procreate.
The possibilities are virtually endless, allowing you to find brushes that perfectly suit your artistic needs.
In addition to the recommended sources mentioned earlier, you can also find brushes through online communities, marketplaces, and even social media platforms.
Don't hesitate to explore and experiment with different brushes to enhance your Procreate experience.
Step 4: Unleashing the Power of Procreate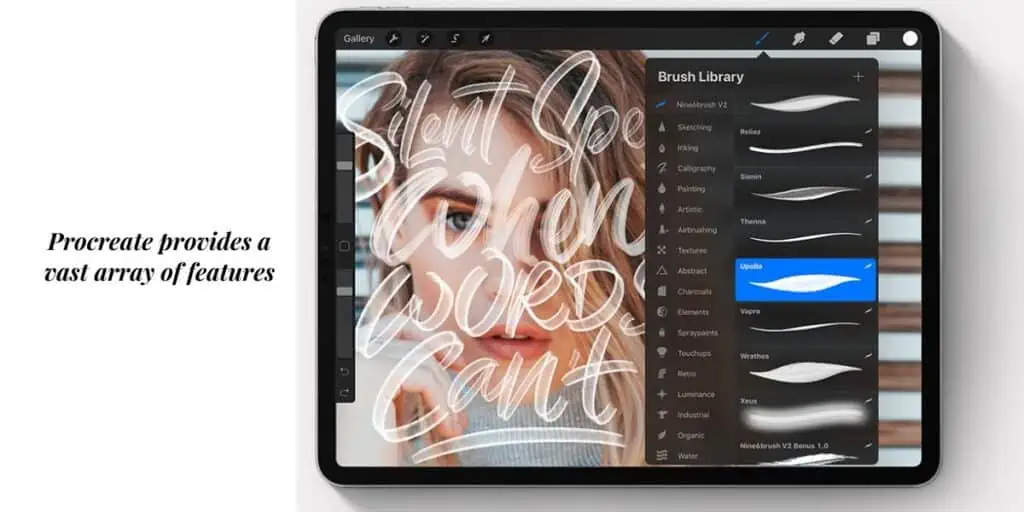 While Procreate is renowned for its exceptional capabilities in hand-lettering, it offers so much more.
As one of the most powerful art apps for iPad, Procreate provides a vast array of features that allow you to explore various artistic styles and techniques.
From digital painting to illustration and graphic design, Procreate is a versatile platform that empowers your creative expression.
Procreate Brushes Not Working on iPad: Troubleshooting Tips
We've all experienced the frustration of trying to import a new Procreate brush onto our iPads, only to find that it doesn't work. No matter how many attempts we make!
Dealing with issues while trying to add brushes to Procreate, the very program they're designed for, can be quite aggravating.
If you're unable to import brushes into Procreate, there are a few troubleshooting steps you can try. First, check your file and iPad for any errors.
Then, restart your iPad, download the brushes using a different browser, move the brush files to a new folder, or try a different import method.
Applying any one of these strategies, or a combination thereof, might help resolve the problem of importing brushes into Procreate.
As someone who has personally encountered difficulties importing brushes into Procreate, I understand how frustrating it can be. We all want to focus on creating art rather than dealing with technical issues, don't we?
I hope these tips will assist you in successfully importing your Procreate brushes so that you can get back to creating your art. Here are the recommended steps to follow:
Verify the File and iPad for Errors:

Ensure that your Procreate brush files have the correct file extensions: .brush for single brushes and .brushset for brush collections.
If the brush files appear grayed out, it indicates an incorrect file type. If it's a zip file, make sure to unzip it to access the individual brush files. Check the file extension to ensure it's correct.
If you notice any errors with the file extension, reach out to customer support or the individual who provided the brush to address the issue.
Additionally, check for any iPad-related issues by ensuring that your software, both for Procreate and your iPad, is up to date.
Attempt a Different Import Method:

Try different import methods to see if they work for you:

Tap on the brush file directly on your iPad to import it into Procreate.
Use the split screen function to open Procreate and your files side-by-side, then drag and drop the brush file into Procreate.
AirDrop the brush file from your Mac to your iPad if you have a Mac computer. Open the file on your iPad using the Procreate option.
Restart Your iPad:

Restarting your iPad can often resolve issues with importing brushes. Give it a try, as it provides a fresh start and may fix the problem.
Download Brushes Using a Different Browser:

If none of the previous methods work and your brush files are confirmed to be the correct types, attempt downloading them using a different browser. For example, if you used Chrome, try downloading with Safari instead.
Conclusion
In conclusion, mastering the installation of Procreate brushes on your iPad opens up a world of possibilities for your artistic endeavors.
By following the simple steps outlined in this article, you can seamlessly add new brushes to your Procreate library, expanding your creative toolkit.
Remember to explore different sources for brushes and continue pushing the boundaries of your artistic capabilities with Procreate.
Related