Want a mechanical keyboard for your Mac? Check out our list of the best mechanical keyboards for Mac.
Looking for a mechanical keyboard that can boost productivity and improve workflow with your Mac? Then you have come to the right place. There are many mechanical keyboards on the market that support macOS, but not all of them are of good quality.
I will list my favorite mechanical keyboards that support macOS and work seamlessly. In fact, all the other keyboards from these manufacturers are also excellent choices for macs, but I can only list so many.
So read on to know more about the best mechanical keyboards for Mac.
Related: Best iPad Magic Keyboard Alternative
Best Mechanical Keyboards for Mac
Best Mechanical Keyboards for Mac
Features
Price
Das Keyboard 4 Pro
Dedicated volume and media controls
Built-in dual USB 3.0 ports
Cherry MX Switches
Durable build quality
$149.00
Drop CTRL Mechanical Keyboard
Premium design and build
Per-key RGB
Hot-swappable switches
Choose between Cherry, Halo, and Kaihua switches
$240.00
Epomaker SK61
Hot-swappable switches
Smooth Gateron switches
Low latency keyboard
Bluetooth and wired versions are available
$75.00
Keychron K2
Mac/Windows/Linux compatible
Bluetooth 5.1
Fully customizable RGB
Excellent value for money
$79.99
Macally Backlit Mechanical Keyboard
Designed for Macs
Clean, minimalistic design similar to Apple
24 months warranty
Full-sized keyboard
$109.99
ANNE PRO 2
Compact 60% keyboard
Choose between Cherry MX, Kailh, and Gateron SwitchesExcellent value for money
Bright and customizable RGB lighting
$89.00
SteelSeries Apex Pro
Best for Mac gamers
Excellent Steel
Series Engine software
Tons of customization options
OmniPoint adjustable switches are unique and special
$171.99
Redragon K550
Excellent build quality
Great for office work and gaming
Clicky but quiet mechanical switches
$84.99
Logitech G915 TKL
Fantastic battery life
Perfect for typing, gaming, or both
Excellent durability
$159.99
The Das Keyboard 4 Pro is a full-sized mechanical keyboard that is packed to the brim with features and is built like a tank. What makes the Das Keyboard 4 Pro one of the best mechanical keyboards for Mac, is the macOS-specific function keys, dedicated media control keys, and the overall typing experience.
All Das mechanical keyboards come with excellent build quality and the Das Keyboard 4 Pro is no exception. It features an aluminum top panel making it sturdy and flex-free. The Das Keyboard 4 Pro features two built-in USB 3.0 ports, so you can connect to other devices like mice, webcams, microphones, and more.
The Das Keyboard 4 Pro features Cherry MX mechanical that feels great to type on. With excellent key travel, stabilization, and full N-Key rollover it is a joy to type on it. With 50 million rated keystrokes and a 1-year warranty, the keyboard is built to last. It is perfect for all use cases writing, gaming, or programming.
Pros
Multiple styles and switches available
USB hub is cool
Simple yet effective design
Cons
The Drop CTRL mechanical keyboard is the flagship keyboard from Drop. Drop is a brand with excellent keyboards in its lineup but the Drop CTRL, their flagship, is by far its best keyboard. The Drop CTRL is one of the best tenkeyless (TKL) keyboards out there, making it a great choice for Macs as well.
The Drop CTRL features a solid aluminum frame with a built-in switch plate and magnetic legs. The Drop CTRL's build quality is top-notch and is almost rivaled by none. The keyboard allows you to choose from a variety of switches from Cherry, Halo, and Kaihua, giving you control over the typing feel and experience.
The best feature of Drop CTRL is that its switches are hot-swappable, meaning you can individually customize your keys. The method is also easy and convenient. The Drop CTRL also features per-key RGB lighting giving you total control over your keyboard lighting.
It is compatible with macOS but doesn't have dedicated keys, but is still an excellent option if you are looking for a compact mechanical keyboard.
The Epomaker SK61 is a budget-friendly 60% mechanical keyboard that feels like it should cost a lot more. This is because the keyboard is built well, and comes with features that are found in keyboards that are priced double.
It is one of the best wireless mechanical keyboard for Mac thanks to the features like macOS-specific keycaps that make life easier for Mac users.
The Epomaker SK61 features Gateron switches, is available in Bluetooth or wired variants, has shine-through PBT keycaps for excellent RGB lighting, and the switches are hot-swappable if required.
You can also choose between mechanical and optical switches, with the former being tactile while the latter feels smoother to type on. But regardless of which you choose, the typing experience is consistent and enjoyable.
The keys do sound a bit hollow and the stabilizers are louder than others on this list, but for the price, these are not such big cons. It is a low-latency keyboard with features almost everyone can love.
The wired version is 10$ cheaper, but I would recommend you invest in the Bluetooth version. The Epomaker SK61 is easily one of the best mechanical keyboards for Mac, and for its price, it is a no-brainer.
Pros
Highly compact
Bluetooth connectivity is near perfect
Battery life is decent
Cons
Lighting system isn't great
If you are in the market for a compact TKL Bluetooth mechanical keyboard that doesn't cost a ton, then there aren't many better keyboards than the Keychron K2. Keychron has built itself as a brand that makes excellent mechanical keyboards at affordable prices.

The Keychron K2 is compatible with Macs, Windows, and Linux. It uses Gateron Blue switches for tactile and a springy typing experience. It features Bluetooth 5.1 for top-of-the-line connectivity and low latency. You can connect and switch between 3 devices.
The design is minimalist and simple but doesn't compromise on build quality thanks to the aluminum housing. You will also get bright RGB lighting with 18 cool lighting effects.
The Keychron K2 features a USB-C port for charging up to the 4000 mAh battery that can last up to 72 hours. The Keychron K2 has been extremely popular thanks to the 75% size and features packed in a well-built chassis.
Keychron plans to update the K2 with hot-swappable keys in the future, which will make it the budget mechanical keyboard Mac to beat.
Pros
Excellent if you work with multiple devices
Excellent anti-ghosting
Long battery life
Cons
Macally makes many keyboards for Macs and even for Windows PCs, but they have only one mechanical keyboard, and it's awesome. The Macally Backlit Mechanical Keyboard for Mac is designed from the ground up for Macs making it excellent for the same.
The Macally Backlit Mechanical Keyboard is designed to blend well with your Mac workstation given its white minimalistic design, similar to Apple's design language. It features adjustable backlighting which makes it useful to work at night or day.
It features brown mechanical switches and the keys themselves are clicky and stable with even spacing between them, providing users with a good typing experience. Macally offers up to 24 months of warranty, with excellent service.
The Macally Backlit Mechanical Keyboard is easily one of the best mechanical keyboards for Mac. A Bluetooth option would have been good but still, for the price, it offers a nice typing experience and seamless Mac connectivity.
The ANNE PRO 2 is a compact wireless mechanical keyboard that is affordable yet ticks all the right boxes. This keyboard offers tons of options when it comes to switches as you can choose between Cherry MX, Gateron, and Kailh switches.
This level of customizability makes it special as very few keyboards have so many options. This makes it an excellent Mac mechanical keyboard.
The keyboard is also extremely compact as it is only 60% of a full-size keyboard. The keyboard sports features like programmable macro keys, full RGB lighting, and more. The keyboard lacks dedicated arrow keys and media keys which can be a bummer for some.
The ANNE PRO 2's strength lies in its build quality, macOS support, and typing experience. The keys are balanced and spaced well with excellent stability. The choice between switches allows you to choose a preferred feel for you.
Overall, the ANNE PRO 2 is an excellent 60% wireless keyboard for Macs that is sure to boost your productivity.
If you are someone who plays games on your Mac then the SteelSeries Apex Pro should be on top of your list. This is a full-size mechanical keyboard that is built well and is loaded with all the best features. The keyboard is primarily built from high-quality plastic and aluminum, it also features a magnetic wrist rest.
The keyboard has features like a customizable RGB backlight, low latency, media keys, and programmable macro keys. The SteelSeries Engine software for macOS allows you to customize the keyboard from the keys to macros to RGB lighting and more.
The OmniPoint switches are unique and special as they let you customize the travel distance and actuation force. This means you can customize the keyboard to your preference.
Overall, the SteelSeries Apex Pro is one of the best mechanical keyboards for Mac as it is built well, offers all the features you will need, and is heavily customizable. It is a gamer's dream keyboard and you will enjoy it thoroughly.
With more gaming alternatives for Macs than ever before, it's time to really consider getting a mechanical keyboard that can handle gaming.
What better way to do so than with the Redragon K550? It has the makings of a superb office keyboard while also functioning well when it's time to kick back and relax.
To begin, the Redragon K550 is extremely comfortable to use, whether gaming or typing, thanks to its unique Purple switches. It just requires a modest amount of effort to register the keys, saving you from end-of-day finger weariness.
To add to the already comfortable profile, the keys have a little depression to prevent slipping and detachable wrist rest with a strong sticky texture.
The same clicky custom Purple switches perform admirably in a gaming environment. The success is due to the input provided by the keys on the Redragon K550. Physical and audible feedback with no discernible lag input lets you know you've pushed the key.
In addition, the Redragon K550 includes 12 macro buttons that you may program to your heart's content, as well as a USB passthrough for better cable management.
Pros
Excellent build quality
Great for office work and gaming
Clicky but quiet mechanical switches
Cons
Poorly placed macro buttons
If you intend to do more than just type on your Mac, such as gaming, you should choose the Logitech G915. From style to function, it has everything you need and wants in a keyboard.
You'd have access to programmable macro buttons, media controls, and a few additional buttons right away. Whatever style of keys you choose—linear, clicky, tactile, or tactile white—they're surprisingly low profile, albeit not as low as a Magic Keyboard.
In any case, considering how rapidly the keys return to their resting position, they're ideal for typing and gaming. That performance comes at the expense of wear and tear, but with the Logitech G915, any deterioration would take a very long time.
The keyboard, you see, is composed of durable plastic that is reinforced by a thick aluminum plate that runs along the length of the keyboard, just beneath the keys. The brushed metal look gives the Logitech G915 unrivaled robustness, longevity, and a dash of flair.
Pros
Fantastic battery life
Perfect for typing, gaming, or both
Excellent durability
Cons
Best Mechanical Keyboards for Mac – Conclusion
Macs already come with exceptional keyboards on iMacs and Macbooks but if you are looking for an even greater typing experience, then using a mechanical keyboard would do you wonders. The above list features some of the best mechanical keyboards for Macs.
Overall, I would say that the Das Keyboard 4 Pro, Drop CTRL Keyboard, and the SteelSeries Apex Pro are the best options. Other keyboards like the Keychron K2, and ANNE PRO 2 are great if you are limited on budget. But no matter which one you choose from this list you will be more than satisfied as they are all excellent choices.
How to Choose the Best Mechanical Keyboard for your Mac
There are tons of Mechanical Keyboards to choose from, so how do you choose the correct one? Mechanical keyboards come in different shapes, sizes, and switches. All of these affect how you use the keyboard.
Here's what you should consider when buying a mechanical keyboard for Mac,
Switches – Switches make the most difference in mechanical keyboards. Different types of switches are color-coded differently.
Blue switches are the most popular and the cheapest switches, they have a clicky feel and are excellent for gaming and typing, the only problem is the noise. Red switches on the other hand have linear travel and are the quietest. Brown switches act as a middle ground between red and blue. There are black switches, and optomechanical switches, these are usually rare.
There are different brands that produce mechanical switches. Cherry is the most popular, while Gateron and Oitemu are good as well. The main difference between brands is the durability of the switches.
The objective difference between switches is sound, but different people prefer different styles. So trying different switches before buying is recommended.
Size – Keyboard size can make a huge difference. Smaller keyboards have fewer keys but are preferred by people who want more desk space. Similar larger keyboards might feature more keys and will be more comfortable typing on them. I personally like larger keyboards as I want the Numpad.
Features – Features like anti-ghosting, RGB, USB pass-through, and more can make or break the deal for some. With the number of options available, you can pick and choose a keyboard that has everything you want and need.
If you are still unable to choose a mechanical keyboard for your Mac, then check out our list of the best mechanical keyboards for Mac.
Also Read:
Das Keyboard 4 Pro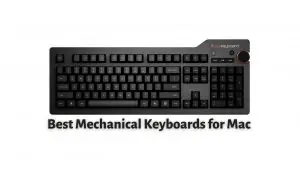 Check out the best mechanical keyboards for MAC!
Product SKU: 009776TFG982340
Product Brand: DAS
Product Currency: USD
Product Price: 169.00
Price Valid Until: 2021
Product In-Stock: InStock
Pros
Multiple styles and switches available
USB hub is cool
Simple yet effective design