I have always been fed up with using Augmented Reality apps and games on my smartphones as the experience is really terrible. When Apple announced that the new iPad Pro will feature a LiDAR sensor for better AR capabilities, I was thrilled, to say the least.
Apple promised way better AR performance for the new iPhones along with camera improvements as well. So, What is Apple's LiDAR Scanner? Let's find out.
This news made me jump on the hype train and check the new iPad Pro's and iPhone 12 Pro's prowess with the LiDAR sensors. And when I got to use them, I was surprised at how much better the experience was compared to devices without a dedicated LiDAR sensor for AR.
After going through Apple's official documents and subjecting various Apple devices to stress tests; my team and I found that:
Apple's LiDAR Scanner is a time-of-flight (ToF) scanner that uses laser light to measure the distance to objects. This allows it to create detailed 3D models of the world around it. The LiDAR Scanner is found in devices like the iPhone 14 Pro and Pro Max, iPad Pro (2020), and is even the key component in the upcoming Vision Pro's Spatial Computing capabilities.
Also Check Out: What Is EyeSight on the Apple Vision Pro and How Does it Work?
What is Apple's LiDAR Scanner?
Read on to know more about LiDAR and Apple's implementation of it in the iPhone 12 Pro lineup and iPad Pro (2020) lineup.
What is LiDAR?
Light Detection And Ranging (LiDAR) is a technology that uses lasers to scan and map surroundings. This is similar to how radar, the difference is that radar uses radioactive waves while LiDAR uses light waves. Check out our "What is Apple's LiDAR Scanner?" guide for all the details.
And Radar is used for faraway objects while LiDAR is used for close-by objects because light gets absorbed easily. It is similar to ultrasonic imaging used by bats to see.
A LiDAR sensor emits hundreds of thousands of light pulses every second, LiDAR can scan the distance and sizes of objects over small ranges. The data collected by the sensors is used to create 3D models, one of the best uses of LiDAR in construction and engineering in recent years.
LiDAR is now used in self-driving cars, for the detection of objects and people. It is also available in automatic vacuum cleaning robots. In the yesteryears, LiDAR was used in military tech and astronomy.
LiDAR in Apple devices
With innovation and technological advancements, LiDAR has improved. The scanners have become cheaper, smaller, and more accurate over time. This is helped LiDAR find its way into mobile devices like tablets and phones.
Phones have been using Time-of-Flight (ToF) sensors for a similar purpose, but Apple went one step further and has introduced LiDAR for its iPads and iPhones. The reason was for better and more accurate distance imaging. Check out our "What is Apple's LiDAR Scanner?" guide for all the details.
The Apple iPad Pro (2020) and iPhone 12 Pro models have LiDAR technology in them. They enable better photography, Augmented Reality (AR), and 3D modelling capabilities for the devices.
List of Apple Devices That Support LiDAR
Here's the catch, not every iPhone in existence supports the LiDAR functionality. Only a handful of devices come with this unique feature and they are the;
iPhone 14 Pro
iPhone 14 Pro Max
iPhone 13 Pro Max
iPhone 13 Pro
iPhone 12 Pro
iPhone 12 Pro Max
iPad 2020 Pro (iPad Pro 12.9 inch 4th gen, iPad Pro 11 inch 2nd gen)
iPad Pro 2021 13 inch
LiDAR in iPhones and iPad
The way LiDAR is implemented on Apple devices is different when compared to other industry implementations. It uses the same principle, to find the distance between objects but in a shorter range.
LiDAR on iPhones and iPads have an effective range of 16 feet (5 meters). It works both indoors and outdoors and allows for spatial tracking (tracking the location of people and objects around you).
Apple wants the LiDAR scanners in its devices to provide you with unparalleled Augmented Reality (AR) experience, better camera capabilities and create 3D maps of your immediate surroundings.
The LiDAR sensor with Apple's primary cameras and processing capabilities, Apple intends to give you the best AR experience on a phone. Apple wants to move away from the popular Time-of-Flight (ToF) sensor found in other smartphones and Apple thinks LiDAR is the way forward.
ToF uses a single pulse of infrared light whereas LiDAR uses hundreds of thousands of light pulses in a short period, and this is what more effective than ToF sensors. LiDAR gives better range and better depth and distance mapping information.
And true to the word, the AR experience on the iPad Pro and iPhone 14 Pros are simply classes above other smartphones, there's literally no competition in this regard. This also opens up for more future innovations for more apps and games can take advantage of this technology.
All this is possible and speedy only because of the processing capabilities of the Apple devices that use LiDAR. The A12Z Bionic found in the iPad Pros and the A16 Bionic found in iPhone 14 Pros enable for this process to happen fast enough so that there is no delay and there is no poor user experience in using LiDAR.
As of now, the only limiting factors seem to be the sensors itself as they lack resolution for more detailed workflows. But this will be improved and for a first-generation implementation, the LiDAR scanners in the current set of devices work really well in boosting AR performance.
And in reality, Apple's intention and use case for their LiDAR sensors was for AR gaming and applications and some camera improvements.
Use of LiDAR in Apple Devices
Apple also said that every existing ARKit app will benefit from the new LiDAR scanners. This will improve the speed, occlusion, tracking, and motion capture for ARKit apps.
An update to the ARKit to the new Scene Geometry API will allow developers to benefit from LiDAR scanners in their apps. Check out our "What is Apple's LiDAR Scanner?" guide for all the details.
The AR experiences of games like Pokémon Go and apps like Snapchat are leaps and bounds better on Apple devices featuring the LiDAR scanner compared to other smartphones and tablets. Hot Lava is a game that uses Apple's LiDAR scanner to bring molten rivers to your home.
Ikea's Place app also is really cool to take on AR and it allows you to check how their furniture's would look in your home. This is like a real-life version of The Sims but it is helpful nonetheless aiding you in purchasing the best furniture for your home.
LEGO also has launched products that come alive when scanned via your smartphone. And undoubtedly these all work excellently on the new iPad Pros and iPhone 14 Pros.
Apple's own Measure app now is improved because of the LiDAR scanners. It is now faster and easier to calculate a person's height with the Measure app.
It also increases accuracy and helps you measure objects as well with guidelines for easier reading. The Measure App now has a Ruler view for more close and accurate measurements and you can save the measurements with screenshots for each measurement.
Apple has said that the low light performance of cameras in the new iPhone are helped because of LiDAR. Apple's 'Focus Pixels' (similar to Phase Detection AutoFocus PDAF) from iPhone XS depends on the light in the environment for good results and since at night there is not enough light, this autofocus method didn't work so well.
This is where LiDAR will aid in camera performance. LiDAR can tell the image processor to focus at the correct distance for the best results. This helps for better photos in the dark when combined with the already excellent Night mode.
Does the Apple Vision Pro Come Equipped with a LiDAR Scanner?
Yes, the Apple Vision Pro is equipped with a LiDAR scanner. This feature enhances the device's spatial awareness and computational capabilities.
The LiDAR scanner employs time-of-flight technology, using laser beams to measure the distance between the device and surrounding objects.
This produces highly accurate 3D models of the environment, which can be invaluable for various applications like augmented reality (AR), virtual reality (VR), and 3D modeling tasks.
Another advantage of the LiDAR scanner on the Vision Pro is its ability to function effectively in low-light conditions. This makes it particularly useful for AR applications where lighting may vary.
Furthermore, the Vision Pro comes with a TrueDepth camera system that offers functionalities like facial recognition, eye tracking, and hand tracking.
Combined with the LiDAR scanner, this technology suite enables the Vision Pro to deliver a rich, interactive, and immersive AR experience.
What is Apple's LiDAR Scanner? – Takeaway
Will LiDAR on smartphones and tablets be the future? Will other smartphone manufacturers follow in Apple's footsteps? Will it actually be the game-changer for AR and Low-light photography that Apple expects it to be? Check out our "What is Apple's LiDAR Scanner?" guide for all the details.
All of these questions can be answered with a yes and a no. LiDAR can be the future in smartphones and tablets if the technology gets better and better if higher fidelity scanning can be done by the LiDAR scanners on the devices.
If it doesn't get better or good enough for more applications, it will die like other countless techs that get introduced. I feel that this is an experiment by Apple and they are thinking that LiDAR will be a game-changer and give them an edge in AR and camera capabilities for their devices.
Apart from Apple, app and game developers have to implement and create software that takes advantage of this technology for it to really become something big. This will also make other smartphone manufacturers follow suit and come up with LiDAR or alternatives to improve their game in the AR field.
If what Apple wants from LiDAR actually pan out well, in terms of AR performance and the camera department, I can see LiDAR being a staple in the world of smart devices. Rumors are floating around that we can see LiDAR implemented in more than just iPhones and iPads. Apple's rumored AR glasses might feature LiDAR for AR implementation.
Should you upgrade for LiDAR? I don't think LiDAR is a feature you need but from what I tested it is nice to have. If you are someone that uses a lot of AR apps, you can benefit from it, but for the average consumer, more apps and games are needed to wow them and pull them.
It can be something game-changing in the future and there is a lot of untapped potentials which I am sure Apple and app developers would love to work on. It is exciting a new feature that needs more time to see its full potential.
What is Apple's LiDAR Scanner: FAQs
Does the iPhone 13 have LiDAR?
When it comes to the iPhone 13, the LiDAR scanner is placed on the backside underneath your three cameras. It is the dark circle opposite the flash and can only be used with rear-facing cameras. Remember you need to use an app that has support for LiDAR scanning, which is often combined with some other feature so you cannot use LiDAR on its own, as iOS does not give you direct access to this feature.
What does LiDAR do on an iPhone?
Lidar stands for light detection and ranging, and measures how long it takes light to reflect back from objects which basically creates a depth map of your surroundings. The primary purpose of LiDAR in the iPhone is to improve augmented reality (AR)implementation and give apps more useful and accurate information about their surroundings, for smoother, more reliable AR. Apple's LIDAR scanner is said to be able to scan objects up to 5 meters away as the laser works at a photon level, it's able to function night or day, inside or out.
Is iPhone LiDAR safe?
Clean Technica reported that LiDAR is not that safe for the eyes as it consists of laser beams.LiDAR actually stands for Light Detection and ranging which means it can make use of ultraviolet and infrared light to get a better focus of the environment and its surroundings. Some vehicle and smartphone manufacturers make use of this sophisticated technology to upgrade the camera quality. But, some companies don't use this tech, such as Tesla. 
How accurate is the iPhone LiDAR?
The latest Lidar feature found in your iPhone is accurate within a one percent range compared to other models that lack this feature. It offers users an advanced augmented reality(AR) experience and a beneficial photography tool.
You can find the scanner situated under the iPhone 13's cameras. It is a dark circle that can be found on the right opposite to the flash. Since it can be seen only on the backside of your iPhone, this feature is used only for back-facing cameras.
Which Apple devices have LiDAR?
Apple has introduced LiDAR for iPhones and iPads.
Here are the iPhones that have LiDAR
iPhone 12 Pro and iPhone 12 Pro Max
iPhone 13 Pro and iPhone 13 Pro Max
Here are the iPads that have LiDAR
All iPad Pro models released since 2020. 
Does iPhone 7 have LiDAR?
No, the iPhone 7 doesn't have a LiDAR scanner. Only the iPhone 12 Pro and iPhone 13 Pro models have LiDAR scanners. iPad Pro's released in 2020 and later also feature LiDAR scanners. 
How to Use Apple LiDAR Scanner
You can use Apple's LiDAR scanner in supported apps like IKEA, LEGO, Measure app, and more. These apps use the LiDAR scanner to create Augmented Reality worlds or measure distance and size.
Also Read: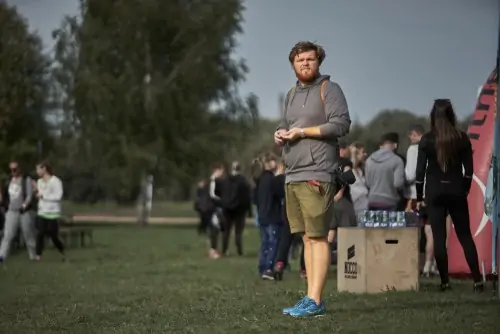 Alan Urban is the Editor-in-chief of Stupid Apple Rumours and often proclaims that he's " Apple's number one fan."
In addition to keeping up with the latest Apple news, he also reviews Apple products and creates user-friendly guides.  When not subjecting Apple Devices to crazy stress tests, he's usually playing games on Apple Arcade