Do you want to write a letter on your phone or tablet? We are going to tell you about the best letter writing apps for iOS. We'll also tell you what the best free options are.
Apple's App Store is full of different apps for note-taking and writing. But, sometimes it might be hard to figure out which app is best for you. That's why we've decided to make this list with the best letter writing apps for iOS users. Check out the list below and find the app that suits you best!
There's nothing better than receiving a handwritten letter. I love writing/receiving thoughtful, loving letters. Only, it's hard to find people who still write letters these days. That's why we are turning to our smart devices for the best letter writing apps for iOS.
There are a plethora of apps out there that allow you to write, format, and publish your work. But which ones should you choose? Here is a list of the best letter writing apps for iOS.
Related: Best iOS App for Manga
Best Letter Writing Apps for iOS
Features Table
Best Letter Writing Apps for iOS
Features
Ulysses
Markdown and HTML support
Real-time collaboration
Customization toolsShare and publish from the app
Scrivener
Corkboard interface for planning and execution
Support to all popular formats
One-time payment with no subscription/in-app purchases
iA Writer
Create and edit documents using Markdown
Publish to popular blog sites
Export to all popular formats including HTML and PDF
1Writer
Create professional-quality content
Import and export widely used formats
Cloud sync across multiple platforms
Apple Pages
Simple, intuitive app
Completely free to use
Extensive formatting options
Best Letter Writing Apps for iOS
How can you write the best letters ever? The answer is simple: use the best letter writing apps for iOS. And we are here to help you with that. With our latest article, we will help you find the best letter writing apps for your iPhone or iPad and make your life easier.
If you're looking for the best letter-writing apps for iOS, then Ulysses might be the one for you. Ulysses promises seamless sync across all your Apple devices. You can write on the go, and later pick up where you left off on any of your devices.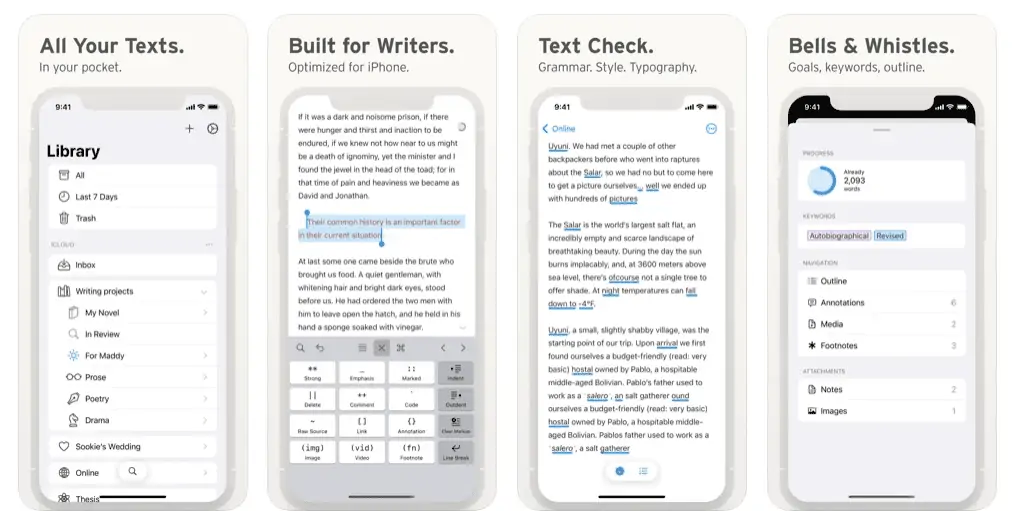 Ulysses includes handy features like Markdown support, real-time collaboration, customization tools, and robust sharing and publishing options.
Ulysses is the ultimate tool for writers. Whether you're working on a book, a thesis, or a plain text file, with Ulysses you will be able to focus on your text and let your creativity flow as writers can choose between distraction-free mode or normal editor view.
Ulysses offers a clean, minimalistic interface and when combined with its powerful features, it helps you craft your story without getting distracted by tons of tools.
Ulysses supports all file formats you may use to write: RTF, DOC, DOCX, ODT, PDF, ePub, and more. The app is available on iPhone, iPad, and Mac. The app is free to download and use, but some features are locked behind in-app subscriptions.
Scrivener is one of the best letter writing apps for iOS devices. The app allows you to focus on composing and structuring long and difficult documents. It has all the tools you need, whether you're writing a letter, novel, screenplay, or academic paper.
Scrivener makes your life easier by organizing all your research, notes, images, and documents into a single interface that you can use to write your next letter, novel, or screenplay from start to finish.
Scrivener is a powerful content-generation tool for writers that lets you concentrate on composing and structuring long and difficult documents. It gives you full control of the writing process, from pre-writing research and note-taking to drafting, revising, editing, and publishing.
It can cut down on distractions, increase your productivity and help you achieve your writing goals with its impressive features. Its unique corkboard interface lets users organize their projects. You can export to DOCX, rich text, PDF, and Final Draft.
The app allows you to write in different formats and even sync with other devices by using iCloud or Dropbox. The app costs $19.99 with no in-app purchases which is a good sign. It is also available on Macs and PC so you can work from anywhere.
Simple, minimal, and distraction-free, iA Writer is the best place to write. The app comes with a clean writing interface, but also includes many advanced features that help you concentrate on your writing. You can concentrate on your words with Focus Mode. It is the perfect combination of form and function.
iA Writer offers comprehensive export options via Dropbox, iCloud, or email, so you can keep all your notes in one place. You can work with multiple documents in sync across platforms, access your iCloud Drive files, and more.
iA Writer, lets you create and edit documents in Markdown. iA Writer lets you publish to blogs like WordPress and Medium. This app comes with syntax control that lets you break down your writing to show you the structure, highlight adjectives, nouns, conjunctions, and more.
iA Writer lets you publish to blogs like WordPress and Medium. You can also export your work in Markdown, PDF, HTML, Microsoft Word, and other formats.
iA Writer is an elegant text editor for iOS devices where you get all the features of a first-class writing app. The best part is that it offers a free trial period for its paid subscription plan which means you can get to use all the premium features before buying the app.
1Writer is a simple word processing app for iOS that makes it easy to create stunning documents. It is beautifully crafted with a clean interface and powerful features that make it one of the best options if you're looking to write on iOS.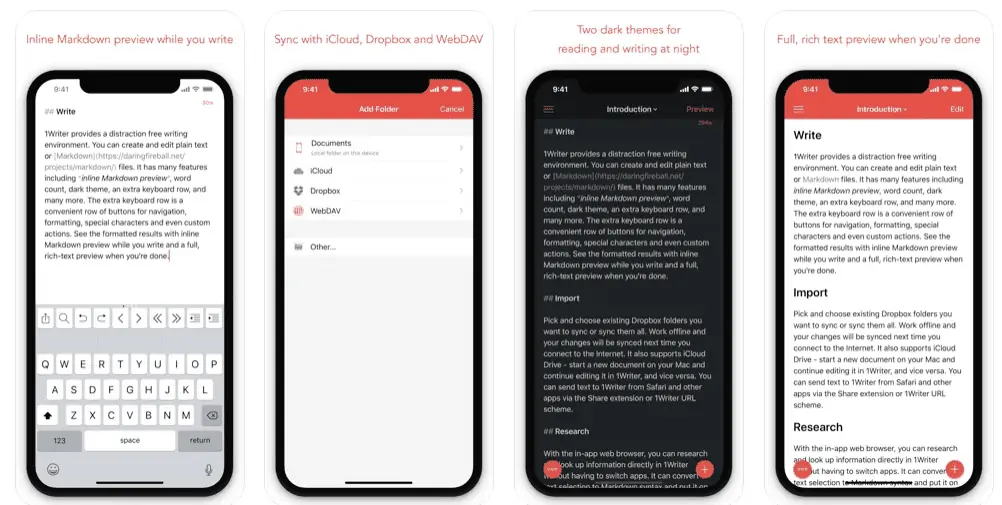 1Writer helps you to create your letters and documents in a professional way. It is a text editor that brings the best of both worlds – it has support for Markdown, but still allows you to use the rich formatting of HTML.
1Writer is a plain text editor for iPhone and iPad that supports iCloud, Dropbox, Evernote, and other popular cloud services. It syncs your documents and lets you browse through all your documents from the app.
1Writer has a night mode for a better reading experience at night. It includes extensive formatting capabilities, and support for MultiMarkdown, PDFs, HTML, and more. You can preview PDFs, mark items as favorites, and more.
1Writer allows users to create custom URLs and Javascript actions to help them personalize the app as they need. 1Writer is all you need to write a letter, essay, article, or book. It's also available on Mac and Windows so that you can work from anywhere. The app costs $4.99 with some in-app purchases.
Apple Pages is one of the best Letter Writing Apps for iOS. It is a free app that allows you to create, edit and format documents on your iPhone or iPad. The app provides 60+ templates to get started with, and it also syncs with Apple Pages on Mac.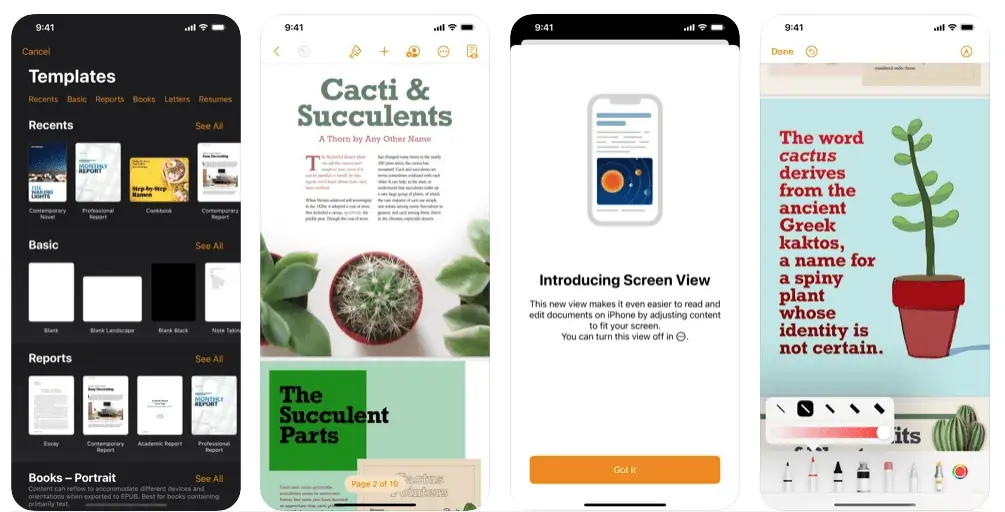 The app offers an intuitive interface allowing you to create professional-quality documents. Apple Pages allows you to create and share stunning letters. It's intuitive, minimalistic, and powerful – all at the same time.
The UI/UX is simple and user-friendly, you will be able to master it in no time. You can use this app for free and there The app is even more fun on an iPad. You can create your document and add photos to it too.
Apple Pages is the perfect companion app for your iPhone or iPad to help you write letters, cards, and more. You can also collaborate with other users of the app. You can create all kinds of documents and share them with others.
The app has PDF support and password protection for your documents using Touch ID and Face ID too. If you live in the digital world and don't want to keep writing on paper, then Apple Pages is the perfect app for you!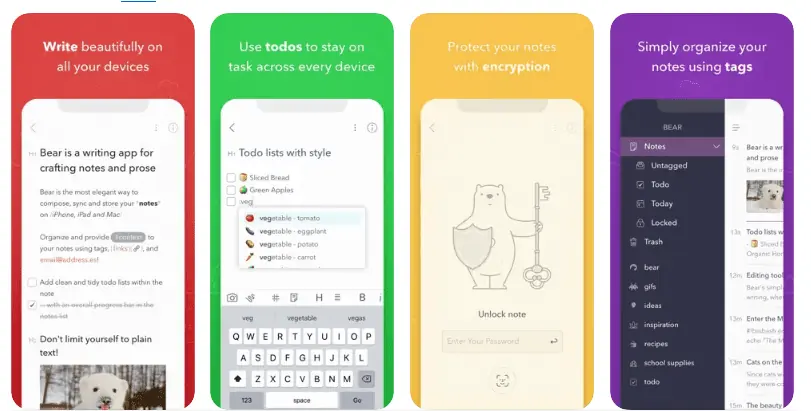 Bear gives a lot of flexibility for managing text, despite its seeming simplicity. Bear is wonderful for notes and to-do lists, it's true, but it's also a great tool for many different types of writing thanks to its support for Markdown, selection of themes, and straightforward organization.
To liven up your work and provide it with more context, add photographs, files, code blocks, and other elements.
You have a few options available to you. Choose your theme, your font, how you organize your documents, and even the smallest aspects like font size, line height and width, and paragraph spacing. A $1.49 per month subscription to Bear Pro is required if you want to sync your work between Bear for Mac and Bear on your iOS devices.
Bear has a straightforward appearance and a tonne of fantastic writing tools, and it really does make everything seem so simple.
When drafting a letter, there are occasions when you need a little inspiration. In this situation, Evernote can be useful. This writing app's ability to sync your letter across different devices is by far its biggest benefit. You won't have to be concerned about misplacing your work that way. So that you can finish crafting your letter precisely, you can pick it up later.
You should think about using Microsoft Word if you're seeking an easy-to-use, straightforward, and reasonably priced word processor to assist you in writing your messages. Microsoft Word is undoubtedly already installed on your computer, and there's a strong possibility you used it when you were a kid.
Although it is simple to use, it might be pricey if it doesn't come with your computer. It includes some simple spell-checking and editing tools, and you might even have access to a few letter-writing templates.
Use Google Docs if you require an application that enables multiple users to collaborate on a document at once. Your letter is essentially published on a webpage via Google Docs. The letter is accessible to and editable by anybody with a link to the webpage (to whom you grant permission).
Additionally, Google Docs offers a number of tools that can be used to create stunning letters. It is a great choice if you want to include pictures and videos, and you can utilize useful templates for your letter.
Grammarly and ProWritingAid are frequently compared, however, the editing approach used by this application is slightly more important. The ProWritingAid program tends to improve your writing's flow even while it still flags serious problems. For instance, it eliminates unnecessary words and passive voice rather than focusing on minute grammatical details.
Additionally, ProWritingAid analysis offers other fascinating features like phrase structure, self-generated vocabulary data, and more. With the help of ProWritingAid, you may identify the words you use excessively, the areas where your writing is inconsistent, and the best ways to connect your ideas.
Overall, this is a fantastic tool that will undoubtedly assist you in improving your writing albeit you have to pay for accessing the full range of capabilities.
Best Letter Writing Apps for iOS – FAQs
Does Apple have a letter-writing app?
Yes, Apple has Pages apps that you can use to write letters and more. This app is one of the best letter writing apps for iOS and features templates that you can use to write letters and more.
How can I write a word document on my iPhone?
To write word documents, you can use writing apps. You can check the above list for the best letter writing apps for iOS, that also support word documents, making them some of the best writing apps too. But if you only want a word processor, then you can try Google Docs or Microsoft Word from the App Store.
Is Microsoft Word free now?
The online version of Microsoft Word is free. You can create and edit documents as long as you have an internet connection. The free version of Microsoft Word has some features locked, which you can access by buying a Microsoft 365 subscription.
Also Read:
A hardcore Apple fan with a collection of
All series of Airpods
All series of fake airpods from China
All series of Apple watches
One Macbook Pro
One iPhone 13 Pro, one iPhone XR, one iPhone 7