Which Apple Watch to Buy? That's the big question on most of our minds after the launch of the Series 8, a few weeks ago. It may be a bit of a task to decide on what model to buy simply because there are so many variants out there with a number of combinations between case material, size of the watch, color, and the strap. Check out our "Which Apple Watch to Buy" for all the details
Though Apple Watches are not cheap, they are the most sought-after smartwatches on the planet.
In this guide, I will take you through the key differences between each Apple Watch and break down which version is best suited for what type of user.
Related: Which Apple laptop should I buy?
After having reviewed all Apple watches based on various factors like design, features, functions, performance, and price; My team and I zeroed in on 5 Apple watches that stood out. We subjected these 5 to a series of stress tests to determine the best. We found that:
The best Apple Watch to Buy is the Apple Watch 8. Although it has the same design as its predecessor, it is equipped with the latest S8 dual-core chip that is 20% faster than the Series 7. Not only is it extremely fast and smooth but it also has a battery life that can last for 18 hours on a single charge. It also comes with various health features like blood oxygen monitoring, a temperature sensor for ovulation tracking, L1 GPS and Car Crash Detection, all for under $399 for the base variant and $499 for the Wi-Fi one
How do I know what Apple Watch to buy?
The first step is to decide which case size you'd prefer. Apple offers 38mm and 42mm cases that are suitable for smaller and larger wrists. If you're on the fence and just can't decide which size is best for you, head to an Apple store and try them on. You'll quickly be able to feel the difference and get a better understanding of which one is a better fit.
The next step is selecting an Apple Watch style. Do you want an Apple Watch that looks like a classic watch, or something a little more modern and sporty? Apple has multiple collections with various materials, styles and prices, so you're sure to find one that catches your eye. A few of their popular collections include the Nike+, Apple Watch SE, Apple Watch Series 6, and the Apple Watch Hermès.
The last step is to consider additional add-ons. Apple Watch comes pre-installed with lots of functional apps, but if you want your watch to be even more personalized, you have the option of downloading add-ons. These range from custom watch faces to health and fitness apps. Think about how you plan to use your Apple Watch and find the apps that best suit your lifestyle.
So don't feel overwhelmed by the idea of picking an Apple Watch. By focusing on the size of the case, the style, and the additional features you'd like, you'll be able to narrow down the choices and make an informed decision. You'll have no trouble finding the best Apple Watch for you.
Which Apple Watch to buy?
With a wide range of Apple Watches to choose from, there is one for every kind of user. The primary differences between Apple Watch Series are the processor, features, and the overall price of the gadget.
Apple Watch Series 8
It's no surprise that the newest Apple Watch is also the best one to buy in 2022.
Launched in September, the Series 8 looks and feels like its predecessor, the Series 7, but comes with an upgraded processor and new advanced fitness features.
It costs upwards of $399 and it still offers single day battery backup which Apple could have addressed with this new model
Features of the Apple Watch Series 8
The Series 8 comes in two variants, 41mm and 45mm with thinner bezels and a large screen similar to the Watch Series 7
Powering the Series 8 is Apple's S8 processor and with an onboard storage space of 32 gigs, it offers more than enough space to continue operating smoothly even with multiple apps installed
Series 8 introduces car crash detection which is a helpful tool that can save your life in the event of an accident or car crash
There's even an updated temperature sensor, a new fertility tracking tool and advanced SpO2 and ECG sensors built into the watch that make it a truly remarkable fitness and health tracking device
The Watch Series 8 also runs on watchOS 9 which brings new and improved training features as well as
Pros
New overnight temperature sensing capabilities
Now comes with Car Crash Detection
Faster and more responsive processor
Upgraded fitness trackers and health sensors
Equipped with an always-on OLED display
Cons
No change in the design
Same mediocre 1-day battery life
Should You Buy the Apple Watch Series 8?
Well, it depends on whether you already have the Apple Watch Series 7 or not.
Since there's not much difference between the two and the only upgrade is the processor and maybe a few changes in the health tracking department, I would suggest sticking to the Series 7 that you already have.
However, if you're using an older Watch like the Series 6 or the SE then I'd recommend checking out the Series 8 as your next upgrade and skip out on the Series 7 altogether.
Apple Watch Ultra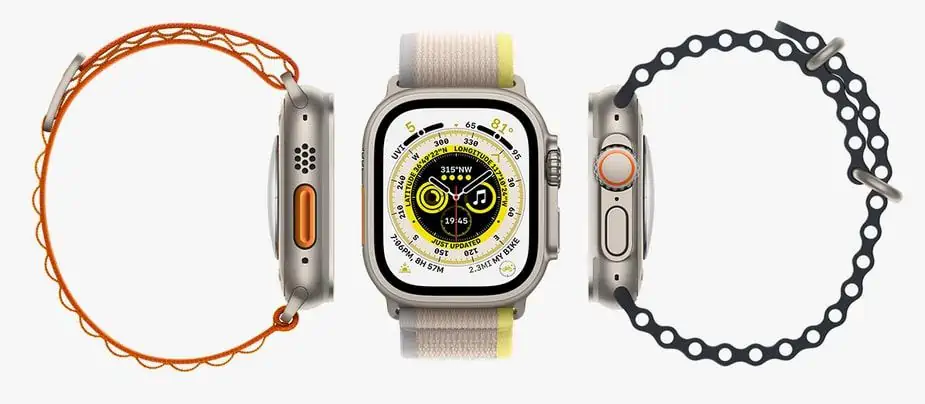 The Apple Watch Ultra is nothing but a super durable upgrade on the Series 8. It's available only in 49mm and uses the same processor as its baby brother.
The only major difference is that the Ultra offers better battery life and there is a new action button on the watch that can be customized with different features.
At nearly double the price of the Series 8, the Watch Ultra is the most expensive Apple Watch till date.
Features of the Apple Watch Ultra
The Watch Ultra is built to last and it's made from titanium, has raised bars to protect the crown and uses a sapphire crystal glass to protect the display.
Unlike any other Apple Watch till date, the Ultra has been tested to military standards allowing it to handle extreme conditions.
It's also water resistant to 100m which is double what the Series 7 and Series 8 can handle.
While most of the sensors in the Ultra are similar to what's there in the Series 8, the Ultra has three upgrades that are unique to it. They are the water temperature and depth gauge sensor, the new dual frequency L1 & L5 GPS sensor and a three-mic array with beamforming capabilities.
The Ultra comes with three band options and each has been designed for specific activities; Trail Loop, Alpine Loop and Ocean Band.
Any 44mm and 45mm Apple Watch bands can also be used on the Ultra apart from these three.
A significant upgrade in the Ultra is its new and improved battery that offers up to 36 hours of runtime on a single charge. It's the largest battery Apple has used on a Watch till date and it supports Fast Charging via the new 20W adapter.
Pros
Larger display than the Series 8
Action button is a useful feature to have
Highly durable and military-grade rugged build
Improved water resistance and upgraded sensors
Cons
Could have used a bigger battery considering the use cases
Lack of navigation features
Extremely expensive
Should You Buy the Apple Watch Ultra?
Truth be told, the Ultra is a watch to die for, but only if you're someone who's always up for outdoor adventures. It's the most durable Apple Watch till date and is also the only watch to offer over 30 hours of battery life on a single charge.
However, the high price point and the fact that there are not a lot of changes apart from the build and size, I wouldn't recommend buying the Apple Watch Ultra or spending that much money on something you can get with the standard Series 8.
Apple Watch Series 7
Apple Watch Series 7 was announced in September 2021 and featured a rounder design with a larger casing, improved durability, a larger always-on Retina display, and faster charging with a starting at a price of $399.
Features of the Apple Watch Series 7
The Apple Watch Series 7 is available in new 41 and 45-mm size options with softer, more rounded edges.
It consists of a sapphire crystal and black ceramic back case with a Digital crown.
The new models feature a larger, re-engineered Retina display with slimmer borders.
It is more durable with crack-resistant front glass, IP6X dust resistance, and a WR50 water resistance rating.
They are able to charge 33 percent faster, with just eight minutes of charging providing up to eight hours of sleep tracking time.
There are five new aluminum casing colors, including Midnight, Starlight, Green, Blue, and (PRODUCT) RED.
It contains health monitoring features such as heart rate monitoring, blood oxygen monitoring, and ECGs.
PROS
Faster charging
Larger display
New colors
Improved durability
CONS
No major feature updates
One day battery life is the same
Should you buy the Apple Watch Series 7?
If you're looking to buy the best Apple Watch, it's very easy to assume that the newest automatically gets the win. This device is designed to keep you connected, in shape, and even safe, in certain situations. Its sizes and display are bigger with SpO2 monitoring, as well as Apple's U1 ultra wideband chip for better connectivity.
This means less scrolling when reading texts and emails and also features two larger font size options, so you don't have to squint. This is Apple's first smartwatch with an IP6X certification, meaning it's totally dust-proof. It charges 33% faster than other series and just 45 minutes of charging will take the watch from dead to 80% battery life.
Apple Watch Series 5
Check out our full review here
Apple Watch Series 3
The Watch Series 3 is without a doubt, the cheapest Apple Smartwatch out there. But don't be fooled, though the device retails at $179 and comes in two sizes; 38mm and a 42mm, the Series 3 seriously lacks all the improvements made by Apple over the next few models in the series.
Features of the Apple Watch Series 3
The Series 3 was one of the oldest from Apple and is significant in its own way. Ideal for everyday use while not breaking your bank balance, these are the main features of the Watch Series 3:
Activity Tracker – The basic activity tracker on the Apple Watch Series 3 lets you track your movements, how often you stand up and your workout routine. This feature allows you to keep a track on your overall activity progress.
Water Proof – Post the Series 2, Apple Watches are water resistant up to 50 meters and this helps in the case of a swimming workout. Here the screen of your Series 3 will automatically lock so accidental taps on the screen do not get registered.
Siri – With the Series 3 you can raise your hand to access Siri and her many functions. Simply activate the raise to talk feature and ask Siri anything.
Apple Pay – You can pay your grocery bills or buy coffee and even send money across to a family member with the Series 3. Once your cards are stored on the Apple Watch, paying for something becomes easier.
Apple Music – The Series 3 lets you store, access and play your favorite songs through Apple Music. This feature will work only with a valid Music subscription.
Maps – Lost? The Maps app on the Series 3 lets you see where you are at any given point in time. While checking the directions to a destination the Series 3 vibrates with every turn, notifying you of which route to take.
| | |
| --- | --- |
| Pros | Cons |
| Cheap price | Lack of important features |
| Runs on WatchOS 7 | No LTE variant available |
| | No EKG or SPO2 |
| | No International SOS calling |
Should you buy the Apple Watch Series 3?
Personally, I'd recommend the Series 3 only if you're looking for a basic smartwatch with some fancy activity tracking capabilities.
The Series 3 does not support Apple's latest watch faces or their newer bands. Since the LTE version of the Watch Series 3 is not available anymore, the standard version will not support Family setup.
So. No. I would not recommend the Series 3 unless it honestly something you're looking to invest in.
Apple Watch SE
Launched alongside the Series 6, the Watch SE is a cutdown version of the Apple Watch Series 6. The Watch SE does have a slower processor than the Series 6 and lacks a few features as well.
The Apple Watch SE starts at $279 and considering its low pricing is a good choice if you're looking for the latest from Apple but are not willing to shell out much and have a tighter budget.
Features of the Apple Watch SE
Sleep Tracker – The Series 6 has an advanced sleep tracker that lets you keep a record of how long you sleep and how many times you wake up in the middle of the night, you can even set your sleeping goals.
Advanced Fitness Tracker – The fitness tracker on the SE lets you pick the exercise you'd like to do and measures your every move.
S6 Chip – The S5 chip is a dual-core chip that is based on the A13 Bionic processor chip that is usually found in the iPhone 11. This chip is 2 times faster than the S3 chip. This ensures smooth transitions between Apps and a battery life that can last an entire day on a single charge.
An in-built compass – With a new compass sensor, the SE is much more accurate than its predecessor. This upgraded compass lets you see the details pertaining to the latitude and longitude, whether you're climbing a hill, and provides you with detailed maps.
Improved in-built storage – You now get a total of 32GB of in-built storage on the SE which means more songs can be stored and more applications can be installed.
| | |
| --- | --- |
| Pros | Cons |
| Price | No Always-On display |
| Good Battery Life | No SPO2 |
| LTE connectivity | |
| Fall detection | |
| Improved in-built Compass | |
Should you buy the Apple Watch Series 5?
Well, the Apple Watch SE is a good option if you want something that doesn't cost as much as an Apple Watch Series 7. It starts at $279 for the 40mm variant making it a great deal for the features it offers.
If you're looking for a smartwatch to provide you with updates at all times, have accurate tracking, and are waterproof, then this is the one for you.
The Apple Watch SE is quite similar to the Series 5 and is ideal for those looking to leave their smartphone at home while stepping out.
Conclusion
From the topic of Which Apple Watch to buy, The series 8 and the Ultra are the best choices among the rest. With updated features and completely different prices, the Watch Series 8 and the Ultra are the best selection to make from the lot.
At the end of the day, it is solely up to you to pick the one you wish to own. I would personally recommend the Series 8 if you have the budget and want a faster processor but then again if you're not looking for a faster smartwatch but for something that is affordable and has the same features as the Series 8 then it's best to go for the Watch SE.
Which Apple Watch is the best deal?
The Apple Watch SE carries the best deal currently on the market. A cheaper price with all the specs of the Series 8 apart from a fast processor. Check out our "Which Apple Watch to Buy" for all the details
Is Cellular worth it on an Apple Watch?
For an extra $100, yes. Considering you will not require your iPhone when you're going outside, or a WiFi connection. Cellular on the Apple Watch lets you make calls and access internet-based apps from the face of the watch. Check out our "Which Apple Watch to Buy" for all the details
Do you pay for data on Apple Watch?
Yes, you do as with any internet service. You have to configure the Apple Watch to your cellular plan, the same one running on your iPhone for this to work. Check out our "Which Apple Watch to Buy" for all the details
Also read: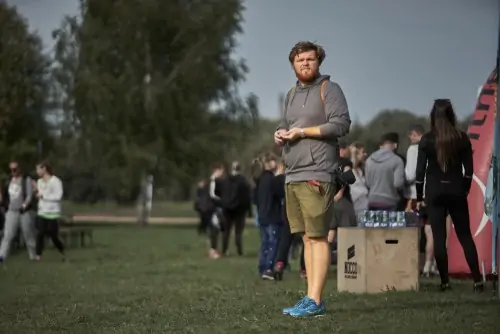 Alan Urban is the Editor-in-chief of Stupid Apple Rumours and often proclaims that he's " Apple's number one fan."
In addition to keeping up with the latest Apple news, he also reviews Apple products and creates user-friendly guides.  When not subjecting Apple Devices to crazy stress tests, he's usually playing games on Apple Arcade
Apple Watch SE
Check out which apple watch to buy
Product SKU: EFUW224905
Product Brand: Apple
Product Currency: USD
Product Price: 229
Price Valid Until: 2022-10-21
Product In-Stock: InStock