Want to game quickly on your Apple Watch? Check out our list of the best Apple Watch Games in this article.
If you're stuck in a long meeting with nothing to do, here's one thing you can do — play games on your watch.
Yes, we've come that far. While the smartwatches capable of playing games have previously been ridiculously expensive, Apple has made sure it isn't anymore. Check out our list of the Best Apple Watch Games for all the details.
A few years ago, who'd have thought you could play games on your wrist? Now, it's as if you're confused about what game to play because there are just so many!
You'd think a small screen and one-hand operation would limit someone, but not Apple game developers. Now, they might not have the complexity of a phone or PC game, but they're designed for limited immersion and entertainment on the go! Here's our list of the Best Apple Watch Games.
After reviewing 50 Apple watch games based on various factors like popularity, gameplay, graphics, and price, my team and I zeroed in on 17 that really stood out. These 17 were further put through tests to determine the best. We found that:
Also, Check: Is the Apple Vision Pro an AR or VR Headset?
Best Apple Watch Games
Apple seemed to take it literally when someone said the world is in your hands—you have the key to entertainment, brainteasers, arcade games, puzzles, and so much more.
All on your wrist! Keep reading to find some of the best games on the Apple watch.
Snappy Word is on of the best word games for the Apple Watch. The goal of the game is to create as many words as possible from the letters that are displayed on your watch. The game is a bit more relaxed than Rules!, as you have more time to think about your next move. You can also use hints to help you find words.
To play Snappy Word, simply swipe your finger over the letters to create words. The words that you create will be added to a list. You can also tap on the letters to remove them from the list. The game ends when you run out of time or when you have used all of the letters.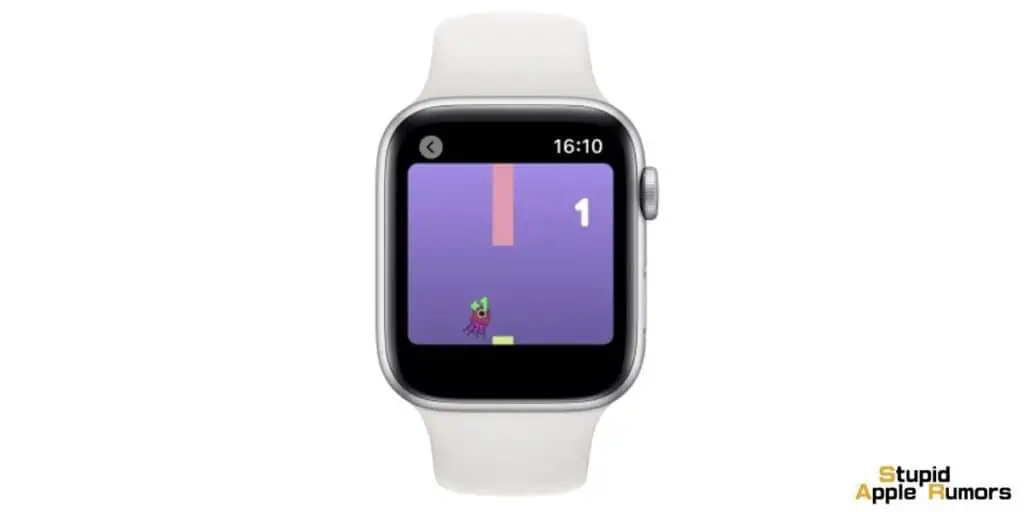 Jellyfish Tap is a relaxing game for the Apple Watch. The goal of the game is to tap on jellyfish to make them float to the surface. The game is a great way to relieve stress and can be played for short bursts of time.
To play Jellyfish Tap, simply tap on the jellyfish as they float by. The jellyfish will float faster as you tap on them, and they will eventually reach the surface. If you miss a jellyfish, it will sink back down to the bottom.
The game is simple, but it can be quite challenging to get a high score. There are also a few different modes to play, including a timed mode and a survival mode.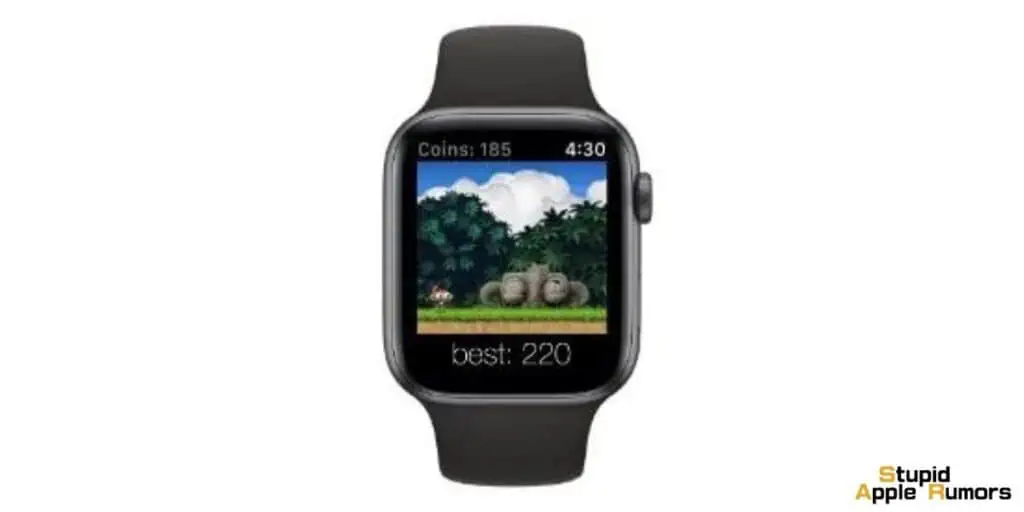 Dare the Monkey: Go Bananas! is a fun and challenging game for the Apple Watch. The goal of the game is to help a monkey collect bananas by tilting your watch to move him around. The game uses the Apple Watch's accelerometer to control the monkey, which makes it a very intuitive and engaging experience.
The game is set in a variety of different worlds, each with its own challenges. You'll need to dodge obstacles, collect power-ups, and avoid falling off platforms to reach the end of each level. The game is also quite challenging, so you'll need to be quick and agile to succeed.
Dare the Monkey: Go Bananas! is a great game for anyone who enjoys arcade-style platformers. It's also a lot of fun to play with friends and family, as you can compete to see who can get the highest score.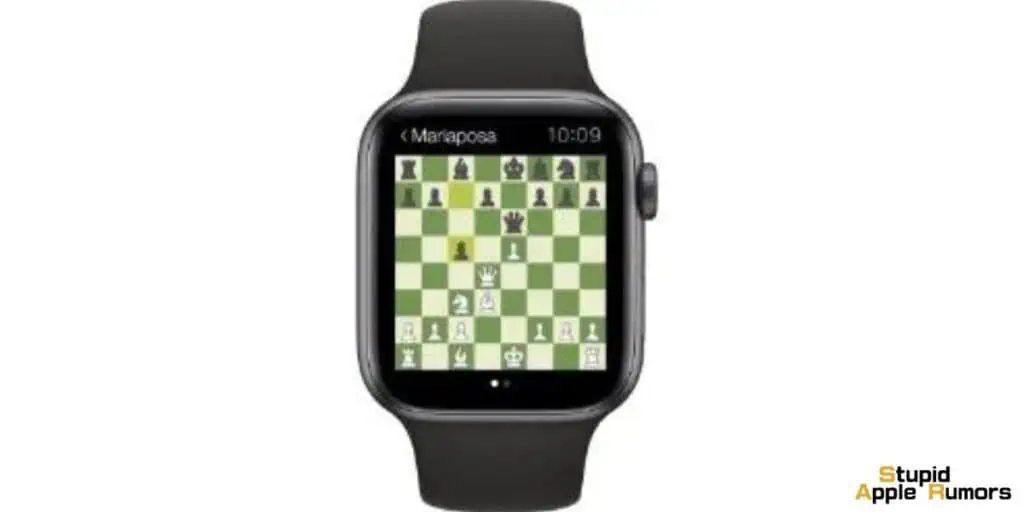 Chess is a classic game of strategy that can be played on the Apple Watch. The game is a great way to challenge your brain and improve your strategic thinking skills.
To play Chess on your Apple Watch, you will need to download the Chess app from the App Store. Once the app is installed, you can start a new game or join a game that is already in progress.
The game is played on a 64-square board, with each player controlling 16 pieces: 8 pawns, 2 rooks, 2 knights, 2 bishops, 1 queen, and 1 king. The goal of the game is to checkmate the opponent's king, which means putting the king in a position where it is in immediate danger of being captured.
Pong doesn't need an introduction, and this game puts the fun on your wrist. As the name implies, Pong for Apple Watch is a game that lets you play ping pong on your wrist.
The controls are straightforward and controlled by the digital crown, providing the precise precision you always need in a game of pong. The fact that the game is free only makes it that much better!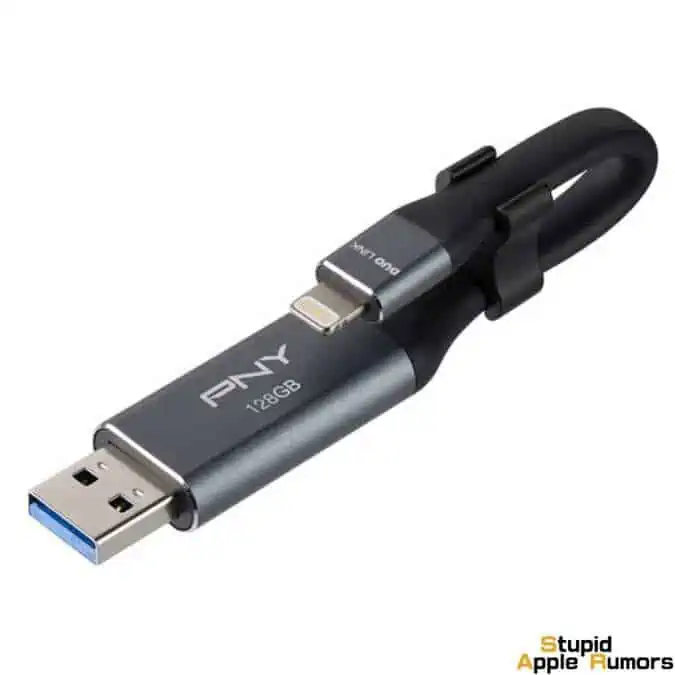 The story of Lifeline: Besides You in Time will depend on the decisions you make. You may begin the text-based adventure on your iPhone or iPad and switch to the Apple Watch to continue the lengthy and well-liked series.
concentrating on the unfortunate astronaut Taylor who is trapped outside a black hole. The branching tale will be guided by your assistance—or lack thereof. You can return and explore what happens if you choose a different course of action after finishing any one path.
Despite the fact that the 2048 frenzy is ended, many people still adore it or have just lately rediscovered it. This is one of the most entertaining Apple Watch games, in my opinion. It looks especially fantastic on the Apple Watch Ultra's huge, bright watch screen, and the battery life allows you to play guilt-free!
Playing games on an Apple Watch is surprisingly simple and enjoyable, despite the fact that none of the models—not even the Ultra—will ever be regarded as game watches. The game is easy to play and functions exactly the same on a watch as it does on a phone, but I like the watch version better because it is less distracting.
If you could pull a jewel heist without breaking any rules or without even moving an inch, wouldn't you? Well, next time you're waiting at the doctor's office, break into some vaults protected by anti-theft devices to steal money and jewels.
It is through the crown of your Apple watch that you break the safe. Carefully notice and feel the vibrations as you rotate the crown to crack the code. The watch has made use of haptic feedback to help identify when you're close to cracking the code, after which you tap on the screen and do it all over again.
The quick in-and-out game has over 100 combinations for you to break. Each level is time-sensitive. Stay sharp and stay out of trouble!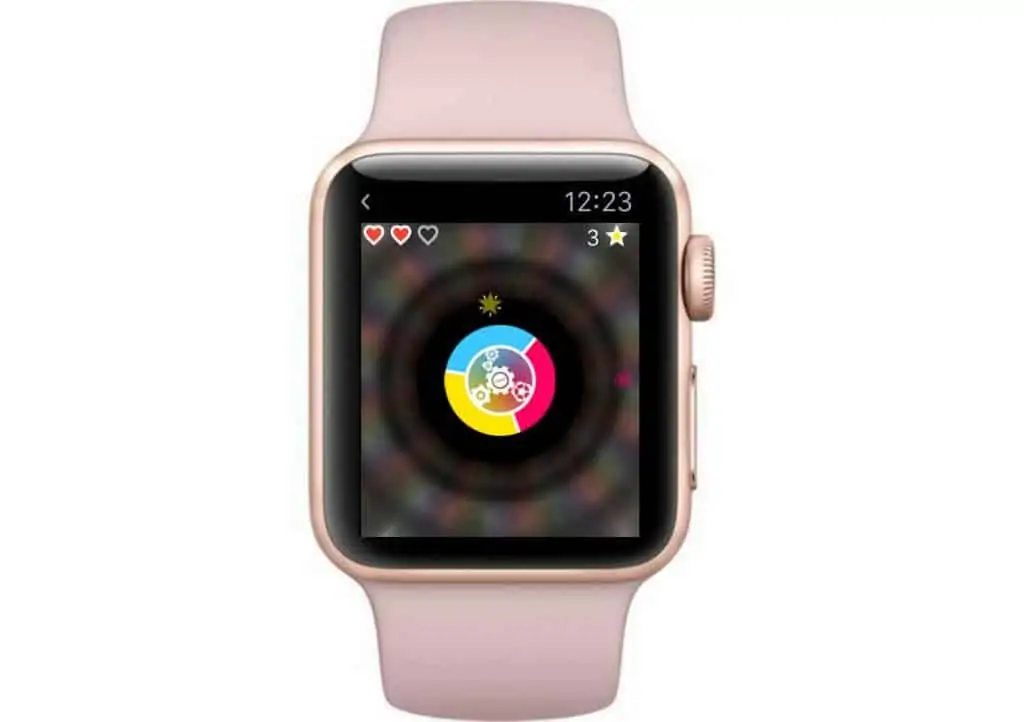 This game is built to take advantage of the Digital Crown and is built for the watch. Twisty Color is developed with a simple concept in mind: different colored balls will be shot into the center of the screen towards the center. All you have to do is use the watch crown to rotate the twister to match the color of the colored balls.
As uncomplicated as it sounds, it can be quite challenging. The crown can move too quickly. Only with practice can you master the game. Twisty Color starts with three lives. Each time you mismatch the color, you lose a life.
This game captures the spirit of both turn-based strategy games and board games into a minimalistic masterpiece. Tiny Armies is perfect if you are looking for a time-waster embodied-in-light strategy. I have spent a surprising amount of time sending my blue squares flying into trees, mountains, rivers, and enemy soldiers.
Multiplayer is even more fun. You can spend a surprising amount of time sending your blue squares flying into trees, mountains, rivers, and enemy soldiers.
The game has four difficulty levels with seven stages in each of them. The Skirmish mode of the game is a kind of survival of the fittest where you're in a fog of war. The tiles remain concealed and veiled until later. In the Versus mode, you can play it like a local multiplayer game and chat via iMessage.
A single game hardly takes a minute, making it perfect for short play sessions. Some may call it a distraction, some may call it a challenge. One thing's for sure—you'll need some moves up your sleeve to beat red!
If you've got a few free minutes and are seeking to improve your general knowledge, this is the game for you. Show off your wits to the world or your friends by playing against them. Simply open the game on your watch and spin the wheel. You now have access to a multitude of trivia questions that are not only entertaining but also educative in a friendly manner.
In this trivial Pursuit-style game, you get to play with random people around the world while pursuing to collect all six game characters, each representing a different category.
The many categories include history, geography, entertainment, sports, art, and science. The game has a ticking timer that adds a sense of urgency and makes it even more challenging!
You'd think Letter Zap is just another word game where you need to unscramble the letters to uncover as many words as you can. But, here's the challenge. The game uses a heart rate sensor that requires you to do all of that in 30 seconds while keeping your heartbeat under control. This kind of innovation is what sets t apart from all other word games.
If you're not a fan of such frantic fun, you can always play the zen mode, but that may require you to make some in-app purchases. In total, there are four game modes: 4 different game modes: Stars, Classic, Half, and Zen. There's never a dull moment with Letter Zap. It has around 20 themed worlds with over 480 levels to play.
There are a lot of brains behind this one. The game of Lifeline was one of the first to be made for the Apple watch. It revolves around Taylor, the survivor of a spaceship crash. Taylor'slife depends on the decisions you make, and your job is to keep him alive.
You'll be posed with several questions that make it a game of choice. ve as a sounding board and make decisions to try and ensure that Taylor doesn't die.
The second and more updated Lifeline is about a girl, Arika who is on a quest to avenge and rescue her family. Once again, she is on a deadly mission and the only thing that can save her is the decisions you make.
These interactive-fiction series make it one of the best gameplays ever made. Some of the game titles are Lifeline: Silent Night, Lifeline: Whiteout, Lifeline 2, and Lifeline: Crisis Line.
The Soviets. Artificial Intelligence. Cold War. Sounds exciting right? This interactive fiction game has been made by following in the footsteps of the Lifeline series, where your responses determine the outcome. Your decisions could either save the world or lead to a nuclear explosion (the super-secret project that was shut down). And your identity is at stake,
Your task is to hack an old computer to decrypt some nuclear codes to clear your name. There's this KOMRAD who has the key, but he's unmovable.
Believe it or not, it is your smooth-talking skills that are going to you the answers. This game is played in real-time, and sometimes, it can really test your patience—the responses can take time.
Rules! Is a great daily brain workout. As the name suggests, you follow the rules to clear levels and progress to the new one. Here's the catch. The rules in the starting levels may be applicable in the forthcoming levels as well. The game expects you to remember all the rules. It can simply say Play by Rule 1 or Rule 3. So, in a way, it's a test of your memory as well.
This game is a great way to pass a bit of time when you are waiting in line, but sometimes, it may need your attention. As you progress the levels it becomes a bit challenging and you mustn't lose your train of thought to remember what's where. The game allows you to play in beginner, expert, and timeless modes.
This is no ordinary game. The purpose of this game is multifold— it entertains you while keeping your brain fresh, active, and alert! The game encompasses about 35 small activities that seek to improve many cognitive skills like math precision, memory, reading processing, etc.
At the end of all of it, you can also track your performance to see how much better you're getting at it after each attempt. There's no motivator like validation from artificial intelligence! The app was rated as the best app for a reason.
You have one job. Blow a bubble so large it fits into the ever-changing target circle on the screen. It can't be too small and it definitely can't be too large, or it will blast in your face! You control how big the balloon is with the crown of your watch.
The hero of the game is the gum—each gum has a different name, size, color, and property. So choose wisely! If you blow your bubble correctly, you're rewarded with a combo multiplier and you can make a high score after a high score!
How do I get games on my Apple Watch?
Accessing games or rather downloading games onto an Apple Watch is rather easy. All you need to do is ensure that the Apple Watch is updated to its latest Firmware and is connected to Wi-Fi. Then simply follow these steps to download a game:
Open the App Store on your Apple Watch. You can usually find this on your Home Screen.
Then turn the Digital Crown to scroll through the app.
Now, to download a specific game, you can search for it directly from the search bar or you can head to the game category section. You can either use dictation or scribble to enter the name of the app into the search bar.
Here you can browse various games.
When you've chosen the game you want to play. Tap it and click on the download button.
For free games, you can download them directly. However, for paid apps, you see a price button that you need to click. You have to follow the payment prompts before downloading the game.
There are some games that also require it to have an iOS version of the app on your iPhone. So, download it onto your phone accordingly.
It is also important to note that you can download the games without having to connect to the Wi-Fi. Of course, you will need the Cellular variant of the Apple Watch and it will cost more depending on the data charges.
The Apple Watch also automatically downloads the Apps and games you have on the iPhone. Once both the WatchOS and the iOS are in Sync, it will automatically appear on the Home screen of the watch. However, if you only want specific apps, then follow these steps:
Open the Apple Watch app on the iPhone and click My Watch.
Next, tap General to access the various settings.
Scroll down to Automatic App Install and turn it off.
Now, head back to My Watch and scroll to Available Apps.
Click on it and go through the apps you want to install.
Tap the install option next to the apps and you'll find those apps on your Apple Watch.
Honestly, this method is the best as it helps save a ton of space.
What are the best apple watch games?
The best Apple Watch games would have to be Pocket Bandit, Tiny Armies, Twisty color, Elevate, and the lifeline series.
All these games are of extraordinarily high quality and are loaded with fun. From cracking safes to testing your mind or simply playing with colors these games will definitely blow your mind.
Check out our list of the Best Apple Watch Games for all the details.
Why can't I install games on my Apple Watch?
There are a few reasons why you might not be able to install games on your Apple Watch. Here are some of the most common reasons:
The game is not compatible with your Apple Watch. Not all games are compatible with all Apple Watches. Make sure the game you want to install is compatible with your watch's model and software version.
You don't have enough storage space on your Apple Watch. Games can take up a lot of storage space, so make sure you have enough free space before you try to install a game.
You have Automatic App Install turned off. Automatic App Install is a setting that automatically installs apps that you purchase or download from the App Store on your Apple Watch. If this setting is turned off, you will need to manually install any games that you want to play.
Your Apple Watch is not connected to the internet. You need to be connected to the internet to install games from the App Store.
There is a problem with your Apple Watch. If you have tried all of the above and you are still unable to install games on your Apple Watch, there may be a problem with your watch. In this case, you should contact Apple Support for help.
Here are some steps you can take to try to fix the issue:
Update your Apple Watch. You can check for updates by going to the Settings app on your watch and tapping General > Software Update.
Restart your Apple Watch. To do this, press and hold the side button until you see the power off slider. Then, drag the slider to the right to turn off your watch. Wait a few seconds, then press and hold the side button again until you see the Apple logo.
Reset your Apple Watch. This will erase all of your data, so make sure you back up your watch before you do this. To reset your watch, go to the Settings app and tap General > Reset > Erase All Content and Settings.
Best Apple Watch Games – FAQs
Are there any games you can play on your Apple Watch?
Yes, there are tons of games that you can play on an Apple Watch. You can download games from the App Store on your Apple Watch. Just press the Digital Crown and bring up the app screen, then select App Store and search for games. Check out the best Apple Watch games you can play right now on your Apple Watch in this article.
What's the coolest thing you can do with an Apple Watch?
These are some of the coolest things you can do on your Apple Watch,
Responding to text messages
Share your heartbeat
Use Apple Pay
Receive notifications from your iPhone
Apps and Games
Use Maps without taking your iPhone out of your pocket
Send drawings made using the Apple Watch
Use Siri
Listen to music
View your pictures
Find your lost or misplaced iPhone
Answer phone calls
Are there Apple arcade games for Apple Watch?
Yes, there are many arcade games on Apple Watch. You can check out Arcadia, a collection of the 22 best arcade games for Apple Watch, iPhone, and iPad. Check out the best Apple Watch games you can play right now on your Apple Watch in this article.
Also Read: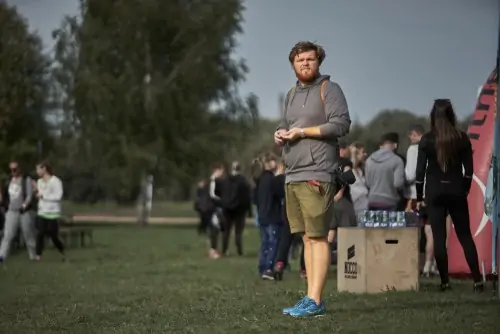 Alan Urban is the Editor-in-chief of Stupid Apple Rumours and often proclaims that he's " Apple's number one fan."
In addition to keeping up with the latest Apple news, he also reviews Apple products and creates user-friendly guides.  When not subjecting Apple Devices to crazy stress tests, he's usually playing games on Apple Arcade