If you're done with the Metaverse and think that it's high time you take a break from Facebook then my guide on how to delete my Facebook account on iPhone will come in handy.
I will provide you with detailed instructions on how to deactivate or delete your Facebook account.
Additionally, we will explore how to adjust your privacy settings in case you decide not to delete your Facebook account.
How to Delete my Facebook Account on iPhone
When it comes to deleting your Facebook account, you have two options available.
Firstly, you can temporarily or semi-permanently deactivate your account, which effectively suspends it but allows you to reactivate it in the future, 30 days being the reactivation period.
Alternatively, you have the choice to permanently delete your Facebook account by not doing anything and let the reactivation period of 30 days pass.
I will provide instructions for how to delete your Facebook account via an iPhone.
These instructions apply to both the web version of Facebook and the Facebook iOS app, making them suitable for iPhone and iPad users as well.
How to Delete Facebook Account on iPhone
Launch the Facebook iOS app and tap on the hamburger icon (three lines) located in the bottom right corner of the screen.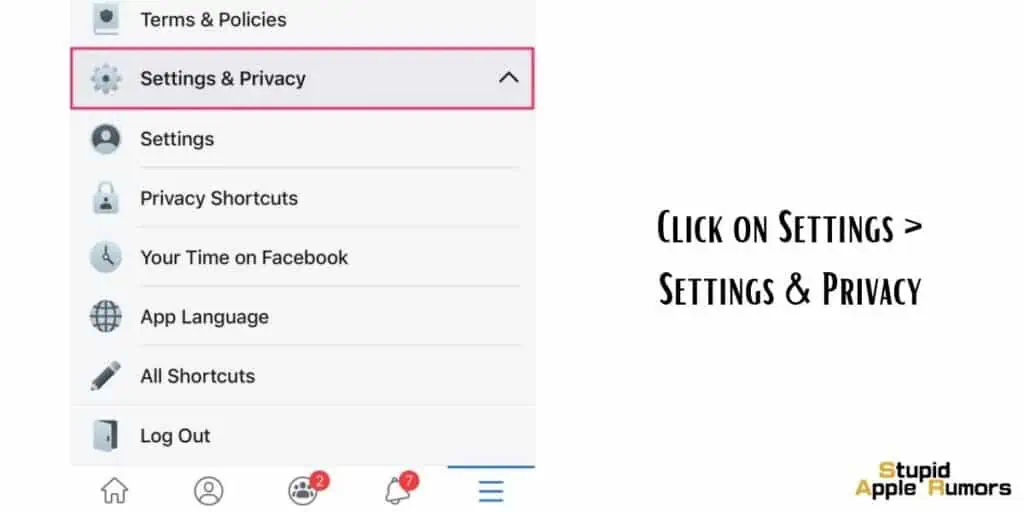 Scroll down to the bottom and tap on "Settings & privacy."
Now tap on "Privacy Shortcuts."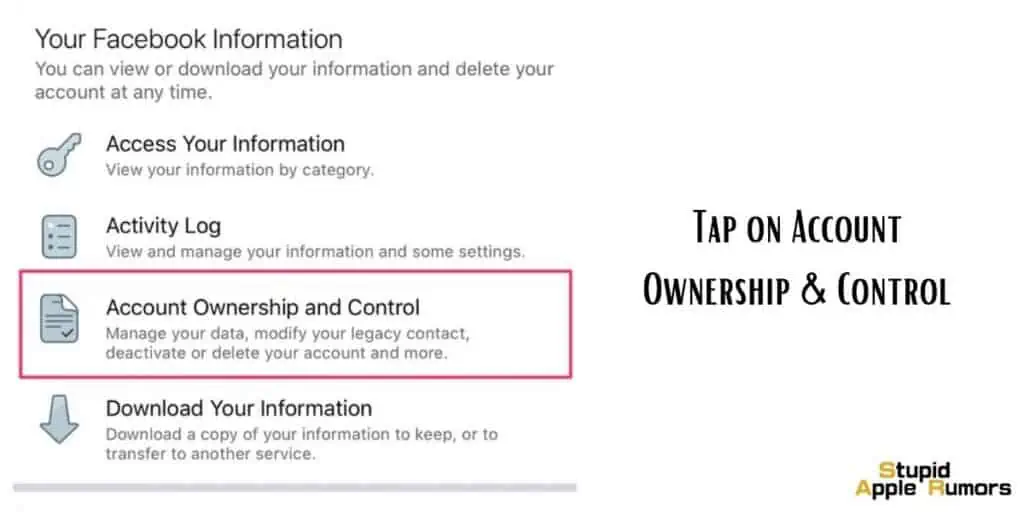 Continue scrolling down until you find the section labeled "Your Facebook Information."
Now open "Account Ownership and Control."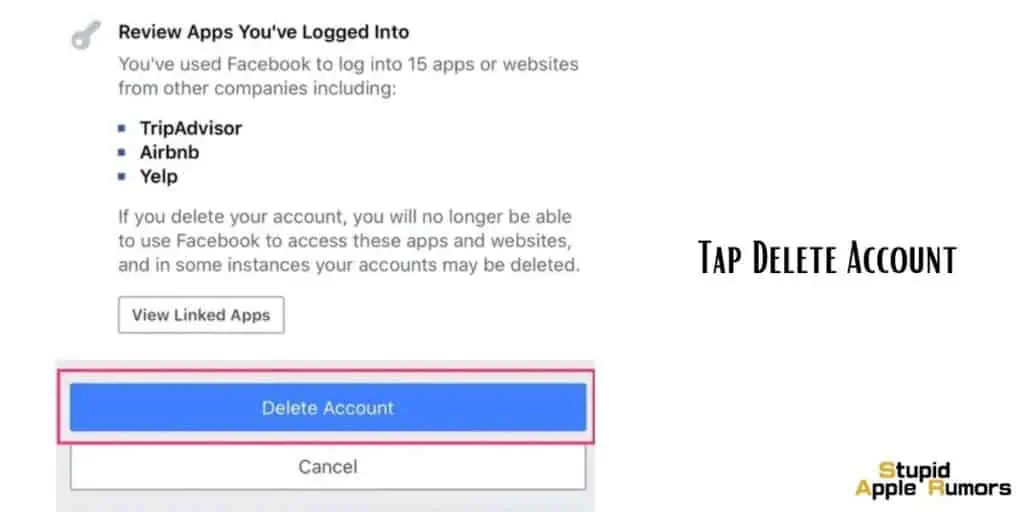 Tap on "Delete your account and information."
Select "Delete account."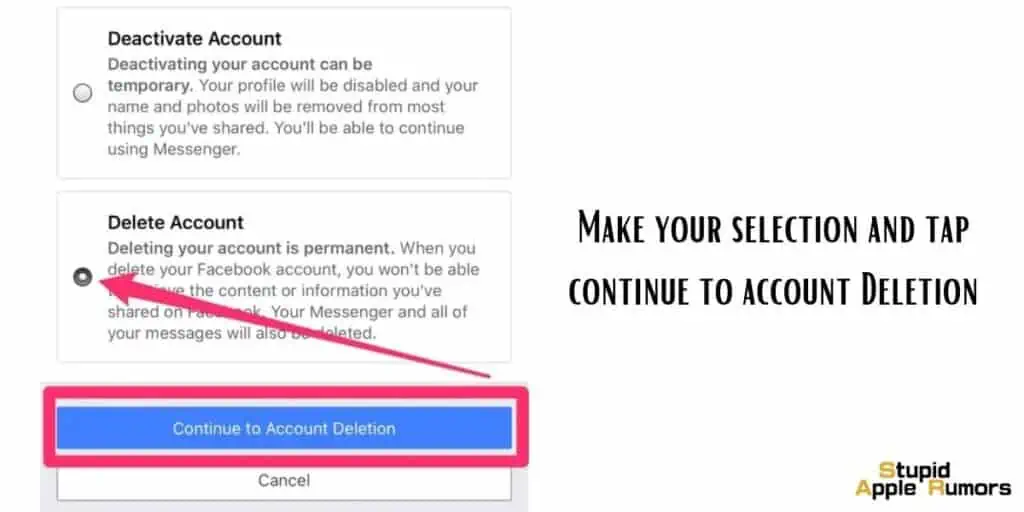 Follow the prompts provided to complete the deletion process.
It is advisable to download a copy of your information from Facebook. Look for the relevant link, as shown below.
Remember, deleting your Facebook account will also delete your Messenger account, including all messages.
After deleting your Facebook account, there is a 30-day grace period during which you can change your mind.
What Happens When You Deactivate Facebook?
Deactivating your Facebook account will result in the following:
According to Facebook, when you deactivate your account, your profile becomes invisible to other users, and people will not be able to search for your profile.
However, certain information such as messages you have sent to friends may still be visible to others.
For more information, you can refer to Facebook's help page or learn about the difference between deactivating and deleting your account.
How to Delete Facebook Account on Safari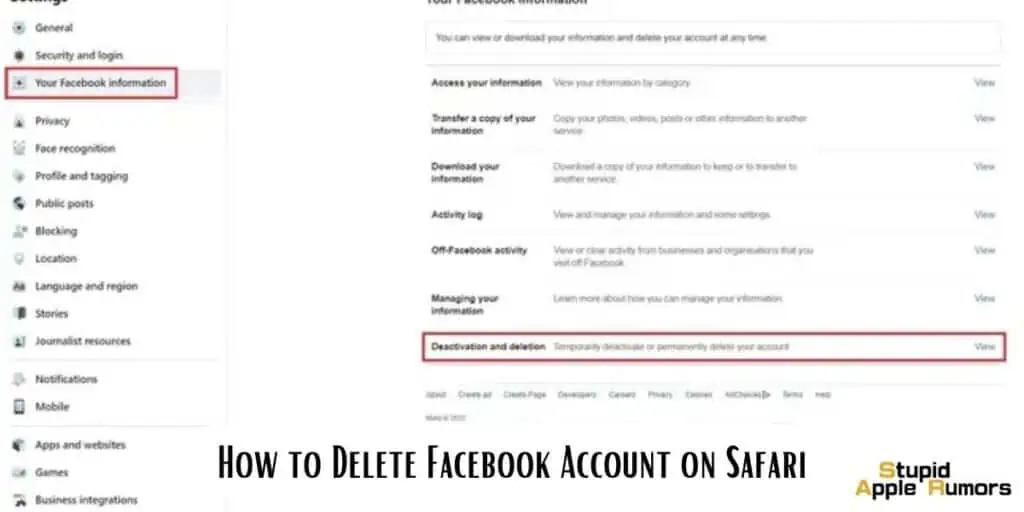 Visit the following website: https://www.facebook.com/help/delete_account.
If required, log in to your Facebook account using your credentials.
Click on "Delete My Account."
Follow the provided prompts to permanently delete your account.
How to Change Your Facebook Privacy Settings?
If you wish to maintain your Facebook usage but desire greater control over your privacy and the information Facebook collects about you, including location and face recognition data, you can easily customize your privacy and security settings to meet your preferences.
Follow the steps below to adjust your Facebook privacy settings on your iPhone:
Open the Facebook app on your iPhone and locate the menu icon, which is typically located in the bottom right corner of the screen.
Tap on the menu icon, and then scroll down to the bottom of the menu options.
Tap on "Settings & Privacy" to access the settings related to your account and privacy.
In the "Settings & Privacy" section, you will find various options and features related to your account. Look for and tap on "Privacy Shortcuts" to proceed.
Within the "Privacy Shortcuts" section, you will be presented with a range of privacy and data settings that you can customize according to your preferences.
Take your time to read through the different settings and options available.

You can adjust settings related to who can see your posts, who can send you friend requests, who can find you using your email or phone number, and much more.
Depending on your desired level of privacy, you can choose to make your profile more private and limit the amount of personal information that is accessible to others.
Adjust each setting according to your preferences by tapping on the relevant option and selecting the desired level of privacy or visibility.
Facebook also provides explanations and descriptions for each setting to help you understand its impact on your privacy.
Once you have reviewed and adjusted your privacy settings to your satisfaction, you can exit the settings menu.
Tips to Remember when Deleting your Facebook Account
The following are important details to note regarding the account deletion process:
If it has been less than 30 days since you initiated the deletion, you can cancel the account deletion. After the 30-day period, your account and all associated information will be permanently deleted, and it will not be possible to retrieve any of your data.
The deletion process may take up to 90 days to complete, during which time all the content you have posted on Facebook will be gradually removed. While this information is being deleted, it will not be accessible to other Facebook users.
How to Reactivate a Facebook Account on iPhone?
To reactivate a Facebook account on an iPhone, you can follow these steps:
Open the Facebook app on your iPhone.
On the login screen, enter your previously used email address or phone number associated with your Facebook account.
Enter your password.
Tap on the "Login" button.
If your account is eligible for reactivation (within the 30-day window), you will be prompted to confirm your identity.
Follow the on-screen instructions to verify your identity. This may involve entering a verification code sent to your email or phone number associated with the account.
Once your identity is confirmed, you should regain access to your Facebook account.
If you encounter any issues or if your account is not eligible for reactivation, you may need to reach out to Facebook support for further assistance.
Who is Eligible for the $725 million Facebook settlement?
U.S Facebook users who had accounts between May 2007 and December 2022 are now eligible to apply for compensation as part of a $725 million privacy lawsuit settlement.
This lawsuit stemmed from allegations that Facebook's parent company, Meta, allowed Cambridge Analytica, a former British political consulting firm, to access the personal information of approximately 87 million users.
To receive their share of the settlement, affected individuals can submit their applications either online or by mail. The deadline for submitting applications is August 25th.
The application form requires applicants to provide their personal details such as their name, address, contact information, birthday, Facebook handle, and payment information.
In 2018, it was revealed that Cambridge Analytica had paid Facebook developers to obtain user data, which was then used for targeted political advertising during the 2016 U.S. presidential election.
As a result of the Cambridge Analytica scandal, Facebook CEO Mark Zuckerberg faced scrutiny from members of the U.S. Congress, who accused him of failing to adequately protect user data.
Please note that the information provided here is a summary of the situation, and for more specific details or to apply for the compensation, individuals should refer to the official channels and resources provided by Meta or the settlement administrators.
Conclusion
In conclusion, whether you wish to take a temporary break from Facebook, permanently delete your account, or customize your privacy settings, this guide has provided you with detailed instructions to assist you in achieving your goals.
Related