Can't choose between the Logitech Crayon and Apple Pencil for your iPad? Check out our Apple Pencil vs Logitech Crayon comparison to make the right choice.
We have praised the Apple Pencil multiple times in our other guides relating to it, however, it is not the only good stylus available for use with your iPad. We even have a list of the best Apple Pencil alternatives too.
One of our favorite alternatives to the Apple Pencil is the Logitech Crayon. It is a cheaper option but offers almost all the features of the Apple Pencil. So, is it better than the Apple Pencil? Which one should you buy, the Apple Pencil or the Logitech Crayon?
We will explore which stylus is better in terms of design, features, performance, battery life, and more in this article.
Related: Best Fake Apple Pencils
Apple Pencil vs Logitech Crayon
Apple Pencil vs Logitech Crayon: At a Glance
| | | |
| --- | --- | --- |
| Features | Apple Pencil | Logitech Crayon |
| Connection | Bluetooth | Wireless frequency |
| Battery Life | 12 hours | 7 hours |
| Pressure Sensitivity | Yes | No |
| Tilt Support | Yes | Yes |
| Palm Rejection | Yes | Yes |
| On/Off button | No | Yes |
| Price | $99.00 | $69.99 |
Apple Pencil vs Logitech Crayon: Design
When talking about the utility of these two devices, we've previously touched on the design.
However, the Pencil unmistakably has a higher-end appearance and feel. Its circular shape is comfortable for the hand. Apple has made an effort to weigh it to prevent rolling, despite our suggestion that doing so makes it more likely to roll.
The Crayon is undoubtedly a less sophisticated option. It is more substantial, and the square shape is obviously made to prevent rolling.
It is available in two colors: a more vivid orange or a rather subdued grey. This is one that might be particularly appealing to kids. In the classroom, orange may be simpler to spot on a desk with paper covering it as well.
The Crayon is thought to feel more sturdy in general. Given that it was intended for use in educational contexts, this makes logical.
Apple Pencil vs Logitech Crayon: Ergonomics
Although the Crayon is bigger than the Pencil, there isn't much of an ergonomic difference between the two. Many people will prefer a chunkier grip that they have grown accustomed to using Wacom styluses over the Pencil's size replica of real pencils, however, the Crayon is still only thick in one dimension and isn't quite the same as a huge rubbery Wacom grip.
The Apple Pencil has a glossy exterior that can quickly become a little slick from skin oils; to address this, Apple added a matte finish to the second generation of the Pencil. The Crayon has a more matte texture, and the larger size makes it easier to maintain a firm grip.
When combined with its pressure sensitivity, the Apple Pencil becomes, even more, the tool of choice for artists because it is easier to manipulate in microscopic ways when doing detailed and accurate work (and gets less in the way of what you're looking at).
Although, as we noted, it's not a significant difference, the increased grip of the Crayon may be more welcome for individuals who wish to be able to take notes or annotate while on the go. Kids, who are once again a major demographic for Crayon, will benefit more from it because they don't have as good of fine motor skills as adults.
Apple Pencil vs Logitech Crayon: Compatibility
When it comes to choosing which one to go for, it's also important to work out whether or not it's going to work with your particular device. Both devices are only compatible with iPads. But which ones?
The Apple Pencil (1st Generation) is compatible with:
iPad (6th, 7th, 8th, and 9th Gene)
iPad Pro 9.7-inch (1st Gen)
iPad Pro 10.5-inch (2nd Gen)
iPad Pro 12.9-inch (1st and 2nd Gen)
iPad Air (3rd Gene)
iPad mini (5th Gen)
The second-generation Apple Pencil is compatible with:
iPad Pro 11-inch (1st, 2nd, and 3rd Gen)
iPad Pro 12.9-inch (3rd, 4th, and 5th Gen)
iPad Air (4th and 5th Gen)
iPad mini (6th Gen)
Finally, the Logitech Crayon works with the following devices:
iPad Pro 12.9-inch (3rd and 4th Gen)
The iPad Pro 11-inch (1st and 2nd Gen)
iPad Air (3rd and 4th Gen)
iPad (6th, 7th, 8th, and 9th Gen)
And the iPad mini (5th and 6th Gen)
Apple Pencil vs Logitech Crayon: Performance
The Apple Pencil features pressure sensitivity, whereas the Logitech Crayon does not, which is a significant performance difference.
Technically speaking, both styluses have the same level of precision when writing or drawing, and since they both have tilt detection, some artistic tool control is possible. But the Apple Pencil excels at fine-grained pressure sensitivity, whereas the Crayon simply cannot manage pressure at all.
You already likely know whether or not this is a deal-breaker for you. The Crayon is fully functional if all you want to do is jot notes on it; pressure sensitivity isn't necessary (although some ink-imitating note applications do use it for a more natural look).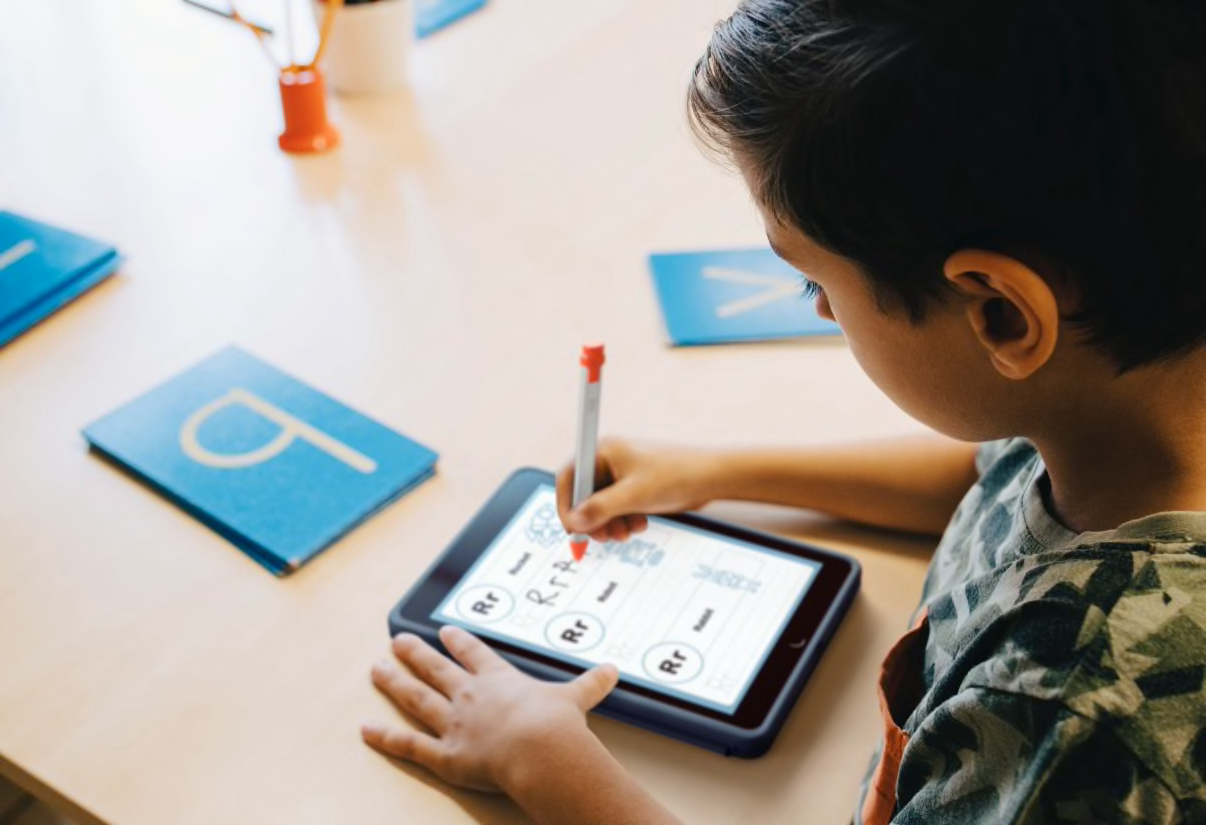 Pressure sensitivity is not necessary if you intend to use a stylus for precisely applying effects in photo editing apps.
But you need it for professional artists. It doesn't matter that the Crayon draws with the same degree of precision as the Apple Pencil because you wind up sketching far more crudely because that's all the pen is capable of.
Avoid the Crayon and opt for the Apple Pencil instead if you're an illustrator seeking to accomplish anything more complex than very simple outlines. Everyone else can choose whether or not they want the option of utilizing pressure sensitivity in the future.
Apple Pencil vs Logitech Crayon: Battery Life
The Logitech Crayon has a battery life of 8 hours on a single charge compared to the Apple Pencil's 12 hours. The Crayon features an "On/Off" button, though, so you can make sure the battery isn't squandered in between usage. It also powers off automatically if it isn't in use for 30 minutes. The iPad's Apple Battery widget can be used by the Pencil to check the battery level.
Apple Pencil vs Logitech Crayon: Storage
There is no formal way for the Pencil or Crayon to be kept conveniently on or with the iPad. You can purchase an iPad case that corrects this error because many of them come with built-in Apple Pencil storage, but not so much with the Crayon. Knowing which pocket in your purse to place it in is the storage.
Apple Pencil vs Logitech Crayon: Replacement tips
Both of these styluses feature replaceable tips, however, the Apple Pencil includes an extra tip while the Crayon does not, giving the Pencil a little advantage in terms of added value.
But here's the peculiar thing: In the US, sets of three additional Crayon tips cost $14.99 through Logitech. However, it appears that availability is either lacking or nonexistent in other nations. Online users claim that Apple's own replacement Pencil tips work in the Crayon, which is excellent news, but it's still not ideal.
Apple's tips are a good value at £19/$19/AUS$29 for a four-pack, especially considering how long they last. Your usage will determine how long they survive, but it's typical for them to last two years because of the iPad's lovely, smooth glass. Nevertheless, depending on the screen protector's finish, using one can significantly lessen that.
Apple Pencil vs Logitech Crayon: Price
The Logitech Crayon was initially only offered to educators and schools when it first debuted in 2018. However, Apple later altered its mind, making the Logitech crayon accessible to all of us common schmucks. The Logitech Crayon usually costs less than $70.
Compared to the Apple Pencil, which costs about $130 for the second-generation model, this is more expensive. Even if you are satisfied with the initial generation, you will probably still have to pay about $100.
In terms of pure pricing, the Logitech Crayon is a rather obvious winner.
Apple Pencil vs Logitech Crayon: Conclsuion
The answer is simple, if you want a stylus for taking notes and for some simple sketching, get the Logitech Crayon and save some cash. However, if you are a professional and want the best, then get the Apple Pencil as it is better.
Apple Pencil's greatest advantage over the Logitech Crayon is that it has pressure sensitivity, which is super useful for artists. The Logitech Crayon being cheaper makes it a good choice for students on a budget who just want something to take notes with.
Also Read: