Receiving a lot of Scam Likely or Spam Risk calls on your iPhone? Check out what does it mean when iPhone says Spam Risk, Fraud, Scam Likely in this article.
Spam and fraud calls are a menace and people receive hundreds of them on a monthly basis. Most spam calls are marketers, scammers, and robocalls. All of these can waste your time or even cheat you if you are a bit careless.
Your iPhone will notify you when you receive calls like these. Your iPhone might notify calls as Spam Risk, Fraud, Sam Likelyand other similar phrases. So what do these mean and what should you do when you receive such calls.
This article on what does it mean when iPhone says Spam Risk, Fraud, Scam Likely will give you all the answers.
Related: What is iPhone System Haptics, Should you Enable or Disable them
What does it mean when iPhone says Spam Risk, Fraud, Scam Likely
What Is Spam?
Spam refers to unwanted messages, emails, and calls that are from an unknown source. Spam is basically any message that you receive in high volume that you don't need or want. These can be in the form of messages, emails, paper mails, and even phone calls.
And the frustrating part is that you can never fully eradicate spam. You can avoid them, filter them, or even block them, but to misquote Thanos, "Dread it, run from it, spam arrives all the same".
Caller ID and iPhone
When you receive a call on your iPhone and it says Spam Risk, then this means that your carrier has already recognized it as a call from a fake source. This gives you a heads-up on not to pick up the call and waste your time.
AT&T and other carriers use Spam Risk to automatically notify users and make it easy to block calls from fraud sources. The Spam Risk is a part of AT&T's automatic fraud call blocking system known as AT&T Call Protect. The goal of the service is to automatically detect and block spam/fraud calls.
While AT& uses Spam Risk, other carriers may use terms like Spam, Telemarketer, Scam Risk, Scam Likely, and more to label such calls. All of them mean the same or something similar which is the call you are receiving is potentially spam or from a fraudulent source.
What to do with Spam Calls on iPhone
Most of the time spam calls are alerted by your iPhone but sometimes spam calls can slip through the cracks of automatic spam detection of your carrier. So what do you do when you receive a spam call, and what precautions can you take. Read on to know more,
Don't give any important or personal information over a phone call, unless it's some time you personally know. Bank information, name, address, and other personal information should never be given to someone you don't know over a call.
Scam callers usually rely on your fear to scam you. They will create a false sense of urgency and make you worried so that they can easily get your information. So be bold and just cut the call, if you suspect it to be a scam.
And finally, ignore voicemails and scam calls. Apple, the government, and banks will never call you and ask you for your personal information. If you have doubts you can use the official numbers of these entities and call them back. Don't call the number you just received.
How do the Carriers know?
To identify spam and frau calls, carriers use a network-level protection technology called SHAKEN/STIR.
SHAKEN is Signature based Handling of Asserted Information Using toKENs and STIR is Secure Telephony Identity Revisited, both of these technologies work together to determine fake and spam calls.
The SHAKEN/STIR system can only verify calls, it cannot prevent any spam/fraud calls.
These technologies check carrier signatures to reduce calls from spoofs. SHAKEN/STIR also authenticate legit businesses like Apple, Amazon, etc, so that they are not considered spam.
Is SHAKEN/STIR accurate?
Like most technology, SHAKEN/STIR is not perfect and due to this, you may sometimes receive calls that are not spam labeled as spam, and sometimes you may not receive any warning on spam/scam calls.
And in such cases, you can help out the system by notifying your carrier that a certain call was incorrectly recognized. The process might be different from carrier to carrier, so search for instructions on how to do the same on your carrier's website.
Are there any other options?
While carrier based call authentication is certainly useful, it is not the only option to reduce spam/scam calls.
All carriers have their own call authentication/blocking programs like AT&T's Call Protect, Verizon's Caller Nam ID, T-Mobiles Scam ID, and more. You can also use third-party call authentication and blocking services like Call Control, Truecaller, and similar services.
If any of the third-party services use SHAKEN/STIR protocol, then these services will only detect spam/fraud calls and not block them. But powerful call detection/blocking apps that have their own algorithms wont be free. They will charge a premium for the features they offer.
How to stop scam calls on iPhone
Even iPhone has built-in tools that can help you to stop spam/scam calls. There are features like Silence Unknown Callers that you can use to spam/scam calls. This feature is disabled by default, so you can enable this by following these steps,
Step 1 Open the Settings app on your iPhone.
Step 2 Now, tap on Phone.
Step 3 Scroll down and tap on Call Silencing and Blocked Contacts.
Step 4 Toggle on Silence Unknown Callers.
Doing this will,
Silence calls from unknown numbers, so your iPhone will not ring or vibrate. These calls will be routed to voicemail.
These numbers will appear on the 'Recent' list, so you can check them for missed calls.
Unknown phone numbers won't appear in your contact list.
How to Block a Contact
You can also block individual numbers on your iPhone. If you know that a number is spam for sure, then you block it and never receive calls from it again. You can block a phone number on your iPhone by following these steps,
Step 1 Open the Phone app on your iPhone.
Step 2 Now, tap the info icon (i) next to the number you want to block.
Step 3 Scroll down and tap on Block this Caller.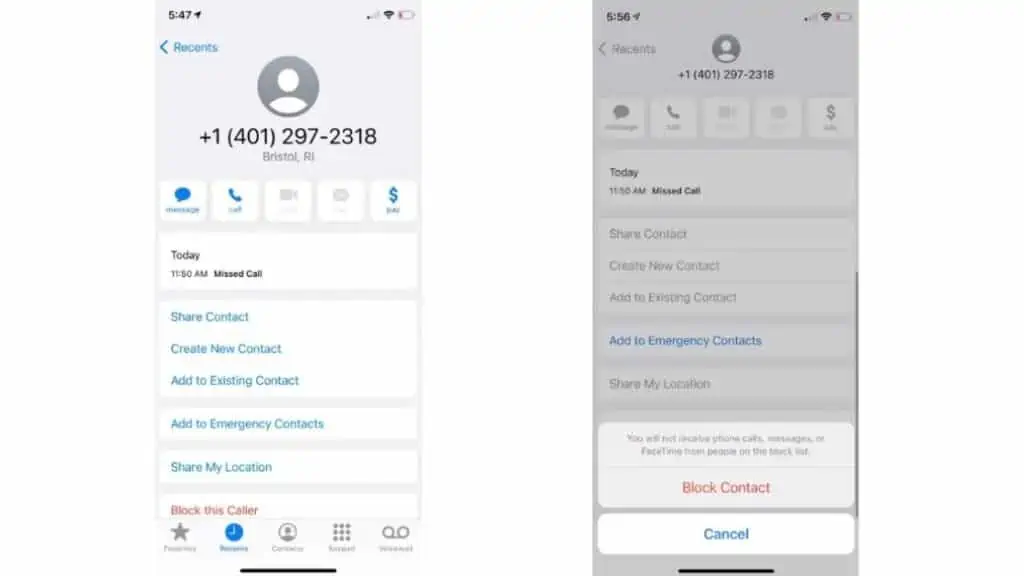 Step 4 Confirm by tapping on Block Contact.
Keep in mind, that even after blocking a contact you can receive voicemails from them.
How to Manage a Blocked Contact
To manage blacked contacts, do the following,
Step 1 Open the Settings app on your iPhone.
Step 2 Tap on Phone.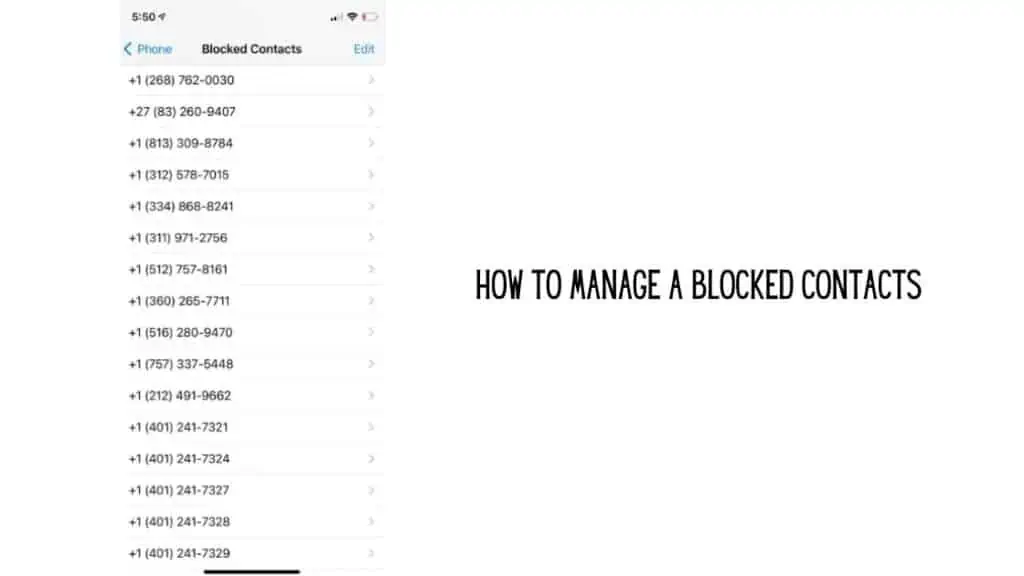 Step 3 Scroll down and tap on Blacklisted Contacts to view and manage blocked contacts.
What should you do if you receive calls from scammers?
Never respond to calls that your iPhone indicates as spam, scam, or something similar.
If your iPhone's notification fails and you accept the call, then disconnect it if it is a robocall. A robocall is a recorded message rather than a human being. Make sure to not press any buttons either, just disconnect straight away.
Sometimes your Caller ID might not identify spam/fraud calls as some scammers spoof Caller IDs.
Always be cautious of answering any unknown numbers. If you do answer them, then disconnect the call if it's someone you don't know.
Never share any personal information such as names, addresses, PINs, passwords, social security numbers, etc.
Beware that scammers can lie to you about being from corporations like Netflix, Banks, government, etc. In such cases, they will try to get your personal information to scam you. Remember that no bank or organization will call you and ask you for your personal details, so never give them away. If you want to get in touch with a corporation, use the number found on their website, you can also use this number to cross-check as needed.
Once you receive a call from a spam/scam number, add it to your blocklist, so that they can never disturb you again.
You can also file a complaint with the FTC to notify them of fraudsters and scammers.
Conclusion
I hope all the information in this article on what does it mean when iPhone says Spam Risk, Fraud, Scam Likely made you aware of what it means when you receive calls that are labeled as Spam Risk, Fraud, Scam Likely, or similar monikers. I have also explained how to deal with such calls and so make sure to follow them as well.
Spam/scam/fraud calls are a nuisance but carriers, developers and phone manufacturers are all trying to combat them, so hopefully that in the near future we can say good riddance to these calls.
I hope this article on what does it mean when iPhone says Spam Risk, Fraud, Scam Likely was informative and useful.
Also Read:
A hardcore Apple fan with a collection of
All series of Airpods
All series of fake airpods from China
All series of Apple watches
One Macbook Pro
One iPhone 13 Pro, one iPhone XR, one iPhone 7