Touch ID not working on your Mac? Check out how to fix the Touch ID not Working on Mac problem in this guide.
Touch ID is Apple's fingerprint recognition system. By tapping and briefly holding your finger against the sensor, you may unlock your iPhone, log in to apps, utilize Apple Pay, and make App Store purchases.
It's magical when it works, and you want it everywhere — your vehicle, your house, your yacht, your one-person rocket to Mars — but when it doesn't, you want to throw your iPhone (or Mac) across the room.
Several users have reported that their Mac's Touch ID feature is not working properly. Users have explicitly reported being unable to utilize Touch ID to unlock their Mac because their fingerprints are not recognized or they are unable to add their fingerprints.
Some users have also noticed that Touch ID began to fail after installing a new macOS version. This post will walk you through how to troubleshoot similar issues with Mac Touch ID.
Related: Preview Not Working on Mac, How to Fix
Touch ID Not Working on Mac, How to Fix
How Does Touch ID Work?
A capacitive ring surrounds the Touch ID sensor on a supported Apple mobile device, such as the iPhone SE (2020), and the entire Touch ID sensor is capacitive on some Macs. When the sensor detects a finger, a high-resolution image is captured. This image is translated into a mathematical representation, which is subsequently delivered to a secure enclave through the hardware channel.
If the representation matches what's in the enclave, a "yes" token is released, and the Touch ID action is verified. If not, a "no" token is issued, and you are left with a digital head shake. Every time Touch ID scans and detects a finger, more detail is added to the representation, allowing it to register even faster and better in the future.
Sometimes Touch ID Isn't Supposed to Work
It's possible you've never heard of this, but there are a few occasions when you'll believe something is wrong with your Mac's Touch ID sensor, yet everything is OK. Isn't it confusing?
For security concerns, your Mac may occasionally prompt you to enter your password rather than allowing you to utilize Touch ID. Here's a list of some of them:
Following a restart of your MacBook
After adding or deleting fingerprints, your Mac fails to recognize your fingerprint five times in a row.
Following the use of Emergency SOS
When attempting to alter the Touch ID settings after not using your Mac for more than 48 hours
So, if you're attempting to use Touch ID in the scenarios indicated above and your Mac is refusing, don't worry. Aside from those exceptions, if your Mac's Touch ID does not identify your fingerprint, there is a problem with it.
How to Fix Touch ID Not Working on Mac
Dry your fingers
This is the most common cause of a broken Mac Touch ID. The fingerprint sensor on your Mac won't respond if your finger is dirty or wet. Count it a 'cleanliness feature' and know that your MacBook Pro loves it when you use the sensor with clean and dry fingers.
Make Sure Your Mac Is Up to Date
It's possible that your Touch ID problems are caused by your Mac not running the most recent macOS software version.
Go to System Preferences > Software Update to update your Mac. If an update is available for your Mac, follow the below steps to update it.

Note: As your Touch ID isn't responding, please enter your password to unlock your Mac.
Step 1 Locate and click the Apple icon in the upper left corner of the screen, then select System Preferences.
Step 2 Now click the Software Update icon. The next window will notify you if a software update is available. Download and install it if it is available.
Restart Your MacBook
Your Mac's Touch ID problem could be transitory and quickly resolved. Sometimes simply restarting your device is all that is required to resolve such an issue. To restart your Mac, go to the menu bar and select Apple > Restart.
Delete and re-add your Touch ID fingerprints on Mac
If your Touch ID is still not working, you should remove and re-add your saved fingerprints. Here's how to go about it:
Step 1 Select System Preferences from the drop-down menu after clicking on the Apple icon in the upper left corner.
Step 2 In the window, select Touch ID. Hover your mouse over the fingerprint you wish to delete until you see an x in the top left corner.
Step 3 To delete, click the x button. After entering your password, click Confirm.
How to re-add your Fingerprints
Step 1 Select System Preferences from the drop-down menu after clicking the Apple icon in the upper left corner.
Step 2 From the window, pick Touch ID and then Add a Fingerprint.
Step 3 Scan your fingerprint and enter your password.
Switch the Magic Keyboard off and back on.
If you're using a Magic Keyboard with Touch ID on your Mac, try turning it off. Then, reconnect the gadget with its Lightning to USB-C connector and power it on again. The ON/OFF switch is located on the Magic Keyboard's right edge. If Touch ID starts to register, you can unplug the Lightning connector and use your Magic Keyboard wirelessly again.
Verify compatibility
If you have a Magic Keyboard with Touch ID features, you must first determine whether your Mac is compatible with Touch ID. Apple claims that only Apple Silicon Macs running macOS Big Sur 11.4 or later are compatible.
Disable Touch ID temporarily
Some customers were able to resolve the issue of macOS Monterey Touch ID not working by disabling and re-enabling it.
Follow these steps to do it:
Go to the Apple menu and select System Preferences > Touch ID.
Uncheck "Unlocking your Mac" under "Use Touch ID for."
Log out and then back into your profile.
Select the "Unlocking your Mac" checkbox.
Reset the SMC
The SMC on your MacBook Pro is in charge of handling parameters such as temperature and battery life.
If nothing else works, the last resort is to reset the SMC (System Management Controller). Here's how to go about it:
Make sure your Mac is totally turned off and not connected to any power sources.
Step 1 Hold down Shift+Control+Option and the power button for around 10 seconds before releasing.
Step 2 Now connect the power cable and boot up your Mac. Your SMC has been reset.

Check Touch ID Settings
It's possible that you've disabled Touch ID for some actions or apps. If you've discovered that your Mac's Touch ID works properly with most services except Apple Pay, this must be the case.
Go to System Preferences > Touch ID to check your Touch ID settings on your Mac. Under the option – Use Touch ID for, you'll find a list of all the services that support Touch ID. Check the boxes next to the ones for which you want to utilize Touch ID.
Touch ID not Working on Mac – Takeaway
If you've tried all of the above solutions and nothing has worked, it's possible that you're experiencing hardware problems. If you discover that your Mac's Touch ID sensor is damaged or has many scratches, you should contact Apple to inquire about a possible repair.
Touch ID not Working on Mac – FAQs
What is the function of Touch ID on the MacBook Pro?
Touch ID employs electronic fingerprint recognition technology to allow users to securely unlock and access various functionalities on their devices. The acquired data is stored on Apple A7 and subsequent CPUs in a secure enclave.
You can use your MacBook Pro's Touch ID button to:
Shut down, restart, and go to sleep.
Unlock and log in to your Mac. (Through a fingerprint scan)
Access system preferences and other password-protected locations.
Use Apple Pay to purchase in the App Store, iTunes Store, and iBookstore.
Force restart or shutdown.
When did Touch ID originally appear in the MacBook Pro?
The 2016 MacBook Pro was the first to include Touch ID. Since then, it's been on the right side of the Touch Bar.
Who developed Apple's Touch ID?
As intriguing as it may sound, the technology was initially identified as AuthenTec's fingerprint technology. Scott Moody, a co-founder of AuthenTec, a mobile, and network security startup, invented it.
In 2012, Apple paid $356 million in cash for the company. They released it with the Apple 5s after three years of study and development.
Also Read: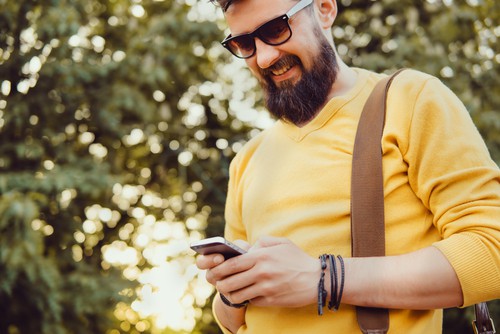 Should I, Do I, How to – these are some of the topics I would love to cover to share what I know about All apple products.