Smartwatches are an extremely popular segment in the wearables market. They are gaining in popularity thanks to their extensive use cases. They are devices that can be health companions, while also allowing you to take calls easily and provide notifications from your smartphones.
Check out our list of the Latest IWO Smartwatch Review.
Apple and Samsung make some of the best smartwatches, but not everyone can afford them. This is where brands like IWO, Amazfit, and Xiaomi come in. They offer similar levels of functionality at a lot lower prices.
I am covering IWO's smartwatches in this article as they caught me with their Apple Watch 6 like design which I love. IWO's smartwatches also offer tons of features along with affordable price tags making them excellent devices for the price. This list includes all the latest IWO smartwatches.
Latest IWO Smartwatch Review
Key Features
IWO 15 Ultra (Watch series 8)
– Bluetooth 5.2
– IP68 Waterproof
– 7 day battery life
The IWO 15 PRO (Watch series 7)
– Bluetooth 5.0
– 15 sports modes
– Unique customizable watch faces
IWO HW16 Smartwatch
– Bluetooth v5.2
– 13 sports modes
– 10 day battery life
IWO FK99 Smartwatch
– 1.75-inch touchscreen display
– 20 unique watch faces
– Built-in microphone and speaker
IWO W56 Smartwatch
– ECG heart rate sensor
– Wireless charging
– customizable dials
IWO 16 Smartwatch
– 1.75-inch IPS display
– IP68 Waterproof
– Supports wireless charging
IWO AK76 Smartwatch
– Uses a 2D curved glass
– Offers 4-day battery life
– Good variety of health sensors
After having reviewed all the latest IWO smartwatches based on various factors like design, performance, features, function, usage, price and much more; my team and I zeroed in on 7 that really stood out.
These 7 were put through a series of tests to determine the best and most importantly, the latest. We found that:
The latest IWO smartwatch is the IWO HW16 Smartwatch. IWO recently launched the IWO HW16 after the success of the IWO H12. The HW16 smartwatch is also an Apple Watch 6 clone. In fact, it's much better than the original as it both cheap and it comes with amazing features. For example, it has a 1.72-inch touchscreen and 13 sports modes.
Related: Which Apple Watch to Buy?
Latest IWO Smartwatch Review
IWO 15 Ultra (Watch Series 8)
The IWO 15 Ultra is the latest in the series and its an exact replica of the Apple Watch 8 Ultra. The design of the 15 Ultra is flawless, it comes with a large 2.02″ IPS LCD screen and everything from the placement of the sensors to the fastening system for the straps is an exact match with the original.
The IWO 15 Ultra is made from aluminum and zinc alloy and not titanium and this helps keep the overall cost of the watch relatively low. It's durable but it's not built to withstand the same amount of stress that the Series 8 Ultra can handle.
It's IP compliant and has a waterproof rating of 68 which means that it's safe to wear while swimming of in the rain.
There are plenty of fitness trackers and monitors built into the device that's actually quite accurate, but not as efficient as the real watch. Moreover, it does support voice commands through Google Assistant as it doesn't come with an official watchOS to successfully run Siri.
Also, the IWO 15 Ultra uses the HS6621 processor that offers decent levels of performance and with its 200mAh built-in rechargeable battery the watch can last up to an impressive 5-7 days on a single charge.
One good thing about the IWO 15 Ultra is that it supports multiple languages including English, French and Russian and even the applications that are pre-installed on the watch support multiple languages making it easier for anybody to use one.
And for those who want to pay for their purchases wirelessly, the IWO 15 Ultra supports AliPay, WeChat Pay, and PayPal.
The IWO 15 Ultra is probably the best action smartwatch from IWO that's built to last. Not only does this smartwatch come with a reasonably good processor, it also has a long lasting battery, large display an uses Bluetooth 5.2 for seamless wireless connectivity.
The IWO 15 PRO (Watch series 7)
The IWO 15 PRO (Watch series 7) comes with some impressive features including smart split screen display, DIY watch face, 3D dynamic watch face and Bluetooth call. The watch provides you with an instruction manual in the language of your choice with free spare parts and a one year warranty. It also has some other mind blowing features including-
  It contains a password lock screen, dial switch, language switch, off screen time setting, and scan code connection, with a screen size of 1.82 inch HD IPS and Resolution: 320*380 px.
 Each watch will come with a unique serial number which is used to check the authenticity and battery life of 220mAh.
  For health freaks, the watch has a music player, pedometer, stopwatch, calories and breath training, health weekly tips, and a twenty four hour continuous heart rate, blood oxygen and pressure measurement ,and sleep monitoring. It even has different settings for walking, cycling, badminton, skipping rope, football.
With a charging method of magnetic suction charging and built in motor vibration reminder, this watch has a Bluetooth version: BLE 5.0.
 A number of languages that it supports include English, Arabic, Chinese, Spanish, Russian, Greek, Latin, Japanese, Portuguese, Danish, Farsi, Korean, Thai, Italian, and so on.
 Other cool features include raising your hand to brighten the screen, call notification, alarm reminder, stop watch, flashlight, calculator, message notification, supports  PayPal, We Chat, Facebook, Whatsapp, TikTok and so on along with a battery life that will last up to five to seven days.
  IWO 15 Pro (Watch Series 7) package includes the watch, one charging cable, one user manual, one pair of straps, with a watch size of 44*38.4*11mm and G-sensor 3-axis and Zinc alloy plus plastic material.
Always remember to take care and check if the charger and watch are connected properly and to disconnect Bluetooth and connect again when you receive a call. This watch is an IP68 waterproof smart watch that serves all your needs.
IWO HW16 Smartwatch
After the success of the IWO HW12, IWO has launched a new HW16 Smartwatch to capitalize on the market more. The HWW16 is also an Apple Watch 6 clone but it comes with the best specs among any IWO smartwatch so far. The IWO HW16 is sporty and loaded to the brim with features. Check out this Latest IWO Smartwatch Review for all the details.
The IWO HW16 uses a familiar IWO smartwatch design but it improves a lot on the internals and functionality. You get a 1.72-inch touchscreen that is capable of outputting 320×385 pixels making it very sharp. The 2.5D curved glass also makes it a joy to look at it.
Along with the beautiful screen, you get a lot of customizability in terms of tons of 3D watch faces built-in and more faces available in the app. You also get customizable dials to personalize your smartwatch as you like.
The underside of the watch houses magnets for wireless charging. You also get sensors that can measure heart rate, monitor sleep, estimate calories burned, and more. The HW16 can track 13 sporting activities like running, cycling, and more. Besides, the HW16 can also measure blood oxygen levels and blood pressure.
The HW16 also comes with Bluetooth v5.2, the best among any IWO smartwatch. This means you get excellent connectivity and the best Bluetooth calling function. The inbuilt microphone and speakers are also excellent for the price.
The HW16 also comes with excellent battery life thanks to the 250 mAh capacity that can last up to 10 days.
The HW16 is probably the best smartwatch from IWO as it is the smallest, yet offers some of the best specs like Bluetooth v5.2, one of the biggest batteries, and tons of customizability. The WearFit Pro app for the HW16 is also one of the best apps.
Related: How Apple Watch Cellular Works
IWO FK99 Smartwatch
The IWO FK99 is a new smartwatch that was recently launched in 2021. It gets all the bells and whistles of high-end smartwatches like activity tracking, health monitoring through multiple sensors, Bluetooth calling, and much more but at a very affordable price tag.
When you look at IWO smartphones, one of the most common details is the design, they all share the same design language with some minor tweaks. The IWO FK99 is also an Apple Watch 6 clone so you will like the design a lot. Check out this Latest IWO Smartwatch Review for all the details.
You will be getting a 1.75-inch touchscreen display but with higher pixel density compared to its predecessors as the resolution on the FK99 is 330×385 pixels.
You will also get 20 unique watch faces, along with the ability to customize your dials so you can personalize them depending on your mood.
The side button supports operations such as page-turning, interface switching, zoom, and brightness control. You can also use the Bluetooth calling features to receive calls with the built-in microphone and speaker.
The FK99 is also equipped with multisport modes, and it can track, heart rate, blood oxygen levels, distance travelled, calories burned, and monitor your sleep too. The 220 mAh battery on the FK99 allows it to last up to 7 days on a single charge. And it comes with wireless charging too.
IWO W56 Smartwatch
The successor to the IWO W26 and W46, the IWO W56 is an upgrade on those models. The IWO seems to improve on the tried and tested formula of offering an Apple Watch 6 like design with similar functionality at low prices. The IWO W56 is similar in that sense as it is a clone of the Apple Watch 6 loaded with all the features you will need from a smartwatch.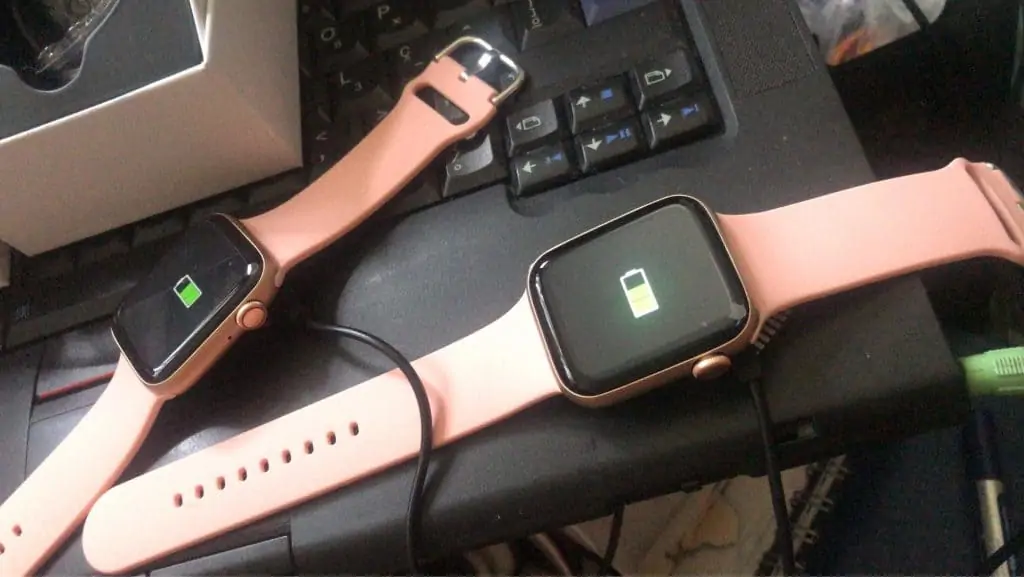 The IWO W56 comes in a zinc alloy body with a side button and dial that can perform operations like zooming, brightness control, page-turning, and more. You also get wireless charging and sensors on the underside of the watch.
The IWO W56 takes the same approach as the FK99 offering more pixels in the same 1.75-inch display size. It comes with a 330×385 resolution under the 2.5D curved glass screen.
What it does better than the FK99 is that it comes with over 40 watch faces and supports customizable dials too.
The ECG heart rate sensor, along with a sleep monitor, pedometer makes it a great health companion. You can track physical activities like walking, running, and more along with measuring heart rate, calories burned, blood oxygen, and blood pressure.
With Bluetooth v4.0, built-in speaker, and microphone, you can attend to calls, get notifications from your smartphone, and more. The IWO W56 comes with the biggest battery of any IWO Smartwatch with a 320 mAh capacity that can last 2 days of normal usage and up to 14 days of standby.
IWO 16 Smartwatch
The IWO 16 is another Apple Watch 6 clone from IWO when it comes to the design. While it is certainly not a bad thing, it gets difficult to differentiate between one IWO smartwatch from the other. The IWO 16 is a feature-rich smartwatch that can do it all. Released in late December 2020, it is one of the more recent IWO Smartwatches.
The IWO 16 comes with the same display as most of its recent smartwatches, a 1.75-inch touchscreen with a 320×385 resolution. The design will suit both men and women like all IWO smartwatches. Check out this Latest IWO Smartwatch Review for all the details.
The IWO 16 is IP68 waterproof and built to last. It also comes with a side button that supports functions like page-turning, zoom, brightness control, and interface switching. You get magnetic contacts for wireless charging along with sensors on the backside.
The IWO 16 like other IWO smartwatches can track heart rate, distance traveled, calories burned, and sleep monitoring. It can also measure blood oxygen levels and blood pressure. The sedentary monitor will notify you if you have been sitting in the same place for a long time. All of this is possible thanks to its FitCloud Pro app.
IWO 16 is equipped with Bluetooth 5.0, making it the best IWO smartwatch in terms of connectivity. It supports Bluetooth calling function at the highest of quality with the excellent microphone and speaker that is built-in.
In terms of customizability, the IWO 16 comes with a mere 4 watch faces, but you can install more from your phone using the FitCloud Pro app. You also get the option to customize your dials which is a good addition.
IWO AK76 Smartwatch
You might be mistaken that the AK76 might be a gun but it is not, it is an affordable smartwatch by IWO that provides a lot of functionality. It is an Apple Watch 6 clone, so if you love the design of the Apple Watch 6 then you will like the design of the AK76 too.
The AK76 Smartwatch comes with a large 1.75-inch touchscreen display that outputs 320×385 pixels. The display also uses a 2.5D curved glass which looks good along with the cool 3D watch faces.
You get up to 4 days of battery life thanks to the 220 mAh battery.
The AK76 Smartwatch has many sensors which gather information like heart rate, sleep monitoring, body temperature, blood oxygen levels, calories burnt, and even distance covered.
Along with all these, you get Bluetooth calling function thanks to the microphone and speaker. You can also receive messages, notifications, and more.
This smartwatch can also be wirelessly charged thanks to the magnetic contacts on the underside. The AK76 smartwatch uses Bluetooth v4.0 compared to recent smartwatches from IWO that use Bluetooth v5.0.
Takeaway
IWO makes some of the best smartwatches in the market right now. They do look like Apple clones but it is not a bad thing as Apple Watches use some of the best designs. IWO smartwatches are sporty yet elegant and they suit well for both males and females.
IWO smartwatches also offer some of the best functionality as they support multiple activity tracking, Bluetooth calling function, sleep tracking, and more. They are the perfect health companions as they can track heart rate, estimate calories burned, and measure blood oxygen levels and blood pressure too.
If you are looking for an affordable yet feature-rich smartwatch then IWO smartwatches should be on top of your list. They are excellent smartwatches with a lot of functions and they offer a lot of value for your money.
IWO Watch or Apple Watch – Which is Better?
IWO and Apple Watch are both smartwatches that look eerily similar, but there are some notable differences between the two.
Design: The IWO watch is similar in design to the Apple Watch, but it is usually less expensive and comes in a wider range of colors.
Features: Both watches offer fitness tracking, call and message notifications, and mobile payments. The Apple Watch, however, has a wider range of features and apps available, such as ECG, fall detection, and a more sophisticated heart rate monitoring. Additionally, the Apple Watch has a more powerful processor, which allows for faster performance and more advanced features.
Compatibility: The IWO watch is compatible with both iOS and Android devices, while the Apple Watch is only compatible with iOS devices.
Durability: The Apple Watch is known for its durability, with a more premium build and materials. IWO watches, on the other hand, has some durability issues reported in some cases.
Overall, the Apple Watch is generally considered to be the more premium and feature-rich option, while the IWO is a more affordable alternative with a similar design. Ultimately, the choice between the two will depend on your personal preferences and budget.
FAQs
Which is the latest smartwatch?
The latest smartwatch from Apple is the Apple Watch Series 7. It has a larger screen and better charging technology. Apart from this, there is not much difference between Series 7 and the older Series 6. 
How do I choose a good smartwatch?
A good smartwatch should have a vibrant and bright display, features like water resistance, good software, and tracking abilities. Long battery life is also important for a smartwatch. Our list of the latest IWO smartwatches has all these features, so do check them out. 
Which smartwatches can make phone calls?
All the smartwatches in our list of the Latest IWO smartwatch review have the ability to make phone calls. Apple Watch and Samsung Watches can make phone calls as well.
Also Read: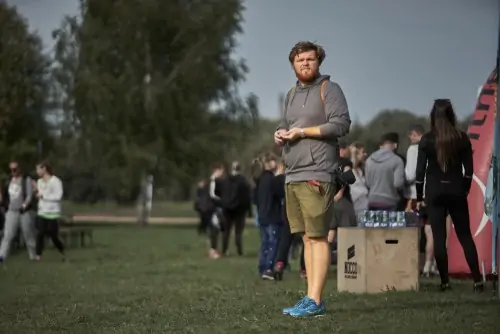 Alan Urban is the Editor-in-chief of Stupid Apple Rumours and often proclaims that he's " Apple's number one fan."
In addition to keeping up with the latest Apple news, he also reviews Apple products and creates user-friendly guides.  When not subjecting Apple Devices to crazy stress tests, he's usually playing games on Apple Arcade
Latest IWO Smartwatch Review
Check out our list of the Latest IWO Smartwatch Review!
Product SKU: LIWO19293
Product Brand: IWO
Product Currency: USD
Product Price: $24.83
Price Valid Until: 2021-12-31
Product In-Stock: InStock