Does your iPhone screen dim automatically? Learn what to do when iPhone Screen keeps Dimming in this article.
Screen dimming is a built-in feature on all smartphones, even iPhones, with one unique and critical purpose: battery preservation. After all, the iPhone's large screen is the primary source of battery depletion.
But what if your iPhone screen keeps dimming and preventing you from fully utilising your device? There are multiple possible explanations for this, as the iPhone has numerous incorporated features that may alter the screen dimming settings.
It could possibly be a hardware issue, but it's critical to look into the software first. As a result, we'll go over various screen dimming issues and provide simple fixes.
Related: How to fix iPhone Volume keeps Going Down
iPhone Screen keeps Dimming, How to Fix
Why Does My iPhone Screen Keep Dimming?
While reducing the display lights might minimise eye strain in specific scenarios, being unable to operate the dimming option can be inconvenient.
Your iPhone has a number of options that affect screen dimming, and you may need to toggle some of them on or off for the screen dimming to operate appropriately.
The first step in this process is to disable Auto-Brightness, which is present on practically all smartphones nowadays. This is a clever function that automatically adjusts the screen brightness based on how much light is available.
Auto-Brightness protects users from being dazzled when picking up the phone late at night and delivers maximum brightness throughout the day. Follow the instructions below to see if your iPhone's Auto-Brightness feature is active.
Go to "Settings" on your iPhone.
Choose "Accessibility."
Select "Display & Text Size."
If the "Auto-Brightness" function is enabled, tap to disable it.
By altering this setting, you must now manually adjust the brightness of your iPhone, as the screen will no longer dim automatically.
Why Does My iPhone Screen Keep Dimming With Auto-Brightness Off?
If you've already switched off the Auto-Brightness feature on your iPhone but are still experiencing continual screen dimming, you should look into other brightness-related options. Here is the whole list of features to review and tweak as needed.
Night Shift
Night Shift is an iPhone setting that may conflict with your device's brightness level. It ensures that the colours on your iPhone display grow warmer, decreasing eye strain at night. Although it is not the same as screen dimming, it has a similar effect for some people.
You may have Night Shift enabled on your iPhone by default, which changes the appearance of the screen every night at a set hour. Fortunately, this is a simple repair.
Here's how to disable your iPhone's Night Shift feature.
Navigate to "Settings."
Select "Display & Brightness."
Choose "Night Shift."
To disable this feature, tap the "Scheduled" button.
There is another method for turning off Night Shift. All you have to do is follow these simple instructions.
Swipe up from the bottom of your iPhone's home screen to access the Control Center.
Select the brightness slider. You'll notice the "Night Shift" button.
To disable the "Night Shift" feature, press the button.
True Tone
The True Tone feature, like Auto-Brightness, detects the lighting conditions in your surroundings and adapts screen colours.
These adjustments may cause your iPhone screen to appear to darken during the day. If you don't want your iPhone to do this, you may disable True Tone with a few clicks on the screen.
On your iPhone, tap the "Settings" icon.
"Display & Brightness" should be selected.
To disable the feature, select "True Tone."
Low Power Mode
When your iPhone's battery runs low and the Low Power Mode is enabled, the device will automatically dim the screen to conserve power.
If you're in the middle of using your phone, perhaps engaged on a time-sensitive task, the sudden darkening can be annoying. The good news is that you can turn off Low Power Mode and keep the screen from dimming. This is how.
On your iPhone, go to "Settings."
Navigate to the "Battery" tab.
Select "Low Power Mode" and disable it.
Disabling Low Power Mode will cause your battery to drain faster, so charge your iPhone as soon as possible after modifying this setting.
Attention Aware
If you have an iPhone X or later, you might be using the Attention Aware feature. This built-in feature detects when you are not paying attention to your smartphone, even if it is in your hand, and dims the screen automatically. The brightness level will not fall as long as you are looking at the screen.
If you don't want the screen to darken when you look away, here's how to turn it off.
Select the "Settings" icon.
Select "Accessibility," followed by "Face ID & Attention."
Tap the "Attention Aware Features" button.
Auto-Lock
Every smartphone has an Auto-Lock feature that serves a specific purpose. When the timer runs out, the screen immediately locks. For example, after 30 seconds of inactivity, your iPhone may enter Auto-Lock mode.
The screen will dim a few seconds before it locks to alert you that it is about to lock. If 30 seconds is too short and you want to avoid frequent screen darkening, you can lengthen it or even disable Auto-Lock entirely.
This is how it works.
Go to "Settings."
"Display & Brightness" should be selected.
Select the required time by tapping the "Auto-Lock" option.
You can select "Never" from the option, which means you must manually lock your iPhone when you're finished using it to preserve your privacy and prevent accidental dialling and texts.
Low-Light Zoom Filter
Another useful feature of your iPhone is the ability to dramatically reduce the screen brightness. It's hidden under the Accessibility Zoom settings and is designed to reduce eye strain when checking your phone in the dark.
Maybe you mistakenly enabled this option when you enabled iPhone Zoom, and now you're confused about why your iPhone screen keeps dimming. Here's how to verify if this setting is enabled and, if so, how to disable it.
Select the "Settings" icon.
Select "Accessibility," then "Zoom."
There are various alternatives in this section, but you should choose "Zoom Filter."
Select "Low light."
Why Does My iPhone Screen Keep Dimming When Hot?
You may have observed that when your iPhone gets too hot, it dims. Apple has incorporated this safeguard to avoid potential hardware issues when the gadget overheats. What's the deal with your hot iPhone? There are various causes for this.
You could be chatting on the phone for too long, running too many apps at once, streaming HD material, or the bad battery has to be replaced. Running older apps might have an influence on the device, leading it to overheat.
The screen will darken before you get a message telling you that your iPhone needs to cool down before you can use it again. It is best to act quickly and make precise improvements to address this issue.
To avoid unexpected iPhone overheating and dimming, keep your apps in good working order by checking the App Store for updates, decreasing intensive streaming, force-quitting apps running in the background, and inspecting the battery.
Why Does My iPhone Screen Keep Dimming in the Sun?
Have you noticed that your iPhone screen dims in the sunlight? That clearly causes alarm. The device dims when it overheats, which happens quickly when kept in direct sunlight.
If you pick up your iPhone after it has been exposed to the sun and it feels quite hot, it is critical that you properly cool it down.
Here are some suggestions for effectively cooling down your iPhone.
Remove the protective case.
Switch it off.
A fan will help to cool it down.
Avoid exposing the iPhone to extremely cold temperatures, as this can harm the device.
After successfully cooling down your iPhone, you'll notice that the screen is no longer fading. If the problem persists, go to your nearest Apple Store and have an expert go over your iPhone.
iPhone Screen Keeps Dimming – Takeaway
Many iPhone owners dislike the Auto-Brightness feature and would rather control when the screen dims. By removing this feature, you gain control over your device's screen brightness.
Other integrated settings, such as Night Shift, Auto-Lock, Low Power Mode, and Attention Aware, may cause seemingly random screen dimming.
You may easily disable or change these features to prevent screen fading. It is critical to keep your iPhone from overheating, as this can result in screen darkening.
Which of these iPhone settings will you change? Please share your thoughts in the comments box below.
iPhone Screen Keeps Dimming – FAQs
What if none of the above alternatives work and my iPhone screen continues to dim?
If you've adjusted all brightness-related settings and avoided device overheating, but the screen still dims randomly, you're probably dealing with a hardware issue.
It's usually a battery issue, and you'll need to replace it. If your screen is damaged due to a fall, for example, it may experience dimming and colour changes.
Your iPhone may require repairs to prevent screen fading and other difficulties.
Is it safe to leave your phone on full brightness?
That is absolutely a personal option, but there are a few factors to consider before making this decision. Leaving the iPhone brightness set to maximum can drain the battery faster and may cause the phone to overheat.
In addition, full brightness in a dark setting might cause eye irritation or strain. The manual brightness slider is easily accessible, allowing you to dim the screen as desired.
Also Read: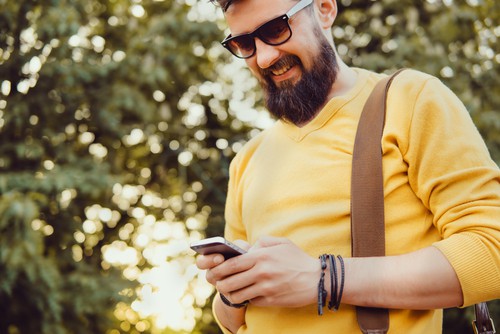 Should I, Do I, How to – these are some of the topics I would love to cover to share what I know about All apple products.