We're a little over a week away from Apple's Far Out event and what we can confirm is that quite a number of new launches are going to take place on that day.
From the new iOS 16 to macOS Ventura and even the new watchOS 9, all will be released at the event – Far Out, on the 7th of September.
The only one getting a slight delay and which will not be launched on the same day is iPadOS 16. Unfortunately, we've received word that the new iPad operating system will be delayed and might get a release alongside the new iPad Pro sometime in October.
Today, I'm going to take you through all there is to know about the new iPadOS 16 and whether or not the OS is going to come with some significant changes and new features.
Let's take a look at the potential launch date, compatibility along with which Beta test versions are out right now and see if we can spot any major differences between the iPadOS 15 and the upcoming iPadOS 16
iPadOS 16 – Rumors and Leaks
iPadOS 16 Potential Release Date
The Beta testing of the new iPadOS 16 is in full swing and from what Apple said, there are chances that the OS will get a release later this year, most likely at the end of September.
However, from new sources and leaks it's apparent that iPadOS 16 will release later on in October alongside the iPad Pro 2022 model with the M2 chip.
This move could be possible due to the bugs present in the new OS and the shortage of displays for the iPad Pro which has resulted in the delay of its launch.
UPDATE 11-Oct-2022 : Based on a Tweet from earlier today, Mark Gurman from Bloomberg stated that Apple is currently on track and that the final version of the new iPadOS will be released during the last week of October. The software might be released as iPadOS 16.1 as both versions have the same build number.
iPadOS 16 Compatibility
According to a statement released by Apple both at WWDC and from what's displayed on their website, we can expect many of the current iPad's running on iPadOS 15 to support the new operating system.
In order to find out which model of iPad you own, open the Settings app and then click on About followed by Model Name.
Here are some of the iPad's that are expected to receive the new iPadOS 16 software update.
iPad Pro 12.9 (5th gen)
iPad Pro 11 (3rd gen)
iPad Pro 12.9 (4th gen)
iPad Pro 11 (2nd gen)
iPad Pro 12.9 (3rd gen)
iPad Pro 11 (1st gen)
iPad Pro 12.9 (2nd gen)
iPad Pro 12.9 (1st gen)
iPad Pro 10.5
iPad Pro 9.7
iPad (9th gen)
iPad (8th gen)
iPad (7th gen)
iPad (6th gen)
iPad (5th gen)
iPad mini (6th gen)
iPad mini (5th gen)
iPad Air (4th gen)
iPad Air (3rd gen)
iPadOS 16: Which Beta Version is Out?
Apple launched their first Beta version of the new iPadOS 16 back in June 202 and have since released eight beta versions of iPadOS 16 to developers and six to the general public.
From the developer notes, there are a whole bunch of new features and changes we can expect to see in the new OS and quite like iOS 16, the sole intention of iPadOS 16 is to improve the user's multitasking experience.
However, since there are still issues with Stage Manager and a couple of bugs with the overall workflow, Apple has decided to push the final release date to later this fall and I think once Stage Manager receives a stable fix, we should be able to get the final version of the OS within a couple of weeks.
Apart from iPadOS 16 Beta, Apple has also seeded the iPadOS 16.1 Beta to developers and this version includes the ability to resurface the Stage Manager side rail using nothing but gestures.
There are a range of new features coming to iPadOS 16 such as iCloud Shared Photo Library and Lockdown Mode, changes to Maps, Safari, Mail and much more.
UPDATE 14-Sept-2022: Apple has uploaded the latest beta test software, iPadOS 16 Beta 8 to developers. The new update can be downloaded from within the Settings app if you're already signed up to the beta testing page.
UPDATE 11-Oct-2022 : Apple released the 11th beta of iPadOS 16 which is the 5th developer beta in the series. This update brings new fixes to Stage Manager, but users are still reporting bugs even after updating to the new version.
UPDATE 18-Oct-2022 : Apple just released the Release Candidate builds of iPadOS 16.1 to developers and the new build can be downloaded through the Apple Developer Center or as an OTA update to those running the current Beta build. The new RC build number is 20B79, replacing 20B5072b.
iPadOS 16 New Features
With iPadOS 16, there are apparently a whole range of new features and updates coming out. Some that we are able to confirm, will definitely change the game for iPad users.
Updates to the Weather App
With the new iPadOS 16 comes the Weather app which iPad users didn't have on earlier versions of iPadOS.
From our beta tests with the weather app, it's apparent that users will be able to view the latest weather information including precipitation on maps, air quality and even local temperature.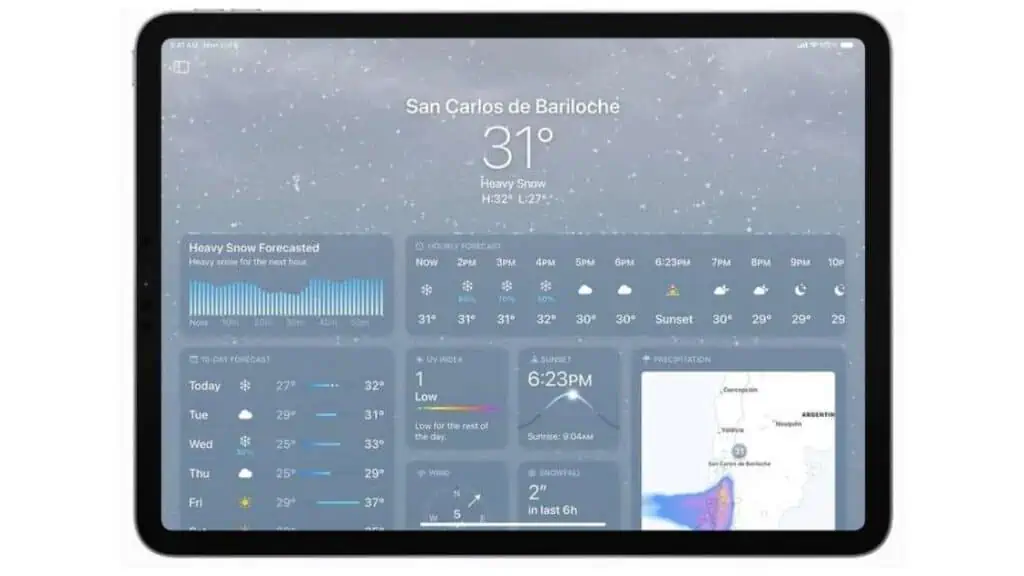 The beta even notifies users when there's a severe weather event in the area or if the air quality has dropped which we would love to see in the final cut as well.
The app also provides a detailed forecast for the week including weather changes on an hourly basis and from what we can tell, the new weather app on iPadOS 16 will be the same that's going to be included in iOS 16 as well as macOS Ventura.
New Notes Features
In the beta of iPadOS 16, we came across a slew of changes to the notes app. Now handwritten notes will automatically straighten and look neater than before.
Users will be able to insert new shapes like boxes and arrows into the drawing area and even be able to add text in the shapes.
iOS 16 allows users to lock personal notes using their iCloud passwords and this feature might be included in the new iPadOS 16 as well.
If many of the changes match those we can see on iOS 16, then the notes app should also permit adding screenshots in Quick Notes, Share notes via a link and even enhancements to Smart Folders such as new filters and chronological grouping based on categories.
Possible New App – Freeform
Apple is experimenting with a new application for the iPad labeled Freeform where users will be able to interact with a virtual whiteboard for brainstorming and collaboration between multiple people in a group.
Freeform can also be used to jot down notes using the Apple Pencil or to simply draw diagrams on the page.
From the latest Beta, we can confirm that users will be able to drop photos, videos and even documents into a specific group page on Freeform's whiteboard feature.
Stage Manager for the iPad
While Stage Manager is the new feature on macOS Ventura, we can expect to see a version of this feature made available to iPad users as well.
It's a new feature that allows you to resize windows on the iPad Pro and create a visible dock on the screen with different apps and windows grouped together.
Switching between apps becomes easier and all the unused apps will be automatically moved into the left docking panel.
The best feature of iPadOS 16's version of Stage Manager is that you will be able to connect an external display to your iPad.
With this, you can create groups of windows on each display and toggle between different apps running on both devices simultaneously.
There are still a bunch of bugs with iPadOS 16 Stage Manager, which is the primary reason behind the delay in the operating system's release.
Collaboration
One of the biggest changes to iPadOS is the addition of Collaboration. This feature allows users to communicate with people on different apps like Safari or iWork suite and share documents, photos and videos with a particular group.
The app also allows members of the group to edit and make changes or add notes to the shared file and the primary host will be able to view who joins a collaboration session or who is making changes to that file real-time.
We were able to use collaboration in other apps such as Messages and could share files from Notes, Keynote, Files, Safari and other third party applications in group chats. Also, the same documents and files can be shared on FaceTime if there's a meeting or presentation due.
Game Center on iPad
Another wonderful addition to the iPad via the new iPadOS 16 is Game Center. Basically, the iPad will now get the same gaming prowess as the Mac with significant upgrades to the frame rate and resolution.
The Game Center will be designed to provide users with a more fluid game play experience and many of its features will be similar to Xbox Live and the PlayStation Network, so you will definitely be able to play more games than before and even be able to share game links with friends so they can get in on the action.
Other Features and Improvements
Apart from the main changes we covered above, the new iPadOS 16 will also receive other improvements and some apps will get additional upgrades.
For example, Focus Mode will receive an update that comes with focus filters and an easier setup method.
Messages app in iPadOS 16 will receive the same updates as what we covered in iOS 16 and the same goes with Safari and the Mail app.
iCloud shared photo library will also be included in iPadOS 16 as well as improvements to spatial audio, visual look up and even live text.
How to Download the New iPadOS 16 Beta?
Since there's still time before the release, it's safe to say that downloading the beta is a good idea and you will get a hang of the new OS prior to it being released.
In order to download the new iPadOS 16 beta, start by taking a backup of the iPad first. Once done, follow the instructions below to register and download the iPadOS 16 beta software.
Register your Account for iPadOS 16 Beta
The first step before downloading the beta is to register your account using your Apple ID. To do this,
Go to beta.apple.com on the iPad you want to enroll and tap on Sign up to get started.
Enter your Apple ID email address and password.
Tap Sign in.
Tap Accept to agree to the terms and conditions.
Enroll your iPad
Now that you've registered your account, it's time to enroll your iPad in the public beta testing page. If your iPad is already registered, proceed to the next section. If not, follow the steps below,
Go to beta.apple.com and tap the iPadOS tab.
Now, tap on Download profile and then click on Allow.
Open Settings and then tap on Profile Downloaded.
Click on Install in the upper-right corner and enter your passcode.
Tap Install and once done Restart the iPad
Install the iPadOS 16 Beta
Once your account and iPad are set up, it's time to install the new beta OS. To do this,
Launch Settings from your Home screen and then click on General.
Tap Software Update and once the update appears, tap on Download and Install.
Enter your Passcode.
Tap Agree to the Terms and Conditions.
Tap Agree again to confirm.
The iPad will now reboot and proceed to install the iPadOS 16 beta. Wait for a couple of minutes or till the progress bar shows completed and then proceed to set up the iPad.
What's Not Coming to iPadOS 16?
There are some features that we expected to see in the new OS, but sadly will not come out with the October launch of iPadOS 16.
As of now we can't confirm if these new features will be a part of iPadOS 17 or if they will be scrapped in the future.
New Lock Screen – One notable feature that's coming to the new iPhone 14 and which will be available to iOS 16 users is the new lock screen feature. While there was no mention for iPad's, we can only hope that this upgrade will be brought around in the near future.
Interactive Widgets – Another update we won't get to see anytime soon on the new iPadOS is interactive widgets. This update will again be available to iOS 16 users, but sadly iPad users will not receive the update anytime this year even though it was rumored to release with iPadOS 16.
Redesigned app icons – Another feature that will not come to iPadOS 16 is the redesigned app icons. Currently in development, the new changes will be similar to macOS Monterey, but since it's still in beta testing, we can expect to see this change get implemented sometime next year.
Also Read: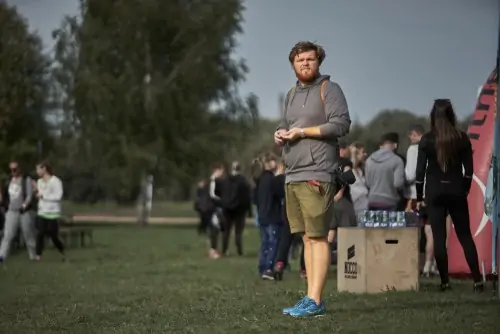 Alan Urban is the Editor-in-chief of Stupid Apple Rumours and often proclaims that he's " Apple's number one fan."
In addition to keeping up with the latest Apple news, he also reviews Apple products and creates user-friendly guides.  When not subjecting Apple Devices to crazy stress tests, he's usually playing games on Apple Arcade