Every year Apple religiously rolls out major software updates for their iPhones. By doing this, millions of iPhone users get a free update that typically includes bug fixes, UX/UI updates and occasionally an evolution in the iOS operating system itself.
Today lets review iOS 16 vs iOS 14.
Apple Released iOS 16 To Users in 2022
With iOS 16.1, Apple has introduced new features that were not made available to the public with the launch of iOS 16.
Now, users will be able to experience iCloud Shared Photo Library on the iPhone and have Live Activities added to the lock screen as well as on the Dynamic Island on iPhone 14 Pro models.
The update also brings the new Fitness+ update to the iPhone and users will be able to track their health metrics without having to own an Apple Watch.
iOS 16.1 also adds support for Matter, something users have been patiently waiting for and last but not least, the new update also includes a number of bug fixes such as the failure to launch CarPlay with a VPN connection and Dynamic Island content is not available when using Reachability.
iCloud Shared Photo Library
Separate library for seamlessly sharing photos and videos with up to five other people
Setup rules allow you to easily contribute past photos based on start date or people in the photos when you set up or join a library
Library filters for quickly switching between viewing the Shared Library, your Personal Library, or both libraries together
Shared edits and permissions let everyone add, edit, favorite, caption, and delete photos
Sharing toggle in Camera lets you choose to send photos you take straight to the Shared Library, or enable a setting to share automatically when other participants are detected nearby using Bluetooth
Live Activities
Live Activities from third party apps are available in the Dynamic Island and on the Lock Screen for iPhone 14 Pro models
Fitness+
Apple Fitness+ is supported on iPhone even if you do no€™t have an Apple Watch
Wallet
Key sharing enables you to securely share car, hotel room, and other keys in Wallet using messaging apps such as Messages and WhatsApp
Savings account enables Apple Card customers to grow their Daily Cash by depositing it in a high yield savings account
Home
Matter, the new smart home connectivity standard, is supported enabling a wide variety of smart home accessories to work together across ecosystems
Clean Energy Charging
New setting that can try to reduce your carbon footprint by selectively charging when lower carbon emission electricity is available
Books
Reader controls are automatically hidden as you start reading
This update also includes bug fixes for your iPhone:
Deleted conversations may appear in the conversations list in Messages
Dynamic Island content is not available when using Reachability
CarPlay may fail to connect when using a VPN app
iOS 16 – Will it Be Worth the Upgrade?
Apple is once again the talk of the town and this time it's for their latest updates to the iOS operating system.
iOS 16, which was first showcased at WWDC earlier in June this year, has had 8 developer beta test versions out till date and 6 public beta test versions.
From the looks of it, it's truly an upgrade from the normal and boring iOS 15.
iOS 16.1 was launched alongside macOS 13 Ventura and iPadOS 16.1 which was inevitably delayed due to issues with Stage Manager.  
What's the Release Date for iOS 16?
In June, Apple hosted its 5 day annual conference, WWDC 2022 where they showcased some of their upcoming gadgets and software updates that are slated to be released later this year.
One such update was the launch of iOS 16 with new features as well as improvements to many of their apps, including bug fixes, improved user privacy, changes to the lock screen, themes and much much more.
As always, Apple released their beta version of the firmware and over the course of a couple of weeks they had released 8 beta versions for both developers and the public to use in a closed environment.
These beta test versions of iOS 16 are first released to developers and then to the general public a couple of days later. As of writing this article, we're currently testing the public beta version 6 (also known as the developer beta version 8).
Update: Apple has confirmed in a statement that iOS 16 will be released on the 7th of September 2022 during their 'Far Out' event.
While Apple did confirm that the new iOS 16 version will be released at this time, we did get confirmation that iPadOS would receive a later release date most likely in October.
Update 12-September-2022 : The final version of iOS 16 has been released to the public. Updates are live and only the devices that are eligible will receive the new OS update.
What Devices will be Compatible with iOS 16?
Though Apple did not mention which specific iPhone models will be able to support iOS 16, they listed a number of iPhone's on their official iOS 16 preview page that will support the new OS and from the looks of it, all iPhone's released post 2017 are eligible for the upgrade.
This means that the iPhone 7 range has been excluded from the list as it's almost 6 years old and sits on the edge of the Apple Support spectrum. This also means that older iPhone's that ran on iOS 15 will also not receive further support or update and will slowly phase out.
Here's a full list of iOS 16 supported devices as confirmed by Apple
iPhone 13
iPhone 13 mini
iPhone 13 Pro
iPhone 13 Pro Max
iPhone 12
iPhone 12 mini
iPhone 12 Pro
iPhone 12 Pro Max
iPhone 11
iPhone 11 Pro
iPhone 11 Pro Max
iPhone XS
iPhone XS Max
iPhone XR
iPhone X
iPhone 8
iPhone 8 Plus
iPhone SE (2nd generation or later)
iOS 16 Features – What Has Been Uncovered So Far
iOS 16 is going to be one of Apple's most advanced operating systems and we uncovered a number of new and improved features that are included (some speculated) in the latest update of the OS.
Edit and Unsend Messages
While unveiling iOS 16 at WWDC, Apple's SVP of software engineering Craig Federighi noted that his team has managed to bring about three of the most sought after features to the Messages app.
These include editing sent messages, recalling sent messages and making conversations as unread. From what we learnt, all three features can be used from within the Messages app and none of them need any special setup or authorization to run.
Customizable Lock Screens
Another brilliant feature coming out with the release of iOS 16 is the ability to customize the lock screen and add widgets, change the font, change the style and even customize the digital clock as confirmed by Marques Bronlee on Twitter.
They're also bringing out a new functionality that lets users change the notifications on the lock screens depending on the type of accounts being run on the iPhone. So if you want different lock screens all you'd have to do is swipe up and toggle between lock screens and different widgets.
Updates to Focus Mode
At WWDC, Tim Cook unveiled some drastic changes to Focus Mode. These updates tie into the new lock screen updates and lock screens can automatically be switched depending on which Focus profile is running at the time.
For example, a Meetings or Work focus profile will have its own lock screen wallpaper and the widgets as well as notifications pertaining to work related activities will appear on the lock screen. 
However, if the user selects Personal focus profile, the wallpaper changes and the widgets will automatically reflect personal applications and notifications.
Updated Notifications on iOS 16
Notifications are getting a drastic overhaul and this is all to do with Live Activities that Apple has introduced this year.
It's a clear game changer and the update essentially creates pinned notifications from sports apps and food delivery apps that rest at the bottom of the notification panel making it easier to check current scores, news and even delivery statuses.
Notifications on iOS 16 will also receive new animations and each notification bubble will be color coded making it easier to figure out which app has sent a notification from afar and users will be able to choose how they'd like to view the notifications, in a stacked view, expanded and even hidden view.
Wallet and Apple Pay Updates
It looks like iOS 16 is going to make life easier for users who have opted for Apple Pay.
Now, with the latest update and from what we've seen in the Beta releases, Apple is pushing for a tap to pay feature that minimizes the use of cards to an extent that cash can be transferred between two parties by simply tapping their iPhones together.
There's going to be new and improved privacy policies and settings in place along with an in-app ID verification for third party apps.
We also found that iOS 16 will be the first OS from Apple that will support Apple Pay Later, a function where users can purchase anything using their Apple Pay account and then convert that transaction into 4 equal payments via their iPhone, which will be spread over a period of 6 weeks with no interest and fees.
Updates to Apple Maps
Apple Maps will finally be able to store recent trip data and share that from your iPhone. Users will also be able to include multiple stops and take advantage of Siri to add destinations to the trip.
While this sounds promising, one update that we uncovered is that Apple might take on Google's Street View in 2022 with their Look Around update to the Maps app.
Here, users will be able to view street maps in 3D with newly rendered buildings making it easier to pinpoint your exact location.
Family Sharing Updates
We've all used Family Sharing in iOS 15, but with iOS 16, Apple is taking it up a notch. Parents can now set age restrictions on content as well as transfer parental settings from an iPhone to an iPad simply by moving the devices next to each other.
The other key update to Family Sharing is the iCloud Shared Photo Library. Users have requested this feature for years and Apple has finally included it in their new OS.
The feature enables up to 6 members of a family to share and stay connected to a single library.
The users can be configured based on who is part of the family sharing group and from the latest Beta tests we observed that this update lets users share photos to a particular group library as well as receive suggestions on what photos to share if the photos include members that are a part of the family sharing group.
Visual Lookup Tap and Drag for Photos
Probably one of the coolest features the new iOS has to offer is visual lookup and drag for photos.
Visual Lookup was brought in the iOS 15 update, but with the iOS 16 update users can now touch a photo's subject and lift the image of the subject sans any background and add it to other apps such as messages or mail.
This feature is pretty decent especially considering that visual lookup is capable of selecting the image accurately without any background bleeds.
Safety Check
A new feature coming out this year to iPhone's that support iOS 16 is Safety check.
Based on the release at WWDC 2022, this feature is designed to help people who are in unhealthy relationships and who deal with abusive partners.
This new feature lets users review who has access to their information such as location, apps, passwords and even messages before revoking their access.
One thing Apple has managed to pull off is securing a person's ability to keep themselves safe at all times from domestic violence. In fact, they've even updated their personal safety guide in the Apple help center with new steps on how to keep yourself protected.
iOS 16 Will Track the Users Fitness without an Apple Watch
We've seen some pretty promising updates and tested some really cool features, but one that stood out to us was the ability to track your fitness levels without owning an Apple Watch.
The iPhone app now keeps a track on the distance traveled, steps covered and even workouts recorded through third-party fitness apps.
It will also help users keep track of their calorie burn as well as notify you on whether or not your daily goals are met.
iOS 16 Brings Back the Battery Percentage to the Status Bar
Earlier Apple removed the battery percentage from the status bar when they started manufacturing iPhones with notch displays, but with the latest iOS 16 Beta 5 update we found that the feature could possibly make a comeback.
While testing the developer version of iOS 16 beta we found that the battery percentage has been added to the battery settings page.
But based on reviews from other developers and reports from Reddit indicate that this is not the case for the iPhone 11, iPhone 12 mini and the iPhone 13 mini.
We can only hope that this age-old feature is brought back to all iPhone models that support iOS 16 and not just a handful of them.
Private Access Tokens to Skip CAPTCHAs
According to Apple, they are experimenting on using private access tokens to authenticate your login on certain pages and this will take away the whole CAPTCHA process that detects whether you're a human or robot.
This service is still in test phase and Apple is still in the middle of talks with other companies to use this feature to authenticate users instead of the regular CAPTCHAs.
Since there's no confirmation on whether this feature will be available on iOS 16, we can hope that it comes soon and CAPTCHAs are a thing of the past.
How to Download and Install the Public iOS 16
To download and install iOS 16 developer Beta, you will need to create a developer account first. Remember this is a paid membership, so if you don't wish to test the beta by paying for the services, you can wait for a few days and download the latest public beta test version.
Log in to the Beta Software Program.
Click Enroll your iOS device. (If you signed up for a previous version's beta last year you may need to uninstall the profile for that and then re-enroll for the new one.)
Download and install the configuration profile.
You may need to jump over to Settings to enable the profile. Go to General > VPN and Device Management and tap on the iOS 16 beta profile there.
That will make the beta version available in the Settings app, under General > Software Update.
iOS 14 Review
After using the latest iOS 14 for over a week, I can say with complete confidence that the iOS experience is much more powerful and easier to use that all the previous generations. It's far different from the iOS 13 and Apple has managed to revamp every aspect of their UI/UX.
The iOS 14 has ungraded the Home screen, Siri, Messages, Phone, Maps, and Safari among other aspects of the User Interface. They've also improved minute details such as the User experience with the AirPods. Most importantly, Apple has also provided the user with control over their data. Making it more transparent on how it's being utilized
iOS 14 Features
Home Revamp
iOS 14 introduces an upgraded and redesigned new Home Screen that allows customization, which includes widgets and the ability to hide apps of your choice. Here are the changes made to the Home Screen in iOS 14. Check out our iOS 14 Review for all the details.
The App Library: Apple has released a new feature called, The App Library that allows you to organise your Home Screen pages. This is situated at the end of the Home Screen swipe. This comes embedded with an App Library search that allows you to find what you're looking for. You will have a full list of installed applications, sorted alphabetically, along with a sort function to find what is needed, quickly.
This new app library offers amazing organizational capabilities. You no longer have to just sit by as the apps appear in random places. other than suggesting your most used apps, the UI also ensures that you can access your apps based on category. For example, recentlyt installed apps will appear in the recently added folder.
It appears as a cluster inside multiple boxes. However, you can access the entire list by tapping on the relevant boxes. If it's too much then you can access the search bar. This will allow you to immediately access the app instead of manually searching for it.
As mentioned earlier, you can access the App Library by swiping left from the home screen. If you feel that it's too much then the iOS 14 also gives you the option of hiding a page. All you have to do is edit your home screen and click on the button above the dock. Once this is done all the pages will appear as thumbnails. You can hide the pages here. All it all, the iOS 14 offers amazing app management features.
Widgets: iOS 14 comes with widgets on the Home Screen. This can be done by simply dragging and dropping the widgets to the Home Screen.

The Smart Stack is a permanent widget that will be displayed on the Home Screen. Here, you'll have the ability to either choose a widget for it to display or manually cycle through the widgets manually. You're even able to automatically assign different widgets based on the time of day.
Any widget can be added to the Home Screen, the sizes available are Small, Medium and Large, each with different information density.
Up to 10 widgets can be stacked on top of each other, both in Today view as well as the Home Screen. Once stacked, the widgets can be swapped by swiping over them.
PIP (Picture in Picture): PIP will finally be launched with the iOS 14 and that's a great feature Apple lacked in their previous versions of iOS. The PIP feature allows the user to multitask while watching a video on the iPhone.
It's a simple feature where if you're watching a video/movie, simply swipe back to the Home Screen and the video will continue playing in a mini-player at the bottom right-hand side of the screen. You can move it around the screen to a more appropriate position or even zoom in to the mini player to resize the video.
Home Kit/ Home App: The Control Center now allows quick access to accessories and scenes through automated suggestions. The Home Kit now comes enabled with Adaptive Lighting for Home-Kit enabled lights and accessories through which you can automatically have the color temperature adjusted throughout the day.
Additionally, the Home App includes an on-device Face Recognition, this means that your friends and family will be identified on compatible video doorbells and cameras based on your settings. The Home App and Home-Kit are built to be private and secure so all information stored or shared are end to end encrypted.
The Home screen has become quite amazing, I could even customize the App icons themselves using the Shortcuts App. Basically, you can create a shortcut to any app and replace the standard app icon. Moreover, you can pick a custom image to use as this app icon, making the customization options unimaginable.
Siri
With iOS 14, Siri has gotten a more compact user interface. Instead of a full-screen Siri page, Apple has remodelled Siri to be minimalistic and simple, making it appear now as a small overlay over the app you're using.
Translation Languages: Siri now supports over 65 language pairs for translation making it the backbone of the Translate App. You will be able to send audio messages, send an ETA and get directions. Siri also supports broader questions and will search the web for relevant answers.
Expanded Knowledge: Apple claims that Siri has never been more cleaver and is apparently 20 times smarter than it was 3 years ago. Check out our "iOS 14 – What You Need to Know" for all the details.
In fact, Siri has gotten so smart that it can answer a lot of complex questions and pull information from all over the web. Siri is also now equipped with the ability to send audio messages and perform keyboard dictation, which ensures more privacy.
Apple Translation App includes a conversation mode that can be accessed when you rotate your phone to the landscape mode. Here unlike Google Translate, the app auto-detects the variety of languages spoken simultaneously or within a conversation and allocated them to their respective sides of the screen.
The Translate App comes with an Attention mode which enlarges the translated text making it easier to read if you have to show the translated phrase to someone.
The latest iOS 14 update comes with a new feature called Siri Suggestions. This is separate from the smart stack feature. It uses on-device intelligence to recommend and surface suggested actions based on your usage.
I personally found it quite eerie. However, it is sort of useful. What it basically does is shortcut your access through the Siri widget App. For example, If you use the weather app ever morning at 8 Am, Siri will start pushing that suggestion every morning at the same time.
Messages
iOS 14 comes with multiple useful features in the Messages App, many of which are beneficial for group chats. You're now able to customize group chats with Memojis, Animojis and Photos.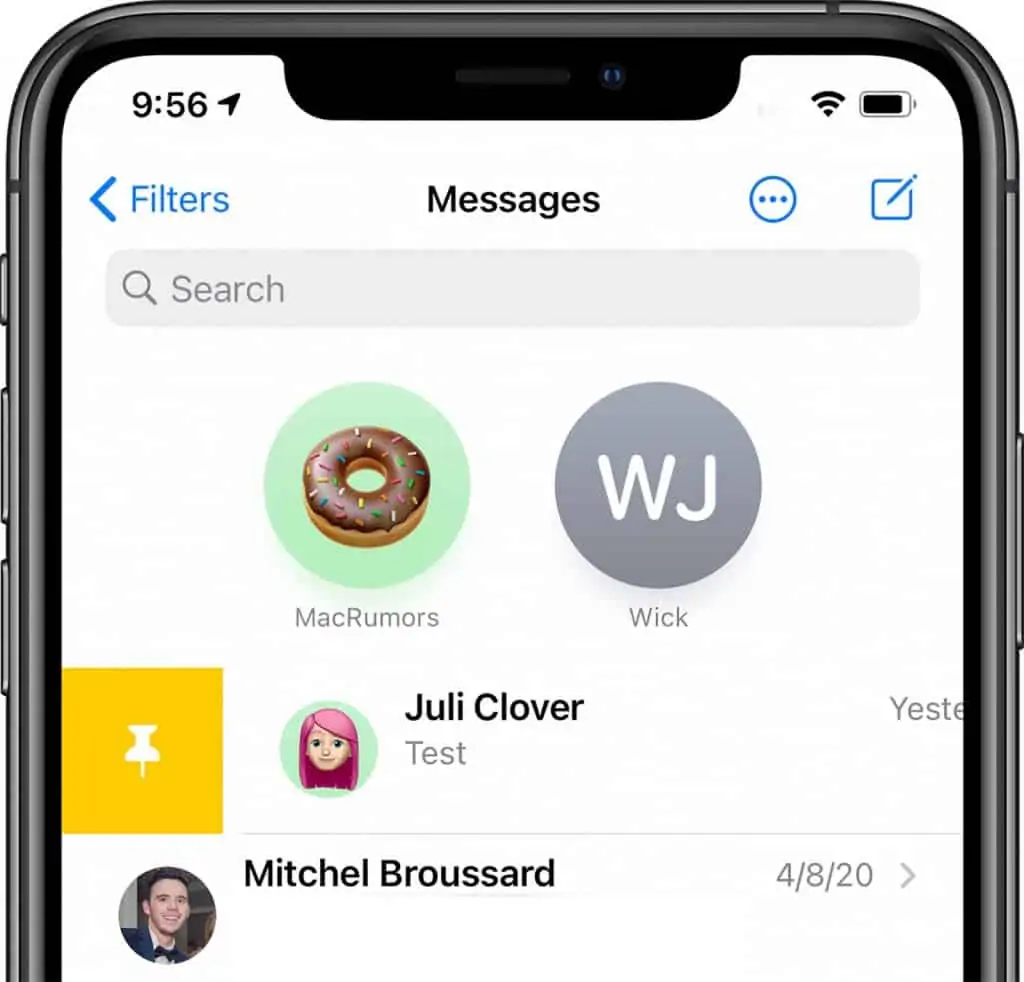 With the Messages App, Apple allows you to choose what you'd like to see, you can pick from Known Senders and Unknown Senders making it easier to segregate messages.
This can be done in instances where you don't wish to see Automated Service messages or messages from people you don't know. This can be accessed by tapping on "Filters" in the Messages list.
Few of the updated features of the Messages App in iOS 14 are:
Pinned Chats: Conversations that are deemed Important can be pinned at the top of the Messages App simply by swiping to the right over the message. In total, Apple suggests that you can pin up to 9 messages.
Inline Replies: You can now reply to a specific message in any conversation. This makes it easier to keep track of specific responses in a group chat.
Mentions: Messages now come with an @mention feature. Simply type '@' followed by the name of the contact in the group you're directing the response/question to in order to gain their attention.
Typing Indicators: iOS 14 allows you to see when someone is typing a message without having to open the conversation in the first place. Check out our "iOS 14 – What You Need to Know" for all the details.
Memoji: Apple stated that their Memojis have been improved and remodelled with new facial and muscle structures, new hairstyles, headwear, face masks and age options. You'd also receive new Memoji stickers for 'Hugs', 'Fist-bumps' & 'Blush'.
Phone Calls
The phone call interface has changed quite a bit with the iOS 14. Unlike previous generations where the phone calls used to take up the who screen, the phone call now shows up as a banner at the top of the display.
You can swipe up to dismiss it or swipe down to see more phone options. On the right side of the banner, you'll find the call and decline buttons. Check out our iOS 14 Review for all the details.
Of course, when the phone is locked you can still the phone call take up the whole screen. It's just that when it's unlocked it much less irritating. Apple has really elevated their UX with the iOS 14. Most importantly it also applies to Facetime and other third party call apps.
Maps
Though there were not many changes made to the Maps Application, Apple surely introduced a handful of features for cyclists and those who own electric vehicles. The updated Maps feature buildings, parks, marinas, beaches, airports, roads and more.
Some notable updates to Maps are:
Cycling Directions: In iOS 14, Maps provide information for cyclists on bike lanes, bike paths and bike-friendly roads. This includes how busy the street is and the elevation at which you're biking. Check out our iOS 14 Review for all the details.
Electric Vehicle Routes: Highlights the directions to the nearest electric charging station and ETA for the charging time. Simply pair the vehicle with your iPhone and Maps will keep track of the current charge along with the type of charger to provide the most appropriate route to the nearest compatible charging station.
Guides: This was introduced in iOS 13 under the name "Collections" to allow people to list out their favourite places or frequently visited places. In iOS 14, 'Guides' can be accessed through the Maps App and Apple has partnered with a number of brands to provide curated guides, specifically designed to assist people to find new places to shop, eat, and visit across the world.
Speed Cameras: With the upgraded Maps App, Apple has embedded a feature that enables you to check the map for speed cameras and red light cameras. The new Maps app will also notify you if you're approaching a speed camera or red light camera.
Safari
With iOS 14, Apple has claimed that its Safari browser will deliver 2x faster JavaScript performance than when you run Chrome on Android. Check out our iOS 14 Review for all the details.
Some significant changes made are:
Translator: The new Safari also comes packed with an in-built translator that can translate websites to Spanish, Chinese, German, French, Russian, Portuguese or simply English.
Privacy Report: Safari also comes with a new feature called Privacy Report. This allows users to understand how websites treat their privacy and selectively decide whether they should surf that website or not.
Password Monitoring: Safari also throws a warning when a password is insecure by monitoring your saved passwords to ensure they have not been compromised in a data breach.
AirPods
You will now be able to switch between devices faster than ever with the new iOS 14. AirPods will receive spatial audio and dynamic head tracking making the user have a movie like experience. Check out our iOS 14 Review for all the details.
Automatic Device Switching: Apple has enhanced the Airpods software so the AirPods and AirPods Pro will be able to switch between your iPhone, iPad, Mac and Apple Watch, this enables a more streamlined audio swapping experience. 
Optimized Battery Charging: Along with the new AirPods features, Apple has implemented 'Optimized Battery Charging' which prolongs the battery life of your AirPods. AirPods that are paired with your iPhone will now provide a notification in case your AirPods battery is running low and has to be charged.
AirPods Pro Motion API: Apple has also developed a Motion API, beneficial for fitness apps and games that allows developers to access rotational rates, user acceleration and orientation for the AirPods Pro. Check out our "iOS 14 – What You Need to Know" for all the details.
Spatial Audio: By applying directional audio filters and subtly adjusting the frequencies each ear receives, spatial audio can place sounds virtually anywhere in space, creating an immersive surround sound experience.
Augmented Reality
Apple confirmed that all devices with an A12 Bionic chip or later will receive support for extended face tracking via the front camera.
With the iOS 14 Apple has included the following:
Location Anchors: This lets you place AR experiences at specific coordinates so that they can be viewed from around the world.
RealityKit: In RealityKit, you will be able to add video textures to any part of a scene or virtual object enabling them to come to life and appear realistic.
ARKit Extended face tracking support: Now more users can partake in AR experiences via the front camera. This is possible for devices with the A12 Bionic chip or later.
Health App
After upgrading a host of Apps and the User Interface, Apple has also managed to revamp the Health App by adding new sleep goals, modes, health checklist and schedules. The new features including the sleep tracking feature will also be introduced in watchOS 7. Check out our iOS 14 Review for all the details.
Customized Sleep Schedule: Now, you're able to set goals for how long you want to sleep each night and create daily schedules for your bedtime and when you wake up.
Sleep Mode: Also known as DND or Do not Disturb, Sleep Mode hides your notifications and also dims the screens display brightness. This can be set to be carried out automatically based on your sleep schedule.
Health Data Types: The Health App now supports new data types for health records, mobility symptoms and ECG. Check out our "iOS 14 – What You Need to Know" for all the details.
Health Checklist: With the revamped Health App, you can manage the health features that matter to you the most. You are permitted to track and manage your health and safety.
Car Keys
With iOS 14, you will not only be able to unlock your car, but you can start it too. You can share keys with family and friends and even revoke access to the keys at any time you like. Some significant changes made to Car Keys are:
Start your Car: You will be able to start your car by placing the paired iPhone on a reader or wireless charger situated in the car.
Unlock your Car: You can unlock your car by tapping the door handle via NFC. Check out our "iOS 14 – What You Need to Know" for all the details.
Share Keys: After adding Car Keys to your Wallet, you will be able to share the same key with friends and family via the Messages App.
Power Reserve: You will be able to unlock your car even when the iPhone battery is dead. Car Keys with iOS 14 allows you to start your car up to 5 hours after your iPhone's battery has drained completely.
CarPlay
CarPlay is going to receive a few updates when iOS 14 is launched. The most notable are:
App Categories: CarPlay now supports third-party EV charging, parking and food ordering apps. This has been made accessible to developers in order to provide the users with a safer, smarter way to utilize their iPhone while sitting in their car. Check out our iOS 14 Review for all the details.
Share ETA via Siri: Being integrated with Siri allows you to share your ETA with friends and family members via the Messages App.
Refreshing UI: Apple has added a Wallpaper feature for the CarPlay Dashboard and Home Screen giving it a fresh new look.
App Clips
An innovative application that is new to iOS 14, App Clips let you use an app for the moment you need it without having to download the full application. Check out our iOS 14 Review for all the details.
For example, if you wish to read a recipe from Drop Recipes, you can get it done in half the time and without the trouble of installing the app. Once you're done using an App Clip, it goes away and is not stored on the iPhone.
Availability: App Clips are not traditional apps and are usable just for those few seconds you need it the most.
Launch: Recent App Clips can be accessed from the Recently Added category in the app Library. Check out our "iOS 14 – What You Need to Know" for more latest stuff
Download the App: You're allowed to download the full application once you've used an App Clip variant of it.
Works with Apple Pay: App Clips will use Apple Pay to complete your transactions without having to enter credit card information.
Family Setup
The Family setup is one of latest additions with the iOS 14 update. It basically let's kids and young adults who don't have an iPhone use an Apple Watch using their family member's iPhone as the device manager/primary device.
Basically, through the family set up a child can use an Apple watch while their parents can track the usage. It's one of the best features that provide parental control.
Not only does this feature allow the parents to keep a track of the child's various fitness activities but it also allows two-way communication such as phone calls and messages. It also offers emergency call options.
This feature helps optimize the Activity app and tailor it to a child. For example, the UI becomes more interactive with emoji's to draw the child's attention and even the information is tailored to the child's reading level.
This feature also allows the parent's to send their child money through the Apple Pay/ Apple Cash Family feature. This feature also allows parents to keep a track of the purchases.
Most importantly, this feature allows teachers/deans to view the child's health-related data. The parent can also set themselves as emergency contact. Information regarding medical issues and even fatal allergies can be added to to the medical ID sub-feature.
The only drawn back as such is that the Watch needs to have LTE. So, you will have to invest in the more expensive Cellular Apple Watch.
Privacy
With iOS 14 Apple has provided the user with control over the data that is being shared making it more transparent on how it's being utilized.
Approximate location: A new privacy setting that allows you to share your approximate location rather than your precise location.
Privacy information and the App Store: Every product page in the App Store has been updated to display the summary of the privacy practices of the respective application. Check out our "iOS 14 – What You Need to Know" for more latest stuff
Limited Photo Library Access: For those applications that request permission to access your Photo Library, you can now select what you want to share or you can choose to share the whole library.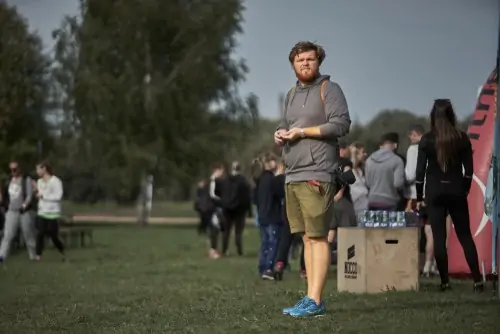 Alan Urban is the Editor-in-chief of Stupid Apple Rumours and often proclaims that he's " Apple's number one fan."
In addition to keeping up with the latest Apple news, he also reviews Apple products and creates user-friendly guides.  When not subjecting Apple Devices to crazy stress tests, he's usually playing games on Apple Arcade