Fancy the idea of using Live Wallpaper on your iPhone? Check out our guide on Live Wallpapers on iPhone. Also, learn how to use Live Wallpapers on iPhone.
Apple debuted Live Wallpaper with the iPhone 6s, and all iPhone customers can now configure this animation effect on their devices. It is crucial to note, however, that even if you set the live wallpaper on both the Home and Lock screens, the animation will only appear on the Lock screen with a solid tap.
To say this feature is popular among iPhone users is an understatement, as many have fully embraced this customization tool that allows them to put a personal touch on the device's home screen. It's also worth noting that you can utilize your live photographs as your Live Wallpaper.
To set live wallpaper on your iPhone, do this, Go to Settings -> Wallpaper – Choose a New Wallpaper – > Live -> Set -> Choose Set Lock Screen or Set Both. You can also third-party apps to set a wallpaper. Read our guide on Live Wallpapers on iPhone to know more.
Related: How to Customize Lock Screen on iPhone
Live Wallpapers on iPhone
Can you Use Live Wallpaper on iPhone XR and iPhone SE?
Although this feature was introduced with the iPhone 6s, it is not available on the iPhone XR. The major reason you might not be able to use this feature on the iPhone XR is that it lacks the 3D Touch capability, which is required for Live wallpapers to work properly.
This is the primary reason why some users have complained that the live photographs they have chosen as their live wallpapers appear as still photos on the iPhone XR or iPhone SE lock screen.
What's the alternate option for these models then?
Users of the iPhone XR and SE can still utilize dynamic wallpapers that simulate motion. The main distinction between dynamic wallpapers and live wallpapers is that dynamic wallpapers cannot be customized.
Follow these simple steps to use dynamic wallpaper on your iPhone XR or iPhone SE.
Step 1 Navigate to Settings > Wallpaper on your device. Select a Choose a New Wallpaper.
Step 2 Select your favorite Live wallpapers by tapping "Dynamic."
Step 3 Press the "Set" button.
Dynamic wallpapers differ from live wallpapers in that they are dynamic graphics that play on a loop and do not require 3D touch to function.
What Are Live Wallpaper and Dynamic Wallpaper, and How Are They Different?
Changing the wallpaper on your iPhone is a simple and fun way to let your phone reflect your personality and hobbies. Both Live Wallpapers and Dynamic Wallpapers add motion to your iPhone's home and lock screens. While both produce eye-catching animations, they are not the same. Here's what distinguishes them:
Live Wallpapers: Until you long-press the screen, these wallpapers appear to be static images. They come to life and begin to move when you do this. Because Live Wallpapers need a long touch on the 3D Touch screen (or models that imitate it in software), they are only available on iPhone 6S and later. Live Wallpaper animations are only available on the Lock screen. Live Wallpapers appear as still graphics on the Home screen.
Dynamic wallpapers: Dynamic wallpapers are more akin to brief video segments that play in a loop. They are functional on both the Home and Lock screens. Because they do not require the 3D Touch screen, they can be used on any iPhone running iOS 7 or later. Unfortunately, as we'll see, you can't readily upload your Dynamic Wallpapers.
Where to Get More Dynamic Wallpaper for iPhone XR and iPhone SE
If you like Dynamic Wallpapers, you might wish to buy some wallpapers other than the ones that come with the iPhone.
If you like Dynamic Wallpapers, I have some bad news for you: you can't add your own (without jailbreaking, at least). Apple does not permit it. If you prefer Live Wallpapers, however, there are other sources of new graphics, including:
Google: If you search for "iPhone live wallpapers" (or related terms), you'll find a plethora of sites giving free downloads.
Apps: The App Store is brimming with apps that offer a plethora of free wallpapers.
What about normal wallpapers? Do iPhone XR and iPhone SE support those?
I know by now you must be sad by seeing one bad news after the other. But the good news is that good old fashion wallpapers are still a thing and still supported by the above models.
A high-quality wallpaper can completely change the appearance of your gadget. If you have an iPhone, I'm sure the restricted wallpaper options are a little disheartening.
There are only a few nice wallpapers to pick from. You can use terms like 'awesome background HD' or 'best 4k wallpaper' to search Google. However, changing their resolution to fit the iPhone wallpaper size is a major undertaking.
You may choose your favorite iPhone backgrounds from a plethora of options thanks to the App Store's abundance of free wallpaper apps. Although the App Store is crowded with possibilities, not every app is worth installing.
3 Best Wallpaper Apps for iPhone: 2022 Edition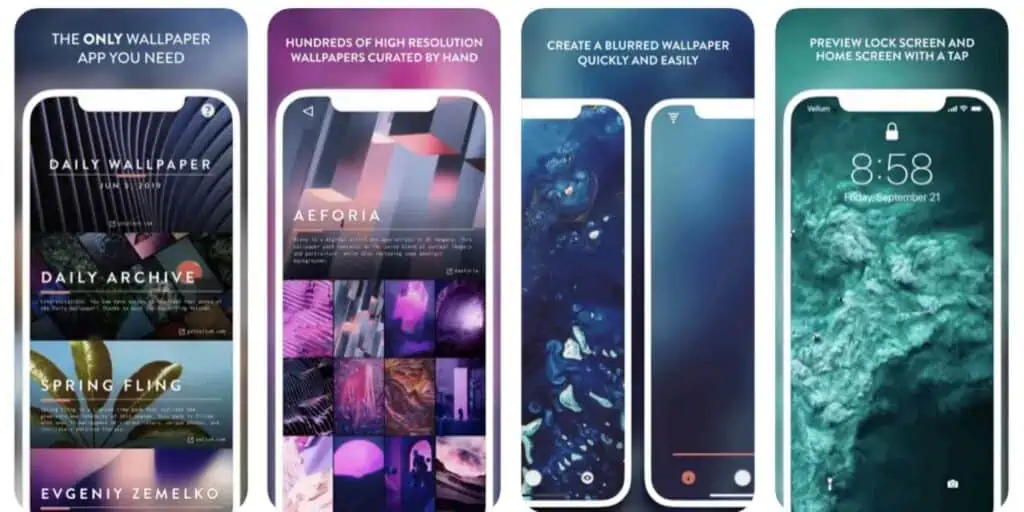 The Vellum Wallpaper app is now only available for the iPhone, but it will be available for Android soon. It not only provides you with a wealth of options for selecting your favorite backdrop but the way wallpapers are displayed in the app is a visual delight.
This wallpaper software contains hundreds of amazing scenic images, visualizations, and more. Daily Wallpaper is a unique and highly recommended feature of the program since a new picture is displayed every day, and it will not let you down.
The features of the Vellum Wallpaper App for iPhone
You can preview wallpapers on the Homescreen and Lock Screen.
Wallpapers can be blurred if desired.
Wallpapers are neatly sorted into several themes for easy access.
The Everpix app is the best if you're looking for interesting iPhone backgrounds in 4K. It now has about 4000 wallpapers in its collection, which is periodically updated.
You can explore the categories and select the desired wallpaper from the available options. All of the photographs in the app are in excellent definition, and you will undoubtedly find some of the best wallpapers for your iPhone X, 11, or newer 12 and 13 series.
Given the high quality and amount of wallpapers offered, the free software offers up infrequent advertising that can be disregarded. The free app's main limitation is that you may only scroll through one wallpaper at a time. This is because the grid view is only available in the premium edition.
The features of the Everpix Wallpaper App for iPhone
Wallpapers that are well-organized. You can even discover which wallpapers are popular in whatever geographical area.
You can save your favorite wallpapers by selecting the 'Favorite' option.
You can preview the wallpapers to see how your iPhone's background and lock screen will look once you apply one.
Kappboom is much more than just an iOS wallpaper app. There are interesting facts, notable quotes, and drink recipes available. With the app's editor, you can create collages and edit photos.
The app has over 200,000 wallpapers, with all iPhone backgrounds in excellent definition. Some of the best wallpaper for iPhone 11, 12, and previous models can be found here.
The features of the Kappboom Wallpaper App for iPhone
The Slideshow feature in the Kappboom Wallpaper App allows you to sit back, view wallpapers, and select the ones you want.
You can use the hold and drag feature to add backdrops to your favorites, locate images with similar tags, and share them with your friends.
The picture search function on Kappboom can be used to look for images online.
Make a collage using the app's provided wallpapers.
Live Wallpapers on iPhone XR and iPhone SE – Conclusion
Hopefully, our post helped you understand why live wallpapers aren't supported on the iPhone XR and iPhone SE. The live wallpapers are compatible with the iPhone 6s, 7, 7 Plus, 8, 8 Plus, X, Xs, Xs Max, Xr, 11, 11 Pro, and after. If you use animated backgrounds on your phone, expect the battery to deplete faster, and animations will not work if your iPhone is in low power mode.
Also Read: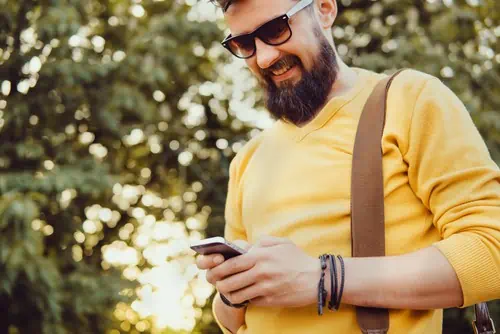 Should I, Do I, How to – these are some of the topics I would love to cover to share what I know about All apple products.