If you're an iPhone user, you know how frustrating it can be when your device starts to experience issues like slow performance, frequent crashes, or simply not functioning as expected.
In such scenarios, restoring your iPhone to its original factory settings can be a quick and effective solution.
The process of restoring an iPhone is simple, but it can be overwhelming, especially for those who are new to the iOS platform.
In this article, StupidAppleRumors will provide you with a comprehensive guide on how to restore your iPhone and give you quick solutions to some of the most common problems that can arise during the process.
Whether you're dealing with a software issue, a hardware malfunction, or just want to give your iPhone a fresh start, we've got you covered. So, buckle up and get ready to learn everything you need to know about restoring your iPhone to its former glory.
The steps to restore your iPhone to factory settings are:
Step 1 — Back up your data to either iCloud or your computer.
Step 2 — Connect your iPhone to your computer and launch iTunes.
Step 3 — Click on the "Restore iPhone" button.
Step 4 — Confirm your action and wait for the process to complete.
Step 5 — Set up your iPhone as a new device or restore from your recent backup.
Does a factory reset delete everything iPhone?
The question of how far a factory reset goes often comes up in this process: does a factory reset delete everything on an iPhone? The answer to whether a factory reset deletes everything is a bit complicated and depends on a few different factors.
First off, it is important to understand what a factory reset actually does. A factory reset removes all data and settings from the device, returning it to its out-of-the-box state. All of your apps, contacts, user preferences, and settings will be removed, and it can take some time to get your device back to a usable form. Unfortunately, the factory reset process does not actually wipe the entire hard drive, meaning that any sensitive information stored on it will still be accessible.
This means that if you want to ensure that a factory reset deletes everything on an iPhone, then you need to use a third-party app specifically designed for such purposes. These apps will provide an extra layer of security, ensuring that any sensitive information stored on the hard drive is completely wiped. Of course, this will mean that you will need to back up anything important beforehand, as it will be lost in the reset process.
The process of deleting everything on an iPhone can be made much easier with the use of iCloud. iCloud is Apple's cloud-based storage system and can act as a backup for all of your data. As long as you have iCloud enabled on your device, then you will be able to access your data even after a factory reset. This is an especially useful feature for those who are concerned about losing data, as it serves as an effective and easy way to back up important information.
How to Restore your iPhone using Different Methods to Factory Settings
Apart from this, there are alternative methods you can restore your iPhone to its factory settings such as using iCloud, a Mac and even Google Drive. Read on to learn these methods in detail.
Method 1 — Restore your iPhone using iCloud
For those who have created an iCloud backup before, you may know how to go about the settings and access the options to restore your backup file.
However, for those who have not created an iCloud backup earlier, you can check out our article on how to backup your iPhone and follow the instructions.
You can start by unlocking your iPhone and opening the Settings App. Tap on your Name at the top of the screen.
From within iCloud select Manage Storage and tap on Backups.
You're now provided with a list of available backup files associated with that iCloud account.
Make sure you have the appropriate backup file in your iCloud account.
Now, head to Settings, tap on General and hit Reset. In the pop-up click on Erase All Content and Settings.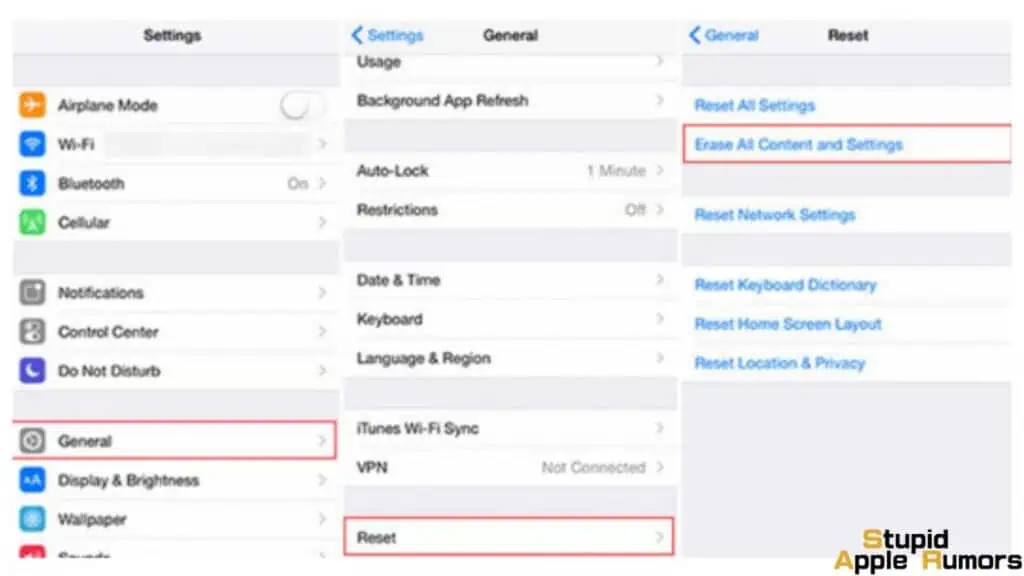 Once the content has been deleted, on the Apps & Data screen you will be able to Restore from iCloud backup.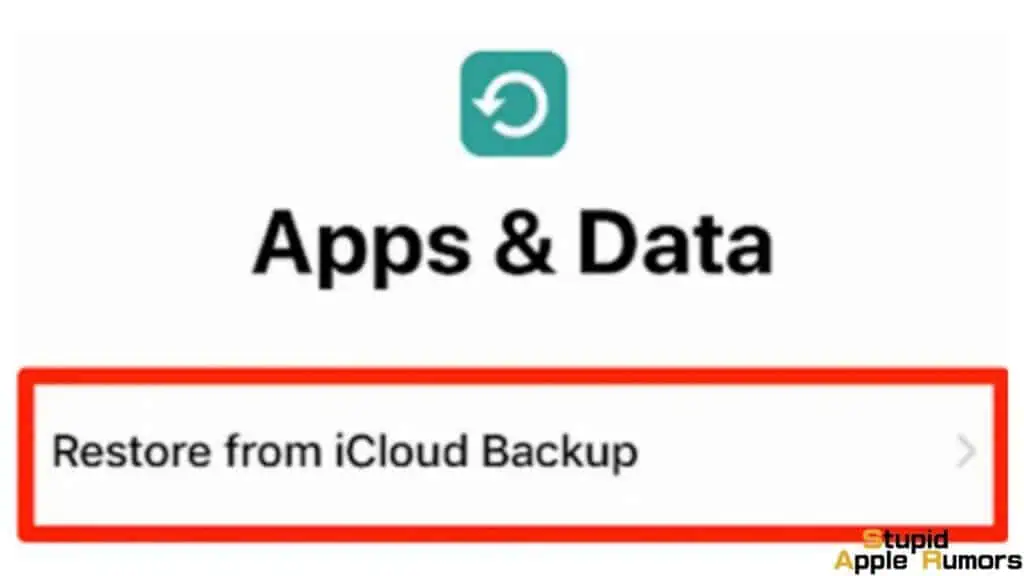 Login to iCloud using your registered Apple ID and proceed to choose your backup file from the list of available backups.
Setting up a new iPhone using an iCloud backup
When you turn on your iPhone for the first time you will be taken through the setup of your new phone.
On the Apps and Data page you're presented with a few methods by which you can restore your iPhone in case you have a backup file saved. Select Restore from iCloud and login to your Apple ID associated with your backed up file.
Select the backup from the available list of backups on iCloud and proceed.
While restoring your iPhone from an iCloud backup all your settings, accounts, applications, books, photographs, contacts, payment receipts, and details will be restored to your iPhone.
You can check to see if your iPhone has been fully restored by
Open the Settings App and tap on your Name at the top of the screen.
Proceed to click on iCloud and then iCloud Backup.
Here you'd be able to see if your device is still being restored. This is depicted by a message on the screen stating "This [device name] is currently being restored and will automatically back up when it is done"
Method 2 — Restore your iPhone using a Mac
You can restore your iPhone from a backup file that was taken on your macOS Catalina 10.15 or later.
This is possible if you have either downloaded your iCloud backup file to your Mac or if you would have taken a backup of your iPhone via your Mac earlier
Start by switching on your Macbook, make sure you're running Catalina 10.15 or higher and open Finder located in the Dock.
Now connect the iPhone to your Macbook via the USB cable and select your iPhone from Locations in the Finder App.
Once you've clicked on the name of your iPhone, on the right half of the screen tap on the tab labeled General and choose Restore iPhone.
Select the backup file from the list of available backups and click on Restore.
You may be asked to key in the Backup file's Password if it was encrypted.
Keep your device connected till the iPhone is restored completely and wait for it to sync with your Macbook.
Your iPhone can be disconnected from the Macbook once the device has finished syncing.
Method 3 — Restore your iPhone using iTunes
It's good to know that an iTunes backup of your iPhone does not include some key files such as:
Downloaded or purchased content from iTunes or the App Store.
Music, Videos, Books and Photos which were synched from iTunes.
Photographs or images stored in your iCloud Library.
Your Touch ID settings.
HealthCare data and Apple Pay details and settings.
However, if you are still keen on restoring your new iPhone with a backup taken on iTunes you can. Find out how to restore your iPhone to factory settings:
Start by launching iTunes on the Mac or PC that was used to create your original iTunes backup.
Proceed to connect your iPhone to the PC using a USB cable and trust your computer in order to complete the remaining steps.
Click on the name of your iPhone located in the left panel of iTunes and then tap on Summary.
On the right half of the screen, under Backups, click on Restore Backup. There may be a chance you will be asked to update your iOS device, proceed with the update to have the iPhone restored.
Choose the backup file from the available list and then click on Restore. Make sure your iPhone remains connected to your PC until the restoration has been completed.
While restoring your iPhone using iTunes, there are a significant number of disadvantages that come with using this method.
Due to the large size of the iPhone backup files, the PC may begin to slow down until the backup has been completed.
Restoring from an iTunes backup has been known to accidentally delete music, videos, photographs and other documents from your iPhone.
iTunes does not support the transfer of other file formats apart from MP3 and MP4.
With very limited options on iTunes, you may or may not be able to view what files are being restored to your iPhone via iTunes.
Method 4 — Restore your iPhone using 3rd Party Services
Restoring your iPhone using third-party services can be a convenient option if you're unable to do so using Apple's official methods. This might be necessary if your device is damaged, lost or stolen, or if you need to transfer data from one iPhone to another.
How to restore your iPhone using Google Drive
While restoring your iPhone via a Google Drive backup, you will not be able to obtain a restoration of everything you thought may have been backed up.
With Google Drive, you can restore your email, contacts, calendar events and reminders, and any notes that were saved.
Your Photos will be restored or can be accessed and downloaded in bulk using Google Photos.
To restore your iPhone from a Google Drive backup:
Start by unlocking your iPhone and go to the Settings App.
Click on Accounts & Passwords and then tap on Add Account. Now select Google from the list of supported accounts.
After logging in with your GMail ID, enable Mail, Contacts, Calendars and Notes to have the data synchronized on your iPhone.
If you're looking to restore your contacts, calendar information, emails, and notes to an Android device, you'd simply have to log in with your Google Account on your Android phone and all the data will be synced to your Android Smartphone.
How to Restore your iPhone using Google One
While Google drive can be useful when it comes to storing files and documents, it won't help back up your contacts, calendar appointments, and similar data. This is why we recommend you download Google's One app from the Apple store and create a backup of this data as well. It's extremely useful for professionals whose entire professional life is on the calendar.
Once, you installed the app. Head to the home screen of the app and select set up data backup. This will bring you to a page where it will specifically as you which content you want to back up.
For example, contacts, calendars, photos, and videos. One of the most convenient features of this app is that it also controls Google Drive. So, you can efficiently store everything you want from this one platform. You also need to decide if you're going to back up the data over a cellular connection or Wi-Fi.
Once, you've chosen the content you need to back up, you'll need to keep the app open as it's going to back up the data to Google's server, if you open another app or if you shut the app, then the backup will pause.
When the backup is completed, you can tap the storage icon at the cotton to reviews how much space has been allocated to the backup. Once, you've confirmed the data and the backup, it's pretty much ready. You can always change the backup settings in the future.
The only unfortunate bit is that there is no broad-scale restore function in the Google App that's available on the Apple store. So, you'll pretty much have to visit the individual service to restore the data.
Restore your iPhone to its Factory Settings
Restoring an iPhone to its factory settings results in all your data getting wiped. This option is a great idea only when your iPhone is not working properly and all initial solutions have failed.
Restoring your iPhone to its original state allows it to start afresh with no bugs or lags and will boot up empty with nothing on except the stock UI.
Factory resetting your iPhone is also the only option you have if there are no backup files on your iCloud, PC/Mac, or alternate cloud service like Google Drive.
To restore your iPhone to the factory settings,
Open the Settings App and tap on General.
Proceed to click on Reset and the Erase All Contents and Settings.
Those who use a type of password protection would be asked to key in the password to confirm the factory reset.
The device will now be restored to its original state and will take you to the iPhones set-up screen.
Follow the instructions to complete the iPhone set-up.
How do you reset your iPhone when the above mentioned methods fail to work?
There are times when the above methods can fail. If it comes to the point where everything you try fails, then you have no choice but to start completely fresh with a new iOS install. While this can help you start on a clean slate and wipe out all the potential errors and issues, the biggest issue is that it empties the iPhone of all its data.
Once you complete the fresh iOS installation, you can choose apps you want to keep on your device. However, you will lose important data like messages, photos, music, app data (Like save game files), health data, and even contacts.
So, we recommend, you back up all of the important data to a cloud service like iCloud, Dropbox, or OneDrive. Of course, you can also physically store it on a computer drive. However, we recommend you stick to the cloud service as it can help you retrieve data easily and seamlessly.
If you want to save your health app data or messages, then you'll need to get a third-party app like health data Importer. This app can help with exporting and importing health app backups.
Only after you've finished backing up everything necessary do we recommend that you install a fresh iOS on your iPhone. To do this is rather simple. Follow the steps to reset the iPhone and choose the option to Set Up as New Phone.
Why do you need to restore your iPhone?
There are times when your iPhone can act finicky and mess with you. These issues are a serious pain as your initial steps to fix it won't work. So, restarting won't work and you won't be able to salvage those important photos and videos.
The only option is to head to the Apple Store to fix it. Unfortunately, they would recommend a factory reset which would essentially obliterate your photos, videos, and other important files. So, it becomes critical to back your phone up before resetting it.
Restarting is also extremely beneficial when trying to get rid of other bugs that can make an iPhone go haywire. For example, if you've downloaded a file filled with malware or if you've unintentionally downloaded a shady application. It's better that you wipe the slate clean before using it.
Most importantly, you will need to reset your iPhone if you're planning on selling your device or even if you planning on gifting it. Erasing all the data at a fundamental level will ensure that the next user won't have access to your private files, photos, videos, and other important files.
After all, it better to be safe than sorry as this could lead to identity theft and even blackmail. So, you should always ensure to backup your data and then factory reset it before giving the device to another user.
How to restore an iPhone using recovery mode?
There are a few scenarios that can prevent an iPhone from getting restored and they can vary from issues such as the white screen of death or the computer can not recognize the device when it's connected.
Luckily, there's one final option available before having to take it to the Apple Center and that's to put the device in recovery mode and then trying to restore it once again.
To do this, you will need to ensure that your Mac is running on the latest macOS and iTunes will need to be the latest version of the software. When your system meets the criteria, follow these steps:
Switch on your Mac

For Catalina or later open Finder
For Mojave or earlier open the latest version of iTunes
Make sure the iPhone is powered down and then connect it to the system via the USB cable
Follow the steps below to enter recovery mode

iPhone 8 and above or iPhone SE 2 – Press and release the volume up, press and release the volume down, press and hold the side button
iPhone 7 and 7 Plus – Press and hold the top and volume buttons until the recovery screen appears
iPhone 6s and earlier – Press and hold the home and side button at the same time till the recovery screen appears
Wait for the device to get recognized on the computer and you will receive an error message stating "There is a problem with the iPhone that requires it to be updated or restored"
Wait for the device to restore and then proceed to set up the device or go ahead and restore a saved backup
Conclusion
Restoring your iPhone is the first thing you should do if your iPhone is lagging or if you have upgraded your smartphone to a newer model. The only way to have a file to restore from is if a backup was done in the first place.
These easy steps on how to restore your iPhone will save you some time and are quite straightforward.
Those who are looking to only restore contacts, calendar events and or are opting for a partial restoration of their iPhone information can go in for the Google Drive method while those who have taken a backup earlier with iTunes, on a Mac, or by using iCloud will gain complete access to their saved data including applications and other downloaded files.
What happens if you restore your iPhone?
While restoring your iPhone from a backup, all the data which was previously stored on a backup file will be downloaded on your iPhone.
This can include, downloaded applications, songs, videos, calendar information, photographs, contacts, payment details, and other information. Check out our guide on How to Restore your iPhone for more details.
Is it safe to restore my iPhone?
It is normally a great idea to restore your iPhone if you're planning on transferring it to someone else or if your iPhone is experiencing a lag of sorts making it slow.
Wiping your iPhone clean will get rid of all your data including your files and photos. This even removes any bugs or software glitches in your iPhone. Check out our guide on How to Restore your iPhone for more details.
Does restoring an iPhone from backup delete everything?
Yes, restoring from a backup will wipe all your iPhones current content and replace it with what's in the backup file. Check out our guide on How to Restore your iPhone for more details.
Also Read: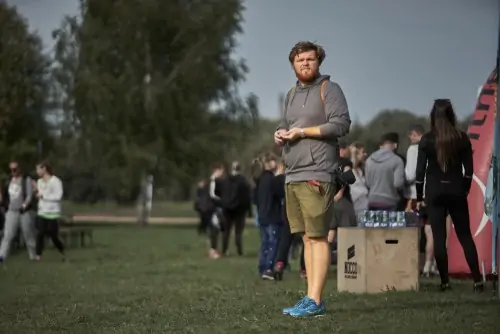 Alan Urban is the Editor-in-chief of Stupid Apple Rumours and often proclaims that he's " Apple's number one fan."
In addition to keeping up with the latest Apple news, he also reviews Apple products and creates user-friendly guides.  When not subjecting Apple Devices to crazy stress tests, he's usually playing games on Apple Arcade