Facing issues with the volume on your iPhone? Learn How to fix iPhone Volume keeps Going Down in this guide.
iPhones are some of the most complete smartphones you can get. Vivid displays, excellent performance, versatile cameras, and more. iPhone speakers are often overlooked by many but they are among the best in smartphones.
While the hardware and speaker quality of iPhones are unrivaled, they still have some issues on the software side. Many iPhone users have complained that their iPhone speakers increase and decrease the volume automatically.
If you are someone who is facing this issue, then you are at the right place. We will explain the cause of this problem and how to fix it in this article. Check out our how to fix iPhone Volume keeps Going Down guide.
Related: How to Fix Low or No Audio when Recording Videos on iPhone
How to fix iPhone Volume keeps Going Down
Why Does My Volume Keep Going Down on iPhone?
Before checking out how to fix iPhone Volume keeps Going Down, check out what causes the issue. This way you will know how to troubleshoot and fix the issue easily in the future.
Here are some reasons why your iPhone's volume keeps going down,
Temporary iOS glitches or bugs.
Your iPhone case or cover might be too tight and press the volume down button.
Bluetooth devices nearby could cause issues.
Software issue.
Hardware damage.
How to fix iPhone Volume keeps Going Down
Remove the iPhone Case
If you own a cheap case for your iPhone, then chances are that it is a poor-quality one too. A bad iPhone case could be too tight and this can cause it to put pressure on your volume buttons.
If this is the case, then your iPhone might automatically lower or increase the volume. The only way to know and fix this issue is to remove your iPhone case and use it for a while.
Now see if there is a chance in the volume of your iPhone. If not then the problem was with the case and I would advise you to get a new one.
However, if your iPhone volume still increases or decreases when not in a case then the issue should be something else, so read on to know other fixes.
Restart Your iPhone
If the cause is a temporary software glitch, then fixing it should be easy. All you need to do is restart your iPhone. So try restarting your iPhone and see if the issue gets fixed for you. If not you can check out our other fixes.
Unplug headphones
If you are using a headphone, then it's possible that the issue is with your headphone rather than your iPhone. So for example, if you are using headphones and they have volume controls, then there is a chance that they can automatically increase or decrease.
If this is the case then try unplugging your earphones. If your iPhone still changes volume automatically then check the other fixes for 'how to fix iPhone Volume keeps Going Down' below.
Turn off Change with Buttons on iPhone
Sometimes the cause for this issue can be a faulty volume button. So if you suspect that your iPhone volume button is broken then you can change a setting so that your volume button has no control over your iPhone's volume.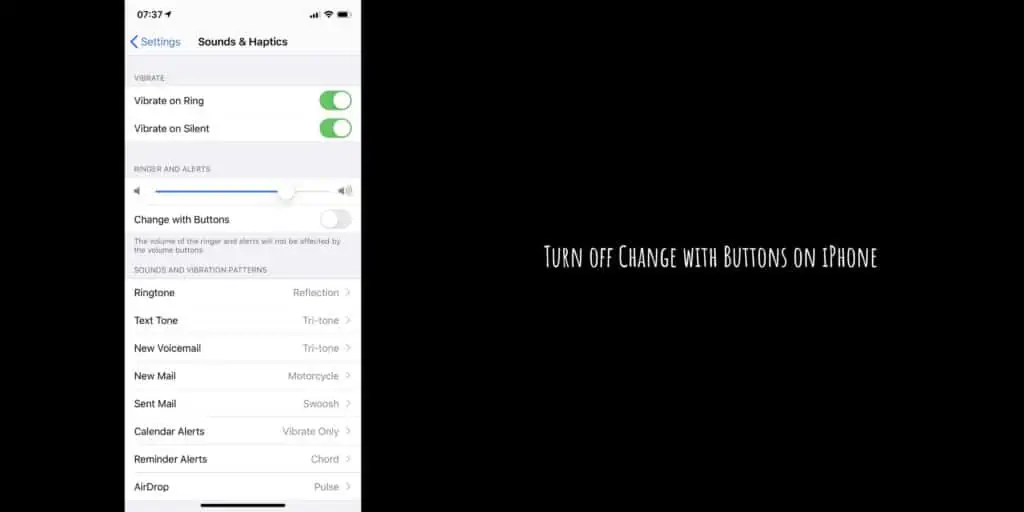 To do this, follow these steps,
Step 1 Open the Settings app on your iPhone.
Step 2 Go to Sounds & Haptics.
Step 3 Now turn off the toggle next to Change with Buttons.
Doing this will make your volume rocker inactive, so if you have a faulty volume rocker on your iPhone, this can be a temporary fix till you get them fixed.
Turn off Bluetooth
Many users reported that being connected to Bluetooth devices, especially speakers and earphones was causing automatic changes in iPhone volume. So, you can try disconnecting any Bluetooth devices and check if it fixes the issue.
If the Bluetooth device was the problem then you may need to get it fixed. In any case, to turn off Bluetooth, do the following,
Step 1 Open the Settings app on your iPhone.
Step 2 Tap on Bluetooth.
Step 3 Turn off the toggle here to disable Bluetooth.
Alternatively, you can turn off Bluetooth by going to the Control Center.
Disable Attention Aware Features
If you own a recent iPhone that has Face ID, then the problem might be due to Attention Aware features. Users have noted that disabling Attention Aware can fix the iPhone volume keeps going down issue.
So to disable Attention Aware features, follow these steps,
Step 1 Open the Settings app on your iPhone.
Step 2 Now, select Face ID & Passcode.
Step 3 Now switch off Attention Aware Features.
This should have fixed the problem, if not move on to the next fix.
Disable Reduce Loud Sounds
The automatic volume reduction may possibly be a result of the iPhone's Reduce Loud Sounds feature. You are more likely to have this problem if you are using Bluetooth headphones.
When a loud sound is detected, your headphones will automatically reduce the level if Reduce Loud Sounds are enabled. Setting a maximum volume threshold is one of the major features of this tool.
Go to Settings, then Sounds & Haptics, and select Headphone Safety from the Headphone Audio section.
Force Restart Your iPhone
Force restarting is a good fix to random software bugs like the loudness issue on your iPhone. You can force restart your iPhone by following these steps,
iPhone 8 and later: Press and hold the volume up, volume down, and power buttons at the same time until you see the Apple logo.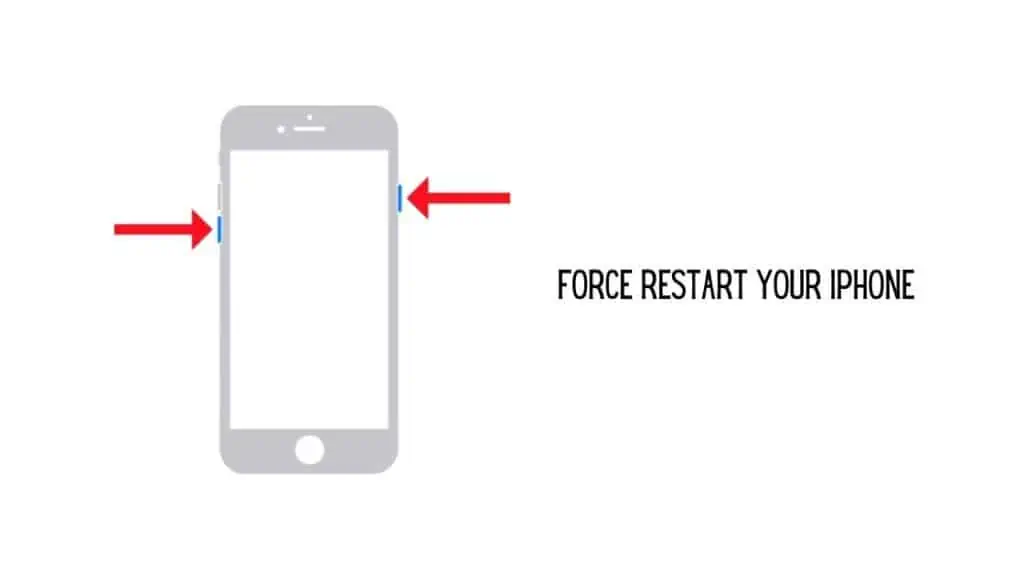 iPhone 7: Press and hold the volume down and the side button at the same time until the Apple logo appears.
iPhone 6s and earlier: Hold down the Home and Side buttons at the same time until the Apple logo appears.
Update iOS
Sometimes running the latest software will fix all your issues. So make sure that your iPhone is running the latest version of iOS. To update your iPhone, follow these steps,
Step 1 Open the Settings app on your iPhone
Step 2 Tap on General.
Step 3 Tap on Software Update.
Step 4 Your iPhone will check for updates and if an update is available, tap on Download to install it.
Close All the Background Running Apps
If the volume of your iPhone fluctuates automatically, this might be due to background running programs on your device. To fix this, you must close all background applications on your phone.
Follow these instructions to close background apps:
For recent iPhone models, iPhone X, and later, you can remove your app history by heading to the Home Screen and then swiping up from the bottom of your screen to open recent apps. Then, press and hold the middle of your screen for a few seconds to delete all background programs.
If you have an older iPhone, series 8 or earlier, then double-tap the home button on your device to bring up recent apps. Then, close the apps by swiping left or right. You can also close running apps by swiping up on the preview apps screen.
Reset All Settings
If all these above fixes haven't worked, then give one final try by Resetting all Settings on your iPhone. This will not delete any data on your iPhone, but it will clear all your settings to default. To Reset All Settings, follow these steps,
Step 1 Open the Settings app on your iPhone.
Step 2 Tap on General.
Step 3 Scroll down and tap on Reset.
Step 4 Now select the Reset All Settings option.
Step 5 Confirm.
Once this is done, check if your iPhone works as intended, if not you can try a full reset too. But make sure to back up all your data before attempting to reset to factory settings.
Contact Apple Support
Sometimes the issue may be hardware, like a faulty volume rocker or speakers. If that's the case then you will have to contact Apple Support for help.
You can contact an Apple customer service representative and ask them to assist you. Or you can also visit an Apple Store and ask them to fix your phone. They will fix any hardware issue and might charge if your iPhone is out of warranty.
You can also use Apple's Online Chat feature. Go to Apple's official website and from the menu bar, tap on Support. Select the device with which you're having issues. Here, you can contact a live chat expert to chat and get your issues resolved.
How Do I Change the Volume On My iPhone?
Volume on your iPhone is usually controlled using the volume rockers on the side. But you can disable them, so what to do then? You can adjust the volume of your iPhone without using the volume buttons by using,
The Control Center when your iPhone is locked.
In the Settings app, under Sounds & Haptics, you can adjust volume levels.
You can also put your iPhone on silent using the Control Center. Just tap on the Do Not Disturb icon (moon icon).
You can put your iPhone on Ringer or Silent modes using the switch on the side.
You can also adjust volume levels by asking Siri to increase or decrease volume.
How to fix iPhone Volume keeps Going Down – Conclusion
And that's all, this is our guide on how to fix iPhone volume keeps going down issue. We have listed out all the potential solutions, so do try them all before taking your iPhone to an Apple Store.
We hope this article on how to fix iPhone volume keeps going down was helpful to you.
Also Read:
A hardcore Apple fan with a collection of
All series of Airpods
All series of fake airpods from China
All series of Apple watches
One Macbook Pro
One iPhone 13 Pro, one iPhone XR, one iPhone 7