Planning on getting some AirTags to keep a track of your things? Check out our entire guide on How do AirTags work? How to Setup AirTags for all the details.
How many times have you misplaced your keys and struggled to find them? And how many times has this made you stressed cause you were on your way out and couldn't find your keys? And this same problem could be backpacks, purses, and more.
Apple has come up with a solution to this, and it is its take on similar smart tags already available in the market like Tile. AirTags are one of the newest additions to Apple's product lineup and while it seems insignificant thanks to its size and price, it is one of the most useful products for people who have a lot on their heads.
I am someone who loses stuff all the time and Apple's AirTags feel like they were specifically designed for me. So as soon as they went on sale I got a few AirTags for myself and I have been testing them. So for anyone who needs a guide on how to use AirTags, this is the right place. Read on to know how AirTags work and how to use them.
After having reviewed all of Apple's official documents and having referred to our credible sources; my team and I found that:
AirTags are extremely different from other types of GPS trackers. AirTags come with a proprietary U1 chip that connects to Apple's Bluetooth and NFC network to pinpoint the location of the AirTag. All the user has to do is sync their tag to their phone and then stick to the object they want to track.
Also Check out: Is Apple coming out with an AirTag 2?
How do AirTags work? How to Setup AirTags
AirTags are small, disc-shaped devices that can be used to track the location of your belongings. They do not have GPS, but they use Bluetooth to connect to nearby Apple devices in the Find My network.
These devices then send the location of the AirTag to iCloud, where you can see it on a map in the Find My app.
The Find My network is made up of over 1.65 billion Apple devices, so even if your AirTag is far away, there's a good chance that it will be able to connect to another device and send its location back to you.
AirTags also have a built-in speaker, so you can make it play a sound if you're having trouble finding it. And if someone else's AirTag is following you, your iPhone will send you an alert.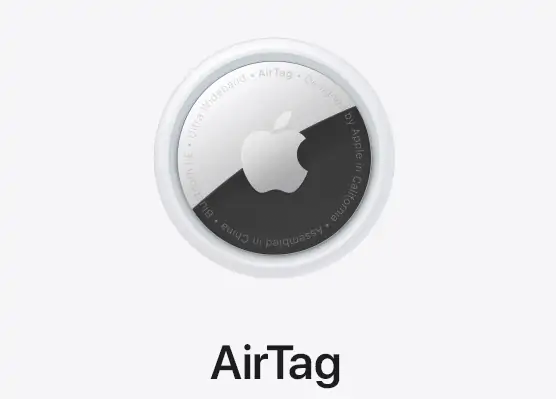 What are AirTags?
AirTags are tiny devices developed by Apple that can be attached to keys, bags, and other objects. These AirTags have Bluetooth and NFC connection and this helps your track the tags and in turn, the objects they are attached to. So if you have misplaced your keys, then you can find the keys using your iPhone or iPad if your keys are attached to an AirTag.
Check out the latest AirTags on Amazon!
How Do AirTags Work
AirTags do not have a GPS chip built-in. While smartphones including iPhones rely on GPS to determine location, AirTags don't.
AirTags instead feature Apple's proprietary U1 chip with ultra-wideband technology to create a network using 1.65 billion Apple devices present all over the world to find the exact location of an AirTag. Check out our entire guide on How do AirTags work? How to Setup AirTags for all the details.
What you need to Setup AirTags
To set up and use AirTags, you'll need these,
An iPhone, iPad, or iPod touch with iOS 14.5 or iPadOS 14.5 or later. Two-factor authentication should be turned on for these devices.
Find My should be turned on for these devices.
Bluetooth should be turned on for these devices.
Good Wi-Fi or cellular connection.
Location Services should be turned on for these devices: Go to Settings, then Privacy, then Location Services.
If you want to use Precision Finding, turn on Location Access for Find My. Go to Settings > Privacy > Location Services, then scroll down and tap on Find My. Tap on While Using the App or While Using the App or Widgets. Then turn on Precise Location.
Which Apple devices Work With AirTags?
If you want to use AirTags, you will need compatible iPhones/iPads to set up and track them. To set up and track an AirTag you will need an iPhone or iPad running iOS 14.5 and iPadOS 14.5 or later.
This means that you can track AirTags with iPhone 6s models and later. However, you need to update them to iOS 14.5 first. To update your iPhone, follow these steps,
Step 1 Open the Settings app on your iPhone.
Step 2 Tap on General.
Step 3 Tap on Software Update.
If you want to use Precision Finding, then will need an iPhone 11 at least. iPhone 11 and later support and use ARKit, accelerometers, and gyroscope to precisely locate AirTags.
How to Set Up AirTags
Setting up an AirTag is fairly simple. You will need an iOS device like an iPhone, iPad, or iPod Touch. And these iOS devices need to be iOS 14.5 or iPadOS 14.5 or later.
Make sure you have two-factor authentication, Bluetooth, and Location Services turned on. You will also need a good internet connection and Find My turned-on on your iOS device. If you want to take advantage of the Precision Finding feature then turn it on inside Location Services.
Now to set up the AirTag follow these steps:
Make sure you have your iPhone or iPad ready for setup
If you have a new AirTad then, remove the wrap around it and pull out the tab to activate its battery. When the battery gets activated, the AirTag will play a sound.
Now hole the AirTag near your iPhone, iPad, or iPod Touch and then tap Connect.
If you have multiple AirTags and see "More than one AirTag detected" then remove all the other AirTags from the vicinity of your setup device. You can connect each AirTag one by one. 
After tapping on Connect, you can select a name for your AirTag from the premade list or you can set a custom name and an emoji for the AirTag. Now tap on continue.
Now register your AirTag with your Apple ID and then tap Continue.
Tap on Done.
You can attach your AirTag to any item you want and you will also see it in the Find My app. You can also use the Find My on your setup device to add AirTags. For this, open the Find My app, tap on the Items tab and then tap on the Add Item option to add your AirTags.
If you can't set up your AirTag
If you are having trouble setting up your AirTag, then do these,
Make sure that your device is ready for setup. Have Bluetooth, Location Services, Find My, and Two-Factor Authentication turned on. The device should be connected to the internet as well.
If the setup animation disappeared, then put your device to sleep by pressing the side/power button. Now, unlock your iPhone, and wait for 15 seconds, the setup animation should reappear.
If you want to set up multiple AirTags, then make sure only one AirTag is near your device at a time.
Try removing and replacing the battery in your AirTag.
If your AirTag still won't connect to your device, reset your AirTag.
How to Change the Name of your AirTag?
To change the name of your AirTag on your iPhone or iPad, follow these steps,
Open the Find My app, and then tap on the Items tab.
Tap the AirTag that you want to change the name to.
Scroll down and tap Rename Item.
You can select a name from the list or set a custom name.
Once you have chosen the name or set a custom one, you can tap one done.
How Do I Find My AirTag?
AirTags are all about finding lost stuff, so how do you do this? To find a misplaced or lost AirTag, open the Find My app on your Apple device, you will see the AirTag's location on the map here.
You can also play a sound from the AirTag using the Find My app which will help you find the AirTag much more easily. If you have iPhone 11 or 12 then you can use Precision Finding, this feature will guide you via on-screen directions to the AirTag.
If for some reason, you can't find the AirTag then you can use the Lost Mods option in the Find My app. What this does is it'll display a custom message to any user that finds the AirTag. You can set a custom message from your Find My app.
You can provide contact details in the message so that hopefully, the person if he/she is a good one will get in touch with you. This feature will work on any nearby device that has NFC enabled, this includes Android users too.
Do AirTags Use My Location?
Yes, you need to share your Location to use AirTags. Without this, you won't be able to use the Find My feature of the AirTagf. So make that you have Location Services and Find My turned on. Follow these steps to turn on Location Services and Find My,
Step 1 Open the Settings app on your device.
Step 2 Tap on Privacy.
Step 3 Now, tap on Location Services.
Step 4 Switch on Location Services.
Step 5 Now, scroll down and then tap on Find My and set it to While Using the App.
Supported Phones for AirTags
Only compatible iPhones, iPads, and iPod Touch's can identify the location of an AirTag or an AirTag equipped item. To track an AirTag, the device you are using should be running iOS 14.5 or later on your iPhone and iPadOS 14.5 or later on your iPad.
This means that iPhone 6s, iPhone SE (1st generation), and up can track AirTags when updated to iOS 14.5. You can update your old iPhones or iPads by going to Setting > General > Software Update.
To use the Precision Finding feature, which guides you to the AirTag using onscreen instructions, you need an iPhone 11 or 12. This is because these models can use cameras, ARKit, accelerometer, and gyroscope, all at the same time that will offer a more "directionally aware finding experience," according to Apple.
How to Remove Paired AirTags
Apple AirTags get registered to the Apple ID of the user during the setup process, this means that only the same user can remove an AirTag from the device. To remove the AirTag from a paired device, open the Find My app, tap on the Items tab and select your AirTag from the list. Now tap on Remove Item to unpair it and now the same AirTag can be used by someone else.
So if your AirTag is stolen or lost, then the other person who stole it or found it can,t link their device to it, making the AirTag personal only to you.
How much do AirTags cost and where can I buy one?
AirTags are not expensive and fall in the same price category as other trackers like Tile and Samsung Tag.
AirTags start at $29 for a single one, while a pack of four Airtags can be brought for $99 in the US. In the UK, this translates to £29 or £99 respectively and AU$45 and AU$149 in Australia.
You can purchase AirTags from Apple, Amazon, or Best Buy. You can also purchase accessories like keychains, holders, loops, and more to secure your AirTag to backpacks, keys, etc. You can get these from Apple, Amazon, and Best Buy as well.
When you purchase from Apple, you can even get your AirTag engraved.
What is Separation Alerts and How to Activate it?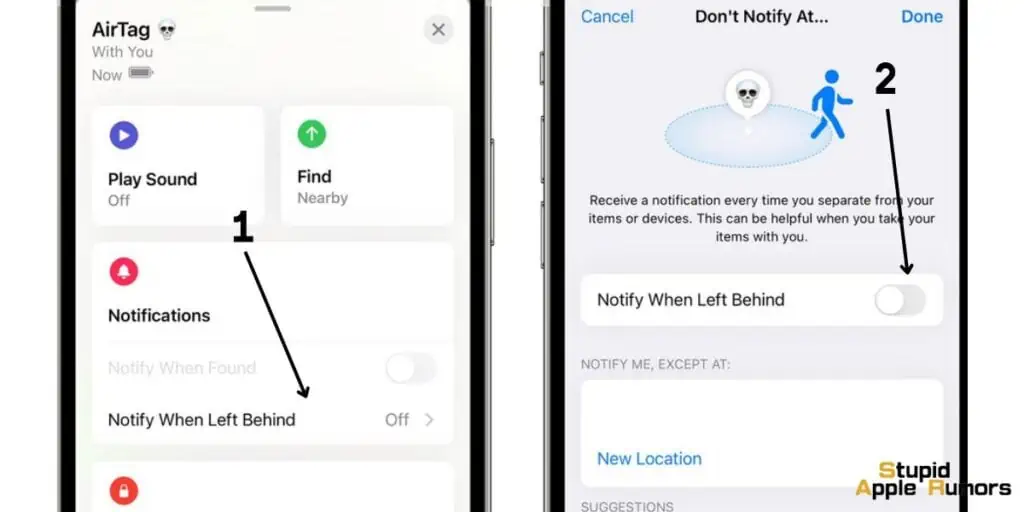 Apple added separation alerts to the Find My app post the launch of iOS 15 and this feature updates you when you leave behind any device attached to an AirTag.
To activate this feature, you will be able to from within the Find My app on your iPhone.
Launch the Find My app and then tap on the Devices or Items
Select the device you want to enable separation alerts for and then tap on Notify when Left Behind
Under New location define the radius or area in the input field and choose small, medium or large from the available options and then tap on Done
Now whenever you leave behind a device that's connected to your AirTag you will receive an alert informing you that you've left your device behind.
Battery Life and How to Replace the Battery of an AirTag
AirTags are tiny devices, and they come included with a CR2032 battery. Apple claims that this will allow the AirTags to last for up to a year.
So what to do once an AirTag runs out of battery? You can easily replace it with another CR2032 battery. To replace the battery, press, and twist on the back panel of the AirTag, this will pop it off and you can replace the battery with a new one.
If your AirTag is low on battery then you'll get a notification on the paired device that the battery needs to be replaced. AirTags can't be charged, you can only replace the battery in them.
Why do AirTags make a Noise?
When an AirTag is separated from its owner for a prolonged period of time it will begin making a noise to alert those who are nearby.
If you've come across an AirTag you can return it to its rightful owner by
Tap and hold the top of your iPhone to the while side of the AirTag
Click on the notification that appears on the device and then proceed to the webpage which will show you key information about the device
Since there's an option for the owner to mark the AirTag as lost, there will be a message available on the webpage which will include the contact information of the owner.
You can then contact the owner and let them know that you've found their AirTag and figure out a way to have it returned to them.
Can you use your iPhone to find an unknown AirTag?
Yes, in November last year, Apple released two firmware updates, labeled 2.0.24 and 2.0.36.
These updates enable iPhone users to employ Precision Finding to locate an unfamiliar AirTag that may be in close proximity.
Users also have the capability to trigger the AirTag to emit a sound, aiding in its retrieval. This update was introduced to address concerns regarding the potential misuse of AirTags for tracking individuals.
Important Note: For this functionality to operate, the iPhone being utilized must be an iPhone 11 or a newer model. This requirement stems from the necessity for the iPhone to possess Apple's specialized U1 chip, which facilitates Ultra Wideband technology, an integral component for Precision Finding.
What are some Apple AirTag alternatives?
If you thin that the Apple AirTag might not be the right device for you then there are alternatives available in the market that you can choose from. Here are four that are as good as the Apple AirTag.
Tile: Tile is one of the most popular item trackers on the market. It has a wide range of features, including a long battery life, a loud ring, and an international network of Bluetooth trackers. Tile also offers a subscription service that includes features like geofencing and stolen item alerts.
Chipolo: Chipolo is another popular item tracker that is known for its affordable price and simple design. It has a shorter battery life than Tile, but it still offers the essential features you need to track your belongings.
Samsung Galaxy SmartTag: The Samsung Galaxy SmartTag is a good option for Android users. It has a long battery life and a built-in speaker. It also works with the SmartThings Find network, which is similar to Apple's Find My network.
Tracki: Tracki is a GPS tracker that offers more accurate location tracking than Bluetooth trackers. However, it is also more expensive and requires a monthly subscription fee.
| Feature | Tile | Chipolo | Samsung Galaxy SmartTag | Tracki |
| --- | --- | --- | --- | --- |
| Price | Starting at $29.99 | Starting at $24.99 | Starting at $29.99 | Starting at $29.99 |
| Battery life | Up to 1 year | Up to 1 year | Up to 300 days | Up to 1 year |
| Range | Up to 400 feet | Up to 200 feet | Up to 120 feet | Up to 100 feet |
| Features | Loud ring, geofencing, stolen item alerts, subscription service | Loud ring, subscription service | Built-in speaker, SmartThings Find network | GPS tracking, geofencing, stolen item alerts, subscription service |
How do AirTags work? How to Setup AirTags – Final Thoughts
AirTags may not be the most innovative Apple product ever, but they are one of the most well-thought-out products from Apple. AirTags are simple, tiny trackers that can be attached to items so that you can find these items when you lose them.
The above article is a guide on how to use these excellent little trackers. Get them if you are someone constantly misplacing things and have a hard time finding them back. These tiny trackers will make your life a lot easier and reduce the stress related to losing keys and purses.
How do AirTags work? How to Setup AirTags – FAQs
Is AirTags Compatible With Android Devices?
As with most Apple products, Apple has locked the AirTags into their ecosystem. Android devices can't register an AirTag with their device, so you will need an iPhone, iPad, or iPod Touch to use an AirTag for your belongings. Android users with NFC can connect to lost AirTags and help the real owner and their belongings though. 
How Far can AirTags be tracked?
While Apple hasn't provided any specific details of the maximum range of AirTags, we can assume that AirTags can be tracked from as far as 100 meters because that's the maximum Bluetooth range. You can experiment with this though and sure interference with objects around you will affect the range. 
Is AirTags Water Resistant?
Apple AirTags features an IP67 rating. This means that AirTags can be submerged in water for up to 1 meter in depth and 30 minutes. So yes, AirTags are water-resistant and they will easily survive rains and spills. Check out our entire guide on How do AirTags work? How to Setup AirTags for all the details.
Can I Share AirTags Via Family Sharing?
Family Sharing lets you add up to five family members to share content and services like purchases from iTunes, App Store, iCloud storage, and more. You can also share your location allowing family members to find devices that you have misplaced or lost. 
However, this doesn't work with AirTags. You can not use Family Sharing to find your AirTag from a shared device. Only the Apple ID that was used to set up AirTags can track it. 
Do AirTags work with Android Devices?
Nope, Android devices cant be used to set up AirTags but the NFC functionality allows Android phones to connect with AirTags. Using this Android users can get in touch with the AirTag owner to return it. Check our How do AirTags work? How to Setup AirTags guide for all the details.
What can I get engraved on my AirTag? 
Apple lets you engrave your AirTag for free when you purchase from them. You can engrave letters, numbers, and emojis. You can choose up to four characters for engraving. You can even see a preview of the engraving to know what it will look like. 
Also Read: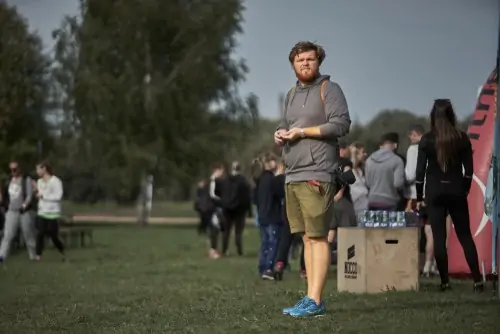 Alan Urban is the Editor-in-chief of Stupid Apple Rumours and often proclaims that he's " Apple's number one fan."
In addition to keeping up with the latest Apple news, he also reviews Apple products and creates user-friendly guides.  When not subjecting Apple Devices to crazy stress tests, he's usually playing games on Apple Arcade