Are you a video editing enthusiast? then check out our list of the Best Video Editing Software for Mac that let you show all your skills.
Being passionate about content creation and video making, I have tried a lot of software for video editing on Macs. And of course, some of the poorer software programs have plagued my learning process.
Different video editing software programs are aimed at different purposes, some are more suited for films, some for YouTube videos, and some for social media. Check out our list of the Best Video Editing Software for Mac.
There are a lot of poorly made video editing software out there, which can make you a bad video editor. So, I have compiled a list of the best software you can use to edit videos on your Apple device.
Every software on this list does something better than the others. These are all excellent and you should choose based on what you need from them.
After having reviewed almost all video editing software for Macs based on purpose, effectiveness, features, functions, and price; My team and I zeroed in on 9 that really stand out.
Related: Best Animation Software for Mac
Which Mac is Best for Video Editing?
While you can edit videos comfortably on all Mac's out there, the ones that render faster and process videos smoother are those running on the M1 and M2 processors.
Apple's Silicon processors are by far the most powerful and efficient processors Apple has released till date and ever since they entered the market last year, Macs running on these processors have easily become the fastest out there for video editing.
This year, Apple took it a notch higher when they released the Mac Studio with the faster M1 Ultra processor.
However, though all M1 and M2 Silicon Macs support video editors, not all video editing software are compatible with the M1 or M2 Macs and would work only on Apple's older Intel based MacBooks.
So, technically all Macs support video editing, the overall processing capabilities and speed is better in the new Mac's with the M1 or M2 processor and thanks to Apple's Rosetta feature in macOS, now most of the video editing software that are compatible only with Intel based processors can run on Silicon Macs as well.
What is the easiest video editing software for Mac?
The easiest video editing software for a Mac is iMovie. This entry-level video editing software comes with simple features and a UI that's extremely easy to navigate. It also offers quality functions that pave the way for the more complex and professional Final Cut Pro.
Best Video Editing Software for Mac
The best video editing software for a Mac is the Apple Final Cut Pro. When it comes to the UI it is the absolute best. It offers third-party workflow extensions that allow you to customize your workflow experience. It allows the user to edit 360-degree videos, HDR content, multi-camera editing, graphics, and effects for versatility.
These 9 were further put through a series of tests to determine the best. We found that: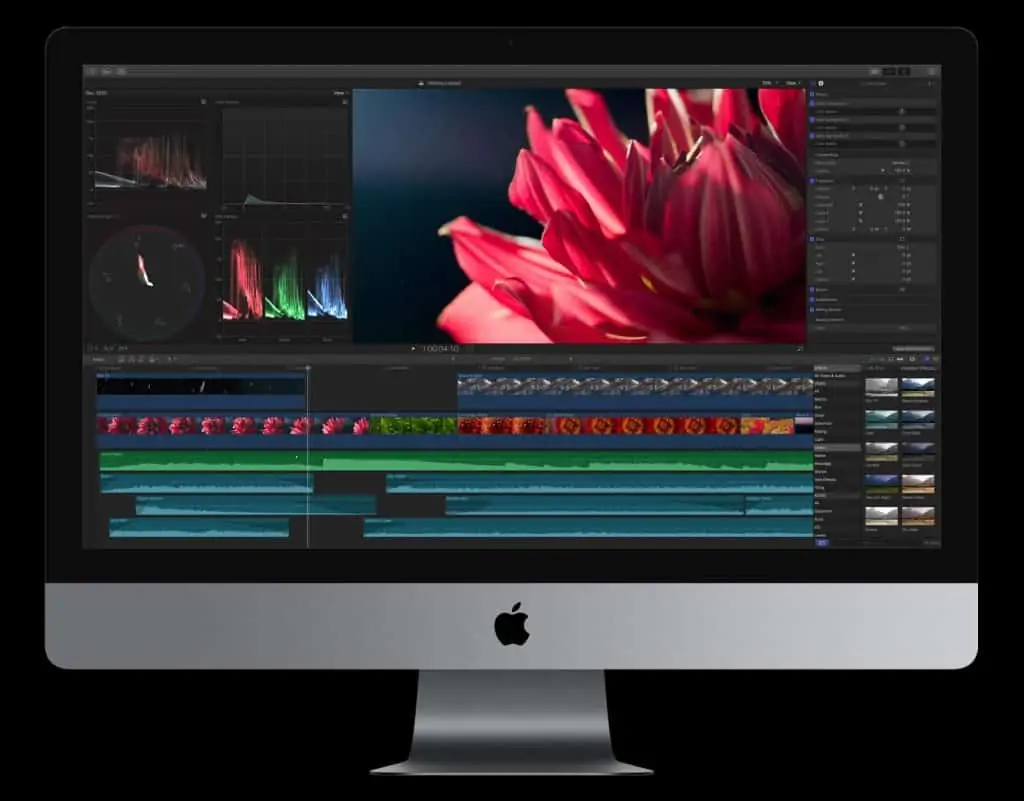 The best video editor for Macs and only Macs. Created by Apple, it has been perfected to edit video. It pushes the limits of what you can do with your Mac for video editing. It is one of the Best Video Editing Software for Mac.
Features
Well suited for professionals for video editing and media organization
Third-party workflow extensions allow you to customize your workflow experience.
A multi-track timeline helps you to edit multiple media files easily.
You can edit 360-degree videos, HDR content, multi-camera editing, graphics, and effects for versatility.
Apple offers a free trial for you to check before paying for the software.
Pros
Reasonable price.
A lot of interesting tools like ratings, tagging, and auto analysis for faces and scenes.
A wide library of plugins.
Easy color correction, grading, and adjustment tools.
Well optimized for Macs.
Sleek, modern, and responsive UI, with nice workflow features.
iPad sidecar and MacBook Touch Bar support.
Cons
Large projects can be slow to render.
No stabilization or Motion Tracking.
No search for dialogue importing.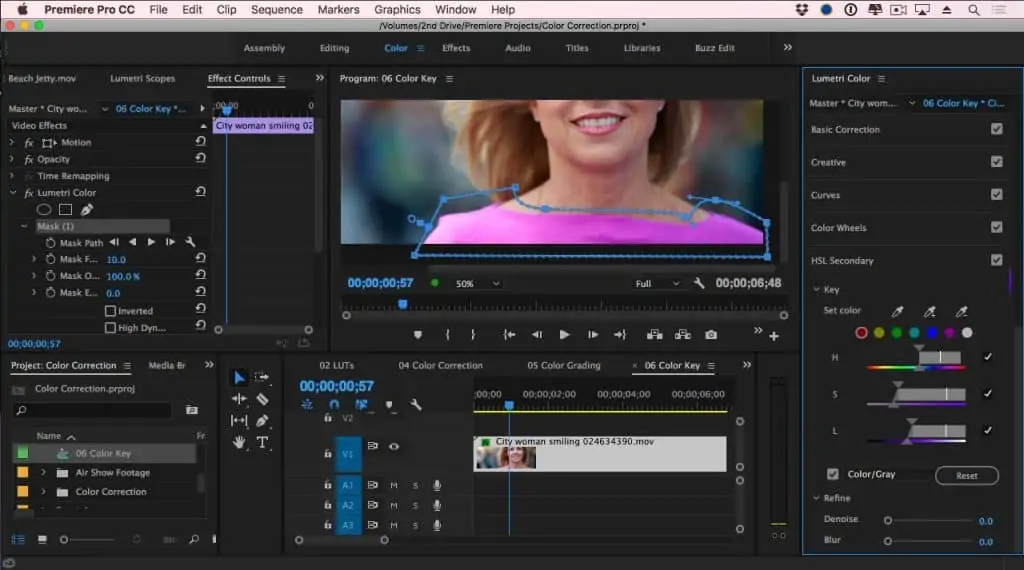 The most popular creative software suite comes with the most popular video editing software, Adobe Premiere Pro CC. This is best suited for professionals.
Features
Can edit all video types, with support for 3D, 8K, VR, and higher resolution support too.
Can handle audio tracks, Graphics, lighting, and color grading.
If you have other software from Adobe Creative Cloud, you can use them all in tandem for greater functionality.
7 Days Free trial can help you choose.
Customizable Keyboard shortcuts
A lot of useful updates over time.
Pros
Great user interface but can be hard for beginners.
A lot of tools to streamline your workflow
Unlimited Multi-Camera Rendering
Fast Rendering Speed
Other Adobe Creative Cloud Apps
Amazing Video Stabilization
Great for students and professionals.
Cons
A lot of updates, though good, can introduce bugs and cause a headache
Can be slower on Macs compared to Windows users
Some techniques require you to use other Adobe Apps
Expensive
Created by BlackMagic Design, this is a powerful and free video editing software, with some of the best color grading and audio editing tools. It is used by filmmakers all over the world. It is one of the Best Video Editing Software for Mac 2021.
Features
Can use it completely free
Offers Editing, Visual Effects, Motion Graphics
Some of the best tools for color correction and post-processing for audio
The paid version gives you multiuser collaboration and 3D tools
Uses Fairlight studio for audio, a powerful tool allowing you to use up to 1000 channels simultaneously
Pros
8K video editing for free.
High quality with a lot of features.
Completely free except for multi-user collaborations.
A lot of functionality and organization tools.
Best Color correction in the industry.
Powerful post-production for audio.
Output to any format.
Good for multiuser collaboration.
Cons
Not as robust as Adobe's or Apple's offerings.
More suited for finishing footage.
Hard to use.
Lightworks is a lightweight yet powerful software. It may not be as intuitive as others on the list but if you are familiar with it, it is one of the best video editors you can get out there.
Features
Suited for professional editing
Powerful and fast
Manage audio, titles, and tweak visuals
Upgrade to pro after trying the free software
Support for almost any format
Direct output to YouTube and Vimeo
Pros
Free to Use, with some features locked
Support for many formats and codecs
Many effects and tools
4K support
Audio Mixing
60 FPS rendering
Customizable UI
Cons
Poor, outdated UI
Hard to learn and master
The free version is locked to 720p output and only certain formats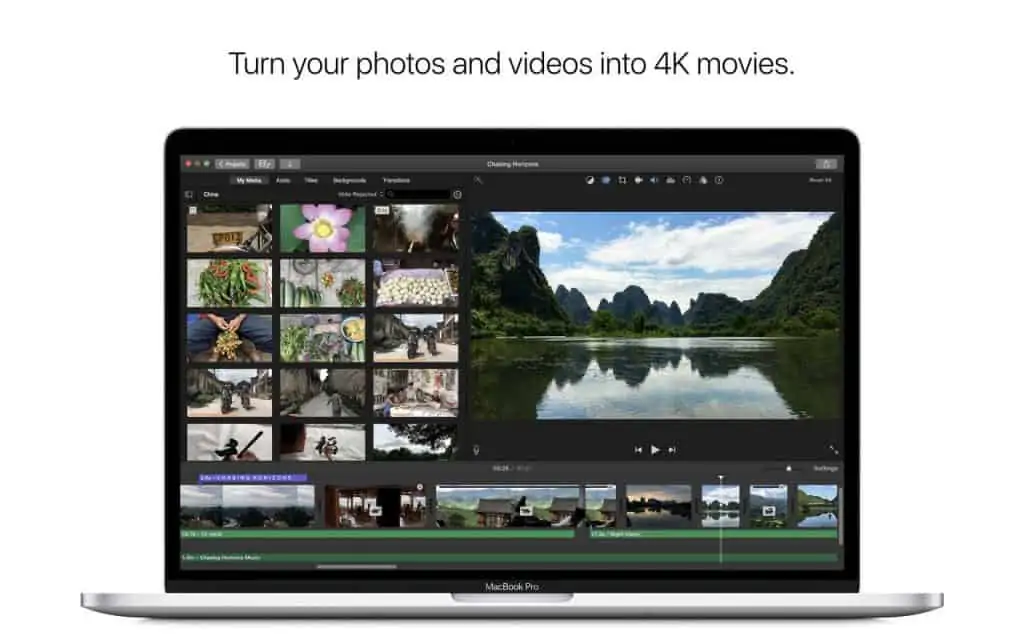 The free video editor from Apple is an amazing starting point for any budding video editor. It paves way for the more professional and robust Final Cut Pro.
Features
Free offering from Apple
Classic Themes, Chroma-Keying, Audio Tools
Simple, neat Interface
Support for iOS devices too
Pros
A nice starting point for beginners
Easy to use, beautiful interface
Includes video filters, special effects, and picture in picture mode.
4K supported
Lots of audio tools
Color matching and movie templates
Support for Touch Bar on MacBook
Cons
Some useful features missing
No multicamera or motion tracking
No support for tagging
No 360-degree video or VR editing
If you want tons of effects and graphics on your videos, HitFilm might be your best bet. It has amazing visual effects and audio syncing support to create some outstanding end products.
Features
HitFilm Pro is a powerful, feature-rich editor with a free version (HitFilm Express)
Audio syncing is a nice feature
Effects and presets for smooth workflow
Very good support for 2D and 3D graphics compositing
Offers over 180 visual effects
Has good support for different import formats
Pros
Good Color grading
Large Variety of effects and presets
Impressive 3D graphics and compositing
A vast library of tools and plugins
Good Community support
Cons
Hard for beginners and high learning curve
Focuses on effects more
A lot of features are locked on the free version
Hard to run on your Mac
Downloading is a chore
Blender is a creation suite software that focuses on Animation and 3D modeling but has a nifty video editor too. It is great for making animated videos and you can use a lot of tools to enhance your work.
Features
Blender is a fully free and open source
3D creation suite software with video editor built-in
Includes Modelling, rigging, Animation, simulation, compositing
Motion tracking and game creation
Useful for newbies
Pros
Blender is more than just a video editor, it's a creative suite
Support for animation, compositing, and modeling
Varied set of features
Excellent community
Completely free to download and use
Lots of tools to enhance your content
Add texts and effects easily
Cons
Not the best video editor
More focused on animation and 3D modeling
No audio editing
Lacks features and is not complex enough for professional-grade video editing
One of the cheapest video editing software is also one of the most beautiful ones. It is good for beginners to dip their shoes into video editing.
Features
Filmora supports up to 4K video editing
It has an easy to use, and beautiful interface
Tons of useful effects and overlays to choose from
Free trial available (with watermarks)
Pros
Beautiful, Pleasant Interface
Cheaper than most
Lots of cool effects
Good for organizing clips
Good for beginners
Cons
Cutter modes allow only one clip at a time
No search bar for effects
No VR, 360-degree, motion tracking, or Multicamera editing
Basic, lacks functionality
A two-in-one package that lets you screen record and edit videos. Camtasia allows you to make professional-level explainer/presentation videos.
Features
You can use this as both a screen recorder and video editor
Camtasia offers a 30-day trial with a paid version available
You can split, trim, speed up or slow down clips
Useful for presentation, tutorial, and explainer videos.
Pros
Free trial to check if it suits you
Excellent screen recorder
Easy to use for beginners
Cons
Not feature rich like others
Basic, very limited functionality
Suited for beginner-level editing only
Best Video Editing Software for Mac – Takeaway
Macs are powerful devices with the ability to edit videos at professional standards. The above software is some of the best for professionals and beginners alike. If you are a casual video editor, pick one from the latter half.
Professional video editors or students who want to be professionals can use any of the more robust offerings from the first half of the list. Check for your file compatibility and the features you need and get the best one for yourself. You can't go wrong with any of these as long as you choose them for your needs.
How to Choose The Best Video Editing Software for Mac
Good video editing software is rare. Not only should it be user-friendly but it should also contain the latest video formats like HEVC. Additionally, both amateurs and professionals should be able to benefit from the software.
However, the most important factor is that the best video editing software for Mac should always be a one-stop program. You don't want to be using multiple apps for various aspects of the video editing process.
So, please do refer to the guide below to understand the most important factors that you need to consider when investing in a video editing software program for Mac.
Color Grading and LUTs
Although these terms might seem like Latin to a beginner, it's important to know these factors are essential and can make or break a film. Although these features were usually found only in professional software programs, they are now available in consumer-level video editing software programs.
Color grading helps give detail, quality, and life to the video. It comes with color wheels that follow color theory, color curves, and histograms that give the user exceptional control over their videos. You can easily control every shade in each frame if you have to.
LUT (Look Up Table) is a supportive feature that can turbocharge your color grading and color correcting. It can help you add "moods' to your video in the form of colors. For example, it can add a Noir theme without you having to individually change each frame.
Motion Features
Features that make your vision a reality are indispensable. Especially when you are in a visual field. So, video editing software with multi-cam editing and motion control features is extremely useful and can save considerable time and money.
Also Read: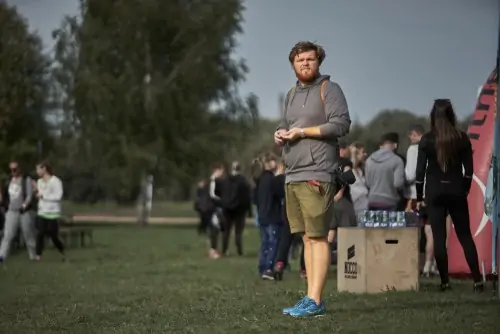 Alan Urban is the Editor-in-chief of Stupid Apple Rumours and often proclaims that he's " Apple's number one fan."
In addition to keeping up with the latest Apple news, he also reviews Apple products and creates user-friendly guides.  When not subjecting Apple Devices to crazy stress tests, he's usually playing games on Apple Arcade