Looking for a convenient way to store physical documents? Check out our list of the Best iOS App for Scanning Documents!
A few years back, document scanning required huge machines that were specialized to do it. But now with the power of smartphone cameras, you are carrying a scanner in your pockets. You can scan and send any physical document you want using your mobile device.
Taking a photo from your iOS device is technically scanning a document but some specialized apps offer much more in terms of functionality that you can miss.
I have used some of these apps and they make work a lot easier thanks to features like OCR, multi-device support, and the ability to export to different formats.
After having reviewed 100 of the best iOS apps for scanning documents based on various factors like UI/UX, store ratings, performance, features, and much more; my team and I zeroed in on 10 that stood out. These 10 were put through a series of tests to determine the best. We found that:
The best iOS App for scanning documents is Microsoft Office Lens. This app can run scan text and images separately making it extremely efficient and accurate. It also has a Whiteboard mode that can remove shadows and glares from the document. Most importantly, Microsoft Office Lens has different scanning modes for different documents.
Related:
Best iOS App for Scanning Documents
Microsoft Office Lens
Another big software development company that makes document scanning apps is Microsoft. Microsoft Office Lens is probably one of the best document scanning apps for iOS devices. Microsoft's almost infinite resources have allowed it to add some cool features that make it stand out. It's one of the Best iOS App for Scanning Documents!
Microsoft Office Lens not only scans documents but can run text recognition and more which will make work easier for many. Microsoft Office Lens after scanning a document separates the text portion from the image portion of the document.
Microsoft Office Lens also has a dedicated Whiteboard Mode which can automatically remove glare and shadow from images. There is also a Business Card mode with which the app extracts contact information like phone number and address and saves it to your address book or OneNote.
Microsoft Office Lens can also make your iOS device into a small Optical Character Recogniser (OCR), which means you can recognize text from a scanned document. It also has image filters, an easy-to-use interface, and scanning modes for different documents. And best of all, it is a completely free application.
Notes
If you aren't keen on downloading an additional app to your iPhone just to scan documents, then you'd be thrilled to know that the built-in Notes on iOS devices doubles as a scanner too. The Notes app on iOS devices can scan documents and it's very good at it too.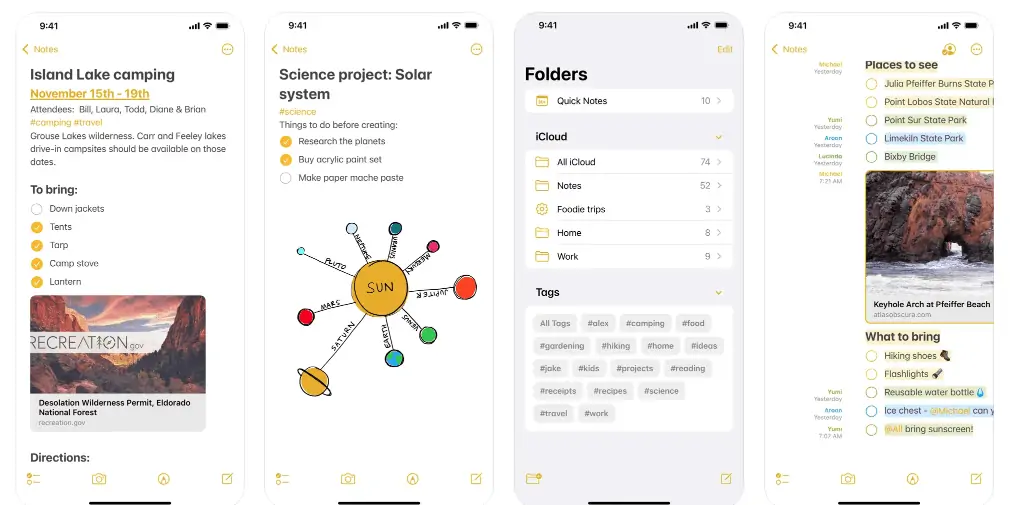 To use this feature on your iOS device, open the Notes app and create a new note. Then tap on the grey "+" button followed by the "Camera" icon. This will provide you with the option to "Scan Documents". You can now take a photo of the document you want to scan and it will get saved in your Notes App.
Additional features include "Markups" using which you can annotate any scanned document. For an in-built scanner on an iOS device, Notes works surprisingly well.
PDF Scanner & Editor
The PDF Scanner & Editor app is by far one of the most popular app on the App store that lets you scan any document from the comfort of your iPhone. The app is free to download and can be used to quickly convert any file or document into easy-to-read PDFs.
PDF Scanner & Editor is currently targeting students and working professionals who need a quick scan on the go and a great thing about this app is that not only does it let you scan and save files as PDF, but you can also choose to save them as a Word doc or a JPG image.
One thing that I loved about the Scanner app is its ability to automatically recognize text and a reason why I've been using this app for all my scanning needs is that it's ale to combine multiple scans into a single PDF file.
By far this is the easiest scanning app i've used and it's one of the few apps that let you scan signatures as well as photographs and have annotations added on the scanned file before it's converted into PDF or JPG.
Abbyy FineReader PDF
If versatility is what you are expecting from a document scanning app for your iOS device, then it doesn't get better than Abbyy FineReader PDF. It supports 12 file formats, 193 languages, and multiple platforms.
Abbyy FineReader PDF is a document scanner/OCR that can scan and recognize texts in 193 languages. It is compatible with Android and iOS devices so you can access it on any smartphone. The app can also scan handwritten documents and recognize text from them.
With Abbyy FineReader PDF, you can save scanned documents in 12 formats including DOCX, PDF, TXT, and more. And it will preserve the original format after conversion, which is a very convenient feature. You can also add annotations, signatures, and notes to text.
The iOS version of the software has a feature called BookScan with which you can digitize books easily. And once you have scanned a document, you can share it straight from the app using email or through cloud storage lockers like Dropbox, iCloud Drive, Evernote, and more.
Abbyy FineReader is one of the best document scanning apps for iOS devices and it is free to download and use. It offers in-app purchases for some features and extra storage options.
QuickScan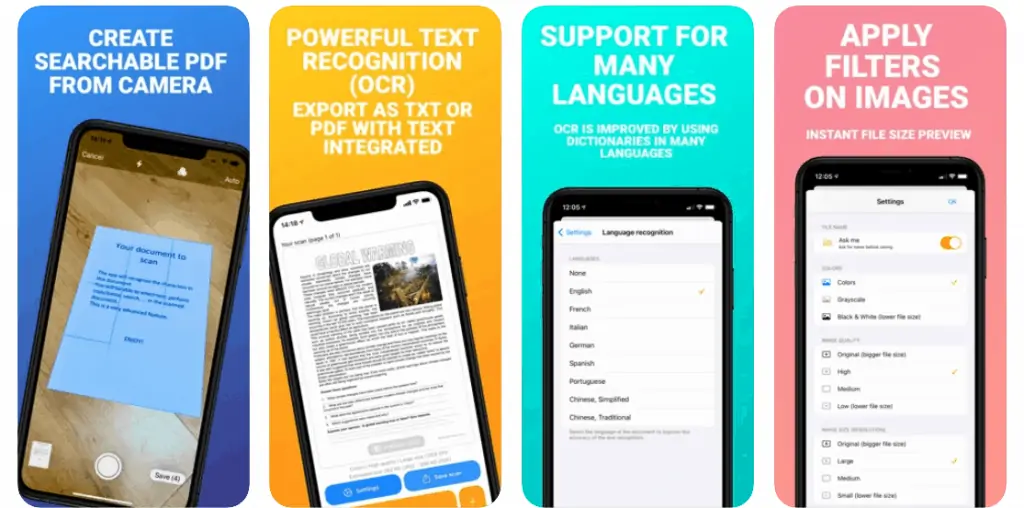 Similar to Microsoft Office Lens, QuickScan is a completely free app for iOS devices that doesn't have ads, locked features, or any sort of data collection policy. QuickScan is developed by a solo developer over the course of the lockdown. It is aimed to help students that can't spend money on paid scanning apps.
Even though QuickScan is free and developed by a single person, it works like a charm and can give all the paid apps on this list a run for their money. QuickScan can scan documents that can be saved to PDF, TXT, and other popular formats.
QuickScan also features a built-in OCR which can recognize and convert scanned documents to texts. And the developer is constantly adding features making the app better over time. Some new features include the integration of shortcuts to the app icon so you can scan without even opening the app and edge detection to make it more convenient to use.
For a completely free app, QuickScan offers a lot and is one of the best document scanning apps for iOS devices.
FineReader
FineReader is a free-to-use scanning app that I can use in tandem with AI to scan any document and text with utter precision.
The app saves scanned files in JPG or PDF and there's a password protection feature that locks sensitive files and will prevent anyone from opening them without a password.
Not only does FineReader work with AI, it's also integrated with different cloud services such as iCloud, Dropbox and even Google Drive, so files can be stored on the cloud and accessed from anywhere.
One thing I personally like about the FineReader app is that it's one of the few apps that can be accessed and operated with Siri Shortcuts.
Adobe Scan
Adobe has tons of software that are aimed at productivity, sometimes I am surprised to learn about a new Adobe app I didn't know existed. Adobe Scan was one such app and I was pleasantly surprised to discover it. It is a free scanning app for mobile devices like iPhones and iPads, that is easy to use and has integration with other Adobe software.
Adobe Scan is great as you can scan any document and save it directly as a PDF, which is one of the most widely used formats for documents. All you have to do is open the app on your iOS device and the app will use your phone's camera to catch a copy of any document and save it in PDF format.
Adobe Scan includes a preview feature with which you can optimize dimensions, crop, rotate or even edit color based on your needs. Its integration with other apps is probably its biggest advantage over other Adobe apps like Adobe Acrobat and Adobe Fill & Sign. So you can scan, format, edit, annotate, sign and work with other Adobe users at the same time, all of which are very useful for work.
Adobe Scan is a free-to-download and use but it has some features locked, which you can unlock using a paid subscription.
CamScanner
CamScanner is one of the most popular scanning apps for mobile devices. This is the first scanning app I got to know and use. It is simple and easy to use which you can use to scan documents, invoices, and receipts.
CamScanner offers a few features that make it one of the best scanning apps for iOS devices. It saves your documents into PDF for the best compatibility. These files can then be directly uploaded to cloud services like Google Drive, Dropbox, Evernote, and OneDrive. This allows offices and yourself to access files scanned from anywhere in the world.
CamScanner is primarily targeted at business users, as they can invite colleagues to view and comment on scans. To do this, the invited user should also have a CamScanner account. You also get access to editing features that let you add annotations and watermarks to documents. And for security, you can block documents behind passwords.
CamScanners is a multi-platform scanning app with cloud support and is free to use, but there are premium plans available too. With premium plans, you get access to 10GB of storage, password protection, and more. The premium account also provides better team collaboration features.
Genius Scan
Genius Scan as the name suggests is a scanning app for smartphones that aims to stand out. It does manage to stand out because it is a robust scanning app that includes tons of useful features making it very popular among iOS device users.
Genius Scan's developers claim that it has scanned over half a billion documents and they describe it as a scanner in your pocket. Genius Scan can turn scanned documents into JPG and PDF files. It also has smart page detection, perspective correction, and image enhancement features which are very useful.
Genius Scan can also enhance the legibility of documents so that they are more readable. It also organizes your document with titles, tags, and a search function. You can upload scanned documents to cloud storage platforms and sync them across devices. Genius Scan also supports encryption for your scanned documents using passwords and Touch ID on supported iOS devices.
Genius Scan is free to download and use but some features are locked behind a one-time fee, which is better than most subscriptions. If you are looking for a document scanner for an iOS device with security features, cloud integration, and multi-platform support then give Genius Scan a try.
Apple's Integrated Document Scanner
For those who do not wish to download a third-party app from the App store, you can resort to using the built-in scanner that's available on all iOS devices.
The stock document scanner lets you scan documents and images fast and all you'd need to do is launch iCloud Drive on your iPhone.
To scan directly to iCloud or a local storage drive using your iPhone,
Start by opening the Files app on your iPhone and then click on Browse followed by iCloud Drive
Now tap the blue circle in the upper right corner and then tap on Scan Documents from the pop-up
Take a scan of the document and then resize the scan by adjusting the borders and corners
Proceed to save the file in PDF
You will also be able to scan multiple files and save them as a single PDF with the click of a single button.
Depending on where you'd like the file saved, it will get stored either in iCloud drive or on your iPhone's local storage.
How we tested these scan apps for iOS?
In order to conduct a successful test, we downloaded each app that's on this list and first ran tests on the ease of use, features available and the apps efficiency, all without purchasing any subscription plan.
Next we purchased upgrades for some of the apps and checked what additional features were included and if they offered any bonuses such as file formats, resizing capabilities, adding annotations and more.
We also put each app to the test by checking how well edge detection works and if the app is able to capture every detail of the original document. While checking the edge detection feature we also looked to see whether the app auto focuses and adjusts the brightness and contrast so that what's being scanned is legible and can be read.
Finally, after going through most of these features and functions we checked to see if the apps offer cloud access as well as options to share the scanned file across social media or other channels such as Mail or Messages.
Best iOS App for Scanning Documents – Takeaway
There you have it, the above apps are some of the best apps you can use to scan documents on your smartphone or tablet. They are feature-rich, easy to use and make life a lot easier. You can scan documents, edit them, add annotations, and send them to anyone with these apps.
All apps in this list are free to use with some apps locking features behind subscriptions. But you can try all these apps for yourself and get the one that suits you the most. All the apps are great and you won't be disappointed choosing any of them.
We hope this list of the best iOS app for scanning documents was helpful. Let know us in the comments if you have any favorites.
Also Read: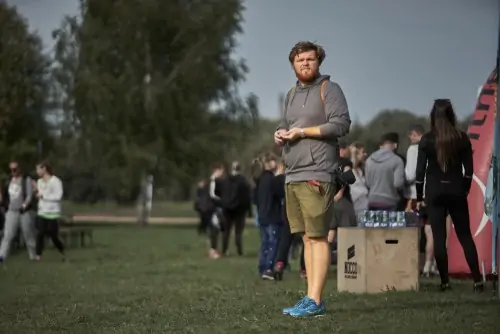 Alan Urban is the Editor-in-chief of Stupid Apple Rumours and often proclaims that he's " Apple's number one fan."
In addition to keeping up with the latest Apple news, he also reviews Apple products and creates user-friendly guides.  When not subjecting Apple Devices to crazy stress tests, he's usually playing games on Apple Arcade