Looking for Apps to help your Buy or even learn about Dogecoin? Check out our list of the Best iOS App for Dogecoin.
With cryptocurrencies on the rise, people might have a hard time figuring which one to invest in. While I am no professional cryptocurrency trader, I like to dwell on the subject now and then. 
With cryptocurrencies like Bitcoin, Ethereum, and Litecoin making the news all the time, Dogecoin has been slowly increasing in value. So I studied deeper about Dogecoin and how to invest in it. Fun fact, Dogecoin started as a meme, but now it is doing pretty well as a cryptocurrency. 
Related: Best iOS App to Buy Cryptocurrency
To invest you'll need apps/brokerages that deal with Dogecoin. In this article, I will be listing some of the best apps for iOS devices that you can use to buy, sell and even learn about Dogecoin. Here's our list of the Best iOS App for Dogecoin.
After having reviewed the best iOS apps for Dogecoin on various factors like UI/UX, features, price and much more; my team and I zeroed in on 7 that stood out. These 7 apps were put through a series of stress tests to determine the best. We found that:
The best iOS app for Dogecoin is Kraken. In addition to futures trading, margin trading, staking rewards and over-the-counter (OTC) trading, this app also comes with various educational resources to help the user make an informed decision. Other Dogecoin, Kraken lets your trade other Cryptocurrencies as well.
Related: Best iOS App for Audiobooks
Best iOS App for Dogecoin
Best iOS App for Dogecoin
Kraken
Kraken is one of the best iOS apps if you want to trade Dogecoin. Kraken offers features like futures trading (contracts that allow you to buy and sell assets in the future), margin trading, staking rewards (interest rewards for holding crypto assets over a while), over-the-counter (OTC) trading, and more. It is one of the Best iOS App for Dogecoin.
All the above features may sound very technical and throw off beginners but, Kraken offers several educational resources so that people wanting to learn will benefit.
Kraken is also diverse in the fact that you can invest in over 60 cryptocurrencies, not just Dogecoin. So if you ever plan to ex[pand your cryptocurrency portfolio, then Kraken offers you that choice too. There are also multiple apps, Kraken, Kraken Pro, and Kraken Futures (Kraken Futures is not available in the US yet).
The Kraken app is available for free on the App Store and it requires iOS 13.0 or later to run. 
Related: 7 Best iOS App For Drawing
Binance
Binance is an excellent app for iOS users if you want to trade in over 50 plus cryptocurrencies, this includes Dogecoin. The best part of using Binance is its low fees compared to most other exchanges and apps. Binance also offers a slew of other features that many experienced cryptocurrency traders would love.
Binance has features like trading options for institutional clients, OTC trading, staking rewards, and more. Binance also offers crypto trading pairs (trading pairs consist of two assets that can be traded for one another). For example, Dogecoin trading pairs from Binance are DOGE/USD and DOGE/USDT.
Binance requires you to have 10$ to get started. Binance is also very cheap as you will have to pay only 0.1% or 0.5% depending on how fast you want your trade to get executed. Binance is restricted in certain regions so make sure to check if the app will work in your region.
Binance is available for download from the App Store. It is free and requires your device to run iOS 13.0 or newer. 
Related: 6 Best iOS App for Scanning Documents
eToro
eToro is probably the best app for beginners/amateurs who are into trading Dogecoin. The app may not feature support for 50+ cryptocurrencies like some others on this list, but what it does feature is a clean, minimalistic, user-friendly interface that is easy and simple to use.
eToro also comes with educational resources and a community from where you can learn and interact with other users. The community is extremely friendly and welcoming which is great for new users. eToro's most popular feature is its CopyTrader system, especially among beginners to crypto trading.
The CopyTrader system allows users to mimic the strategies of matured crypto traders. New traders can benefit as they can learn and follow the same strategies as well-established traders. 
eToro also offers written investing guides and an eToro Training Academy which includes video tutorials on crypto trading, including videos on Dogecoin. eToro currently supports Dogecoin and 16 other cryptocurrencies.
eToro has some restrictions on certain cities, but apart from that, it is free to download and use. You can get it on the App Store, just make sure your iOS device is running iOS 11.0 or later.
Voyager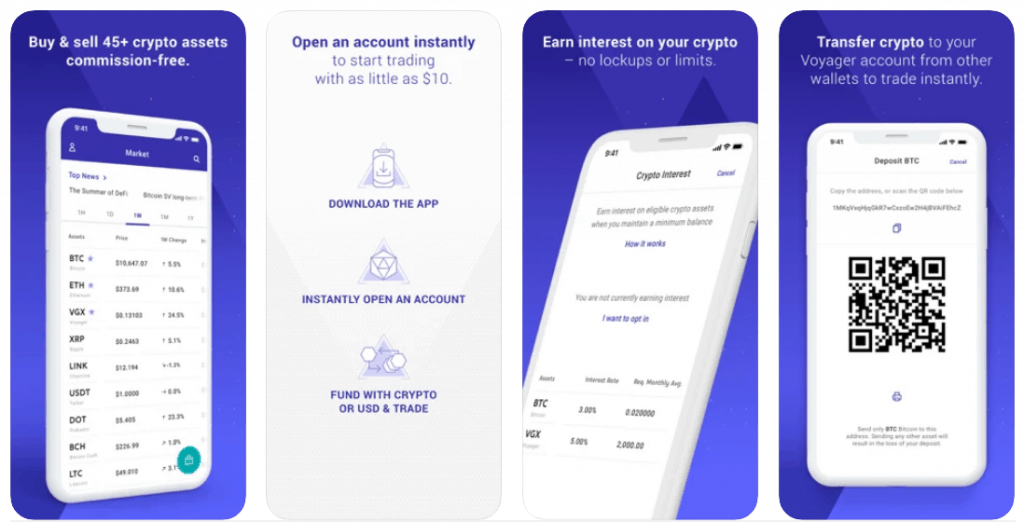 If you are looking for the cheapest trading app for Dogecoin, then Voyager is the one for you. Voyager offers commission-free trading for over 50 cryptocurrencies, including Dogecoin, Bitcoin, Ethrereum, and more. The only requirement is that you need to have a minimum of $10 to trade.
Voyager doesn't just stand out for its commission-free trading option, it has other features that make it stand out too. Voyager offers interest on your crypto savings (up to 10%), FDIC insurance, fraud protection, and more.
The app has a well-designed interface that makes it intuitive to use. The only real downside of Voyager is that it lets you decide when your trade should be executed. Voyager doesn't feature coin-to-coin exchanges either. These are not deal breakers but more of nice to have, maybe Voyager will add these features in the future.
Voyager is one of the best apps you can get for iOS if you want to trade Dogecoin. It is commission-free, easy to use, and supports 50+ cryptocurrencies if you plan on investing other than Dogecoin. The app is free to download on the App Store and requires iOS 11.0 or newer. 
Coinbase
One of the most popular cryptocurrency companies is Coinbase, and they hail from San Francisco, California. Coinbase gives clients the option to trade in multiple cryptocurrencies, including Dogecoin, Bitcoin, Litecoin, and more.
Coinbase allows clients to trade and convert cryptocurrencies to real-world money like dollars and more from the app itself. You can also convert fiat money (government-issued money like dollars) to cryptocurrencies too.
Coinbase is a simple and easy-to-use app, it has a clean, user-friendly interface. The app allows you to link bank accounts and credit cards, making it easy and fast to trade. The app doubles as a wallet for your cryptocurrencies so that you can store them securely.
Coinbase is one of the best iOS apps to trade cryptocurrency. It is one of the most popular crypto trading apps with over 20 billion dollars worth of exchange between its clients. The app is well designed, user-friendly, and free to download and use from the App Store. You will need iOS 11.0 or later to run it. 
Gemini
Gemini is one of the most feature-rich apps that you can use to trade Dogecoin, making it also one of the best iOS apps you can use. Gemini has a clean, intuitive user interface that makes trading Dogecoin easy and simple.
Gemini doesn't require a minimum amount to get started making it very convenient. You will have to pay transaction fees which can differ depending on the platform. Each transaction will cost you 0.50% on the iOS app.
Gemini also offers features that appeal to both new and experienced crypto traders. There is a crypto regards program that allows you to earn up to 7.40% on interests. Gemini offers an Active Trader platform for its more experienced, advanced users. Gemini has a wallet where you can store all your Dogecoins and other cryptocurrencies. And you get access to educational webinars.
The app is available for free on iOS, just make sure your device is running iOS11.0 or later. 
Bittrex
If you want a low-cost, secure, and easy-to-use platform for trading Dogecoins, then it doesn't get much better than Bittrex. You need only a minimum of $3 to get started and the transaction fees are one of the lowest of any apps.
Bittrex has excellent security features like two-factor authentication, multi-stage wallet storage (ensures that your crypto assets are secure through offline hardware). The app is also surprisingly easy to use even when filled with so many features.
Bittrex has an Instant Buy and Sell feature that gives you the option to trade Dogecoin and other assets at the click of a button. The app is fast, responsive, and easy to use too. It is available on iOS devices running iOS version 11.0 or later. It is free to download. 
Takeaway
Dogecoin has been around for quite some time now, it started as a meme but over the past few months, it has been on the rise. This has led to people investing in Dogecoin.
If you are someone wanting to do the same, then you would need apps that let you invest and trade Dogecoin. The above are some of the best apps you can use to buy and sell Dogecoin. My personal favorites are eToro and Voyager as they are cheap and easy to use. 
FAQ's
Can I add Dogecoin to my Apple Wallet?
No, you can't. While Apple supports wallets that let you buy and store cryptocurrencies like Dogecoin, it doesn't let you store Dogecoin in Apple Wallet.
Can I buy Dogecoin with Apple Pay?
Gemini recently announced that users can buy cryptocurrency using Apple Pay and Google Pay. This is great news as it makes trading cryptocurrency easy and simple.
Is it worth buying Dogecoin?
All cryptocurrencies including Dogecoin are assets that change drastically in value in short periods. This makes them very risky to buy, as you never know when they will increase or decrease in value.
Dogecoin has been on the rise for a while now, so it seems like a good option to invest in, but do your research and consult people who have already invested before you try it for yourself. Check out our list of the Best iOS App for Dogecoin. 
Also Read:
Alan Urban is the Editor-in-chief of Stupid Apple Rumours and often proclaims that he's " Apple's number one fan."
In addition to keeping up with the latest Apple news, he also reviews Apple products and creates user-friendly guides.  When not subjecting Apple Devices to crazy stress tests, he's usually playing games on Apple Arcade