Looking for really cheap yet amazing iPhone cases? Check out our list of the Best Fake Apple Silicone Cases for all the details.
Imagine investing a thousand dollars on an iPhone and dropping it accidentally. I am sure your heart will sink as did mine. I was lucky enough as I dropped it on a carpet and didn't cause much damage.
I had saved up quite a bit to buy the iPhone 11 and I couldn't afford to break the screen. I wanted to silicone case to protect it at all costs. But spending $ 50 on a genuine Apple silicone case didn't seem like a good idea.
I know the case from Apple is premium and it fits perfectly but I wanted an alternative, a cheaper durable best fake Apple silicone case. I looked for it for days and finally struck gold on AliExpress. You need to check their collection. I wouldn't vouch for every case that is advertised but with research, you will find the right one for you as I did.
Related: 7 Best Fake Apple Watch Bands
I have been picking up cases from AliExpress for a while now and decided to put out a list to help you guys out too. Curated below, are the best fake Apple silicone cases you can buy. You can thank me later in the comments section.
| | |
| --- | --- |
| Brand | Key Features |
| MBAND | Environmentally friendly liquid silicone material, skin-friendly, scratch-resistant, anti-fingerprint |
| YISHANGOU | Latest colors, Top quality silicone safe for baby's skin |
| MBAND Mint Simple | Matte finish silicone cases with a pop of color, All-inclusive lens protection |
| XOPXOP | Transparent design, Airbag protection, breathable heat dissipation |
| QIXTWO | Ultra-thin matte transparent cases, Latest colors with colored buttons |
| DAGNAK | 0.4mm Heightened corners with airbags, All-inclusive airbag anti-drop feature for up to 3m falls |
| YiPai | Classic square design, great texture, Anti-fouling feature |
| Yoachey | Slim profile design with raised edges that protect the display and camera setup |
| Eienacoco | Comes with a built-in magnet that makes the case MagSafe ready |
After having reviewed all the best fake Apple silicone cases brands based on various factors like silicone quality, color, functionality, features, price and much more; my team and I zeroed in on 9 brands that really stood out. Cases from these 9 were put through a series of tests to determine the best. We found that:
The best fake Apple Silicone Case is MBAND. This delicate and skin-friendly case comes with anti-fingerprint feature that makes using the iPhone really convenient. Additionally, the MBAND also has an anti-sweat feature that helps protects the Phone from smudges.
Best Fake Apple Silicone Cases
Best Fake Apple Silicone Cases
MBAND
My pick of the lot for the best fake Apple silicone case is the top-selling Apple silicone case in AliExpress. It is a skin-friendly, anti-fingerprint, and anti-sweat Apple silicone case from the MBAND store. It's one of the Best Fake Apple Silicone Cases.
Available between the $1.15 – 2.27 this one is a steal. I couldn't resist buying 4 of them as they are available in nine colors. I love the build quality and the way it feels in the hand. A must-buy for all iPhone users. These cases are available in sizes starting from iPhone 6 plus onwards.
Why you should get this?
The material used is an environmentally friendly liquid silicone which is approved by GCCG
It is skin-friendly, scratch-resistant, anti-fingerprint, and anti-sweat
The design is thin and delicate
As the case sits higher than the screen, it provides added protection to the camera as well
It envelopes the phone 360 degrees unlike a few which leave the speaker and charging point open
The only negative comment I have come across is the colors being different as they seem in the pictures. A few also found the surface too smooth that it slipped.
YISHANGOU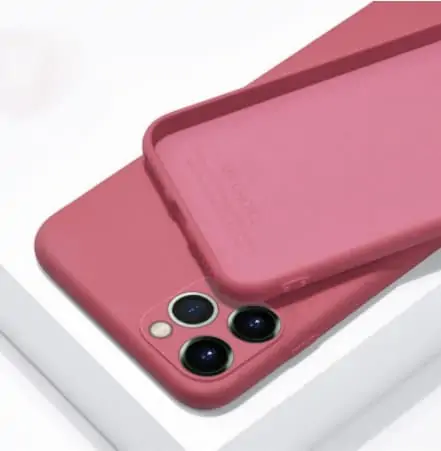 If you are looking for a full-protection soft silicone for your iPhone like me, you should definitely go for cases from Yishangou. They have cases for iPhones starting from 6 to 12 pro max.
Made from liquid silicone, the company claims it is safe for a baby's skin too. The thing I like the most is the camera lens protection it offers. We all know how amazing the camera on an iPhone is, this case provides all-inclusive lens protection. This feature along with the ultralight and thin feel of the case made this my second choice in my best fake Apple silicone case list.
Why you should get this?
All-inclusive lens protection with 0.33 mm higher than lens casing
Great offers with pricing ranging from US$1.38 to 1.87
New colors for 2021 include wine red, new red, and mint
The case has a softshell with high elasticity which helps in easy installation and removal
It is scratch-free, easy to wipe the liquid off as it forms beads on the case
Odorless and safe, made from high purity liquid silicone
I have read a few reviews which stated the fit wasn't right. So make sure you order the right model for your iPhone and not be disappointed.
MBAND Mint Simple
Another winner from the MBAND store, these new-age silicone matte cases for iPhone is certainly for those who want a little color in their lives.
I love their new collection and have acquired a couple already. The matte finish silicone cases with the color pop volume and power buttons will add a whole different dimension to your phone.
Aptly named the Mint simple matte bumper phone cases for iPhone, the collection features ten mint-themed colors along with a transparent white which really stands out. You must check out the entire range on AliExpress today. The pricing ranges from US $0.77 – 2.27. Do check the shipping charges to your currently.
Why you should get this?
Matte finish silicone cases with a pop of color
All-inclusive lens protection with 0.33 mm higher than lens casing
High-quality bumper TPU silicone-based cases
Ideal for gifting
They send sizes that might be a model next to what you order, so please be careful when placing your order.
XOPXOP
XOPXOP is a brand known for making iPhone tempered glass and hydrogel that removes scratches from your iPhone. They also make some unusual silicone cases for iPhone which has created a niche by itself.
I really like the transparent silicone cases by XOPXOP because they are airbag shockproof. That is next-level protection for your phone in case of accidents or accidental dropping. It is available on iPhone models starting from 6 to 12 pro max.
Why you should get this?
The shockproof nature of these cases can help from 3m drops which are really impressive
This silicone case provides an all-inclusive snug fit for your phone with a 0.4mm higher than screen protection for the screen
It has a double protection ring for the camera lens
It is soft and easy to remove and put back on the phone
The airbags in the corner of the shell are what makes it unique along with a transparent casing
The transparent shell can showcase your iPhone's color adding your personal style
It has a breathable heat dissipation that controls overheating
The only negative about this silicone case might be the wait time. Many have complained about waiting for over a month to get delivery.
QIXTWO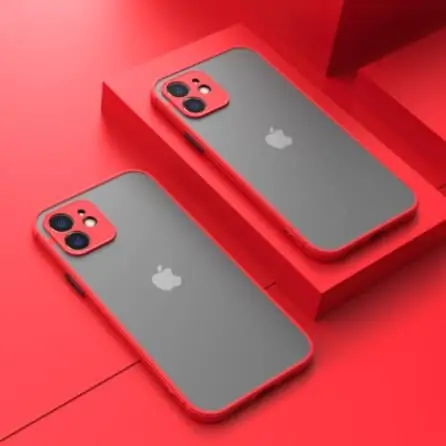 If matte finish is your style then look no further, the luxury silicone shockproof matte apple case from Qixtwo is the best there is in the market. I liked the color red as it really brings out the black color of my iPhone.
I can vouch for their build quality as I have used and gifted a couple to my closest friends and they love it. Available from model iPhone 7 and above, you will be delighted by the choice of colors too.
The comfortable matte touch finish along with shock resistance features makes it one of the best fake Apple silicone cases available on AliExpress.
Why you should get this?
The brand is known for its high-quality luxury ultra-thin matte transparent Silicone shockproof Apple cases
Provides ultimate protection from dirt, scratches, dents, and shocks
Fast shipping with timely customer support
Ultra-light and thin, anti-fingerprint, doesn't yellow like normal transparent silicone cases
Latest colors with colored buttons
Matte touch finish
A few of my friends who used the silicone case complained of getting damaged products, in such cases do reach out to the seller immediately.
DAGNAK
From the makers of exclusive phone cases for all types of phones, the Dagnak brand also makes one of the best fake Apple silicone cases. These are well-known for thick shockproof if you like that added protection for your beloved iPhone.
The thick transparent silicone case is made from durable silicone and is available for model 6s till the latest 12 Pro Max. If you like to add a bit of color to the transparent design, you get to do that too. Choose from black, blue, light green, pink, navy blue, purple, green, and red to match your style.
Why you should get this?
All-inclusive airbag anti-drop feature for up to 3m falls
A snug fit so every gap is totally covered and protected
It is an original design that showcases the true beauty of an iPhone
Heightened corners with airbags
0.4mm higher than the lens and 0.3mm higher than the screen for added protection
Crystal clear silicone case with true colors to match your style
I have noticed negative comments about the silicone case being bigger than the phone. This could be an issue that can be sorted by ordering the right size. A few also got cases with inscriptions on them. Do check before ordering.
YiPai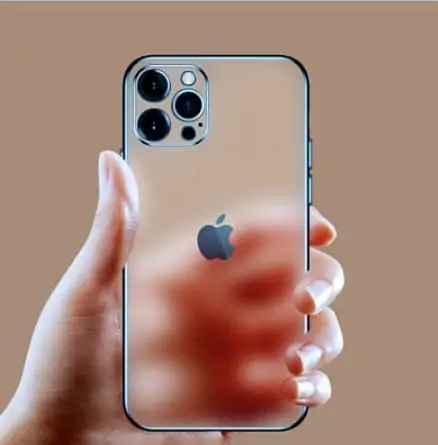 If you like classic square apple silicone cases and are trying to find one, head to the YiPai store on AliExpress and check out their full range. They are available for iPhone models 7 and above. These luxury square frame plating clear silicone cases are built for protection but they sure look good too.
I have one in my collection and like to use it when I have a meeting or an official presentation. It sure makes heads turn as I have a purple one. It is available in different shades like black, silver, gold among others.
Why you should get this?
If classic if your style choice, this is the one for you
It has a premium matte frame with a great texture
The anti-fingerprint and all-inclusive lens protection make it one of the best fake apple silicone cases available
It has an antifouling feature where water droplets roll off and do not stay on the case
The material is soft silicone and is easy on your hands but has 20x stronger drop resistance
Sensitive buttons allow for a soft press operation
A few of my friends expected the case to be a little thicker.
Yoachey
The Yoachey shockproof case is one of the best accessories to invest in for your new iPhone 14 simply because it's everything you will ever need, made from high quality materials and it's super cheap.
It's well made and features a unique double structure of tough PC and flexible TPU that offers 360 protection for the phone. The edges are raised so there's adequate protection for the camera bumps, buttons on the side and even the display.
Why should you get this?
The case is extremely slim and can easily slide into your pocket.
It supports wireless charging and is great if you want to keep the iPhone 14 protected and wireless charge the device at the same time.
You can get the Yoachey case in over 5 colors for every iPhone available since the 6s
One added advantage is that the case is washable and doesn't scratch easily. Also, the finish at the back is matte so your fingerprints won't stain it
Eienacoco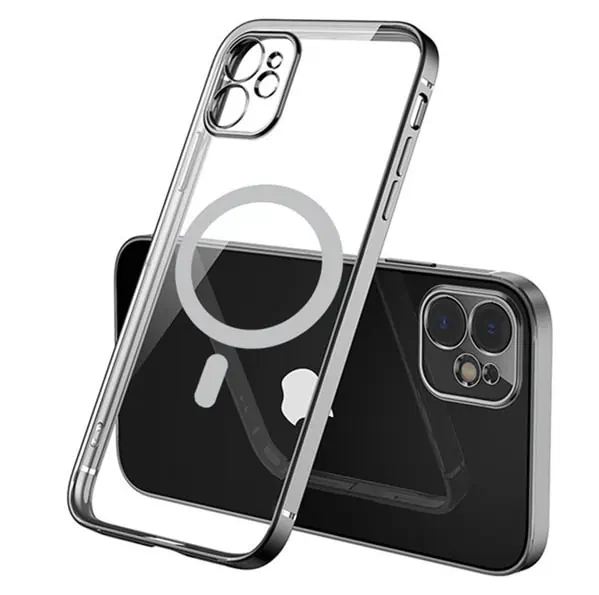 The Eienacoco MagSafe silicone case is a transparent anti-fall case that's designed to offer the iPhone 14 range of smartphones with the ultimate level of protection.
Not only is it made of high quality silicone and has a built-in magnet, it's extremely flexible and won't damage the iPhone while putting it on or taking it off.
The case is available in 7 colors where the sides, the camera bumps and the MagSafe charger at the back are colored while the rest of the case remains transparent.
Why should you get this?
It's a cheap and extremely affordable silicone case with a built in MagSafe ready magnet to charge the iPhone
The case is soft and it comes with raised borders to keep the display and camera protected in case of drops
You can get the Eienacoco case in over 7 colors for every iPhone available since the SE
One added advantage is that the case is shockproof, anti scratch and dust proof so it won't get damaged easily and it requires little to no maintenance.
I really hope my list of the best fake Apple silicone cases will help you choose the right one for your iPhone. There is bound to be a difference in sizes and colors when you compare it to the website but the sellers have good after-sales support which will make the whole experience a memorable one.
Things you should know before your buy an Fake Apple Silicone Case
I also wanted to let you know about a few things to remember before you order Apple silicone cases, they are:
Material – If you are picking silicone, make sure it is soft and easy on your skin
All-inclusive protection – Ensure the case you are buying protects the screen, the camera lens, and all corners of the phone
Anti-sweat, Anti-slip – These are important features a case must have
Shockproof and airbags – Make sure, it can absorb shocks or impact from dropping. Airbags in the corners help reduce the shock to the phone
Thick or slim – It depends on how slim or bulky you want your case to be. It is a personal choice
Color – The choice of color is another important factor. Ensure you don't pick colors that may fade or get scratched with regular use. Check out our list of the Best Fake Apple Silicone Cases for all the details.
FAQs
How can you tell a fake Silicone case?
Fake Silicone cases usually tend to be of poor quality and as a  result, their colors fade over time. But there are fake silicone cases that are of high quality too that don't fade over time. Check out the best fake Apple silicone cases above.  
Does Apple Silicone Case attract dust?
Yes, all silicone cases attract dust. It is the nature of silicone material. Silicone cases tend to attract sweat, natural oils, and dust onto their surface. This is also the reason why clear silicone cases tend to look yellowish after a few months of use. 
How do I keep my silicone case from getting dusty?
Cleaning your silicone case regularly will help it from collecting dust and permanently changing its look. You can wipe it using a soft cloth. You can even use white vinegar or fabric softeners to clean it thoroughly.  
What are Apple silicone cases made of?
Apple's silicone cases are made from clear polycarbonate and flexible thermoplastic polyurethane (TPU) materials. These give them that matter finish and smooth flexible feel. Even the cases in our list of the best fake apple silicone cases are made from the same materials.
Also Read:
Best Apple Watch Bands on Amazon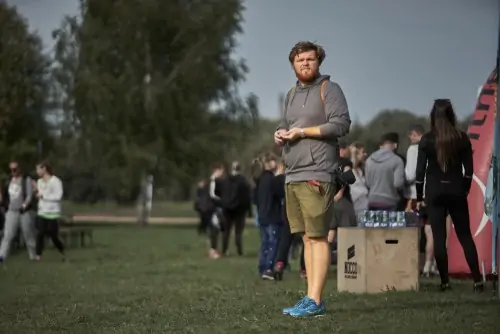 Alan Urban is the Editor-in-chief of Stupid Apple Rumours and often proclaims that he's " Apple's number one fan."
In addition to keeping up with the latest Apple news, he also reviews Apple products and creates user-friendly guides.  When not subjecting Apple Devices to crazy stress tests, he's usually playing games on Apple Arcade
MBAND
Check out the Best Fake Apple Silicone Cases
Product SKU: UIEHR14714
Product Currency: USD
Product Price: 2.64
Price Valid Until: 2022-12-15
Product In-Stock: InStock