Want to reduce temps on your MacBook Pro and improve performance? Check out the best cooling pads for MacBook Pro in this article.
Does your MacBook Pro throttle under load? Does it run hot? Then it might be a good time to invest in a cooling pad. A cooling pad is something you place under a laptop that facilitates better airflow and in turn aid in reducing temperature.
If you are already looking to get a cooling pad for your MacBook but don't know which one, then you have come to the right place. This article will inform you about the best cooling pads for MacBook Pro and if you should get one. Read on to know more.
Related: Best Mechanical Keyboards for Mac
Best Cooling Pads for MacBook Pro
Cooling pads also improve the ergonomics of using your MacBook Pro as they come with a built-in stand that can help you type and work better.
The best cooling pads for MacBook Pro can reduce temps by up to 10° Celsius. And some cooling fans come with extra USB ports that let you connect more peripherals if needed.
Below are my picks for the best cooling pads for MacBook Pro.
The TopMate C5 Laptop Cooling Pad is an ergonomically designed cooling pad for laptops but it will do good for a MacBook Pro as well. The reason I am recommending this for a MacBook Pro is because of its cooling performance. This is possible thanks to the five fans, one large one in the center and four smaller ones around it.
The cooling pad has an adjustable design that lets you adjust the tilt angle. You get five different height setting options. The TopMate C5 comes with a small LCD screen that displays information about the cooling fan speeds and modes. You can control fan speeds and modes with the buttons next to the screen.
The TopMate C5 also comes with built-in LED lighting, but sadly the color of the LED lights is not adjustable, they only glow blue. You can turn off the LED lighting if needed, then you'll have a stealthy-looking cooling pad for your MacBook Pro.
I know MacBook users including myself are biased to looks and want something sleek and minimalistic and the TopMate C5 is the exact opposite, but it is functional. This cooling pad doesn't compromise on performance for looks which is a good thing.
So if you are willing to look past the design then, this might be one of the best cooling pads for your MacBook Pro thanks to excellent cooling performance.
Pros
Five fans for ultimate cooling
Controllable LEDs
Quiet
Cons
If you are looking for a simple, low-cost cooling pad that looks good and is functional at the same time, then the KLIM Bamboo Laptop Cooling Pad might be perfect for you. As the name suggests, this cooling pad is made from eco-friendly bamboo.
The KLIM Bamboo Cooling Pad can hold MacBooks of all sizes. It is unique yet elegant looking and comes with two 130 mm fans with LED lighting. The fans can spin at up to 1300 RPM (rotations per minute), which provides good cooling for the underside of your MacBook Pro. You also get an extra USB port which lets you connect to extra peripherals if needed.
The cooling pad has a built-in stand but you can't adjust the height which is a bummer. It gives a nice angle to work at though a height-adjustable stand would have been much better. You can't complain though because, for the price, you are getting more than what you pay for.
The KLIM Bamboo Cooling Pad is a good-looking, simple yet functional cooling pad that is sure to reduce the temps of your MacBook Pro. It is lightweight and portable as well. This cooling pad is priced aggressively as well. It is an excellent choice for people who want a low-cost yet functional cooling pad for their MacBook Pro.
Pros
Dual Fans running at 1300 rotations per minute
Elegant design made from Bamboo
LED Lighting and extra USB port
Cons
Need to improve durability
Havit is a popular brand when it comes to computer peripherals. They are available worldwide and are known for their keyboards, mouse, and more. And it is no surprise that they are featured here on this list of best cooling pads for MacBook Pro.
Like most of Havit's products, the HV-F2056 is also a gamer-focused product but that doesn't mean it won't work with a professional laptop like a MacBook Pro. It works very well with MacBooks. The cooling pad is designed to hold up to 17-inch laptops, so it will hold all MacBook Pros well.
When you look at the cooler you might think it will be heavy, but it's surprisingly lightweight and slim. It is the lightest on this list. You get a built-in stand but you can't adjust its height. You also get two USB ports one for powering the cooling pad and the other for your peripherals.
For cooling, the Havit HV-F2056 comes with three 1100 RPM fans that are good enough to reduce temps by up to 10 degrees. The fans also feature Blue LED lighting. The power cord might be a bit too short for some people, but apart from that, the Havit HV-F2056 is perfect for cooling your MacBook Pro.
Overall, the Havit HV-F2056 is a well-built and powerful cooling pad. You can choose from three different LED lighting options, which is better than what most other pads offer. It can reduce your MacBook Pro's temps and look good while doing it. It costs $29.99 which is reasonable for what you get.
Pros
Supports up to 17-inch laptops
Three fans with 1100 RPM to cool your MacBook Pro
Portable as it weighs only 1.5 lbs.
Connects via USB with an extra port.
Cons
No rubber grips to keep your MacBook Pro from sliding around.
If you want a sleek and portable cooling pad for your Macbook Pro, then look no further than the Targus Laptop Cooling Pad. This cooling pad can be easily carried on your travel allowing you to work from anywhere without fearing loss of performance.
The Targus Laptop Cooling Pad comes with two fans that help in the reduction of your MacBook Pro's temperature when you are pushing it to the limit. The Cooling Pad is powered by USB so you can power it using your MacBook itself. Alternatively, you can use any phone charger or power back as well.
You can also adjust the height level for better ergonomics. There is a velcro strap that lets you organize cables for a better, uncluttered workspace. And the build quality of the Targus Laptop Cooling Pad is good, just like MacBook Pros.
Pros
Four-level height adjustments
Dual fans
Velcro straps for peripherals
Cons
Best Cooling Pads for MacBook Pro – Conclusion
So, there you have it, the best cooling pads for MacBook Pro. The above cooling pads reduce the temperature of your MacBook offering better and more stable performance over long periods. They also offer some extra features that you can take advantage of.
All of them are amazing, so you won't go wrong with any. The TopMate C5 offers the best performance and features but might not look good for everyone, the Havit HV-F2056 is balanced in every category and the KLIM Bamboo is for anyone who wants an affordable and simple cooling pad.
As I said, all of them are amazing but if you are still having trouble choosing, the below FAQs section should help you decide on whether you need a cooling pad and how to choose one.
How to Choose a Cooling Pad for MacBook Pro?
Design & Size: A cooling pad should be designed in a way that is capable of providing the most airflow to your laptop. Some cooling pads have poor ventilation that can hinder or even make things worse by obstructing your MacBook vents. When buying a cooling pad make sure it can fit your MacBook Pro and it is designed with large vents or grilles.
Fans: Fans are the most important parts of a cooling pad as they are the reason behind cooling your laptop. The more fans the better. Faster fans can also improve cooling performance but they usually increase noise output and can be a disturbance while working. The best option would be to choose fans that have adjustable speed control.
Features: Features like LED lighting, extra USB ports, LCD screens, adjustable stands, and more can all improve your experience with a cooling pad, make sure to choose only what you need as more features mean higher costs.
Best Cooling Pads for MacBook Pro – FAQs
What is the Best Way to Cool a MacBook Pro?
Out of the box, that is when it is new, MacBooks are sufficiently cooled, but over time dust can build up inside your Mac and this can lead to hotter running temperatures and in turn slow down performance.
While cooling pads help reduce the temperatures, they can make matters worse by speeding up dust buildup as more air is pushed into your Mac. Sometimes, it can be a software problem as well, if many processes are running in the background, it can cause your MacBook Pro to heat up.
The best way to cool your MacBook Pro would be to do multiple things like cleaning the insides of it, using a cooling pad, and keeping a check on your background process. You can close them using the Activity Manager on your Mac.
Do Cooling Pads Help MacBooks?
Yes, they do, but there are a few things you need to keep in mind. Cooling pads can reduce the temperature of your MacBook and can even help you with working as they come with stands that are ergonomically designed.
Sometimes even a cooling fan won't be able to cool your MacBook efficiently, and that can be due to dust build-up or even software problems. Cooling pads work by allowing your MacBook to pull in more cool air to reduce temperature, but if there is a lot of dust in your MacBook then no matter how much air the cooling pad provides your MacBook, it won't be able to cool efficiently.
This is why you need to clean your MacBook regularly, keep a check on background processes and use a cooling pad for the lowest temperatures and the best possible performance.
Do cooling pads damage my MacBook Pro?
No, cooling pads won't damage your MacBook Pro. Cooling pads are designed to help lower the temperature of your MacBook and thus they will only increase the lifespan of your mac. Lower temperatures also mean your MacBook Pro will perform at its max for longer.
Also Read:
TopMate C5 Laptop Cooling Pad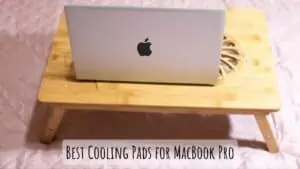 TopMate C5 Laptop Cooling Pad is the best cooling pads for MacBook Pro.
Product SKU: TMC556723
Product Brand: TopMate
Product Currency: USD
Product Price: 27.77
Price Valid Until: 2023-05-25
Product In-Stock: InStock
Pros
Five fans for ultimate cooling
Controllable LEDs
Quiet