Looking for animation software for your Mac? Check out the best Animation software for Mac in this article.
Animation is one of the pillars of the entertainment industry and rightly so, from movies to TV shows to gaming to websites and even YouTube videos feature animations extensively. It is an art form and there is a lot of demand for it. Check out our list of the Best Animation Software for Mac.
If you are a budding animation artist, you are probably looking for animation software that suits all your needs. Or you might be someone who is looking for a change if you are not satisfied with the one you are using right now.
While I am no animator, a nephew and a friend of mine are, and they keep telling me how some animation software makes or breaks their workflow. So, with their help and some research I present to you the Best Animation Software for Mac. Choose the best animation software depending on your workflow and needs.
Related: 9 Best Video Editing Software for Mac
After having reviewed all the Animation Software for Mac based on various factors like UI/UX, function, features, price, and much more; my team and I zeroed in on 10 that stood out. These 10 were further put through a series of stress tests to determine the best. We found that:
The best animation software for mac is the AUTODESK MAYA. This program is perfect for beginners and can help you deliver quality animation. It is commonly used by Disney professionals. Maya lets you create characters, models, motion graphics, terrains, backgrounds, and much more.
BEST ANIMATION SOFTWARE FOR MAC
Autodesk Maya – Best for Professional Animators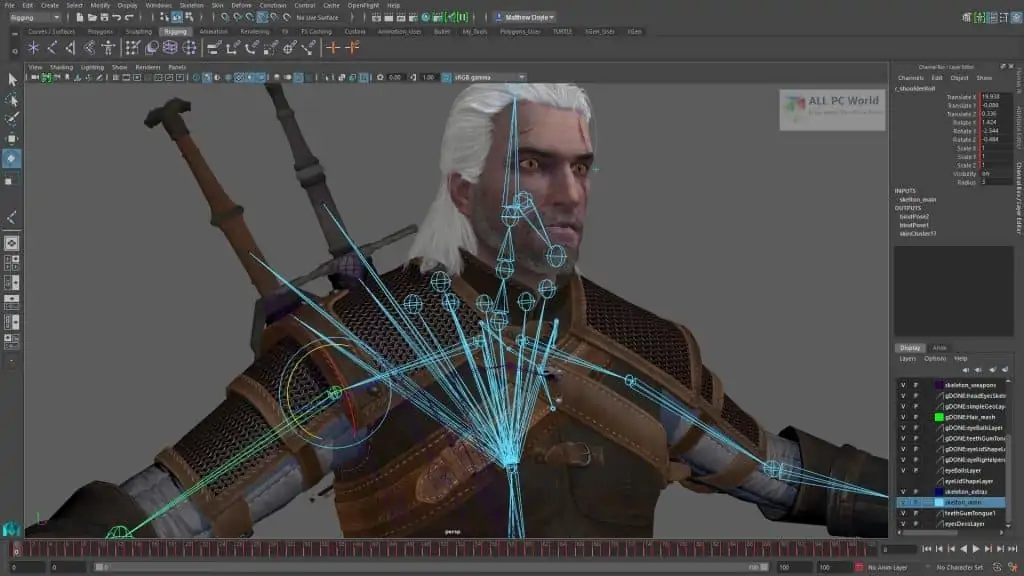 Autodesk Maya is one of the best animation software, and this is evident as it is also the most popular software for animation among Disney artists. So naturally, this makes it a professional animation software but don't shy off if you are a beginner, as Maya is a great software for beginners too. Maya has been used in the production of great films like "Avatar", "Finding Nemo", "Monsters Inc." and tons more.
One downside is that it costs a hefty 1620$ per year but it is also professional, powerful, and the industry standard when it comes to animation. If you are a student, then good news, as you can access Autodesk Maya for free.
Maya lets you create characters, models, motion graphics, terrains, backgrounds, and more. Great software for simulation, rendering, animation, and even VR.
The built-in UV editor makes it easy and intuitive to use offering a lot of options from the UV Toolkit.
Features a Clump Modifier that allows you to modify and groom animations easily.
Pros
Full animation solution
Physics engine and rendering
Cons
High annual cost
Resource heavy
Best for
Animators, engineers, scientists, artists, students.
Difficulty – Hard
Blender – Best for 3D Modelling
Blender is one of the most popular Animation software out there. While most might point out it is because it is open-source software, I think it features in this list and many best animation software lists because it is robust and feature-rich animation software. Blender has an excellent community that will aid you with otherwise hard animation software to master.
Blender features support for the entire workflow of an animation project from Modeling to Video Editing. It also allows you to model, rig, animate, simulate, and render, with compositing, motion tracking, and video editing. You can make an entire animated movie from start to end with these tools.
Blender also lets you create pipeline tools, edit videos, and create scripts within the program to ease your workflow. The ability to create VFX, simulations, and games makes it a versatile and powerful animation software.
Pros
Full animation solution
Free and open source
Cons
Steep learning curve
Confusing UI
Best for
Animators, engineers, scientists, artists, students.
Difficulty – Hard
Pencil2D – Best for Simple 2D Animations
If you are a beginner in the world of animation and you want to solely focus on 2D animation, then Pencil2D is one of the best software for you. And best of all, it is open-source, making it free to use. Its strength lies in its simplicity yet it offers advanced features if you are more than just a beginner.
Easy to use and an excellent user interface make it the go-to animation software for beginners. It supports more advanced tools for raster and vector workflows, making it a more robust and flexible animation software.
Easy switching between workflows makes it one of the best animation software to work on. It also comes with frequent updates and offers new features with great community support from other users. All this makes it a great animation app for Mac.
Pros
Simple user interface
Supports raster and vector
Cons
Limited tools
No 3D support
Best for
Digital artists, cartoon makers, game designers, and basic animators.
Difficulty – Easy
Toon Boon Harmony is a professional 2D animation software. It allows you to create animations, backgrounds, and other graphics with ease. It is powerful, flexible, and easy to use, making it one of the best animation software for Macs.
Toon Boon Harmony offers a free trial but requires a subscription for you to use it after that. The 20$ per month for the cheapest version makes it comparatively cheaper than the other professional animation software on this list.
Vector drawing and Bitmap support make it a powerful animation tool by the industry standard. The Render quality varies from HD to 8K depending on the subscription model. Features 3 subscription options, so you can choose the one you need based on your needs.
Features like recoloring, rotoscoping, and 3D environment support make it a versatile animation software. The multiplayer feature (multiuser ability) makes it great software for team/group projects.
Pros
All-in-one solution
Mobile
Cons
No cross-platform support
No vector support
Best for
Marketers, corporate teams, educators, freelancers.
Difficulty – Easy
Synfig – Best for 2D Animations
Synfig is another excellent 2D animation software with a lot of useful features. One of the more advanced 2D animation software is not particularly easy to master, making it hard for beginners/students. But once you get the hang of it, you can create masterful 2D animations. And the icing on the cake is that Synfig is completely free because it is open-source.
Multiuser support makes it an excellent animation software for team/group projects. This powerful software comes with support for many layers, within animations.
You can also add geometry, filters, distortions, and transformations making it robust and versatile. Additionally, it features a bone system that makes it easy to create animations with bitmap images.
Synfig also allows you to add and sync audio to animations with the built-in audio editor. It has two versions to choose from, the stable or the development version. The stable version offers a smooth and bug-free animating experience while the development version offers you access to new features first.
Pros
Digital tweening
Vector support
Cons
Steep learning curve
Software sometimes crashes
Best for
Beginners, solo artists, and experts.
Difficulty – Easy
Cinema 4D – Best for Professional Modellors
Maxon's Cinema 4D is an animation software that has been a mainstay for quite some time now. Cinema 4D is a 3D animation software on which you can create, texture, provide lighting, animate and render 3D objects making it versatile and powerful. It is professional software but it is fairly easy to master making it great for students too. Comes in at 60$ per month making it costly but it is professional software with excellent support from the developers.
Create, animate, and render 3D models professionally. It has a new spine tool that allows users to manipulate points, tangents, lines, and arcs. This makes it more flexible to create precise and high-quality models.
Lightweight software makes it easy to run and fast software, even on older Macs too. Additionally, it supports lighting, visual effects, and Lens Distortion for a varied set of use cases.
Pros
Offers plugins and an SDK
Professional level output
Cons
Slight learning curve
A little buggy at times
Best for
Animators, engineers, scientists, artists, students.
Difficulty – Medium
LightWave 3D – Best for Realistic Lighting
LightWave is a 3D animation software for Macs that is developed by NewTek. LightWave has been a part of the development of tons of video games, animated movies, graphics, virtual reality experiences, and more. This is one of the best Mac animation software.
It is one of the more fully-fledged animation software out there. LightWave 3D offers a free 30-Day trial. It will cost a cool 995$ one-time fee after that, but students and teachers get it at 195$ for the educational version.
LightWave uses a node editor making animation and rendering a breeze. It features global illumination giving you more control over lighting in the scene/environment.
OpenGL support for real-time visual feedback is impressive. It also features properties for clouds and fog using a new in-built volumetric engine.
Versatile software with support to create motion graphics, product designing, advertisements, and more.
Pros
Includes drawing tools
Multiple export options
Cons
Confusing UI
No rigging tools
Best for
Animators, engineers, scientists, artists, students.
Difficulty – Hard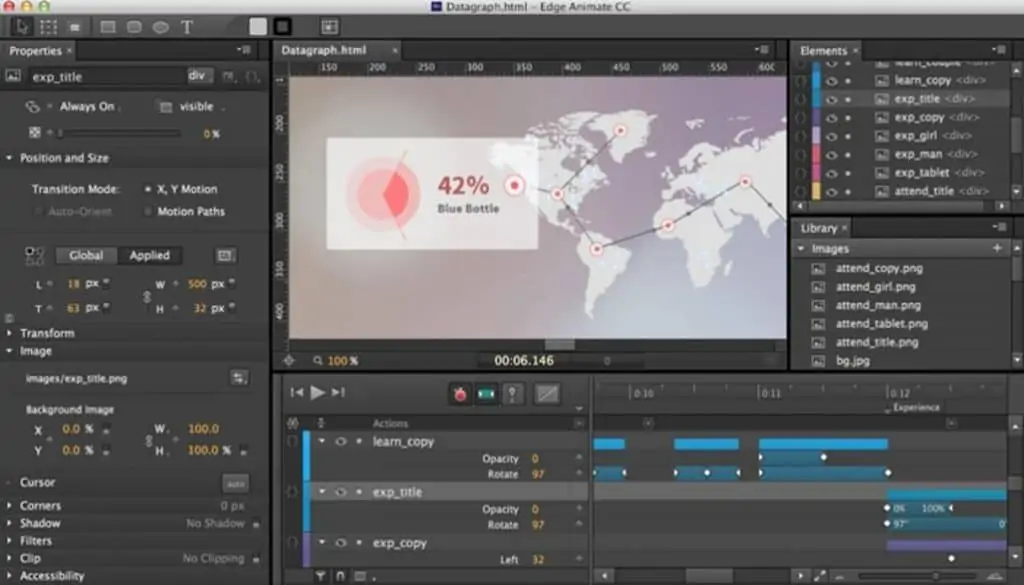 Any creative software list cannot be complete without Adobe software, thanks to their expertise in the field for so many years. Adobe Animate is an animation software that is a part of its Creative Cloud (CC) suite.
This makes it a great addition if you or your team already use CC. Frequent software updates and enhancements make the software even better over time. It is easily one of the best animation software for Mac.
One of the most powerful animation software for games, apps, videos, and even websites. Features an excellent timeline tool that is more powerful now. It also supports presets to make your workflow smoother.
HiDPI support for high-resolution animations. New features provide you with the ability to add layer depth and camera enhancements.
Pros
Animate in real-time
Integrates with other Adobe products
Easy to use
Good for interactive animations
Cons
Limited use cases
No drawing tools
Best for
Game designers, YouTubers, cartoon makers.
Difficulty – Medium
DAZ 3D is known for its awesome features for art and animation. You'll find an entire toolset for composition and GPU-accelerated real-time rendering with lighting, morphing, textures, and even ringing.
It's the best animation software for MAC users who are interested in graphics and animation. The interface of this software is pretty easy and great for people who are new to venturing into the animation field.
You can import and export files with a lot of other software tools like Autodesk, Maya, etc. You'll have to purchase this software on their official website.
Pros
3D motion to 2D animation
Works with PSD tools and Wacom
Cons
Steep learning curve
No drawing tools
Best for
Marketers, corporate teams, educators, freelancers.
Difficulty – Hard
Tupi – Best for Professionals that are on a Budget
Tupi is a great 2D animation software. It doesn't work that great with 3D animations so you should opt out of this if you're looking for that. Tupi is great to do academic work. It supports vector illustrations and can import raster images.
Tupi also supports tweaking positions, scale, shear, and rotations. Tupi is not only meant for Mac but also Windows. It's not that difficult to master Tupi and the interface is user-friendly. You can check the users' guide on youtube for instructions on how to operate it.
Pros
Supports large teams
Vector and raster support
Cons
No cross-platform support
Best for
Marketers, corporate teams, educators, freelancers.
Difficulty – Medium
Which is the best animation software for mac?
My team and I tested 20+ animation software for Mac and rated them based on user-friendliness, interface, and features. We found Blender to be the best animation software.
Blender is an animation software for Mac that allows you to model, rig, animate, render with composition, motion tracking, stimulate as well as edit videos on the software. It also allows you to create scripts, pipeline tools, and other important animation-related stuff. Blender is easy to use especially for beginners.
Best Animation Software for Mac – Takeaway
Picking the best animation software for your Mac may seem like a daunting task, but it can be easy if you know what you need. The above are some of the best animation software for Mac and they are trusted by professionals too.
Pick the best one depending on what you need from the software and I bet that you will be happy as they are all amazing software with excellent features and support.
How to Choose an Animation Software For a Mac?
Animation type
This is simple, choose your software depending on if you want to do 2D or 3D animation. Choosing the right animation type is one of the most fundamental aspects of choosing the right software. If you planning on creating a 2d animated video, then buying a 3d animation software that's meant for games would not work out.
2D Animation: 2D animation is the more traditional style of animation. If you like Japanese animation then you love 2D animation. 2D animation was initially created by drawing images on transparent sheets and layering them. However, these days 2D animation software programs can help save a tremendous amount of time. For example, you get a digital timeline and even vector shapes that can shave the time off the actual drawing.
3D Animation: 3D animation, of course, is quite different from the other types of animation. The basic principles vary a whole lot which makes it just that much more complex to master. Creating 3D animations without a computer is extremely hard. So, the software is a must.
However, good 3D animation software must help the artist with composition, movement, and 3D modeling. Additionally, it should be able to piece together various 3D models to create a character or even the external environment. The really good ones like Auto Desk Maya even help animate all the ideas along with the storyboard. So, that the sequence is maintained.
Stop motion: Stop motion is another essential animation type. While the old school animators used to physically animate it with clay, the latest animation software allows you to do this on-screen. This basically, involves you taking photos and slightly moving them multiple times to achieve a motion. Although it is time-consuming, it's still not as bad as physically doing it thousands of times.
Learning Curve
All creative software differs from each other and this is particularly true for animation software. Some software is easy to master like Pencil2D, Maya, and Harmony. On the other hand, Blender and Synfig have tough learning curves. So, depending on your skill level, choose an animation software best suited for you.
Features
Features are the selling points of any software, and animation software come with lots of features for better workflows and advanced techniques. Get the one that ticks all the features you need for your work.
Of course, a really good differentiating factor between sub-par animation software programs and amazing ones is the motion graphics feature. Animation software programs should also be able to help create other types of animated content/entities like banners, ads, and effects.
So, before buying a software program you should ensure that the program is capable of creating a type of graphic that's simple and can be used for commercial purposes. This is significant;y important not just because of the versatility factor but also because you can tell that these programs are amazing when it comes to the details.
Cost
Cost is something everyone has to consider; even big studios have to. Animation software can cost from free to thousands of dollars over a year. Choose the one that fits your budget or just try out different software as almost all paid software offers free trials.
What makes a good animation software?
These are some of the features that make good animation software.
Templates: Libraries of templates for characters, backgrounds, and graphics make the creation process easier if you're new to animation.
Drawing tools: Drawing tools like paintbrushes and blenders give life to your animation and help them look more convincing and interesting. The ability to customize or import brushes are helpful to create detailed designs.
Audio editing: Animation software that let you edit audio directly in the software instead of having to import or export it is a huge plus.
Import and export features: Support for all popular formats for import and export is important especially if you are working in a big team.
Device support: Support for devices and Operating Systems enable sharing and editing between large teams.
Check out our list of the best Animation software for Mac in this article for all the details.
Does Apple have its own animation software?
Yes, in fact Motion which is a part of Final Cut Pro is a premium graphics enhancement tool that can be used to create stunning cinematic 2D and 3D animations. The tool also supports 360-degree tiles and effects as well as transitions can be added and viewed in real time.
Motion uses machine learning to track faces and objects in a scene and the selected objects can be moved or have text and shapes added to it for a realistic result. Motion also lets you import 3D objects into a frame, add filters, and design creative 3D graphics, all on your Mac.
The software is currently supported by the Silicon Mac's and not the Intel Mac's as it requires a load of computing power to function well.
Are Macs good for animation? 
Macs are truly the best for animation-related rendering. It helps you create the highest quality animation and generation i7 lets you create super fast graphics. Check out our list of the best Animation software for Mac.
What is the best 2D animation software for Mac? 
The best 2D animation software for Mac are: 
Synfig Studio
Animaker
Tupi
Pencil 2D
Check out our list of the best Animation software for Mac
Also Read: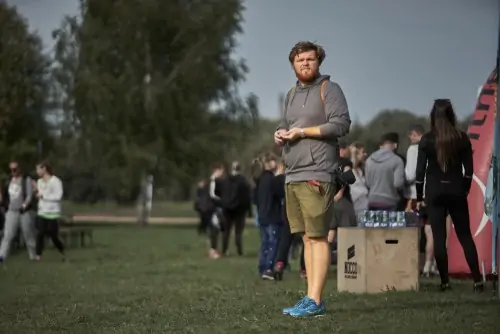 Alan Urban is the Editor-in-chief of Stupid Apple Rumours and often proclaims that he's " Apple's number one fan."
In addition to keeping up with the latest Apple news, he also reviews Apple products and creates user-friendly guides.  When not subjecting Apple Devices to crazy stress tests, he's usually playing games on Apple Arcade